In a Nutshell
Curv is a new online ordering system for restaurants that incorporates in-house POS systems. With the use of Curv's modern in-house POS systems and cloud-based ordering system, you can manage in-house orders, online orders, deliveries, and curbside pickups all on one system. Its commission-free payment processing and transparent pricing add to the appeal and make it a great option for modern restaurants.
pros
Transparent pricing model
Commission-free payment processing
Manage your online and in-house orders in one place
cons
Limited to the food and drinks industry
Software requires the use of specific terminals

Curv Visit Site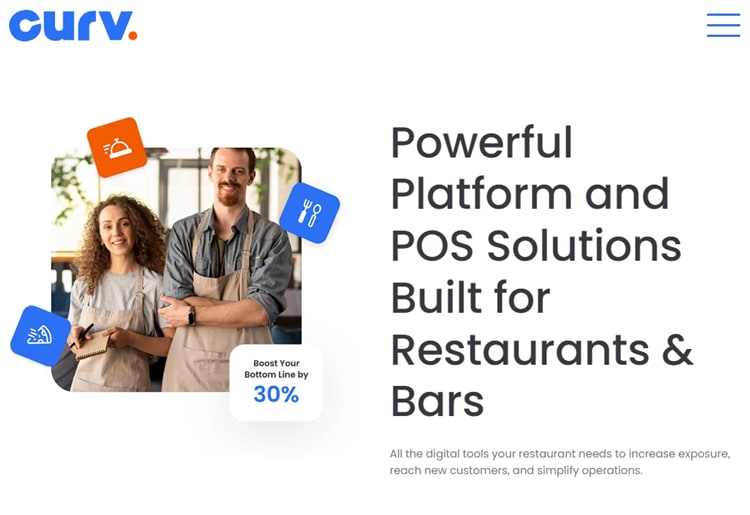 Ideal For
Restaurants
Bars
Counter service
Why Go with Curv?
Juggling online and offline orders in a busy restaurant or bar is a challenge. Curv offers a reliable, low-cost way to simplify the process. You can quickly start taking orders through your restaurant website and have online payments processed at no commission. Delivery and curbside pickup with self-service ordering are all available. Deliveries are handled by third-party Door Dash Drive, with delivery fees going to DoorDash.
Part of Curv's appeal is that it's specifically designed for restaurants. You can manage your in-house and online orders through a single interface, greatly simplifying the workflow for you and your staff. Your staff interacts with modern POS terminals built for the daily trials of high-footfall counter service, and the system can even operate fully offline should you lose internet connectivity.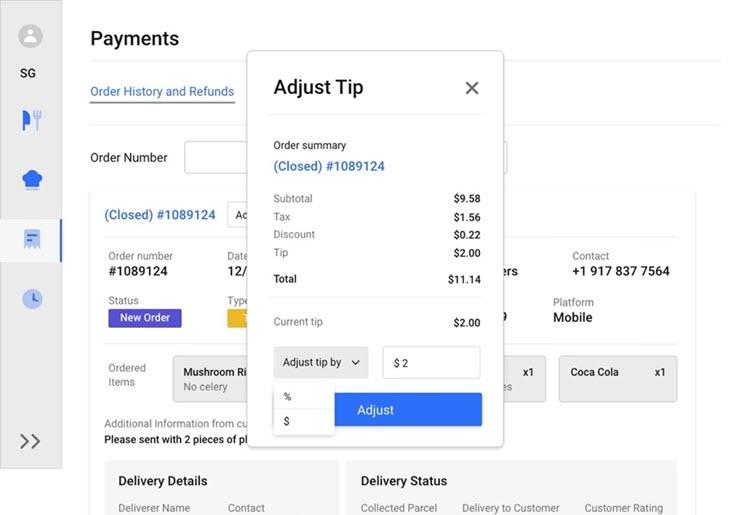 Because everything about your restaurant is integrated into a single system, it's easier to get better analytics and reporting on how each part of your business is running. Curv offers detailed analytics on your restaurant's performance, down to how each inventory item and member of staff is performing. Plus, it can be used to build and monitor employees' schedules.
What's on Offer
Modern POS terminals designed for the restaurant industry
User-friendly platform
Transparent pricing plan
Lower-cost third-party delivery commissions
High reliability with full offline mode
24/7 support
Curv aims to offer a traditional in-house POS system for restaurants while also managing online orders. It's a cloud-based system, so it works over the internet, but the POS can operate offline should you lose internet connectivity for any reason.
Curv uses the PAX E800 SmartPOS system. This sleek android-powered POS features a 15.6-inch touchscreen for your servers and an 8-inch customer-facing display. It incorporates a 4.3-inch color touchscreen payment module and connects to other devices via Wi-Fi, 4G, Ethernet, and Bluetooth. The POS supports NFC contactless payment, hybrid chip and PIN, and magnetic stripe.
For a reduced price, you can opt for the PAX E500 POS instead. The E500 has an 8-inch merchant-facing touchscreen and a 4.3-inch customer-facing display.
Yet another option is the A920 Pro Android SmartPOS, a handheld mobile payment terminal based on the world's best-selling model, the A920. This upgraded POS has a Cortex A53 processor and a 5.5-inch capacitive touchscreen. It too supports contactless payment, magnetic stripe, chip, and pin, and incorporates a professional scanner and fast-speed printer.
You can use any combination of these POS stations in your restaurant to run the Curv software. On top of this, many administration features, like changing the menu or checking statistics can be done from any computer or mobile device.
Ease of Use
The first step to getting a Curv system is to schedule a demo through the secure Curv website. At this point, all you need to provide is your name and email address, and a Zoom meeting will be set up with a sales representative at a convenient time. You can also reach out to sales@Curvpos.com to get started.
Overall, Curv offers tools aimed to streamline administration. As Curv is cloud-based, many administration features can be accessed from anywhere. For example, you can get detailed analytics and reports on the performance of your restaurant from anywhere, on any computer or smartphone. You can monitor performance over a time period to identify areas of improvement, and even make changes to your menu from wherever you are.
Using a cloud-based system also simplifies the process of integrating other online platforms into your business. For example, you can promote products or special offers on social media and take orders directly from customers' feeds. As the purchase process for customers has fewer steps, they're more likely to go through with purchases and have a great customer experience, returning to you time and again while spreading good reviews.
What's Unique About Curv?
Take orders through your own platform
Many competitors in the online food ordering space offer a single site that lists all local restaurants. Customers must search for your establishment on such a site, and there's little to differentiate your business from your competitors.
Curv allows you to take orders directly from your own website, making for a more seamless, brandable approach. You can also use Curv to take orders through other platforms like social media.
Integrated in-house and online orders
Curv supports both in-house orders and online orders in the same system. This means your staff no longer needs to juggle between the orders you receive online and the orders made in person. There's support for delivery and curbside pickup, too.
Simplified pricing
Many online food ordering services for restaurants have complex pricing with various add-ons and extras. Curv has a relatively straightforward, no-commission pricing model. You can use Curv for as low as $99/month, and orders taken through your website will not be subject to commission fees.
Customer Support
Curv offers 24/7 support via email and phone. Curv states that it is committed to the success of its clients and will strive to assist you at all levels of the process. I tested the email support and received an informative, friendly reply within 24 hours.
Pricing (Software and Hardware)
Curv is available as a monthly or annual membership. Choose the monthly membership and there's a one-off $399 setup fee. Monthly pricing begins at $147/month.
Annual membership has a lower one-time setup fee of $199, with pricing starting at the equivalent of $99/month.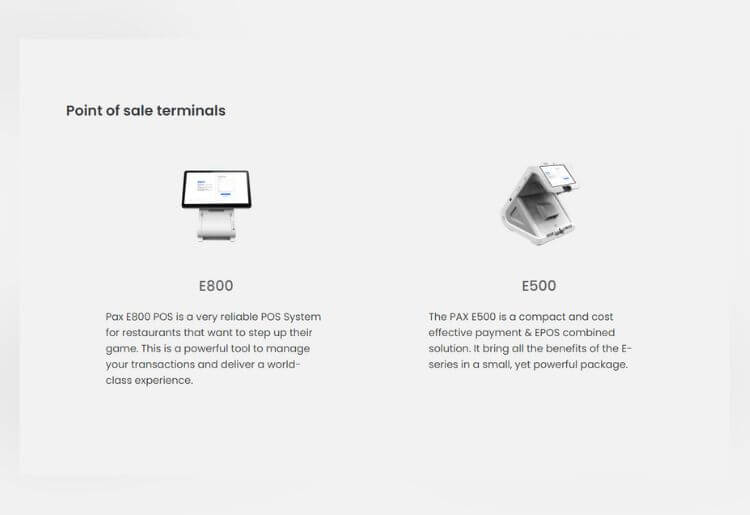 Digging deeper, the exact amount you'll pay depends on the number of POS devices you need. Curv's pricing is based on a monthly base software cost of $39.99, plus $19.99/month for each additional device. DoorDash Drive delivery support costs an extra $10/month.
Hardware comes at an additional price. An E800 POS costs $2,057, an E500 costs $1,238, and an A920 Pro costs $417. This is payable as a lease over three years, and at the end of the three-year contract, the POS device will be yours. Plus, you can get a significant discount if you lease multiple E500 or E800 devices at the same time.
Contract Terms
Curv contracts with restaurants on a 36-month basis.
Applying for Curv requires some basic underwriting. Application documentation required includes PAYARC underwriting, merchant agreements (one for PAYARC and another for Curv), and a terminal setup questionnaire.
About Curv
Curv launched in January 2022 as an affordable and simple way for establishments like restaurants and bars to take orders online. Curv is a product from PAYARC, one of the largest payment processing companies operating globally.
Originally founded in 2016 and headquartered in Greenwich, Connecticut, PAYARC created Curv to offer restaurants a straightforward way to take orders through their website and other platforms.

Curv Visit Site
Physical Address
411 West Putnam Avenue Suite 340, Greenwich, CT, 06830, United States
FAQs
Is Curv POS legit?
Curv is a POS product from PAYARC, one of the largest payment technology companies in the world. PAYARC processes over $3 billion in payments for more than 10,000 merchants annually.
PAYARC is a member of the ETA (Electronic Transactions Association) and the Visa Global Registry of Service Providers. It is an established business you can trust.
What are the limitations of Curv POS?
As Curv is specifically tailored to be used by restaurants, bars, and similar quick service operations, it lacks the flexibility to be used in other types of businesses.
It's also designed to be used with specific POS hardware, so if you already own a POS system, you won't be able to upgrade it to use Curv.