Oracle NetSuite Visit Site
Overview
How Oracle NetSuite Payroll Works
Oracle NetSuite at a Glance
Best for: Medium to large businesses
Price range: Starts from $999 per license + $99 per user per month + separate price per module
Benefits & HR: Include 401k, health, workers' comp
Automatic tax filing: Yes
Apps: Integrates with other systems incl. ERP, CRM, accounting, project management
Features and Add-ons
SuitePeople Payroll syncs seamlessly with NetSuite's financial, procurement, project, planning and budgeting systems, eliminating double counting and errors. It automates all your payroll processes, including calculating gross-to-net earnings, withholding mandatory taxes, deducting benefits, and scheduling and issuing payments.
Features include:
Automated, real-time calculation. SuitePeople Payroll calculates real-time gross-to-net and shows you a preview before asking you to confirm, avoiding errors. High volume and complex payroll batches are processed quickly, saving time.
Filtering and searching. Allows you to filter and search by employees or other criteria.
Deep editing capabilities. Enables you to make adjustments to information at a line-item level without recalculating the entire batch. Also allows you to create payroll reversals without re-entering detailed payroll data.
Filing and Deposits. Automates deposits for federal, state and local taxes plus all quarterly and annual federal, state and local tax form filings. Allows you to populate and provide ACA forms 1095c and 1094c to employees. Enables you to prepare, print and file W-2 and 1099 MISC forms for employees and contractors at year's end.
Flexible Payment Schedules. Enables daily, weekly, semi-monthly, monthly, annually or custom payment schedules. Also includes run off-cycle payrolls when the need arises.
Employee Self Service. Employees can securely view and change their own information at any time. Employees can access their last five paychecks, W-4 information and expense reports without needing permission from HR.
Variable Pay. Allows variable payments like bonuses, commissions or expense payments to be included in paychecks.
Dashboards and Reports. Includes more than 100 standard reports and KPIs, and also lets you build your own custom reports. Dashboards break down payroll expenses by location, department or subsidiary. Authorized users can zoom in from summary-level financial information, such as trial balance reports, to detailed payroll transactions.
Expert support. Users get access to APA-certified payroll experts.
Tax Compliance
NetSuite's payroll solution manages all payroll tax filings and deposits for all U.S. federal, state and local jurisdictions.
Features include:
Tax compliance for employees who work in different states during a pay period.
Support for multi-state taxation, including reciprocity.
Handling tax consequences of mid-year employee transfers.
Automatically determines tax jurisdictions based on the addresses of offices and employees.
Payment Options
The platform lets you pay employees and contractors via direct deposit at no extra charge, allowing you to run payroll with two banking days' lead time before the pay date. Employees can set up direct deposits of their paychecks for up to 10 bank accounts and be paid with a check or have their earnings directly deposited into their accounts.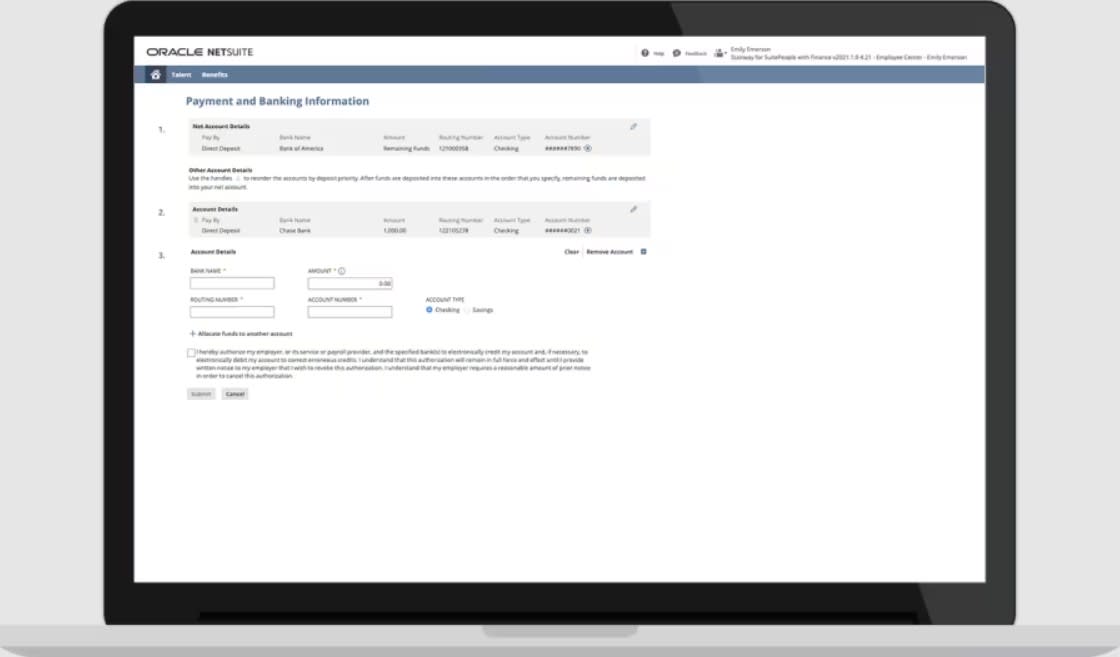 Oracle NetSuite Payroll App
Oracle NetSuite has powerful capabilities, but be warned that it can take time to train your employees to use the platform to its fullest potential. According to NetSuite, companies that use certified professionals see more effective deployments and a greater return on their investment.
Oracle NetSuite Payroll Pricing
Pricing & Special Offers
Users subscribe to NetSuite for an annual license fee and select which modules they want (e.g. SuitePeople Payroll). The price is determined by the type of business, the number of full access users in your organization (people who assign roles and give user permissions) and regular users (people who can access NetSuite tools but can't make changes to the system).
Depending on the size of your business, prices start from $999 for a license and around $99 per month per user.
NetSuite doesn't offer a free trial, but you can request a demo.

Oracle NetSuite Visit Site
Bottom Line
NetSuite is more than just a payroll platform. In fact, its capabilities extend to all areas of your business operations. The size and price of this platform makes it more suited to medium and larger-sized businesses than to small businesses. It is best for companies looking to use technology to automate and streamline payroll and other business processes.