In a Nutshell
Originally founded in Cleveland, Ohio, United Van Lines is a moving agency that now operates a nationwide and international transportation service from its headquarters in St. Louis, Missouri. You can use this service to arrange corporate and domestic moves and cover all your bases by taking out the United Van Lines full-value insurance package which is included in every initial moving quote.
pros
International moves are available
Protect yourself with optional full-value insurance
Storage for longer moves
cons
Moving agency which doesn't own its own fleet
United Van Lines at a Glance
Long-distance movers, local moves, international moves, car shipping, small move solutions, military moves, storage, packing, cleaning services
International coverage plus all 50 states
Services Covered
Over the 90 years in which United Van Lines has been in operation, it's grown to become one of the best rated moving companies in the USA. Because of this scale, it now offers an extremely broad range of different services. So, no matter your move's unique requirements, United Van Lines will be able to fulfill them:
Long-distance movers: United Van Lines offers a "full-service" moving package which means its personnel will take care of things like packing, loading, and temporary storage on your behalf. Moving can be one of life's most stressful experiences and partnering with a full-service mover is one of the best ways to keep things relaxed.
Local moves: There are hundreds of independent local moving services in the United Van Lines network. Although United Van Lines specializes in long-distance and interstate moves, its agents can put you in touch with its reliable partners to arrange smaller-scale transportation.
International moves: Setting up life in a new country isn't easy, but the United Van Lines global branch, United International, will create a personalized plan that fits your budget and needs. United Van Lines can arrange transportation to 150 plus countries, giving virtually-complete global coverage.
Car shipping: Value, condition, and time mean that simply driving a car from one side of the country to another isn't always an option. For such cases, United Van Lines provides both door-to-door and terminal-to-terminal car shipping.
Military moving: United Van Lines is GSA approved and goes out of its way to accommodate active service members who need to relocate to a domestic or overseas military base.
Storage: This company isn't simply a moving service, it's also a leading nationwide storage service. With an ever-growing network of temporary, permanent, and corporate storage facilities, United Van Lines can help you find a place for your belongings until you are ready to set a final move-in date.
Pricing
Every move is different and given the range of different transportation services available through United Van Lines, it should come as no surprise that no standard pricing scheme is available. Requesting an estimate is a breeze though, all you need to do is head over to the United Van Lines website and hit "Get a Quote".
After that, enter a few important details such as the size of your home, and whether you're moving domestically or internationally. Finally, add a few key contact details and then sit back and wait for a United Van Lines representative to get in touch.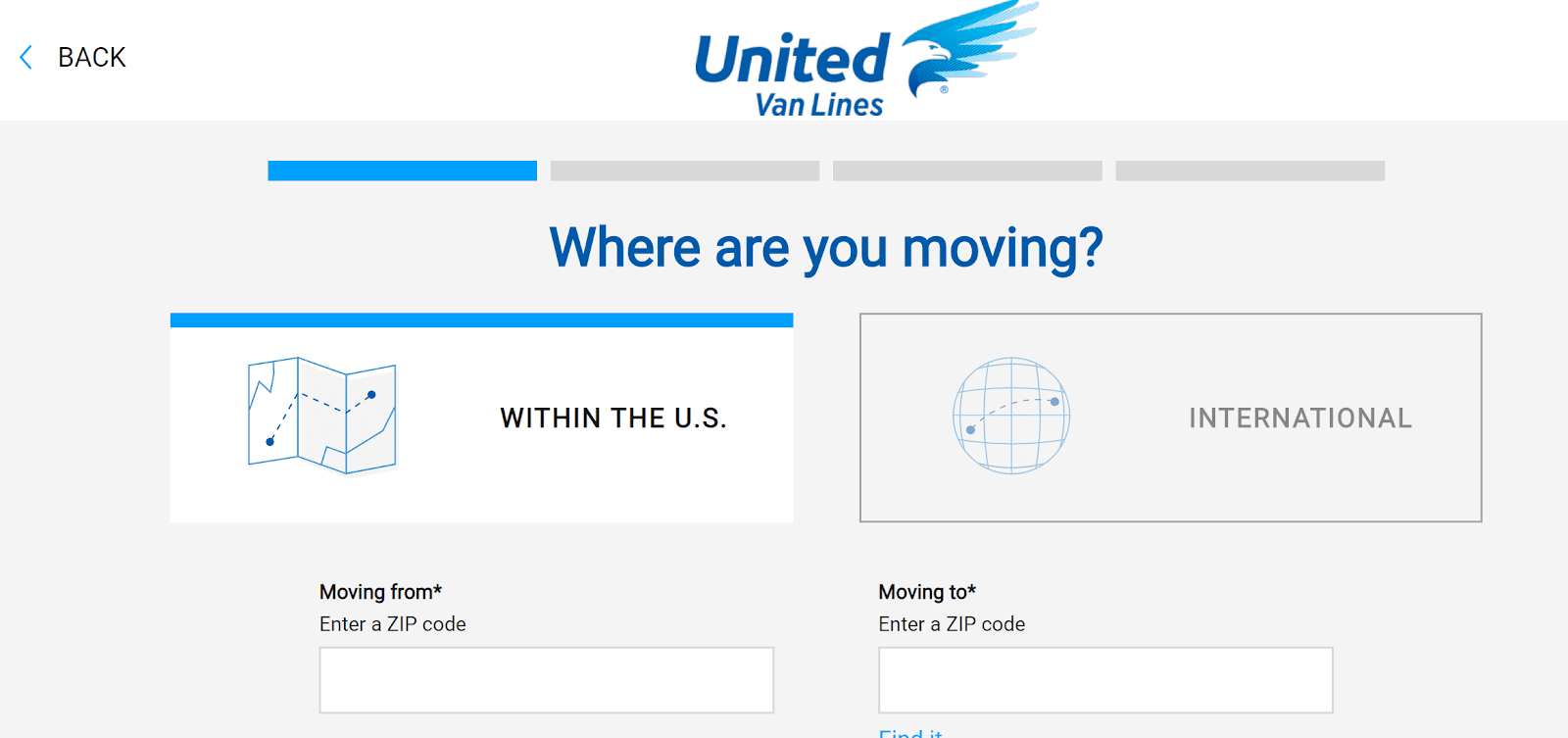 We requested a few different estimates from United Van Lines to evaluate its pricing scheme. Overall, this is a surprisingly affordable moving service, especially if you choose to pack your own belongings, rather than paying United's movers to do so for you.
The table below shows you the approximate base prices we were quoted based on an interstate move of 1,000 miles for different home sizes, along with the United Van Lines standard rates for different additional services:
Self-service: $2,000, full-service: $3,000
Self-service: $4,000, full-service: $5,000
Self-service: $5,500, full-service: $8,000
Self-service: $7,500, full-service: $11,000
Essentials extra package ($5,000 valuation protection, claim assistance, theft coverage)
Plus 1 package ($25,000 valuation protection, extra destination wait time, PC network setup)
Plus 2 packages (additional delay payment, move out cleaning service, debris destination cleanup)
Moving Process
The first step to arrange a United Van Lines move is, unsurprisingly, to request a quote online. Once you've added your details, you'll get a call back from a customer representative who will carry out a pre-move consultation with you. During this conference, a moving consultant will review information about what you need shipped and any extra services you require.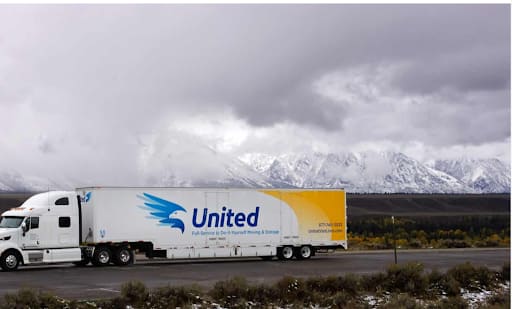 Following your consultation, the time will have come to book your move, which can only be done once your quote is finalized, so you know exactly what you'll be paying. At this stage in the process, a "move manager" will be assigned to you so you have a known person to get in touch with over the duration of your move. The move manager will work with you to finalize moving dates and complete customs forms. They'll also give you all the tracking details needed to watch over your shipment while it's on the move.
What happens next will largely depend on what kind of moving service you selected. If you opted for a self-service package, the time has come to start organizing and packaging your items yourself. If you went for a premium full-service option, you can sit back and wait. On moving day, United Van Lines' movers will arrive at your address and begin packing and loading your items.
While your belongings are en route, you can keep a careful eye on them using the advanced tracking technology on the United Van Lines website. When delivery day rolls around, you just need to be present at your destination address to give the movers the go-ahead to start unloading. Remember to check that nothing has been damaged. Although United Van Lines has a reputation for safe-handling, it always pays to double-check.
Fleet Details
United Van Lines is an enormous company with a diverse fleet capable of moving your items via air, sea or road securely. Unfortunately, no numbers have been published about the size of United's fleet but given that this is currently the country's biggest van line in terms of volume and market share, you can rest-assured its vehicles are well-maintained and fitted with technology to keep your shipment safe in-transit.
Customer Service
For general inquiries, you can contact United Van Lines via a standard web form. However, most queries will be better directed to your personal move manager who will be assigned to you when your move is first booked.
The law requires that United Van Lines includes basic low-value coverage with all moving packages, but this only gives your shipment a valuation that maxes out at $0.60 per lb (or slightly more depending on your local state). Alternatively, you can take out full-value insurance coverage, which will be quoted for in your initial estimate, or purchase one of the United extra service packages which give additional coverage at fixed increments.
Bottom Line
United Van Lines is a behemoth of a moving service, occupying the coveted top-spot as America's No.1 van line service in terms of market share. With flexible storage, international shipping, and specialist item handling packages, it's a company well worth considering. The only downside is that United Van Lines doesn't arrange local moves itself.