In a Nutshell
United Regions Van Lines offers long-distance moving services covering Canada and 49 states of the US. With over 25 years of experience, and company-certified staff holding a minimum of two years of commercial experience, it specializes in taking the stress out of interstate moves. Offering a 'white glove' service encompassing the full A to Z of packing and careful handling, this company is popular with families and corporate customers alike.
pros
Nationwide coverage, plus Canada
Company-certified staff with at least two years' experience
Door-to-door full service offered
cons
Not Better Business Bureau certified
Quotes not available instantly
Quoted price isn't guaranteed

United Regions Van Lines Visit Site
United Regions Van Lines at a Glance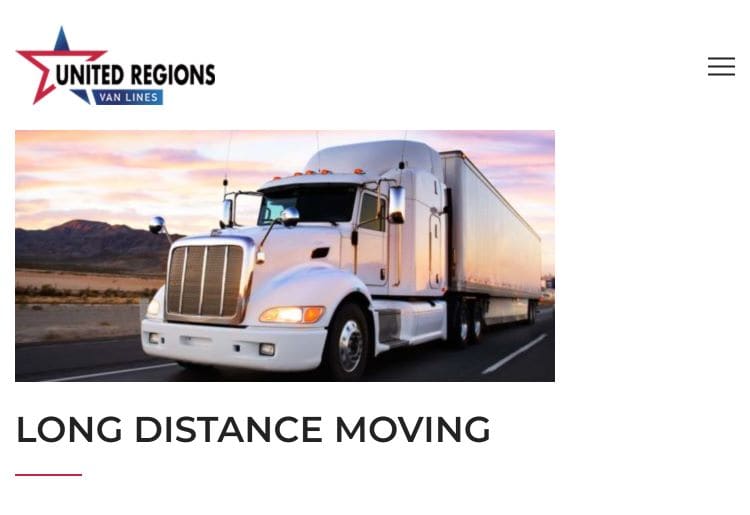 Long-distance moving, corporate relocation, military moving, seniors moving, professional packing, storage
Services Covered
United Regions Van Lines specializes in interstate moves, saving you long drives and days off work. It is licensed, insured, and experienced in moving fragile household goods and furniture. It also offers tailored packing, moving, and storage services for specific groups of customers. Here is the full list of services the company offers:
Pricing
Owing to the hugely variable nature of long-distance moves, United Regions Van Lines' pricing is tailored to the individual requirements of each client. Your quote is affected by the weight of your items, the level of service you need, and whether you book during a busy period. The company doesn't provide a standardized list of charges for common items or services, so making contact is essential to get an idea of what your move might cost.
The website does not include an instant quote generator, so you'll need to click on the 'Get a Quote' button. Once you've submitted the form with your approximate moving distance and contact details, the company will contact you with an estimated quote. This is your opportunity to discuss any additional needs. Providing a detailed picture of your requirements will result in a more accurate quote. Alternatively, you can phone or email for an initial quote.
To provide an example of cost, we requested a quote to move from a small property in Alabama to Washington. We were quoted $6,600 for the move before the addition of any extra requirements. A similar move of a larger, four-bedroom house with additional furniture assembly and large appliance packing was estimated at $14,000. Despite United Regions Van Lines specializing in long-distance moves, the quoted price for a local move for a smaller property was as little as $2,000.
Moving Process
After receiving an initial quote you'll be able to discuss any additional requirements and finalize the details. You'll also be able to set your moving date, which is the day that your household items will be loaded onto a lorry. The company requires a percentage of your estimated total cost as a deposit before the move begins, which is common.
If you've also decided to use the professional packing service, staff from the company may come to your house before your moving date to pack your belongings. How early this process begins will depend on how many items need to be packed.
On your moving date, United Regions Van Lines' staff will move your items onto one of its lorries and start driving to your new home. The length of this journey depends on the distance, traffic conditions, state lines crossed, and even the weather. However, the company gives the most accurate estimate of transit time possible based on its predictions.
If you've purchased storage from the company, your belongings will be taken to one of its warehouses and stored in secure, climate-controlled containers. You'll then be able to focus on moving yourself and your family to your new location, knowing that your things are in the capable hands of experienced staff.
United Regions Van Lines will remain in contact with you so that you can prepare for the arrival of the lorry at your new address. If you've opted for the unpacking, furniture reassembling, or appliance setup services, staff members will remain at your new property to help with this end of the transition.
Fleet Details
United Regions Van Lines has 16 straight trucks and 17 drivers registered with the Federal Motor Carrier Safety Administration. This makes it a smaller fleet than many large nationwide companies. Therefore, it is advised to secure your moving date by booking as early as possible. Many customers prefer smaller companies because of the more personalized service offered by them.
Customer Service
United Regions Van Lines is easy to contact online or over the phone. The toll-free phone number is manned from 8am to 8pm Central Time, and we found that our calls were answered quickly by customer service.
The company also replies quickly to email inquiries, but the easiest way to get in touch with it is by using the online form on the 'contact us' section of its website. Our questions were answered within a couple of working days, although you may need to wait a little longer during busy periods.
When your items are in transit with the company, they are covered by basic liability insurance up to the value of $10,000. You can purchase additional insurance to cover a greater value; the exact cost of this will depend on your requirements.

United Regions Van Lines Visit Site
Testimonials
"United Regions Van Lines has been my first and only choice of movers for a few years now…"
– Jamie
"I hired United Regions Van Lines to handle our move from Ohio to Tennessee last month. They get 5 stars for their great work…"
– Olivia
"My family and I are very happy to recommend United Regions Van Lines for doing an excellent job when we [moved] to Crystal Lake, IL from Atlanta, GA recently…"
– Simon
Bottom Line
If you're moving long distances across state lines, you can save yourself a lot of stress and time by hiring a moving company. On top of this, the best moving companies use years of experience to pack your items securely so that you aren't faced with any unpleasant surprises when you unwrap them. United Regions Van Lines provides an efficient interstate moving service, reducing the hassle and damage involved in a big move.
Whether you're a military family deployed to another state, a business moving its premises, or an elderly person moving closer to family, United Regions Van Lines can offer a tailored service for you.