In a Nutshell
U-Pack is an affordable alternative to full-service moving companies. U-Pack drops a trailer or moving container off at your home and gives you up to three days to load it yourself. You only pay for the space you need, allowing you to save money if you pack efficiently or leave stuff behind at the last minute.
pros
Much more affordable than full-service moving companies
Only pay for the space you actually end up using
In-transit storage available for your container
cons
You have to pack and unpack your own stuff
Pricing structure encourages you to leave things behind
U-Pack at a Glance
Container and trailer shipping, storage, shipment tracking
50 states, Canada, and Puerto Rico
Services Covered
U-Pack covers long-distance moves anywhere within the US (including Puerto Rico) and Canada. One of the best moving companies around, it offers plenty of extras and even gives you a moving trailer or container to put your stuff in and then moves it for you. U-Pack also has in-transit storage options and simple online shipment tracking. While U-Pack doesn't itself offer crews to help with packing and unpacking your container, it will give you a referral for a local moving company.
Long-distance moving — fill a container or trailer yourself and U-Pack will ship it for you anywhere within the US or Canada
In-transit storage — store your container for as long as you need in between pickup and delivery
Shipment tracking — easily keep track of your container online at U-Pack's website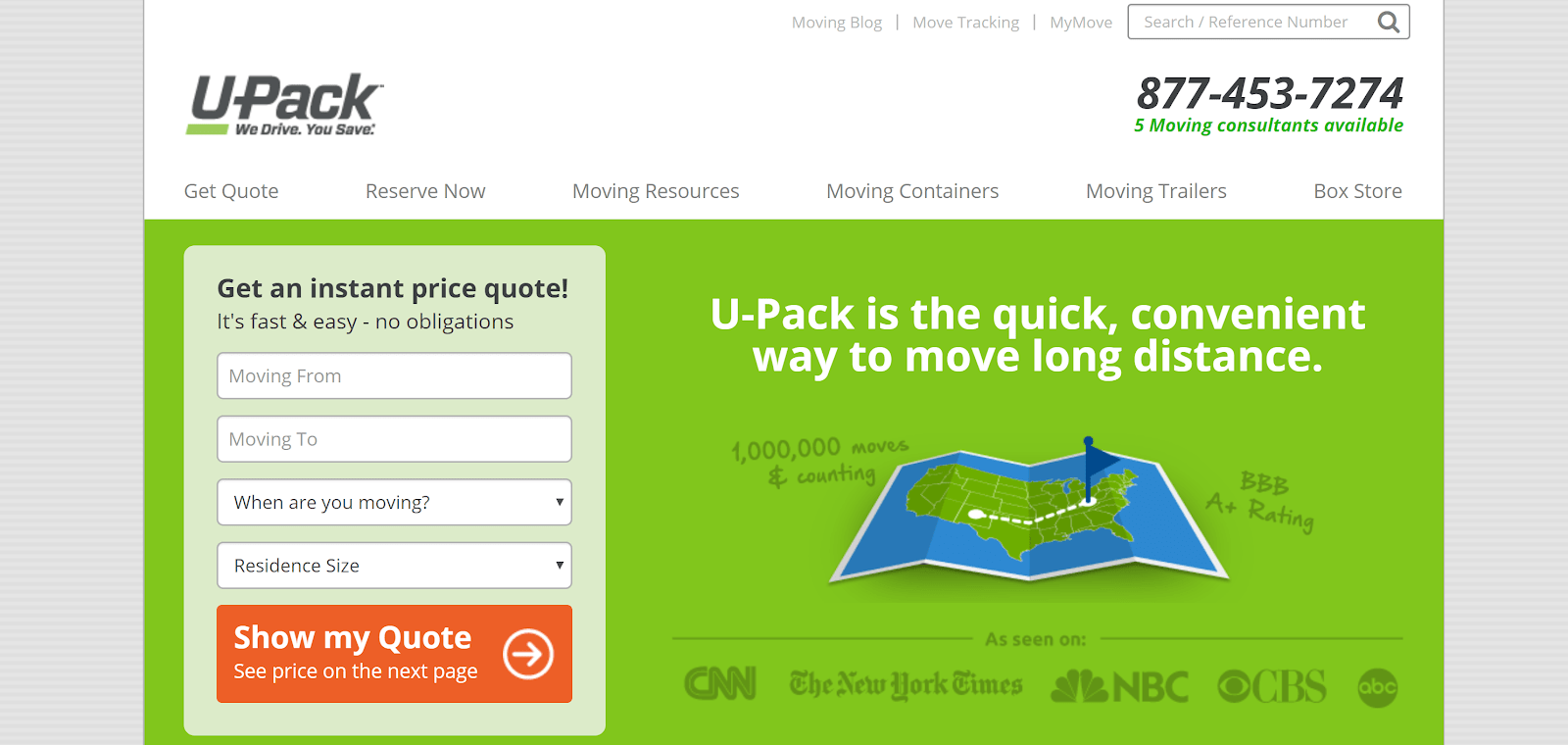 Pricing
U-Pack has a relatively unique value proposition: you only pay for the space you use. That means that when you order an entire trailer but only need 10 feet of space, you only pay for that 10 feet. If you order individual containers—what U-Pack calls ReloCubes—you only pay for the containers you actually end up loading.
The trick to this pricing scheme, at least for trailers, is that U-Pack fills the remainder of the trailer with commercial cargo that's headed in the same direction as your shipment. By sharing trailer space, you're able to save a significant amount of money compared to other moving services. For ReloCube shipments, a single truck might be carrying your cubes and someone else's.
Thanks to this system, U-Pack is much cheaper than most full-service moving companies. As an example, moving a single ReloCube (large enough for one room's worth of stuff) from Houston to Seattle costs under $2,600. If you need a trailer to move a three-bedroom home from San Francisco to New York, the cost comes in at around $7,000.
Keep in mind, these prices don't include any help with loading or unloading your container or trailer. If you want help, it costs around $500 to hire a local crew for half a day.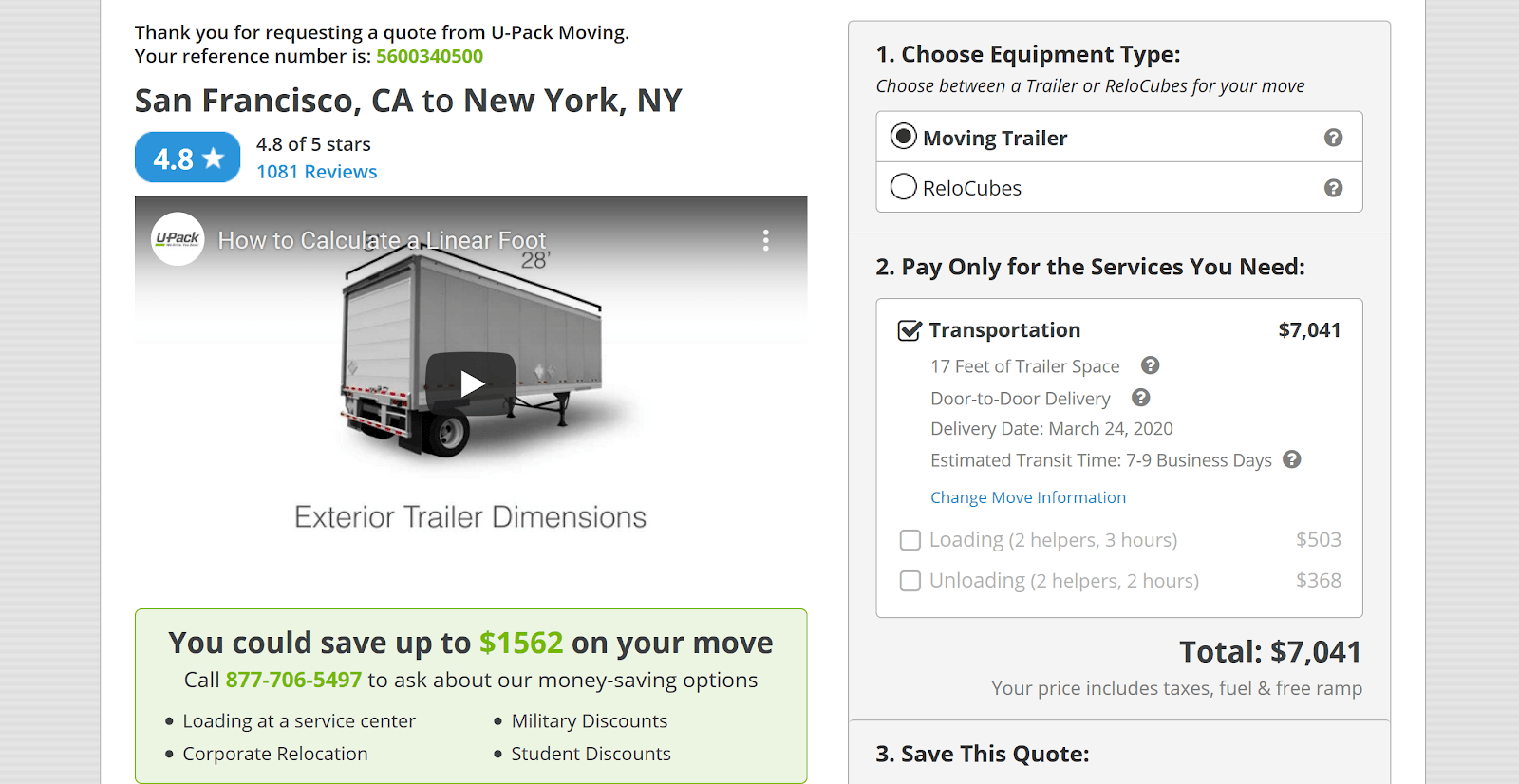 Moving Process
The moving process with U-Pack is straightforward in a way that it simply isn't with most other moving companies. When you go online to get a quote, U-Pack will offer both trailer and ReloCube options. That way, you can easily see how much the two options cost and compare the total space you'll have for your belongings. It's also easy to add loading and unloading services from local moving companies to your quote.
You can save quotes to return to in the future, or reserve them online and set a drop-off date for your trailer or ReloCube. From the day the container is dropped at your home, you get three business days to load it up. Since you know your drop-off date well in advance, it's easy to line up friends and family to help you with the loading process if you don't want to pay for a moving crew
On the fourth day, a truck will come to pick up your trailer or ReloCubes. They'll drive right to your new home, which takes anywhere from two days to a week for most moves, and drop off the container. Then, you have another three days to get all your stuff out before the empty container is picked back up.
If you need in-transit storage, U-Pack offers that, too. Storage is typically sold in 30-day increments. Keep in mind that it's also much more cost-effective if you're using ReloCubes rather than a partially packed trailer.
One other thing to consider when using U-Pack is that you need somewhere to put the trailer or ReloCubes at both your old home and your new home. ReloCubes will fit in a driveway or parking space, but trailers take up a significant amount of space (they're 40 feet long with the ramp extended).
Fleet Details
U-Pack has a fleet of trailers and ReloCubes available. Trailers are standard 28-foot-long trailers that can be pulled by any truck, and U-Pack works with independent long-haul truckers for pickup and delivery.
ReloCubes are 6 feet x 7 feet x 8 feet. They're small enough to fit in a parking space or in your driveway for loading and unloading. Better yet, you're allowed to put your own lock on a ReloCube for transit.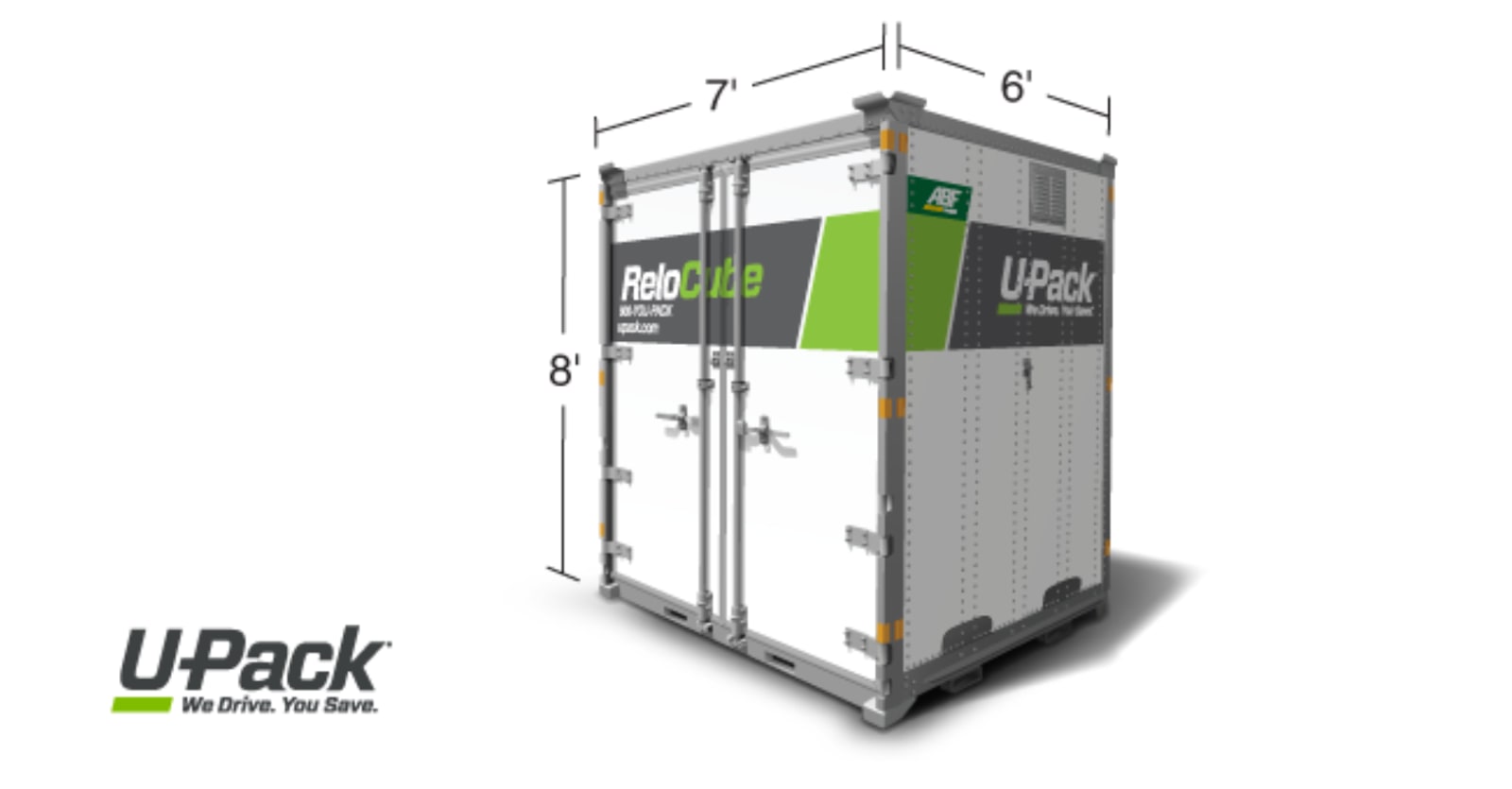 UPack Customer Service
U-Pack's customer service is excellent. You're given an online account where you can track the details of your order and make changes as needed. If any issues arise, it's easy for customer service representatives to pull up your move information based on your reference number or account information.
You can also track your shipment online while it's in transit. All you need is your order reference number, which you can find in your online account.
U-Pack does include basic insurance with every move. Your items are covered at $3 per pound per item, up to $60,000 per trailer or $7,500 per ReloCube. You can also pay for additional insurance through U-Pack, although the company recommends renters' insurance as a more comprehensive coverage option.
Testimonials
"I have several friends who are also in the process of moving, and I have heard many horror stories about moving companies. My experience with U-Pack, however, was absolutely wonderful – I appreciated the professional, helpful staff, punctual delivery, and reasonable pricing. I will definitely recommend U-Pack to friends in the future!"— Lauren K.
"The ease of just packing, low cost, then having someone else doing the driving made two interstate moves a snap. Finding out how sturdy the ReloCubes are compared to the competition (I did my research) made using U-Pack a no-brainer. Then with all the incredible customer service and consistently excellent communications made this an over the top experience."— Rene M. Tifton
"Amazing. I will never use another moving company! I will highly recommend U-Pack to anyone who asks. Could not have had a better, easier, faster, no hassle moving experience. Totally worth the price for the pickup/drop off. Thank you guys all so much!"— Fae G. Englewood
Bottom Line
U-Pack offers a simple and affordable way to handle long-distance moves. If you're okay with loading and unloading your belongings on your own, the pay-as-you-go container system can save a significant amount of money compared to traditional full-service moving companies. In-transit storage options and online shipment tracking only add to the allure of U-Pack. However, keep in mind that U-Pack's method can be problematic if you don't have somewhere to park ReloCubes or a trailer for a few days at both your old and new homes.