In a Nutshell
U-Haul isn't a traditional moving service. It's a truck and trailer rental company that loans out its giant fleet of vehicles at affordable daily rates. This setup makes U-Haul an excellent option if you want to set your own schedule or don't fancy paying the high rates of professional movers.
pros
Largest truck and trailer selection of any company
Locations in every state
Book online
cons
Customer service occasionally disappointing
Some fees not displayed clearly
U-Haul at a Glance
Truck and Trailer Rental, Container Delivery, Self and Auto-Storage, Local Moving Assistance
Services Covered
U-Haul might be best known for its by-the-day truck and trailer rental service, but this top moving company actually offers plenty of other moving and storage services too. Because of U-Haul's enormous nationwide scale, it's worth checking if the service you're most interested in is definitely available at your local branch.
Rental Trucks. Pickup a vehicle in one state and drop it off in another, and choose anything from a small pickup to a 26' truck to fit your unique needs. Plus, U-Haul vehicles come with a low deck to make it easy for you to load and unload your items.
Trailer and Towing Rentals. U-Haul offers a wide range of specialized pieces of towing equipment. These include enclosed cargo trailers for more delicate objects as well as tow dollies for cars and supported motorcycle trailers. Each vehicle trailer comes with a built-in ramp to make loading and unloading a breeze.
Moving Labor. U-Haul maintains a directory of local businesses you can book if you need a helping hand with loading, unloading, packing, cleaning, or lifting heavy furniture.
Hitch Installation. In order to tow a U-Haul trailer you'll need to have a trailer hitch securely fitted to your vehicle. Fortunately, U-Haul has thousands of different shops that will be happy to fit one to your car or truck. Trailer wiring, bike carriers, and rooftop cargo carriers are also available.
Monthly Storage. U-Haul mini-storage and self-storage facilities are distributed across North America. No matter what sort of items you need to store, you're likely to find a suitable option with U-Haul as climate-controlled, indoor/outdoor facilities, and a range of container sizes are available.
International Moves. U-Haul isn't a purely DIY service. U-Box Containers are essentially large boxes that are delivered to your door and then picked up by a U-Haul representative and shipped independently to a local or international address of your choice.
U-Haul Truck Rental Pricing
Some of U-Haul's most recent campaigns have reeled in customers by advertising dirt-cheap day rates like "$19.95 per day" for truck rental. However, it's worth that these advertised rates are generally only available for local moves. If you're dropping your truck in a different location or moving states, you're likely to pay much more.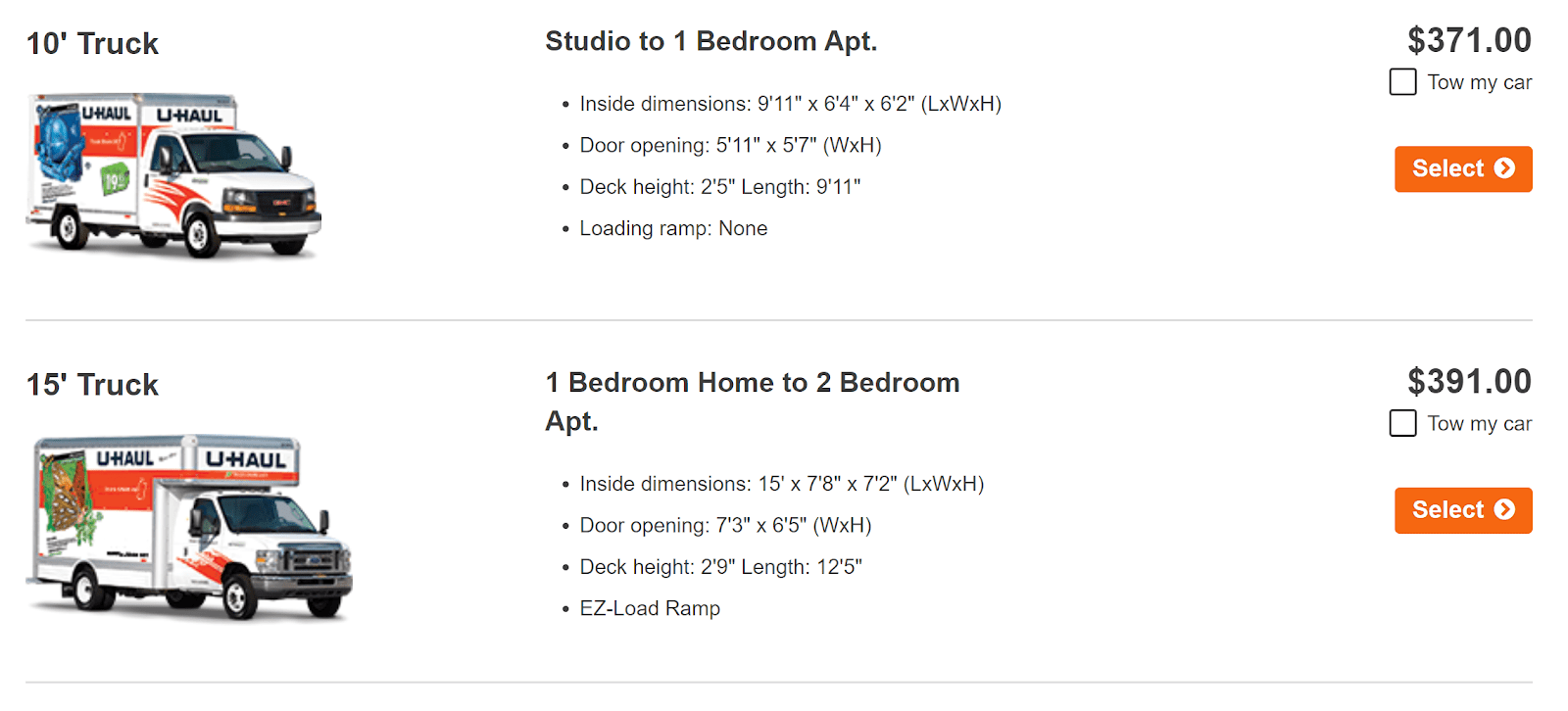 When renting a U-Haul vehicle, all the following costs need to be added up to give your final price:
Base truck rental cost
Damage protection
Fuel
Environmental fee
Taxes
Mileage fee (only applies for local moves)
Once everything is factored in, for a 500-mile door-to-door move we estimate you would end up paying U-Haul around $1,320 for a 10 ft truck capable of hauling the contents of a small studio apartment. To get all the items in a 3-bed home the same distance, you'll need a 20 ft truck, and we calculate that the total cost of one of these would be $1,690. We've based our estimates on rates currently offered by U-Haul and the average cost of gas at the time of writing ($2.50 per gallon).
Remember, when you first receive a U-Haul rental quote, the number you see will only represent the base rate of your rental. Environmental fees, taxes (which vary state to state), and mileage costs will all be added later.
U-Haul Trailer Rental Pricing
If you already own a vehicle capable of towing a large load, the cost of renting a trailer through U-Haul is generally much lower than renting a truck. It's also easier to estimate the total cost as you don't need to factor in extra charges such as mileage and environmental fees.
For a 4' by 8' enclosed cargo trailer rental with drop off 500 miles from the pickup point, you'll pay about $80. That'll increase to around $120 for a basic utility trailer with a ramp and to $185 if you upgrade to a 6' by 12' cargo trailer.
Do remember that to rent a U-Haul trailer, you'll need to pay for a trailer hitch and wiring harness to be installed on your vehicle. If they are already, you'll need to demonstrate that they have been attached correctly to a U-Haul representative at your pickup point.
U-Box Container Shipping Pricing
A U-Haul U-Box can be used to transport up to 2,000 lbs and is capable of fitting the contents of roughly one and a half rooms.
Moving using a U-Box is far easier than renting a vehicle or trailer and driving to your destination, but also more expensive. Shipping a U-Box 500 miles will cost between $940 and $1,140 depending on whether you want to pick up the U-Box from a U-Haul location or have it delivered straight to your door.
Moving Process
To get started organizing your move through U-Haul, you first need to request a quote and decide what kind of moving option you want to use. For example, would you rather drive your own truck or pack your belongings into a U-Haul U-Box? To do that, head over to the U-Haul website and enter your origin and destination into the online quote system. Tabs at the top of the page will allow you to see the price difference between the U-Haul's various transport options.
As it's U-Haul's most popular service, let's assume that you've decided to rent a U-Haul truck. The next step is to choose which size of vehicle you require. A 10 ft truck should be suitable for a studio apartment move while transferring the contents of a 4-bedroom house will only be possible with a 26 ft truck. If moving with a vehicle, you can tick a "Tow my car" box to request that towing equipment be added to the back of your rental vehicle.
Next up, you'll need to set a local pickup location and time. There are two ways to access your vehicle: over the counter or through the U-Haul app. The advantage of using the app is that you can gain access to your vehicle outside of business hours.
After that, unless you've requested assistance from a local U-Haul affiliated moving company, you're essentially on your own when it comes to packing, loading and driving your belongings to your new location. You may wish to purchase packing materials through the U-Haul site to better protect valuable items during the journey.
Finally, you'll drop off your truck at a U-Haul location you selected during the initial payment process. You'll need to complete a vehicle inspection at this point and may have to pay extra if returning the truck without a full tank of gas.
Fleet Details
With over 160,000 vehicles, U-Haul's fleet size is unmatched in terms of size as well as variety. In total, there are 7 different truck styles to choose from including small pickups for hauling a few pieces of furniture and 26' trucks which are the largest available in the self-moving industry.
The great thing about U-Haul vehicles is that they often come with specialized adaptations that you won't see on consumer trucks. For example, the U-Haul's proprietary "EZ-Load" system makes it easy for you to load and unload your truck using a wide stable ramp and low deck height.
U-Haul trucks also come with a gentle suspension system to prevent goods damage and run on standard unleaded fuel which is cheaper per gallon than diesel. Of course, although regular gasoline is cheaper per gallon than diesel, it's less fuel-efficient. That means overall, you probably won't save money by using a gas-powered truck.
Customer Service
U-Haul operates out of 20,000 different locations, and many of those are managed by third-party operators. For this reason, customer service can be a little variable to say the least, as evidenced by some of the company's past reviews.
Still, there are plenty of ways to get in touch with U-Haul's more consistent central customer service center. Specific phone lines for options like reservations, moving help, and shipped order tracking are also available.
Bottom Line
Since 1945, U-Haul's distinctive orange trailers and trucks have been a staple of American highways. It's easy to understand why this moving service remains popular today with prices that undercut professional moving services and an enormous selection of vehicles to choose from.