In a Nutshell
Truckline is a moving brokerage that connects you with professional, local and long-distance movers. It specializes in long-distance service and offers 30 days of free storage alongside your move. Its suite of professional services includes packing/unpacking, corporate relocation, and auto transport. If you need long-distance moving services or storage alongside your move, consider Truckline.
pros
30 days free storage with every move
Residential and corporate moving services
Offers long-distance and local moving services
cons
Limited service outside ET business hours
No online quote tool

Truckline Visit Site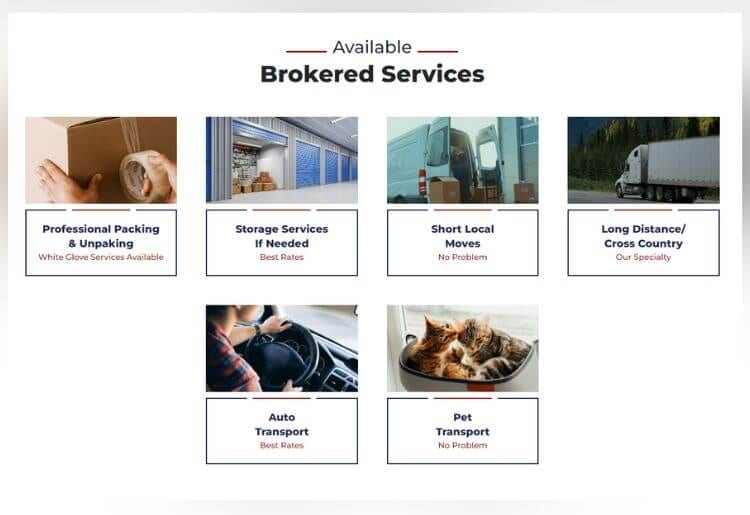 Truckline at a Glance
Local moving, long-distance moving, storage, corporate moving.
Services Covered
As a moving brokerage, Truckline can connect you with a range of companies that offer long-distance (interstate) and local moving services. It also offers storage, professional packing/unpacking, and auto transport. Truckline offers white glove moving services, meaning its partners will handle your belongings with the highest degree of care and professionalism.
Local moving. Any move within the same state is considered a local one, regardless of distance. For licensing reasons, local moves are generally cheaper than those across state lines.

Long-distance/Cross-country moving. Any move across state lines is considered a long-distance move, regardless of distance. A long-distance move across multiple states is considered a cross-country move. Licensing for moving companies that operate across multiple states is highly complex, resulting in additional costs passed to the customer.

Storage. Truckline offers 30 days of complimentary storage alongside your move. Long-term storage services are also available for a fee.

Packing/Unpacking. Professional packing/unpacking is an optional service on top of the move itself. You can either opt for full-service packing/unpacking, where movers handle the entire process under your direction, or save money with partial packing/unpacking, where you pack some items while movers handle others.

Auto transport. Truckline offers optional vehicle transport with your move, at an additional cost.
Pricing
While Truckline focuses primarily on connecting customers with professional long-distance and cross-country movers, there is no minimum move distance. Since Truckline deals with numerous third-party partners, there is also no set pricing. Quote price will vary according to distance moved, start and destination location, and the size of your move.
To get a personalized quote from Truckline, fill in the short form on the Truckline website. You'll need to know your origin and destination zip codes, move date, number of bedrooms, and provide your contact information.
You can also request a quote by phone at 818-758-4076. Due to the variable nature of its pricing, Truckline did not provide us with an exact quote. To give you a general idea, the average local move costs between $800 and $2,200 in the US, while the average long-distance move comes out to between $2,200 and $5,700.
Moving Process
Once you've submitted your quote form on Truckline's website, the company will contact you by email or phone and provide an estimate for your move. At this point, you will be asked about any special requests, such as vehicle transport, storage, particularly heavy or fragile items, or anything else you think the mover should know before you begin.
Once you have detailed any special requests and are happy with your quote, Truckline will give you the contact information for your mover. This allows you to make contact directly to ask about insurance or any other questions you may have.
On moving day, you'll need to provide direction to the moving team at the start and end points of your journey. If you've requested professional packing and unpacking, your movers will pack your items under your guidance. If not, be sure that all items are packed and ready for loading by the moving team.
Next, confirm your destination with the moving team, then head over to ensure you're there in time for their arrival. On arrival, if you requested packing/unpacking services the movers will assist with unloading and unpacking according to your instructions. When everything's moved in, your movers will present you with the final bill for your move, concluding the process.
Fleet Details
As a moving brokerage, Truckline does not operate a dedicated fleet, instead partnering with local movers in your area who supply their own vehicles. Whether you require a relatively straightforward local move or a complex cross-country move, all the movers in Truckline's network should have the necessary means to facilitate it for you.
If you have any special requests, such as vehicle transport or transport of particularly heavy or fragile cargo, be sure to let Truckline know when you request your initial quote.
Customer Service
You can contact Truckline by phone at 888-674-4766 (Desktop) or 888-588-1282 (Mobile), or via its online contact form. Their dedicated call center hours are from 10 am to 7 pm.
Truckline does not provide its own moving insurance, so for questions regarding insurance you'll need to contact your moving partner directly.
We liked that the estimate provided to you by Truckline when you request a quote is binding. This means that the price you pay cannot exceed the amount provided on the estimate, except in the following scenarios:
Unforeseen circumstances, such as stairs, elevators, or parking permit requirements that increase the complexity of your move. To avoid this issue, disclose any such details to Truckline upfront when you request a quote.

Impracticable operations, which make it impossible for the mover to complete collection or drop-off with its usual road haul equipment.
For an exhaustive list of unforeseen circumstances and impracticable operations, refer to Truckline's Rights and Responsibilities document.

Truckline Visit Site
Testimonials
"I had a very positive experience with Truckline Moving. Making plans for the move was complicated with 2 pick up addresses. The 3 movers, Anthony, Casey and Roy were Fantastic! They made sure everything was properly protected and fit all of our items into the truck. They moved swiftly and carefully."—Isabel K., local move within Florida.
"Loved the crew that helped my family and I move! Ricky, Jesus, and Cole were awesome! All 3 were very professional, courteous and quick. I would definitely recommend Truckline moving and storage."—Demarco K., local move within California.
"This company gets 10 stars out of a 5 star rating. Movers were very respectful of my items and me. They worked together like a well oiled machine. Fast and efficient."—Chelsea G., long-distance move from Utah to North Carolina.
Bottom Line
Truckline moving is a moving brokerage that specializes in long-distance and cross-country moves. Its notable features include 30 days of free storage with every move, and binding estimates that ensure your move does not exceed your quoted price. If you have storage needs alongside your move, or want a professional service from a long-distance moving specialist, Truckline has you covered.