In a Nutshell
Sherpa Auto Transport is a car shipping and transportation company known for its top-notch customer service. It operates in all US states bar Hawaii and Alaska and offers open and enclosed vehicle shipping, as well as inoperable vehicle transport. While there are many benefits, it's the transparent pricing model (no hidden fees or bait-and-switch pricing) that makes it stand out from competitors.
pros
Free car wash
Transparent pricing
Track record of safety and service
cons
No international shipping or to Hawaii and Alaska
No shipping for ATVs or motorcycles
Shipping broker (middle man)

Sherpa Auto Transport Visit Site
Sherpa Auto Transport at a Glance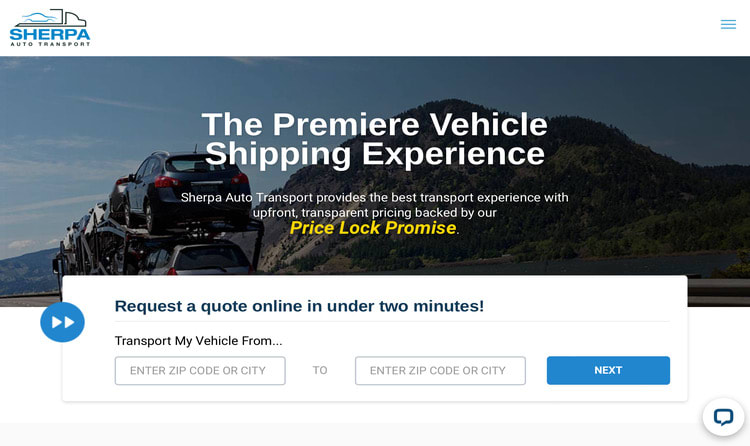 All, excluding Hawaii and Alaska
Services Covered
Open/enclosed transport
You will have the option between open and enclosed transport. Open transport, while the cheaper of the two options, keeps the vehicle exposed to the elements and other road debris during transport. Enclosed transport, on the other hand, protects your vehicle by enclosing it in a trailer. However, this additional enclosure does come at a more expensive price point.
Door-to-door shipping
Sherpa will ship eligible vehicles between any two addresses of your choosing (or a nearby location), providing those locations are neither international nor in Alaska and Hawaii. If you're in Washington DC, due to city ordinances that restrict large trucks in most areas, the vehicle would need to be moved outside the city limits for pickup or delivery.
Inoperable vehicle transportation
Even if the vehicle you're transporting isn't operable, Sherpa has you covered. While there's an additional fee (determined after speaking with a representative) there is a caveat—the vehicle must be able to roll, break, and steer so that it can be loaded onto the trailer.
Expedited transport
Sherpa offers expedited pickup windows and these are typically not limited to specific locations. If interested, customers should reach out to Sherpa to discuss their specific transport plan.
Vehicle tracking
Vehicle tracking is available throughout the shipping process. Just call (877) 850-1231 to get arrival time and location updates.
Pricing
Depending on variables such as location, weight, shipment type, speed of service, and shipping distance, the pricing for shipping can vary greatly. One thing that most impressed us is Sherpa's "Price Lock". This means that the price you are quoted is locked in not to change—there are no bait-and-switch tactics like last-minute hidden fees or other costs.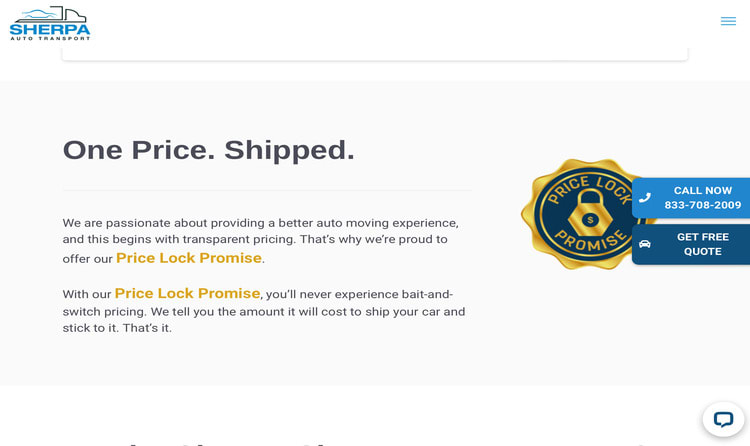 As a bonus, military service members, returning customers, and those shipping multiple vehicles are eligible for discounts which can only be revealed at the time of your customized quote.
Below are some example quotes all based on a 2015 Toyota RAV-4:
Location: Atlanta, GA to Miami, FL
Type of Transport: Open
Price: $900
Location: Dallas, TX to Los Angeles, CA
Type of Transport: Open
Price: $1,200
Location: New York City, NY to Los Angeles, CA
Type of Transport: Open
Price: $2,200
(Please note that enclosed transport can increase, as the cost of shipping an enclosed vehicle is specific to each shipment).
Visa, Mastercard, Discover, AMEX, Cash, or certified check
Yes, a minimum $1,000,000 in liability insurance and $100,000 cargo insurance
Cancel anytime. Cancel before dispatch and pay a $50 dispatch fee. Cancel after carrier assignment, and pay the amount of initial payment.
No, not at the time of booking. TBD on mileage of transport.
When booking your transport, note that the following factors will impact your shipping costs: vehicle type, time of year (peak demand months), shipping distance, type of transport (open vs. enclosed), vehicle operability, and pickup and drop off.
Moving Process
Shipping with Sherpa Auto Services is straightforward.
Get a no-obligation free quote via phone or website form. In both circumstances, you'll be asked to provide your intended shipping dates and location(s) along with your phone number or email address. It's important to note that Sherpa doesn't provide instant online quotes, so you'll need to wait for a reply email or phone call.

Book your move. If you're happy with the quote, your credit or debit card detail will be collected. While a credit or debit is collected at the time of sign-up, there is no deposit or anything else paid until a carrier is confirmed. Sherpa does not charge anything to the customer's card on file until a carrier is secured for their transport.

Prepare your vehicle. Make sure to clean the interior and remove any personal effects. Ensure that at least a quarter of gas is available and that all basic systems are operational. Disable any alarms or aftermarket/third-party sensors.

Carrier pickup. You'll receive an estimated pickup date from the carrier by call.

Bill of lading. Together with the carrier, you'll inspect your vehicle to note any existing damage, confirm the delivery location, and sign the bill of lading. You'll then give the keys to the carrier.

Delivery. You will receive an estimated delivery range from the carrier. Upon delivery, you'll again inspect your vehicle with the carrier, ensure there is no new damage, and sign the bill of lading. (If new damage is noticed, alert the carrier and note it on the bill of lading so you can open a claim with Sherpa).
Fleet Details
Sherpa Auto Transport is a shipping broker. This means it acts as a middleman by partnering with other shipping carriers to facilitate your vehicle's move across the country.
Customer Service
Customer service can be reached at (877) 850-1231. It isn't explicitly stated if customer service is available 24/7. However, we were able to get an agent on the line on a Sunday afternoon. To get a quote, you can also fill out the online form, and Sherpa will respond to you once the quote has been prepared.
Clean Car Guarantee
As most customers tend to choose the cheaper open transport option, the vehicle could arrive at its final destination dirty from the trip. To deal with this, Sherpa offers a reimbursement of up to $20 so you can treat yourself to a car wash.
Insurance
Sherpa works with only the top insurance carriers, requiring them to have a minimum of $1 million in liability insurance and $100,000 in cargo insurance. Sherpa is listed as the policy holder, so should something happen to your vehicle during transit (e.g., scratches or dents), the company can fully assist you in filing a claim. Sherpa also screens its contracted carriers by assessing and monitoring their driving records, further reducing the chance of your vehicle being damaged in transport.

Sherpa Auto Transport Visit Site
Testimonials
"This was my first car transport experience and it went just as promised. This was after a first failed attempt with a different broker. The actual transport company were excellent communicators and my car arrived on time in good condition." - Susan of University Park, FL
"A 5 Star experience. Quick, reasonable cost and a good driver. I was able to contact the driver along the way for updates. He selected a safe location near my house to drop off the car. If I have a need to transport a car in the future you'll be hearing from me." - George for Scottsdale, AZ
"Great experience, did what they promised, took a little beating to keep their word but they did. Truck was picked up and delivered in a prompt and efficient manner. Delivered it in great condition and the driver was a very nice friendly guy." - Kevin of Douglasville, GA
Bottom Line
Sherpa Auto Transport offers vehicle transport by acting as a transport broker, hiring qualified carriers to transport your vehicle in an open or enclosed transport. While ATV and motorcycle transports are not covered services, Sherpa will happily move a vehicle that is inoperable. It also provides discounts for military members, return customers, and customers transporting more than one vehicle. Its Price Lock Promise ensures that what you're quoted won't change—no hidden fees or surprise add-on charges. With its reputed excellent customer service, you can be assured your vehicle is in great hands with Sherpa.