In a Nutshell
North American has been in the moving game for almost 90 years. This moving company has earned a reputation for customer service, in part because satellite-based shipment tracking is included with the cost of every move. On top of that, North American can handle in-transit storage, vehicle transport, and insurance for your belongings.
pros
Satellite shipment tracking is included with all moves
In-transit storage available
More than 500 local agents across the US
cons
Premium service comes at a high price
Your belongings may be loaded in a truck with other moves
North American at a Glance
Local and long-distance moves, packing and unpacking, loading and unloading, satellite tracking, in-transit storage, vehicle transport
Services Covered
North American offers a laundry-list of services for your move and is considered one of the best full service moving companies in the country. To start, the company covers local, long-distance, and international moves of any size—so you can be confident that North American will help with your move.
This moving company offers loading and unloading services as well as packing and unpacking help if you need it, although these cost extra. North American can also arrange in-transit storage, a shuttle from your old to new home for you and your family, and even transportation for your vehicles. If you have fragile items, the company will even help you with custom packing and crating so that you can be confident your belongings will arrive in good condition.
One of the best things North American offers is free shipment tracking with every move. Trucks are tracked by satellite, so you can log into the company's website at any time to find out exactly where your stuff is and when it's expected to arrive.
Local, long-distance, and international moves
Loading and unloading
Packing and unpacking
In-transit storage
Free satellite shipment tracking
Vehicle transportation
Shuttle service
Pricing
North American isn't the cheapest moving company on the market, especially for local moves. To give an example, moving a four-bedroom home from Chicago to Dallas—a distance of less than 1,000 miles—was quoted at over $10,000 before additional services. A smaller move of a two-bedroom home from California to Oregon costs around $6,000.

Unfortunately, North American doesn't give you the option of deciding whether your truck will be on a truck by itself or mixed in with other peoples' moves. The price estimate is the same, even if the shipping speed may vary somewhat.
Moving Process
The first step in the moving process at North American is to generate an online quote. The quote system doesn't go all that in-depth into how much stuff you have to move, so this should be taken as a rough estimate.
If you want a more accurate price estimate, the company does work with a network of more than 500 moving agents nationwide to offer in-home estimates. However, keep in mind that these agents are often backed up and you may need to schedule an in-home appraisal several weeks in advance.
Once you've settled on North American, you're assigned a manager who will help coordinate your move. If you need any extra services, such as packing and unpacking, your move coordinator can arrange that on your behalf. Your coordinator will also work with you to finalize moving dates and arrange a shuttle to your new home if needed.
If you need in-transit storage as part of your move, your coordinator can also help take care of that. North American doesn't own its own storage warehouses, but works with a network of local storage facilities around the country.
During the move, you'll have access to real-time updates on the whereabouts of your belongings. All North American trucks are tracked by satellite. Simply log onto the company's website with your account information to find out where the truck carrying your stuff is and when it's expected to arrive at your new home.
Fleet Details
North American has one of the largest operational fleets in the US, with more than 2,700 trucks on the road. That's a huge advantage if you need to move on a tight timeline, since it ensures that there is a truck heading in the direction you need at any given time.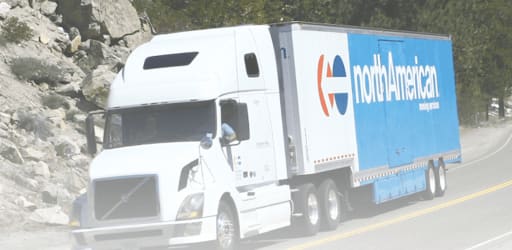 On top of that, North American works with a network of more than 500 local moving agents. The company sometimes contracts with these local movers for packing and loading services, but drivers are professional long-haul truckers with long histories of working for North American.
Customer Service
North American offers customer support via email or phone. For phone support, the company has staff available during weekday business hours as well as on weekends. On top of that, North American's website is filled with moving resources, including checklists, calculators, and recommended timelines that you can use to help plan your move.
Importantly, North American offers basic liability insurance on all of your belongings as part of every move. This includes a $0.60 per pound payout in the event that anything is lost or damaged during the move. If you don't have coverage from homeowner's insurance, North American recommends that you opt for maximum value insurance coverage to fully insure the value of your belongings.
Testimonials
"The overall experience was great. Our movers were very professional and took care and interest in my belongings."—Jimmy Solomon
"The North American agent in OKC was fantastic. They were on time and efficient. The guys that were packing and loading were hustling. They placed pads on all of our doorways and corners, and they wrapped all of our furniture. When they arrived in Chicago they called to change the timeline because of traffic outside of Chicago."—Ryan
"They initially came to our home to do a quick inventory of our items and then we scheduled the move. On moving day they arrived as scheduled, friendly and efficient. They ensured the floors were covered and then off together for the walk-through. They packed our entire house (3 bedrooms, 2 bath) within 8 hours and had the catalog list prior to leaving. I was extremely pleased with this service and now can't imagine moving without it."—Flore
Bottom Line
North American stands out for the quality of its service. The company offers just about everything you could want as part of a move, including in-transit storage, satellite tracking of your shipment, and even a shuttle for you and your family to your new home. With one of the largest fleets in North America and a network of more than 500 local agents, you also don't have to worry about availability for your desired moving dates. The only downside to using North American is that the company's premium service comes with a high price tag.