In a Nutshell
Founded in 2000, International Van Lines (IVL) is a well-established long-distance moving company that operates their own fleet of trucks. IVL is also known for its international moving services. Offering ocean and air freight to over 180 countries worldwide they can get your household goods door to door.
pros
Ships worldwide, with coverage for 180 countries
Customizable solutions with lots of flexibility
Refundable deposit
cons
No instant quote service
Some services contracted out to other carriers

International Van Lines Get Quote
International Van Lines at a Glance
Long-distance moving, international shipping, auto transport
Services Covered
International Van Lines' services include international shipping in the form of both ocean and air freight as well as domestic long-distance options like corporate relocation and storage services. No matter which you choose, you can rest assured that your goods will be in safe hands as International Van Lines is certified by bodies like the Federal Maritime Commission and the Department of Transportation. Here are the main highlights of this top moving company:
Long Distance Moving - International Van Lines is amongst the highest rated movers nationally. They offer services throughout the continental U.S.
Ocean Freight Shipping— Choose between, door to door, door to port, and port to door options. You can ship small packages or Full Container Load (FCL). FCLs are available in 20' and 40' configurations. Typically delivery takes around 30 days.
Air Freight— Primarily for household goods. Small packages are handled by partner companies such as UPS and DHL and arrive within 5 days. Household goods will be placed on pallets and shrink wrapped before delivery and can be sent door-to-door, door-to-terminal, or terminal-to-terminal.
Auto Shipping— You can choose between container transport, consolidation services (which include a pick-up service but longer transit times), and roll-on/ roll-off, which is the most affordable option. Risk and total loss insurance come standard with all auto shipping services. If you purchase an auto shipping package, don't forget to provide complete vehicle information for customs clearance.
Corporate Relocation— The International Van Lines Corporate Relocation service can be customized to your employees' needs.
Office Moves— Includes help throughout the difficult process of moving including packing, IT system relocation, storage, and disposal.
Military Relocations— International Van Lines can ship hardware, household goods, and valuables internationally for service members.
Pricing
Although representative pricing information isn't available, International Van Lines is transparent about what different services cost. If you want to estimate how much your move will be without having to phone, you can use the following table as a pricing guide:
1 month free/$0.50 per cubic foot per month
Basic Furniture Disassembly
Blankets and Protective Pads
$75 per flight after the first 7 steps
Liability Coverage ($0.60/lb up to $10,000)
$75 per stop, and also charged for destination and origin
$1 per cubic foot, $350 minimum charge
$150 (upright), $350 (baby grand)
It's also worth noting that certain costs will be included in your quote by default. For example, Ocean freight door to door quotes will come with all terminal handling charges (THCs) included.
Every move is different, and given the number of different shipping options on offer from International Van Lines, it should come as no surprise that exact pricing information is only available by quote only.
Prices are heavily dependent on the type of shipping route you opt for. For example, you'll pay significantly more for a single container auto move than you would for a roll-on/ roll-off package. Also, shipping internationally will almost always involve extra fees compared to shipping by road within the United States.
To find out exactly how much your particular move will cost, all you need to do is plug your information into the International Van Line's quote page. After entering a few key details about your destination and origin, and what you need to move, you'll be presented with a screen confirming whether or not International Van Lines can fulfill your request. If it can, you'll be given a number to call to receive final pricing information and confirm your order.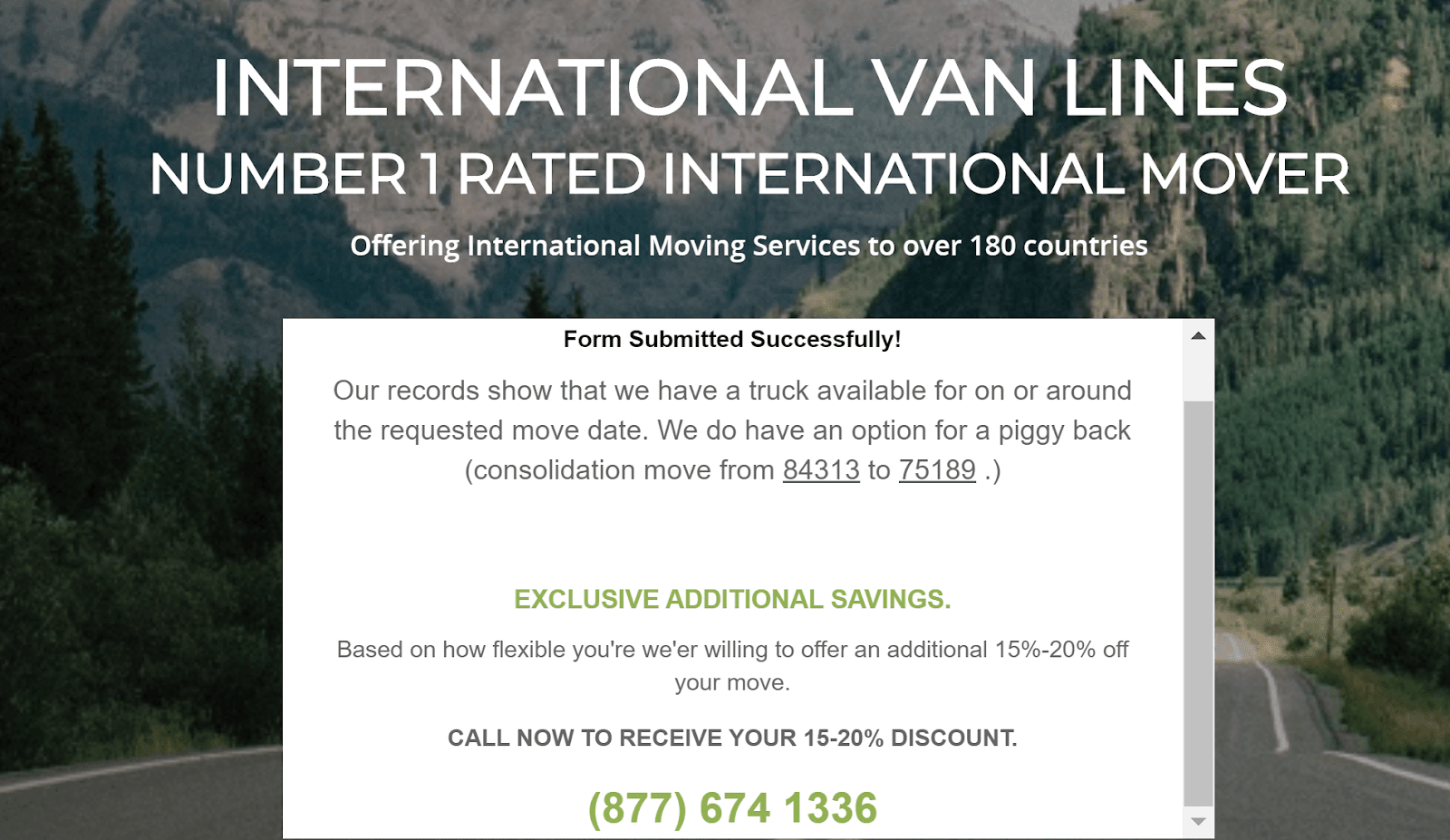 Moving Process
As International Van Lines has a diverse selection of moving options including road, air, and sea freight transport, it should come as no surprise that the moving process for different types of shipment will vary significantly. For example, a corporate relocation package from International Van Lines will follow a different structure from a one-off auto shipment. That said, most standard long-distance moves done with this company will follow a similar structure.
After you've added your information to the International Van Lines quote system and phoned the number given to you, you'll be given a series of different third-party handling companies options to select from. Simply call your chosen company to confirm your moving date and time.
To secure your scheduled move, you'll need to pay a deposit which is generally about 25% of your final move fee. This is refundable if you decide to cancel your move more than 24 hours before the moving time in writing.
Prior to your International Van Lines move, you can purchase bulk packing materials through the International Van Lines store. You should also do some general organization such as notifying businesses of your address change. Before moving day, you must prepare an inventory of all shipped objects, stating the replacement value for all items.
On the day of your move, the International Van Lines-associated movers will arrive at your address. They'll help you disassemble any basic furniture and protect large vulnerable items with blankets and pads. Note that there'll be extra charges if the moving truck can't park within 75 feet of your front door, or if the movers have to carry objects down more than seven steps.
Don't want your package to be sent directly? IVL offers Storage in Transit (SIT) for items that need to be held briefly before delivery and Long Term storage (with optional temperature control) for lengthy international moves.
Once your items are in transit, the length of the journey will depend on a few factors such as distance and whether a cheaper package where your goods are loaded into a shared truck already following a similar route. Upon arrival, you'll get free assistance unpacking and reassembling your load.
Fleet Details
International Van Lines is a licensed carrier by the Department of Transportation and operates a fleet of 20 trucks. However they will not always be responsible for delivering your goods. In a case where IVL does not have an available truck they will work with an agent for delivery.
The big advantage of using IVL is they're always able to find a suitable option to complete your journey. However, the quality of service can vary significantly depending on the partner company your move is assigned to.
Customer Service
International Van Lines doesn't have a particularly advanced online contact system, but you can get in touch with customer service representatives over the phone. If you'd prefer to receive a callback, a simple scheduled call request option is available on the IVL website.
Goods guarantees and insurance will depend partly on the International Van Lines-affiliate moving company you are assigned to and partly on the type of freight you select. All moving companies are required to provide either full replacement value protection or basic value replacement by weight. Unless you pay extra, your goods will likely be covered at a value of $0.60 per lb.
If your move is shipped by ocean freight and you opt for a professional packing option, your items will be automatically covered at their full replacement value. If you self-pack your goods, you'll need to take out a Total Loss Marine Insurance option as an extra.

International Van Lines Get Quote
Testimonials
"Moving is very stressful so I was happy to have found IVL. They're amazing at long-distance moving and they were ranked number one best moving companies in the nation."
"I moved over 10 times in my life and my experience with IVL was the best. The team was stand up guys and they did everything they claimed they would do. I would use them again."
"The guys were on-time, clean-cut and did a great job packing and delivering my stuff. I would use them again."
"I used IVL once before back in 2004. I decided on them again because of the quality of their service."
Bottom Line
If you're in the market for a quality mover IVL is a top choice. They handle over 15,000 moves per year and maintain one of the best reputations in the industry. They also offer the flexibility to customize a moving solution to meet your needs and your budget. In order to get a moving quote you can fill out a form on their website or call them.