In a Nutshell
iMoving makes the process of booking a move online seamless. The company's online quote process is extremely specific to ensure that there are no surprises on moving day. It's important to note that iMoving itself doesn't move your stuff, but rather relies on third-party moving companies.
pros
Extremely useful online booking tool
Get quotes from several different moving companies
Offers flexible pickup dates
cons
No insurance options offered
Dependent on local contractors for the move itself
iMoving at a Glance
Local and long-distance moves, packing and unpacking, storage
Services Covered
iMoving offers local and long-distance moving services as well as storage. In most cases, iMoving itself acts as a broker rather than as your moving company. You'll get 24/7 support and coordination from iMoving, but your movers will most likely be a third-party crew as they work with some of the best moving companies around.
Local and long-distance moves. Moves coordinated by iMoving, using a local moving crew.
Packing and unpacking. Full packing and unpacking services are available with any move.
Storage. Storage up to 30 days is free for long-distance moves; longer-term storage available as needed.
Pricing
One of the neat things about iMoving is that the company does a much better job with online quotes than most other moving platforms. When you go to get a quote, there's an interactive interface that allows you to list exactly how much furniture you have. Simply specify the individual rooms of your home, and iMoving will suggest common types of furniture and smaller items that need to be moved from those rooms.
Once you've added all your items into an inventory, you can also get into the details of how the move will go. Are there stairs that the movers will need to navigate or will the truck need to be parked far from your building?

This type of information, along with where you're moving to and from, allows iMoving to create the most accurate quotes possible for your move. The quote you get is a fixed bill, meaning that there are no added charges at the end of your move. You know, before you make any commitments, how much the process will cost.
Importantly, iMoving doesn't just give you a single quote. Rather, you get a range of bids from several different local moving companies. The range can be quite wide—for a move from Texas to Washington, we received quotes as low as $1,700 and as high as $8,100. Each mover's bid is accompanied by customer reviews so that you can evaluate which company is right for you.
For local moves, you can expect to pay around $1,000 or less. Moving a 3-bedroom home across town in Georgia, for example, came in at $966. Moving a 1-bedroom home from Philadelphia to New York was priced at $1,140.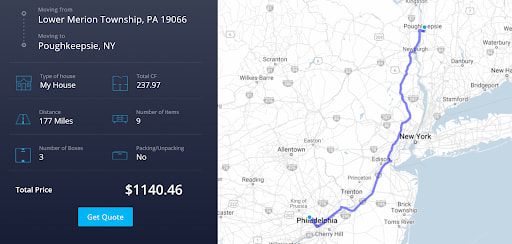 Moving Process
The entire quote and pre-move process is handled online through iMove's website. This is why the specificity of the quote interface is so critical to the success of this company. The more accurate you are in inventorying the furniture and items in every room of your home, the smoother the process will be on moving day.
After you choose a local moving company, iMoving will get in touch by email or phone to coordinate your pickup time. You are given a delivery window during the online quote process, but iMoving will also confirm the dropoff date and time at your new home.
If you requested packing service, the movers will take care of packing up your home when they arrive. Storage is free up to 30 days for interstate moves, but you can also request storage up to 100 days if needed. On delivery day, your stuff will show up at your new home and the movers can help you unpack it if you requested this service.
Fleet Details
iMoving does not manage its own fleet or moving crews. Rather, the service acts as an online broker between you and local moving companies that want to bid on your move.
This means that you are relying on the quality of the local crew that you hire. iMoving vets these contractors and provides support in case of any issues, but ultimately it's up to you to research a moving company before you accept its bid.
Customer Service
iMoving is available for customer support 24/7. Prior to booking a move, you can contact the customer service team by email or live chat. Once you have a move booked, you're given the phone number for your move coordinator so that you can get help immediately if needed. Most local moving companies also provide their contact information so you can get in touch with the people who will actually be moving your stuff.
Importantly, iMoving's customer service team is extremely responsive and helpful when issues do arise. That said, iMoving does not have firm guarantees on its service. While the company promises a smooth experience for customers, there is no money-back policy or other hard backing to this promise.
In addition, iMoving does not provide insurance for your move. Most local moving companies have their own liability insurance policies, but this does not provide much, if any, protection for your belongings. iMoving strongly recommends that customers purchase third-party insurance ahead of a move.
Testimonials
"The experience with our move of an entire household of items was a very pleasant experience. The people at iMove were nice and professional, and connected us with a very good moving company. The price was settled on before the move, so there were no "hidden" surprises. I've moved entire households in my past due to job relocations, and rate this entire experience as one of the best overall."—Will Wilson
"It was easy, fast, and the experience was awesome. Customer service reps Rita and Lorna made the experience memorable with their kindness and knowledge!"—Niko Johnson
"We had issues with the third party company hired to do our move. I do want to say I am VERY happy with Rita and iMoving on their ability to listen to customer concerns and empathize when there is a concern. Rita is friendly, quick to call back, shows great customer service and addressed issues quickly and professionally. I will use this company in the future because of her."—Brandy Allen
Bottom Line
iMoving is an ideal option for booking a move in the digital age. The online inventory tool is much more accurate and comprehensive than trying to describe your belongings to a moving company over the phone. That in turn means you get more accurate quotes and eliminate surprises on moving day. While not all of the third-party moving companies that iMoving uses are equally reliable, the company also does an excellent job with customer support when issues crop up.