In a Nutshell
Originally founded under the name ServiceMagic in 1999, HomeAdvisor is a platform that helps homeowners access information and tools to complete projects. Through HomeAdvisor, you can find trustworthy professionals in your area that have been screened in advance. In 2017, well-known local services network Angie's List merged with HomeAdvisor.
pros
Access thousands of prescreened movers
User-friendly interface makes searching a breeze
Affiliated professionals in all states
cons
Can't arrange moves through the site
Partner service Angie's List has received bad press
HomeAdvisor at a Glance
Full service moves, self service moves, piano moving, auto transport, professional assistance with general home projects
Services Covered
HomeAdvisor has built a handy network of professional businesses across the country to make it one of the best moving services around. Because of the size of this network, you can use HomeAdvisor to search for all sorts of different types of moving services. Think carefully about which you need because there will be a major cost difference between a self-service move and a specialized all-inclusive package:
Office Moves. Relocating a corporate business isn't like a traditional home move. Typically these take months and require careful planning and coordination carried out by a specialist moving partner service to minimize disruption to your day-to-day business activities.
Auto Transport. Regulations and practical constraints mean you can't simply load a car or motorcycle in with your furniture when moving. If you need to move a vehicle from one side of the country to the other, HomeAdvisor will connect you with a professional auto transport business to facilitate your move.
Self Service. If you want to arrange a domestic or business move on a tight budget, this might well be the right service for you. With a self-service moving contract, all you get is a truck and a driver. The packing, loading, and unloading is all up to you, so there's no need to shell out for by-the-hour packers.
Moving Container Service. With this option, a ready-to-go moving container will be dropped off at your origin address. All you need to do is fill the up and they'll be whisked away to your new address. One key advantage of these pods is that they can easily be transferred into storage if your living arrangements aren't finalized.
Full Service. Need to load heavy, bulky furniture or wrap precious objects? In that case, a full service moving business is worth considering. In short, a full service mover will arrange everything for you including packing, loading, moving and unloading your items. Obviously, not all full service movers are the same and, if you want to save a bit of cash, you may wish to pack your items independently.
Specialist Options. If your needs don't easily fit into one of the above categories, HomeAdvisor should still be able to connect you with a service. Perhaps you need aid with a specific task like packaging or moving an awkward object such as a piano. In either of these cases, HomeAdvisor has plenty of appropriate services to recommend.
Pricing
Given that HomeAdvisor is not a single moving service, it should come as no surprise that its affiliated professionals don't tend to stick to the same pricing scheme. Fortunately, however, HomeAdvisor does offer a True Cost Guide, based on surveys of thousands of HomeAdvisor users, where you can find out national and local average rates for different types of move.
Of course, there's no guarantee that any of the businesses HomeAdvisor recommends will bill at these average rates. However, they still give you a good starting point which you can use to negotiate a fair deal.
HomeAdvisor National Average Cost
As you can see from the information above, prices vary dramatically from move to move. One of the big factors that determines how much you'll end up paying is simply what businesses in your local area charge, but another is the number of bedrooms and volume of stuff you need to be moved. For example, HomeAdvisor estimates that a single studio apartment will take 3 to 5 hours to pack and load, leading to costs of $240 to $500. On the other hand, a 4-bedroom house takes 8 to 12 hours and costs $640 to $1,200.
Mover Search Process
Making use of the HomeAdvisor network to find a moving service that works for you could hardly be easier. To begin, the first thing you'll need to do is navigate to the HomeAdvisor movers search page. When you do, you'll be asked a series of questions such as the zip codes of your origin and destination.
Other information you'll be asked to add includes the date of your move, the kind of service you're looking for (for example, full service or auto transport), and whether or not you need any packing.
The HomeAdvisor system basically functions the same as the search service available at Angie's List, but one key difference is that with HomeAdvisor you get a specific option to request an included auto move. If you confirm that you do, HomeAdvisor will only display services with the capacity to tow your car as well as transporting your other belongings.
With HomeAdvisor, you can also indicate the volume of belongings that you'll need to transport on a "Move size and weight screen". This is a helpful add-on as it helps HomeAdvisor partner organizations to come up with an accurate quote for your move.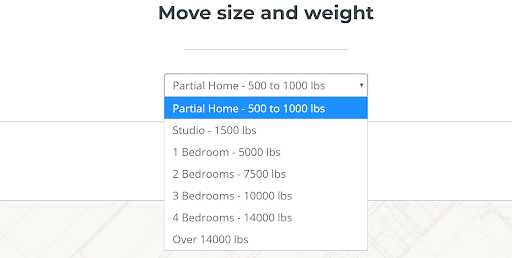 Once you've completed all of that, HomeAdvisor will use its ProFinder tech to search the thousands of professionals in its database to find the ones that are in your area and have free capacity to help you move on your selected date. The final screen will show you up to four local moving companies who will then get in touch with you using the information you've provided.
If you prefer to be a bit more proactive, you can simply use the contact information displayed on the linked HomeAdvisor profiles of these services to get in touch with them yourself. Once you've finalized the details of your move, you can change your "Project Status" on your HomeAdvisor profile to prevent businesses from contacting you or hit "Stop Receiving Project Emails".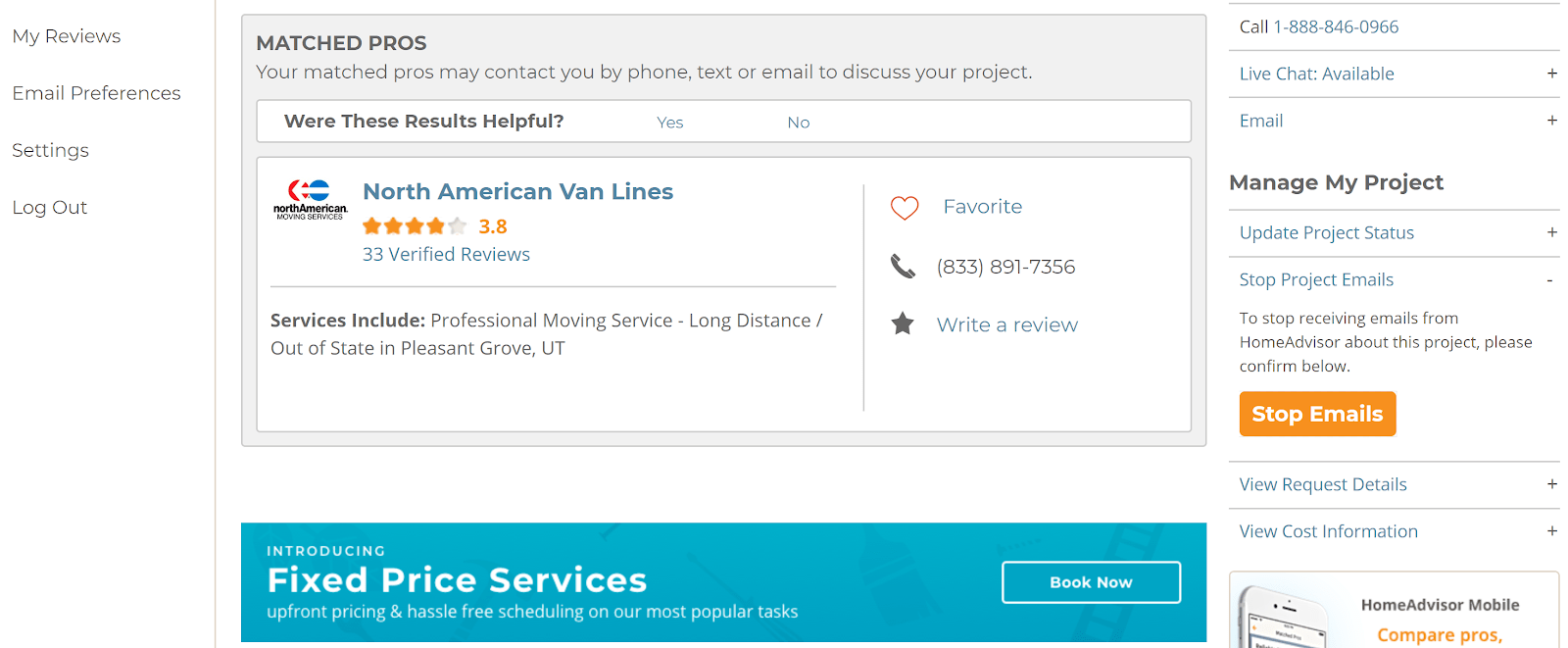 Fleet Details
HomeAdvisor doesn't manage its own fleet of vehicles as this is a "professional services search network" rather than a traditional moving business. Because of this, you'll need to ask any business you are recommended through the platform about the details of their own fleet. Make sure you ask about maximum hauling capacity, anti-shake suspension, and easy access cargo doors.
Customer Service
Even though HomeAdvisor is a marketplace and not a direct service provider, the company takes responsibility for all work booked through its site. To that end they offer a Happiness Guarantee that promises that the company will work to rectify customer dissatisfaction and correct any damage done during the project, including, in some cases, offering up to $500,000 of damage protection.
If you need to get in touch with a HomeAdvisor representative, you can do so over the phone at 888-846-0966. Alternatively, you can speak via live chat or email a request. Obviously, after the initial search, the majority of your interactions will take place through one of the HomeAdvisor screened professionals you are recommended.
Bottom Line
With more than 100,000 prescreened service professionals to choose from providing 500 different types of service, there's no question that HomeAdvisor has put together one of the most comprehensive databases of professional movers in the country.