Eagle Moving Visit Site
Eagle Moving Group at a Glance
What is Eagle Moving Group?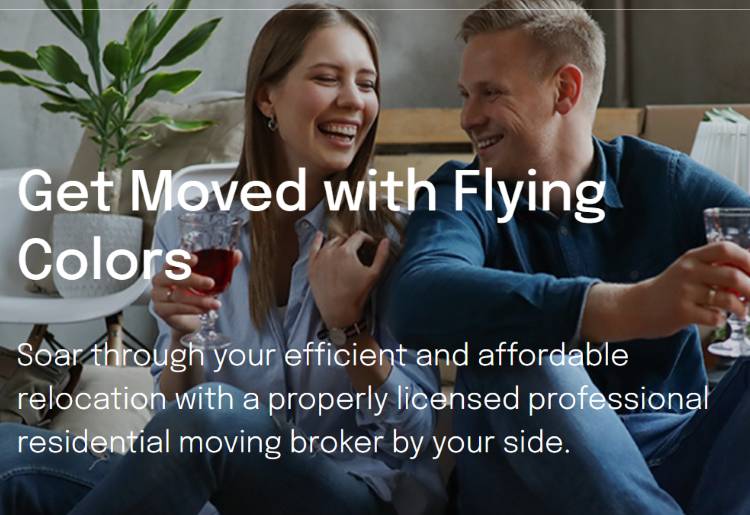 Eagle Moving Group is a Florida-based residential moving brokerage company. It will pull together the requisite services to make your local, long-distance, or office move less stressful by finding the carrier that will suit your individual needs.
Something I really like is that it can support you with every part of your move, from planning your relocation to arranging a team to pack, move, and unpack your belongings. The company can even handle storage space for you if you need to put some items away.
Eagle Moving Group is a great choice if you're not sure where to begin with your relocation, especially if you're based in Florida and want a reliable local choice. Eagle Moving Group can also support longer-distance moves.
Eagle Moving Group services
Eagle Moving Group will coordinate services to support you with a range of moving needs, including the following:
Local moves: If you're moving within Florida, Eagle Moving Group will help you coordinate even a short transfer. It might give you more peace of mind to know you'll be working with a local team who knows the area.

Long-distance moves: Eagle Moving Group can also help you relocate across the country. This might be more suited to those whose starting location is in Florida, however.

Storage: Eagle Moving Group can arrange a safe, secure storage unit for your belongings if you need somewhere to put them either during or after moving. You can discuss your specific storage needs (such as size and location) with Eagle Moving Group when drawing up your relocation plan.

Office moving: Eagle Moving Group not only supports you with residential moves but can also help you move your office quickly and efficiently. It aims to reduce disruption to your business during the process.
Is Eagle Moving Group Safe and Reliable?
Because Eagle Moving Group is a moving broker, any specific safety measures will depend on the contracted moving company. This means it's difficult to make a judgment about Eagle Moving Group as a whole.
The Better Business Bureau has accredited Eagle Moving Group with a B- rating, and a total of 166 customers have given it an average rating of 2.52 out of 5. Some felt they had been assigned a moving company that was not up to standard. Additionally, some customers reported that the contracted company asked for more money than the original quoted charge.
It's worth discussing this with Eagle Moving Group in advance when you get a quote. If you have specific requirements for your contractor or want to double-check the pricing, it's important to raise this in advance so Eagle Moving Group can factor this into your moving plan.
How Eagle Moving Group Works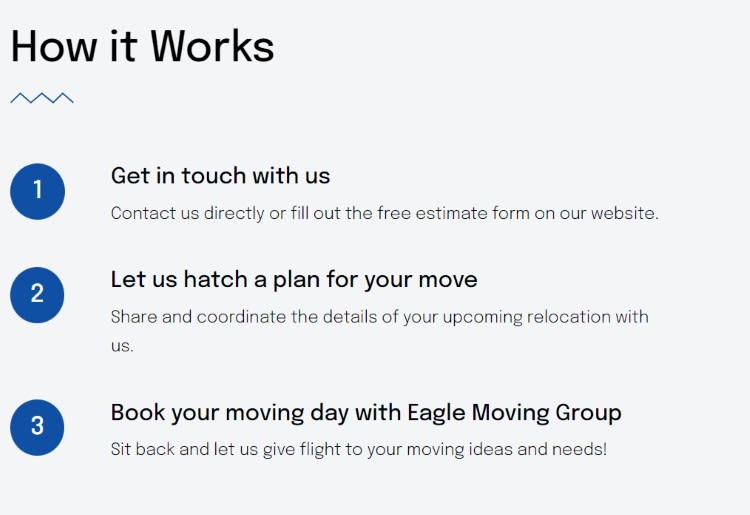 Eagle Moving Group is a moving broker, so it doesn't maintain its own fleet. It will match you with a Federal Motor Carrier Safety Administration (FMCSA) licensed carrier, so the final moving process will depend on the processes this company uses.
Your experience with Eagle Moving Group begins with submitting some information via the online form on the website. This includes your home state and ZIP code, destination state and ZIP code, and proposed moving date. Once I'd done that, I found that an Eagle Moving Group representative reached out to me pretty quickly to give me a free estimate of costs.
If you go ahead, the next step is planning your move together with one of the company's representatives. This will involve giving some more details about your move, such as the amount and type of belongings you need to move.
Eagle Moving Group will then match you with an appropriate licensed carrier. The company can arrange for the carrier to pack your belongings as well as unpack at the other end. It can also arrange storage space for your belongings. Unfortunately, it doesn't offer packing materials at this time, so you will need to arrange these separately.
How To Get Started With Eagle Moving Group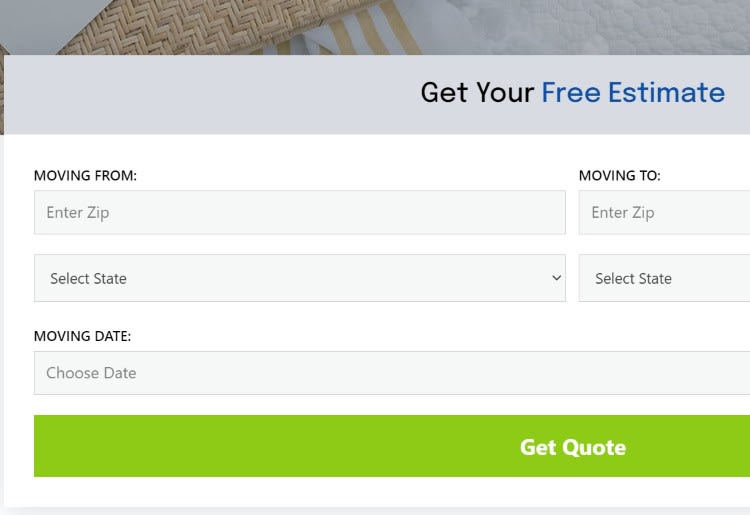 It's easy to get in touch with Eagle Moving Group by sending an email through the website or by phone. You can also request a quote through the website, but you won't be able to get details until you've spoken to a representative. I would prefer to see an instant quote facility because even though everyone's moving needs will be different, it can be useful to get a quick sense of pricing in order to make a comparison.
However, what's good is that Eagle Moving Group will be in touch with you very quickly once you've reached out and will help you draw up your plan for moving.
Eagle Moving Group Customer Service
You can get in touch with Eagle Moving Group through the contact form on their website, by email, or by phone (in service 24/7). When I reached out on the website, a member of the team was in touch within a couple of minutes.
There is currently no live chat support on the website, which might be a helpful addition. FAQs are limited, although there are a couple of blog articles about how to prepare for your move.
Eagle Moving Group Pricing
How Much Do Eagle Moving Group Moving Services Cost?
Eagle Moving Group doesn't offer set pricing plans, because the price depends on the specific carrier it assigns to you. By submitting a quote request on the website and speaking to a representative by phone, you can receive an estimated price. Note that the final bill could be higher or lower, and is likely to be affected by the following:
Destination: A longer-distance move is likely to be more expensive.

Weight of your belongings: In planning your move, your representative is likely to ask you for the estimated weight of your furniture items. A higher weight will lead to a higher price. If you have underestimated this, your carrier may charge you more on the day.

Logistics for loading the vehicle: Some carriers may charge more if they need to carry your belongings a long way to the truck. This is known as a long-carry charge.

Additional services like packing and unpacking: You can book this in advance, but if you need to request it at the last minute, this may increase your final bill.
Optional add-ons
You can add on packing/unpacking services, the cost of which will depend on the carrier. You can also arrange storage services via Eagle Moving Group. Again, the cost of this is variable depending on how many belongings you have, what size of storage container you need, the location, and what kind of access you require. You can obtain an estimate of costs by speaking to an Eagle Moving Group representative.
Eagle Moving Group Alternatives
How Does Eagle Moving Group Compare to Other Moving Companies?
Local, long-distance, office, storage, packing/unpacking
Long distance, cross-country, corporate, storage, packing/unpacking
Moving, storage, packing, and disassembly and reassembly of furniture
Local and long-distance, packing/ unpacking, loading/ unloading, satellite tracking, in-transit storage, vehicle transport
Yes + additional third-party coverage

Eagle Moving Visit Site
Eagle Moving Group vs Colonial Van Lines
Eagle Moving Group and Colonial Van Lines offer similar services, although it's worth noting that Colonial Van Lines is a carrier rather than a broker, so it has its own fleet. It also offers a transparent online quote service before you speak to a representative on the phone. However, if you want a broker that gives you more choice of carriers, only Eagle Moving Group provides this.
Eagle Moving Group vs Clutter
Clutter is only available in a few states, not including Eagle Moving Group's home state of Florida. So if you're looking to do a move within or outside of Florida, Eagle Moving Group is your best choice. However, Clutter has a more transparent online quote process and includes insurance in your package.
Eagle Moving Group vs North American Moving
North American Moving is a carrier, so, again, if you're looking for a broker, Eagle Moving Group is a better choice. However, North American Moving is notable for its security focus, including satellite tracking of its vehicles. So, if peace of mind is important to you, it might be the better choice.
Bottom Line (Is Eagle Moving Group Worth It?)
As a moving broker rather than a carrier itself, I think Eagle Moving Group is a great option to explore if you're based in Florida and looking for a local service to help you coordinate a local or long-distance residential or office move, or storage space.
I like the fact that the representatives will help you plan your move, which can really lower your stress—especially as they're quick to get in touch and find out what you need.
It's worth bearing in mind that the actual carrier it selects for you can have an impact on your final experience and costs. User reviews point out that particular carriers can apply unexpected costs, for example, or might be of inconsistent quality. However, you can discuss your expectations with Eagle Moving Group before you begin.