Clutter Visit Site
Clutter At A Glance
What Is Clutter?
Clutter is a moving and self-storage company headquartered in Culver City, California. In addition to moving and storage, the company also offers packing help and supplies, furniture assembly and disassembly services, digital walkthroughs, online moving management services, and quick quotes.
After getting a quote online, you can do a digital walkthrough of your home so Clutter's team can become familiar with its layout and plan for an efficient move. On the day of your move, you'll be able to track the moving truck online, so you know exactly when it's going to arrive at your new home.
Clutter also gives you free storage for one month when you book a move. Additionally, it only hires full-time professional movers, so you know you'll be working with an experienced team who can help you make your move safe and efficient.
Clutter Services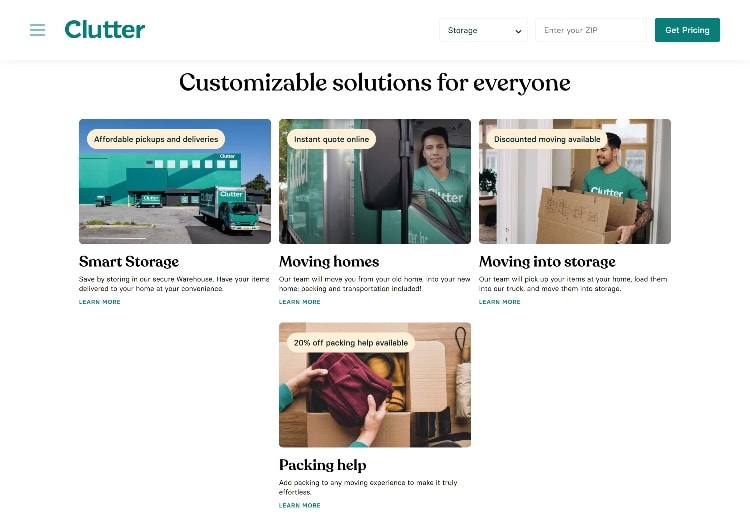 Clutter offers local moving services in California, Seattle, Chicago, and the Northeastern United States. Interstate moving services are available in New York, New Jersey, Connecticut, and Pennsylvania. Clutter handles moves for apartments, houses, dorms, and offices.
Clutter also offers packing help and packing supplies, furniture protection, and furniture disassembly and reassembly. Clutter's team of movers can do as little or as much assembly and packing as you need them to.
Storage is also a large component of Clutter's business. It offers both curbside and full-service pick-up if you choose to use one of the company's storage units. The storage is secure and temperature controlled, and you can bring and take items whenever you please. Options in terms of sizing will vary depending on where you live and what's available.
Is Clutter Safe and Reliable?
Clutter is a reliable and safe moving service. The company uses furniture protection to ensure all your items are safe during the move. Clutter also provides coverage for its moves and follows coverage guidelines according to local and federal regulations.
When you book, you'll need to declare the value of your move and list the items you want to protect. Your items will then be protected up to the value declared.
Some customers on Trustpilot have complained about items being damaged or lost during their move, but overall, the company has satisfactory reviews regarding its reliability, scoring 4.8 out of five stars from nearly 6,000 reviews. It also has an A+ rating with the Better Business Bureau (BBB).
How Clutter Works
Moving with Clutter begins by clicking on the "get a quote" button on its website and filling out some information about your move. After pressing send, Clutter will automatically book your moving date so long as there is availability.
If the date you want to move isn't available, you can use the online calendar to find the next closest available date for your move. Clutter lets customers book their moves with as little as three days' notice. However, it's recommended that you book earlier to secure your spot.
Even though your move will be officially booked once you've chosen a date, you can still cancel it up to 48 hours beforehand and receive a full refund. You also don't need to pay anything to make a reservation.
After your reservation is made, you can complete a virtual walkthrough of your move so the company's team can better prepare for any specific needs and give you a precise estimate.
If you plan to have the company help you pack or unpack or disassemble and reassemble furniture, you'll need to make it known when getting a quote so the company can give you an accurate estimate. If you opt for storage, Clutter can also move your items into your storage unit, and the company will factor this into the final cost.
Keep in mind that Clutter has an hourly minimum for all of its moves. The minimum time will vary depending on your region, move date, and local regulations, but generally speaking, you can expect the company to set a four-hour minimum.
It also has a maximum appointment time of eight hours, so the company recommends against reducing the number of movers unless you're certain your move can be completed in this timeframe.
The company hires professional drivers for all of its moves. The size and type of fleet you'll get will depend on your location and the size of your move.
How to Get Started with Clutter
When you've clicked on the "get a quote" button and filled out some basic information, you'll then be prompted to fill out details regarding your move. You will also need to select the type of property you're planning on moving out of.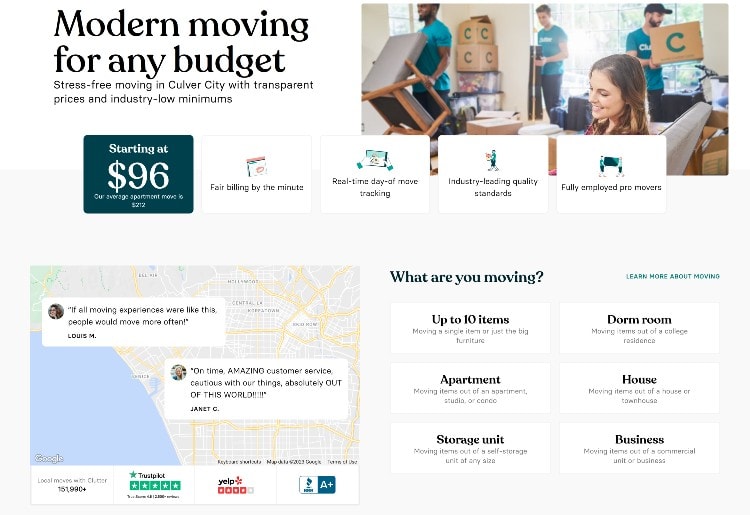 You can then provide further details regarding the size of your home, where you're moving to, how much packing help you'll need, and whether or not you'll want storage. Additionally, you'll need to select the date of your move, as well as provide your first and last name and an email address so Clutter can calculate your rate and send it to you.
Once you've booked your move, you'll be prompted to set up a username and password so you can log in to your account and keep track of your moving details. Here, you can upload your digital walkthrough, check the status of your moving truck, and speak with customer service representatives.
Clutter Customer Service
Unfortunately, Clutter doesn't offer any phone numbers or email addresses for contacting customer service. To get hold of the customer service team, you'll first need to get a quote and create your account on the Clutter website.
From there, you can contact the customer service team via an online form, and someone will get back to you by phone. While the company doesn't advertise contact via social media for support, it does list its Facebook, Instagram, and Twitter information on its website, so it may be a possible avenue to try.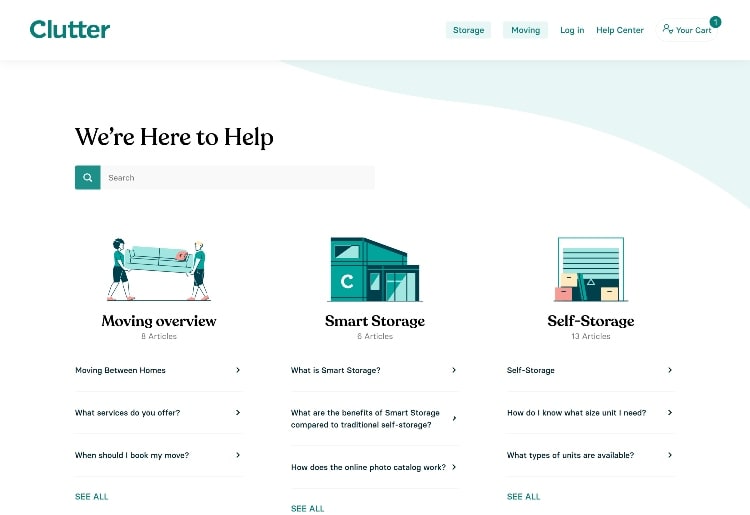 However, some of your questions can be answered by exploring Clutter's help center, which offers in-depth articles on moving and storage.
Clutter Pricing
How Much Does Clutter's Moving Services Cost?
Clutter prices its moving services by the hour, with the rate being determined by how many movers you choose to work with, the size of the move, and whether you choose to add on additional services such as furniture assembly and packing. Additionally, your rates may vary depending on where you live, as some places have higher costs of living that will cause your moving rates to go up.
The company doesn't offer any tiers or pricing packages, so you know that when you get your quote, you're getting a rate that's determined by the estimated moving hours. And, when you move with Clutter, you get a free month of self-storage. If you choose to continue to use the self-storage after your free trial, you'll pay a monthly rate based on your location and the size of your storage unit.
According to the company's website, its average apartment move is $212. I used Clutter's free quote tool to figure out the price of moving in different areas and with moves of various sizes. Here are some examples of what a move could cost from Culver City, California, to Fresno, California:
A three-bedroom house move with one move and pack specialist plus you and a friend agreeing to help with the packing will cost $121 per hour

A three-bedroom house full-service move where the movers take care of all of the packing and moving will cost $199 per hour

A one-bedroom apartment move with one move and pack specialist plus you and a friend agreeing to help with the packing will cost $121 per hour

A one-bedroom apartment full-service move where the movers take care of all of the packing and moving will cost $169 per hour
Optional Add-Ons
Clutter also lets you add on packing and furniture assembly and disassembly. However, you will not be charged a separate price for these services. Rather, Clutter will factor them into the hourly rate, and this will be reflected in your estimate.
Clutter Alternatives
How Does Clutter Compare to Other Moving Companies?
American Moving Solutions
Average price for a full-service move
Moving, packing, storage, and assembly
Moving, packing, and storage
Full-service long-distance moves, corporate moves, full-truck moving
Local and long-distance moving, commercial moving, military moving, antique and piano moving, storage

Clutter Visit Site
Clutter vs Colonial Van Lines
Colonial Van Lines may be a good solution for those who don't live in one of the seven states where Clutter operates. However, Colonial Van Lines charges by weight rather than by the hour, which can lead to discrepancies between the estimate and the actual price. While Colonial Van Lines does offer storage, it doesn't offer any discounts on storage like Clutter does.
Clutter vs American Moving Solutions
While Clutter handles local and full-service long-distance moves, American Moving Solutions only specializes in long-distance moves. Like Clutter, the company offers free insurance and storage facilities. However, no online quote tool is available with American Moving Solutions, so it can be more of a hassle to figure out what you'll be paying for your move.
Clutter vs American Van Lines
Like Clutter, American Van Lines can help you with local and cross-country moves. The company offers a free online quote tool, and unlike Clutter, you can also call an 800 number to receive an estimate for your move. American Van Lines may be a better solution for those looking to move pianos or antiques, as the company has a dedicated team trained in handling these fragile items.
However, Clutter's pricing is much more reasonable, so it's likely best for those who are looking for an affordable moving company.
Bottom Line (Is Clutter Worth It?)
Clutter is definitely worth it for those looking to book their move online without the hassle of having to speak to a customer service representative. And, if you're looking for a short-term storage option, Clutter will provide you with a storage unit at zero cost after you book your move. If you'd like to customize your move, Clutter will adjust its pricing based on how much packing and help you're willing to do.
However, those looking for customer service help before they book their move may find Clutter frustrating to work with, as customer service options are limited to the help center, which offers articles on different moving and storage topics. Additionally, if you don't live in an area where Clutter operates, moving with them will not be an option for you.