In a Nutshell
With more than 100 trucks and over 1,500 movers, Bellhop provides both long-distance and local moving services in 29 states. Recruiting movers with expertise in their local markets and offering guaranteed arrival times, the company can provide support through every step of the process.
pros
At-home visits not required to provide an estimate
Build-your-own move packages available
Precise arrival times
cons
Packing service not available
Not available in every state

Bellhop Visit Site
Bellhop at a Glance
Main Services Covered: Local moving, long-distance moving, hourly labor, packing supplies
Participating States: 29
Online quote tool: Yes, for local moves and hourly labor
Insurance included: Free, $0.6 per pound
Services Covered
Bellhop provides services for both local and long-distance relocations. If you book a move through Bellhop, you can either rent a truck from the company or provide your own transport.
Local moving: includes movers, a truck with a professional driver, dollies, blankets, and straps
Long-distance moving: includes personalized move plans, a professional move concierge, and an option for dedicated and sealed trucks
Hourly labor: movers to load, upload, and rearrange your belongings
Package supplies: the company sells boxes (TV, wardrobe, mirror), mattress bags, sofa moving covers, permanent markers, tape, and labels
Pricing
As the cost of your move will depend on factors such as date, property location, and property type, you'll need to provide this information to receive a personalized quote.
If you're planning a local move, you can receive a quote via the company's online tool. We entered the details for a house move within Louisville, Kentucky from a three-bedroom home to a studio apartment and received a quote for $596, which was based on two movers, one truck and four hours of labor. We also ran a quote for a local move within Miami, based on two hours of moving time and providing our own truck. The price quoted was $218.
If you're moving to another city, you'll receive a call or email from one of Bellhop's representatives once you have entered your details into the site. Bear in mind, Bellhop won't need to visit your home in order to provide you with a quote.
Should you like to purchase boxes and packing supplies through Bellhop, the company has a full list of prices on its website. Prices range from $5.99 for moving labels to $411 for moving supply kits for five or more bedrooms.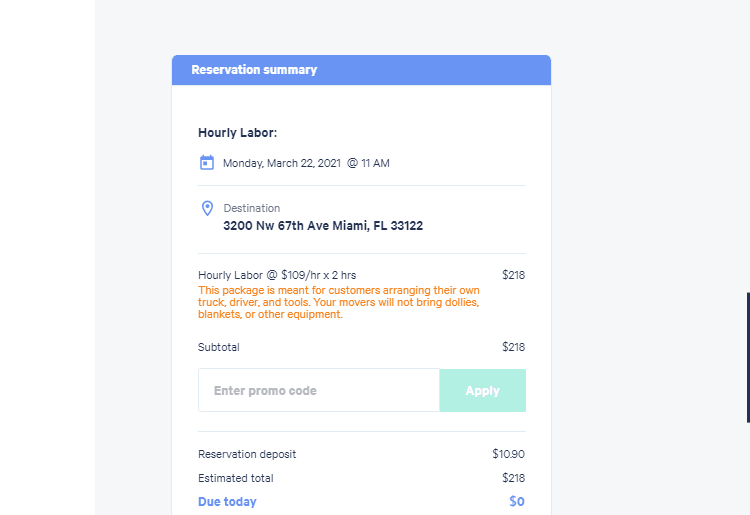 Moving Process
If you're considering booking a move, the first step is to enter your address into Bellhop's online tool or to call the company directly to check whether Bellhop operates in your area. If the service is available, you'll then need to enter your inventory and property details. Based on these details, Bellhop will then suggest a package that best suits your needs and provide you with a quote. You can, however, increase or decrease the number of trucks or movers, depending on your specific requirements.
If you choose to manage your move through Bellhop, you'll have access to a personalized online moving dashboard, which provides you with an oversight of every aspect of your move.
On the day of the move, the movers will contact you to inform you they are on their way. Upon arrival, they'll conduct a walk-through of the property and take note of any special instructions.
As the company doesn't offer packing services, you'll need to have your items already packed before your movers arrive. Although Bellhop's movers may be able help with the disassembly and reassembly of furniture, you'll need to provide relevant tools and instructions.
Fleet Detail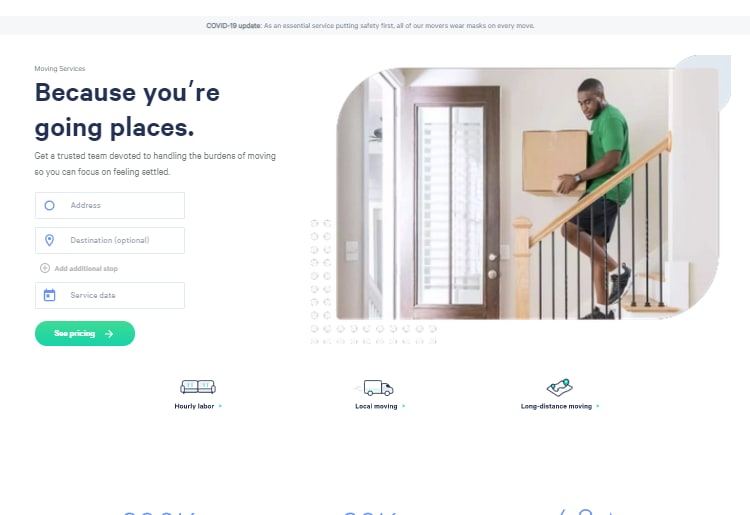 With more than 100 trucks and over 1,500 movers, Bellhop has a presence in more than 60 cities throughout the US. Trucks are up to 26ft long and have 1,600sq ft of storage. In certain cities, the company offers 16ft trucks to accommodate smaller moves.
Customer Service
The company's representatives are available via phone or email. Its staff are available over the phone between 8am and 9pm EST. Should you have a more general query, Bellhop's website contains a selection of FAQs and a move preparation guide.
Although Bellhop doesn't sell insurance, it can refer you to its partner, Reliance Partners, if you'd like to purchase coverage for your move. If you choose not to purchase a separate policy, the company offers a complimentary $0.6 per pound policy.
If you'd like to file a claim, you can do so between 8am and 5pm on Mondays to Fridays. You'll normally need to make a claim within five working days and your claim should be paid within five working days.

Bellhop Visit Site
Testimonials
"Bellhops made our move a thousand times better. Their organization and process makes everything easy." Mikeala S
"I've been using Bellhops since 2015 and never had a bad experience. Someone asked me recently what company I'm most loyal to, and this is the first one that came to mind." Rebecca M
Bottom Line
Bellhop could be an ideal solution for those keen to manage their move with minimal hassle. Its online quote tool allows you to receive a free estimate within minutes on local moves and also gives you the freedom to customize your move based on your unique specifications. Perhaps the major downside we encountered is that the company only covers a limited number of states. If you are within a service area, however, the online dashboard can drastically reduce any stress involved in moving.