In a Nutshell
Angie's List is a review website that connects customers with service providers in their area such as roofers, doctors, and dentists. You can use Angie's list to get in touch with professional moving services, no matter where you are located.
pros
Thousands of services to pick between
Compare reviews from past customers
Easy-to-use online interface
cons
Doesn't offer moving services directly
Some service providers are highly-critical of Angie's List
Angie's List at a Glance
Search for local moving companies, find other professional local service providers
Services Covered
As Angie's list is a local professional search platform, rather than one of the best moving companies itself, a wide variety of different moving services can be found with it. Be aware that some businesses working with Angie's list may describe their services less clearly than others. For this reason, make sure you read reviews carefully and discuss what's involved directly with the moving company you find prior to paying for a service.
Full Service. The contracted business will handle the entire move itself. That means you won't have to get involved with packing, unpacking, loading, or unloading. Normally, with a full-service move, movers will come to your address and disassemble any bulky furniture you need to transport.
Self Service. With this kind of mover, all you are getting is a truck driver and transport. You'll still be responsible for packing and loading your furniture and other items into the truck and taking them out at your new address.
Packing Services. If you already have access to a truck or need to ship internationally, a packing-only service may be for you. With this option, the moving team will simply prep your belongings for shipment but won't actually transport them.
Office Moves. A professional office move service will get your team up-and-running in your new premises with as little disruption as possible. Depending on the size of your business, you may need to search for movers with specialized protective packaging for computer or server transport.
Auto Transport. If you own a non-running vehicle or don't have the time to drive your car from coast to coast, an auto transporting service can be contracted to collect your car and move it using a specialized truck.
Piano Moving. Moving a piano is no easy task, which is why many turn to professionals for help. A specialized piano moving service will ensure that no damage comes to your instrument during transport.
Pricing
Angie's list is an enormous platform that collects reviews from members on more than 720 different types of services which include professional movers. Because of the breadth of the platform, no precise pricing information is available as rates change depending on the specific moving service you pick. However, in general, charges increase incrementally depending on the size of the truck you require, and you'll pay significantly more for an interstate service.
Although no Angie's List-specific pricing details are available, the table below should give you a rough idea of the kind of charges you should expect to pay for different types of move:
Full-Service Interstate Move
Self-Service Interstate Move
Full-Service In-State Move
Self-Service In-State Move
Office Move (1,250 Square Ft Office)
Auto Transport (1 Car, 500 Miles)
$200 (Upright) $300 (Grand)
Mover Search Process
Finding the right moving service for you with Angie's List is pleasingly simple. The first step is to search for "Moving" on the Angie's List homepage. Next, you'll need to enter some basic details such as your origin and destination zip codes, and the date of your move. This will allow Angie's List to work out which affiliated moving services are operating in your area and have capacity on your moving date.
Before you see any moving services, there are a few other hoops to jump through. For one, you'll need to select what type of moving service you're looking for. Also, you need to state whether not you need additional packing help and identify as a business or home user.
After that, you'll be able to add your contact details and a description of your needs. This is an important section to fill out carefully as, when you request a quote from a listed business, your response will be forwarded. Be sure to mention any bulky furniture or delicate items that require special attention.
Finally, you'll be shown a list of suitable businesses along with verified reviews from their customers that you should be sure to read carefully. To help you make a quick choice, Angie's List uses a "report card" system that ranks professional services from "A" to "F".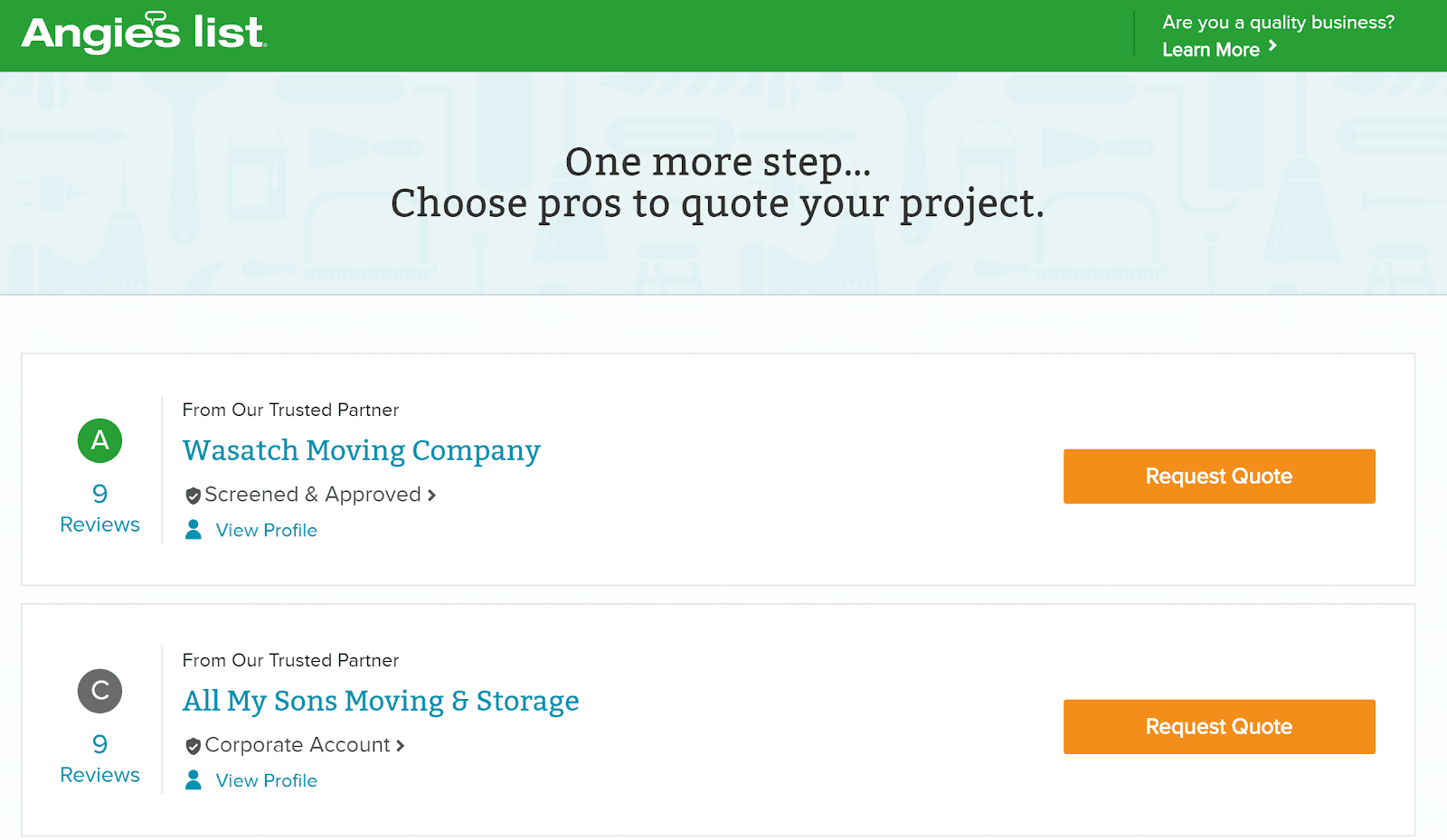 Once you've found a professional moving service you like the look of, you can simply hit "Request Quote". Doing so will immediately forward your moving project details to the relevant business, and they'll get back in touch with you via the contact details you provided earlier. If you'd like a faster response, you can simply call the phone number listed on the business's profile.
From this point on, how things proceed will depend entirely on the business you've contacted. During your discussion, be sure to check that you're on the same page regarding factors like transit time and packing.
Fleet Details
Angie's List is a service that connects you with professional moving companies around the country. As such, it doesn't own its own fleet of moving trucks. The big benefit of this system is that you get access through Angie's List to a wide network of moving vehicles. During your conversation with the moving business Angie's List connects you to, be sure to verify the age, size and maintenance record of the truck they intend to use.
Customer Service
The support provided by your moving company will, inevitably, depend largely on the size of the business you decide to work with. Some larger organizations will offer online vehicle tracking and live chat assistance but most will simply have someone available by phone during business hours. If you want to talk to a representative from Angie's List one-on-one over the phone, you will need to upgrade to a paid "Gold Membership".
Bottom Line
Angie's List stands out from other professional mover search tools for the volume of services available through the platform. Its combination of advanced service "report cards" and business screening should ensure that you don't end up with a disappointing moving experience when hiring a contractor through this platform.