In a Nutshell
Zoma mattresses are a great option for athletes who need cushioning that can help them sleep deeper and promote faster muscle repair. Thanks to advanced technology such as supportive memory foam and breathable fabric for cooling, the Zoma Sports mattress can help you achieve that much-needed edge in your next competition.
pros
Helps you sleep better through zoned layers
Dynamic response foam contours to your body shape
Works with multiple base setups
cons
Limited evidence of sports benefits for this specific mattress
Batch orders arrive in separate shipments
Zoma Mattresses Buy Now
Free 3 to 5-day shipping to mainland US
What Type of Sleeper Is It Best For?
Athletes who require a deep, restorative sleep
Side sleepers
Back sleepers
How it Works
When you buy a mattress from a traditional manufacturer or supplier, you normally have to worry about things like firmness and carefully compare different models. Happily, the process is far easier with Zoma. That's because only one style of Zoma mattress is available, and it suits a variety of sleep styles.
To place an order, all you need to do is head over to the Zoma website, select the size of mattress that will fit your bed frame, and pay online. Don't forget to add accessories such as pillows or a bed base to your order. To enhance the restorative properties of your Zoma mattress, it's recommended that you use a slatted base with slats that aren't too far apart. If you don't have one of those, you should consider picking up the Zoma foundation platform along with your mattress.
Once your purchase is made, Zoma will take a few days to get your mattress in the mail, and then you'll need to allow a little further time for shipping. All in, you should expect your new Zoma mattress to show up 4 to 10 business days after your order date.
Unlike some other mattress companies, Zoma doesn't do white glove delivery. That means you'll need to assemble your purchase and dispose of your old mattress yourself. It's also worth noting that Zoma can ship to places like Canada, Mexico, and Hawaii, but an extra charge is required. For that reason, you should call before placing an order if you live outside the continental USA.
After your mattress has arrived, it may take your body a few days to become accustomed to the new support level, potentially resulting in some initial discomfort. If your body fails to adjust, as long as you've tried out your mattress for at least 30 nights, you can return it for free through Zoma's 100-night sleep trial policy.
Mattress Materials
Zoma Sports mattresses are based on absorbent memory foam, a material originally developed for NASA to create shock-resistant space shuttle seats. In total, there are 4 different layers to each mattress.
On top of any Zoma Sports mattress, you'll find a breathable cover that removes heat and humidity that builds up through the night. Below that is a zoned Triangulex layer. To help your body recover faster, certain portions of this part of the mattress are softer than others to better cushion certain muscles.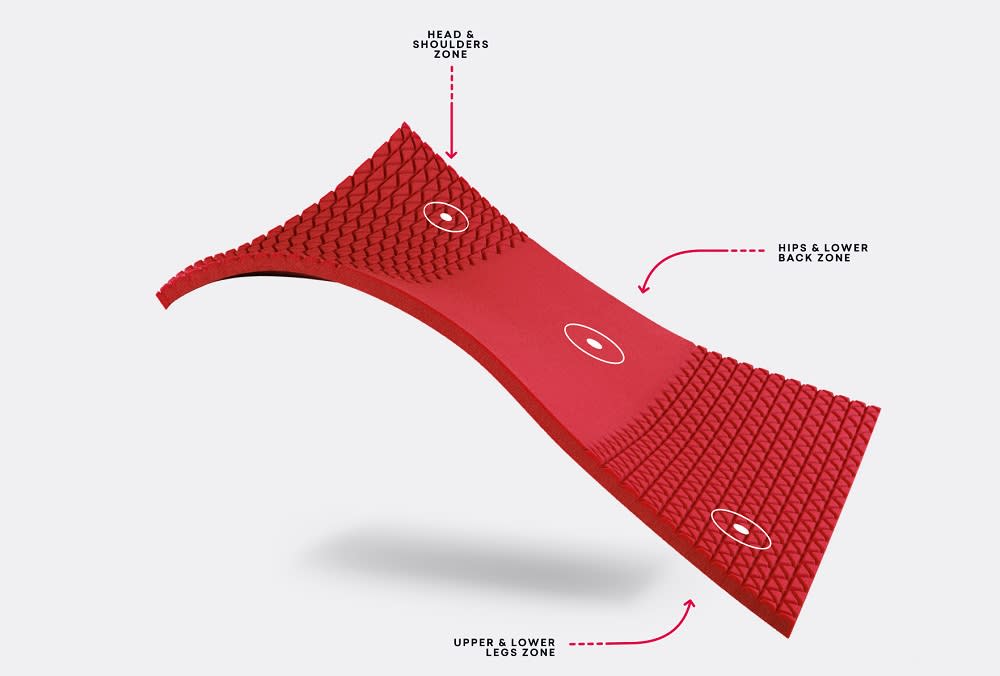 Underneath the Triangulex section of the mattress is a Reactiv layer that adjusts to your movements automatically. This part of the mattress also reduces motion transfer, ideal for couples where one partner is more restless and commonly wakes up the other.
And, finally, at the base of the mattress is what's known as the Support+ layer. The tougher materials here are high-density and, therefore, give a reliable amount of pressure relief to sensitive areas like your shoulders and joints.
Mattress Models
Breathable mesh fabric (3% spandex, 97% polyester), Triangulex memory foam
Zoma Sports Mattress
The Zoma Sports Mattress was carefully composed to provide the perfect night's sleep for athletes. Research shows that even at elite sporting levels, having a more deep and restful sleep can provide a powerful advantage and enhance your body's performance.
Deep sleep releases hormones such as GH that encourage the growth of muscles and physical recovery. If you aren't sleeping deeply due to a bad mattress, your body won't be able to endure intense exercise well, and your muscle mass and strength could decline.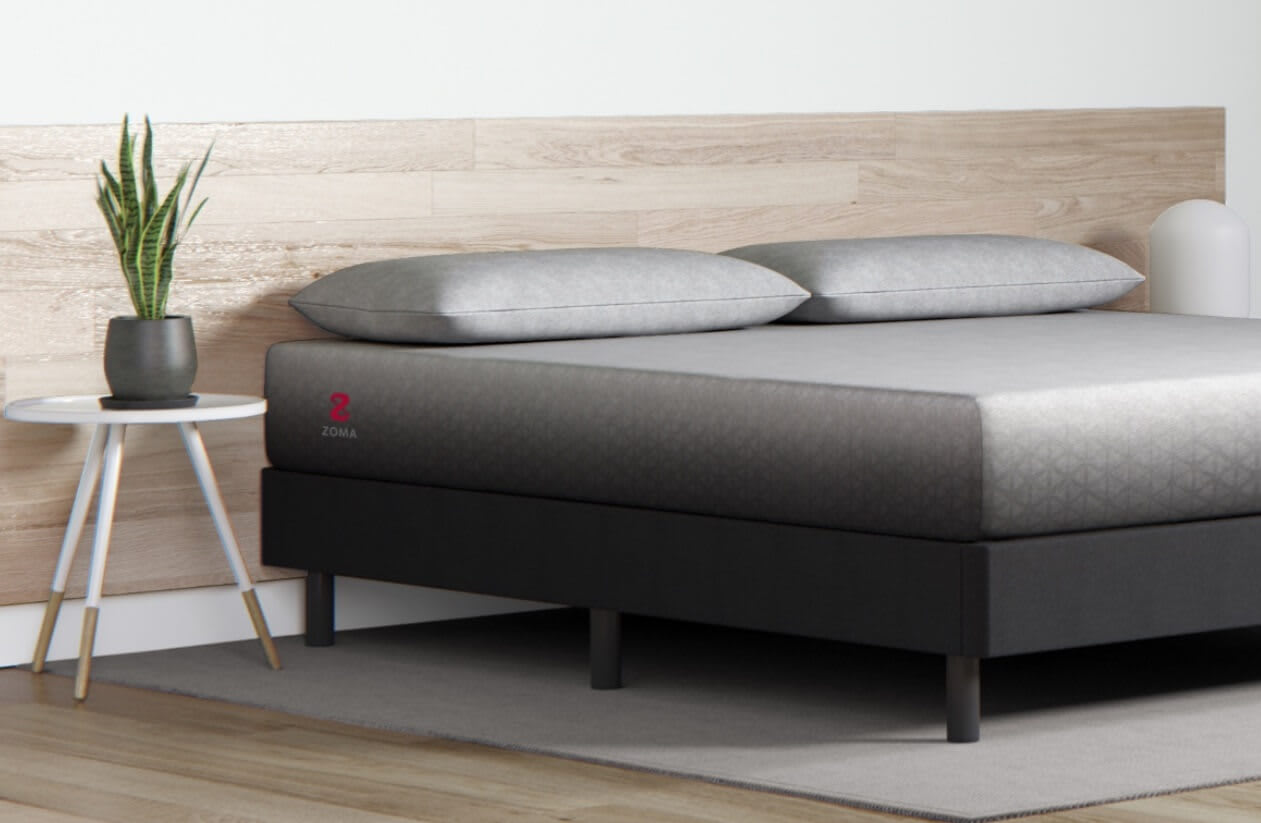 Similarly, rapid eye movement (REM) sleep is extremely positive for the brain. Scientists have confidently shown that REM leads to better muscle memory and awareness, both of which are vital for athletes.
Overheating while you're asleep can cause you to wake up or take you out of deep or REM sleep. The heat removing, motion transfer isolation, and pressure relieving properties of the Zoma Sports mattress all reduce the likelihood of this occurring, keeping you in important body and brain-building parts of the sleep cycle for longer.
But the deep sleep-inducing properties of the Zoma Sports mattress do much more than simply improve sports performance. There's comprehensive evidence that lacking sleep can lead to more injuries during sporting events. Some studies have even found that competitors who miss out on sleep are 60% more likely to get injured.
Delivery
Zoma mattresses are delivered free of charge anywhere in the continental USA. Typically, you should allow 3 to 5 business days for your order to be processed. Once your mattress is in the mail, it will take up to 5 further business days for FedEx to get it to your door.
After placing your order, you can find out exactly when your new mattress will arrive by logging into the account you used to place your order on the Zoma website. You can also contact a Zoma representative over the phone or email a query to support@zomasleep.com. If you aren't available to collect your mattress on delivery day, don't worry. A signature is not normally required.
If you purchased accessories to go with your new mattress, these may be delivered separately. Typically other Zoma bedding materials take 4 to 9 business days to arrive.
Testimonials
"One of the best investments I've made. Recovery and sleep are two very important things in my line of work. Zoma's mattresses help me fall asleep and stay asleep. This is the best my back has ever felt!"
"I absolutely love the mattress. I feel more rested and my body feels amazing waking up. I definitely feel this mattress is one of the best out there."
"I love how the bed was firm and didn't need to adjust my body to get comfortable on a bed. The comfort level was really good and my body feels nice and relaxed every time I go lay my head."
Zoma Mattresses Buy Now
Bottom Line
When it comes to price, Zoma clearly has the upper hand over alternative high-end mattress brands. A queen-size Zoma mattress is available, for example, for less than $900. And, what's more, the unique zoned design of Zoma Sports mattresses make them a good option for professional or amateur sportsmen and women who want to sleep better in order to gain an edge over their competitors.
About Zoma
Zoma is a mattress and bedding manufacturer and distributor based in the USA. It specializes in mattresses for athletes that are medium-firm and zoned so that sleepers can recover better from intense workouts and exercise.