In a Nutshell
Having trouble sleeping? Then the Muse Sleep mattress might be calling to you. According to the claims, advanced cooling and comfort technology lets the Muse Sleep deliver a deep and comfortable sleep like you've yet to experience before. And from real user reviews, the Muse isn't making things up. There's definitely enough industry buzz about this product to take it for a test drive, and with a 120-night free trial, why not see how it works?
pros
Long risk-free trial and warranty
Advanced cooling technology built-in
Free shipping and returns
cons
Off-gassing can take up to two days
Not a bouncy mattress

Muse Sleep Visit Site
What Type of Sleeper Is It Best for?
The Muse Sleep is designed for optimal comfort, and that kind of quality shouldn't be exclusive. Fortunately, Muse makes three different mattress firmnesses to accommodate all types of sleepers.
Soft mattress for:
Medium mattress for:
Firm mattress for:
Stomach sleepers

Back sleepers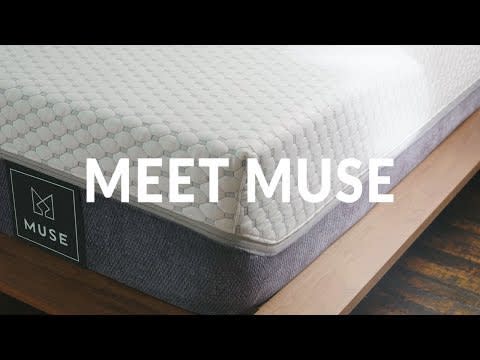 How it Works
The Muse Sleep mattress can be ordered online. If you're not sure which type of mattress is best for you, you can start the process by taking the sleep quiz. It's a quick quiz designed to pinpoint which mattress firmness will be the most supportive and comfortable for you. You'll be asked questions like how many people are sleeping on this mattress, what body build you and your partner have, and how do you normally sleep.
If you already know what type of mattress you like, you can skip the quiz and go directly to the ordering stage. Here's how:
Go to the site and select the mattress size and firmness you want.

Add it to the cart, input your payment info, and you're ready to roll.

The Muse Sleep mattress ships for free, a nice bonus perk.
The Muse Sleep comes with a 120-night sleep trial. So, you can test drive your mattress risk-free for almost four months. That's a good deal. What's even nicer is that Muse will cover your free shipping if you decide you don't like the mattress and want to return it. The Muse Sleep also comes with a 10-year warranty. So if anything goes wrong, you're covered.
Mattress Makeup
The Muse Sleep mattress is a big deal in a lot of ways. For one thing, it is a 12" high mattress, so you have plenty of cushioning no matter what size mattress you order. For another thing, the Muse Sleep mattress is uniquely designed with a technology to back its structure. The mattress starts off with a knitted cooling fabric that has phase changing yarn. This fancy terminology means that the fabric actually changes periodically throughout the night. So, as you get warmer (as you generally do while you sleep), the mattress cools down, cooling you down in the process. It's also a nice added touch that these mattresses are all hand-finished and exclusively made in the US of A.
Once you dig into the Muse Sleep, you'll find four layers of padding designed for optimal comfort. Here's what a mattress looks like:
Foundational foam layer: This is 6" of supportive foam and is incredibly durable.

Jacquard chenille cover: This layer offers a chic and sturdy finish to your mattress.

Comfort transition foam layer: Next, is another layer of foam, 2" thick. This layer is meant to minimize motion transfer and gives a further layer of support for the entire body.

Liquid gel memory foam layer: This layer is most people's favorite. The liquid gel memory foam is what gives you the cooling effect. This maintains your cool sleep even while your body temperature rises by resisting the slow heat transfer that normally occurs during the night.

Open-cell foam layer: The last layer is thick and plush, a nice squishy surface to fall onto at the end of the day. This layer is designed to work with adaptive airflow and provides tremendous comfort.

Phase change cooling cover: Finally, your Muse Sleep mattress is covered with a knitted yarn that is cool to the touch for the ultimate cooling experience.
Muse Sleep is also topped with a washable cover. This isn't particularly high tech, but it is certainly a convenient feature. You can remove and machine-wash the mattress cover easily thanks to the handy zip-off cover.
Mattress Models
The Muse Sleep mattress only has one design (arguably, once you've designed it right, there's no need for any further models!). What you can get is different levels of firmness and, of course, varying mattress sizes. As discussed above, the Muse Sleep comes in soft, medium, and firm firmness levels, and the sizing availability spans from standard twin to Cali king. Here's a look at the types and their details:
Available in soft, medium, firm
Available in soft, medium, firm
Available in soft, medium, firm
Available in soft, medium, firm
Available in soft, medium, firm
Available in soft, medium, firm
Delivery
The Muse Sleep mattress has free delivery all over the US. As we already mentioned, you'll get a 120-night free trial 100% risk-free, so you can try out your mattress and return it if it's not good for you. The Muse Sleep delivers in 5-7 business days and comes with a 10-year warranty.
It will arrive in a compacted box that you can easily unbox and set up on your own.
Testimonials
"Sleep so much better on the Muse mattress. Previously would wake up and could not go back to sleep. Now when I wake up, I go right back to sleep. Haven't gotten this much sleep for a long time. Thanks!" Linda G, 3/6/20
"My wife and I love the king size mattress. So comfortable and zero motion transfer.
I should have hit this mattress years ago." Van M, 2/4/20
"I ordered firm since I like firmer side. But I wasn't happy enough. It is def firm tho. I decided to return. The customer service was excellent. I was going to change to another brand, but I decided to go medium firm by Muse. It feels softer than I expected, but when I laying down I feel good and happy." Nao Y, 1/2/20
"By far the most comfortable mattress I have ever owned. Selected the medium firmness along with the low profile pillows. I would definitely recommend." Scott F, 11/ 25/19

Muse Sleep Visit Site
Bottom Line
The Muse Sleep mattress has a reputation for being solid, comfortable, and truly transformative for your night's sleep. The mattress certainly has the tech and material quality behind it to back up these claims. And what's more, Muse makes a solid offer, providing consumers with a 120-night risk-free trial, free shipping and returns, and a 10-year warranty. That is more than enough added value to convince anyone that this is a worthwhile purchase.
About Muse
Muse was built on the premise that not everyone sleeps the same way, but that we all deserve a good night's sleep. Through years of research and development, the Muse Sleep mattress was crafted. And owners attest to the fact that their sleep has never been the same since. In addition to the phase-changing tech-based mattresses, Muse offers pillows and mattress protectors made from equally comfortable and quality materials for the most amazing night's sleep you've ever had.