In a Nutshell
The Layla mattress is unique in that it has a dual-sided construction. You can flip your bed over to get either a more firm or more plush sleeping experience, depending on what feels most comfortable to you. Layla also sets itself apart by using copper-gel memory foam, which provides better support and more cooling throughout the night than standard memory foam.
pros
Flippable design to customize firmness
Copper infusion offers support and temperature control
Lifetime warranty and 120-night sleep trial
cons
Limited firmness options
Not great for heavyset sleepers

Layla Visit Site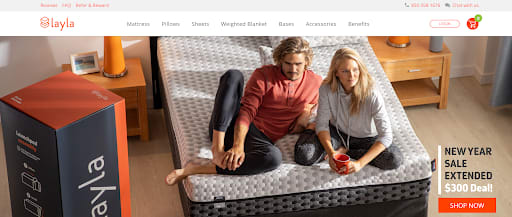 Medium soft or medium firm
What Type of Sleeper Is It Best For?
Back sleepers
Stomach sleepers
Side sleepers
Combination sleepers
Lightweight sleepers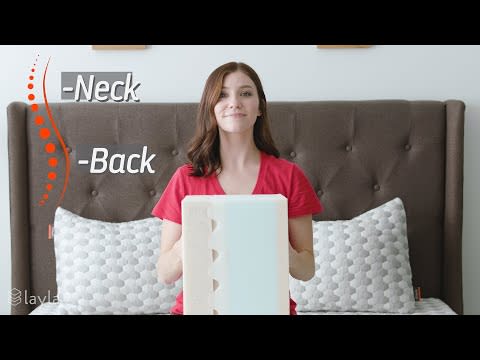 How it Works
It's easy to order the Layla mattress online. Simply choose whether you want the memory foam or hybrid mattress, and Layla will ship it free to your door in 2-5 days. If you need help, Layla's customer support team can advise you on which bed is a better fit for your sleeping preferences.
From there, you can try out your mattress for up to 120 nights risk-free to make sure it's a good match for you. If you're not comfortable on the Layla mattress, simply let the company know and they'll arrange to have it picked up from your home at no cost. You get a complete refund and the mattress is donated to a local charity so it doesn't go to waste.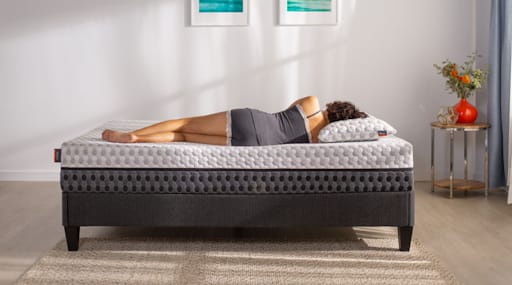 If you keep your Layla mattress, the company offers a lifetime warranty on its memory foam mattress or a 10-year warranty on its hybrid mattress. Your warranty isn't prorated based on how long you've owned the mattress. But, keep in mind that you have to use a foundation or box spring in order to be covered.
Mattress Makeup
There are two big things that differentiate the Layla mattress: copper-gel memory foam and flippable construction.
The Layla mattress doesn't settle for traditional memory foam, which tends to trap in heat and doesn't offer much support. Instead, the company developed a unique copper-infused gel memory foam.
Copper is naturally conductive, so it dissipates heat extremely quickly and helps you stay cool throughout the night. Copper-gel also has the advantage of holding its shape better than standard memory foam. That means it won't collapse when you lie in your bed, instead supporting your weight and bouncing back quickly when you move. Another benefit to copper is that it's naturally antimicrobial. Thanks to that property, you don't have to worry about odors developing in your Layla mattress over time.
It's also worth noting that Layla beds include a copper-infused cover. This does an excellent job of cooling your body, helping to dissipate heat before it even has a chance to warm up the foam beneath.
The second big innovation that Layla brings is dual-sided construction. The Layla mattress is designed so that on one side, back and stomach sleepers will find a firm, comfortable surface. Flip it over, and side sleepers will find a much more plush sleeping surface with a thicker layer of memory foam. This unique flippable design helps to ensure that a single mattress can be optimally comfortable for the vast majority of sleeping styles.
Mattress Models
Layla Memory Foam Mattress
3" copper-gel memory foam
2" transitional foam
4" high density foam
1" copper-gel memory foam
Soft (4/10) or Medium Firm (7/10)
2.5" copper-gel memory foam
2" transitional foam
6" pocketed coils layer
1.5" transitional foam
1" copper-gel memory foam
Soft (4/10) or Medium Firm (7/10)
Layla Memory Foam Mattress
Best for: Sleepers who prefer foam support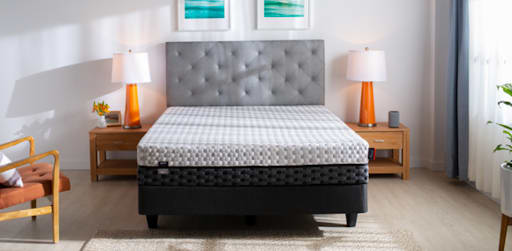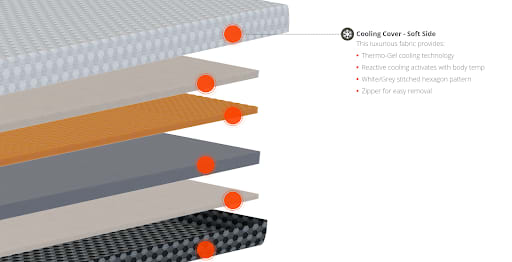 The Layla Memory Foam Mattress is the classic Layla bed. It's built from a 4-inch layer of high density support foam sandwiched in between 2 layers of copper-gel memory foam on either side. On the soft side of the mattress, this memory foam layer is 3 inches thick and underlain by an additional 2-inch layer of egg-crate structured transitional foam. On the firm side, there's just a 1-inch layer of copper-gel memory foam, so you can clearly feel the high-density foam core with your body.
Layla Hybrid Mattress
Best for: Sleepers who prefer innerspring support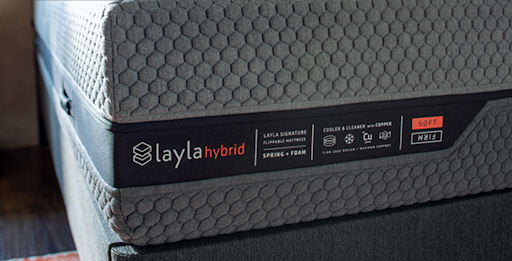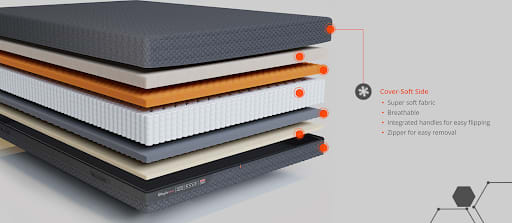 The Layla Hybrid Mattress replaces the foam core of the original Layla mattress with a 6-inch-thick layer of individually pocketed coils. That's a plus for anyone who prefers the feel of traditional innersprings over foam, which gives more when you push down on it. Importantly, the innersprings also add increased edge support and bounce, as well as dramatically cut down on motion transfer across the bed. The soft side of this mattress is made more plush thanks to 2.5 inches of copper-gel memory foam and 2 inches of transitional foam. The firm side puts your body closer to the innersprings, with just 1 inch of memory foam and 1.5 inches of transitional foam.
Delivery
Layla ships mattresses in a box that arrives at your door within about 2-5 days. Depending on the size of your mattress, the box can weigh more than 80 pounds—so you'll want a partner to help you move it from your doorstep to your bedroom. Once it's in place, simply remove it from the box, cut open the packaging, and roll it into place. The Layla mattress should inflate to full size within a few minutes and you can lay on it immediately.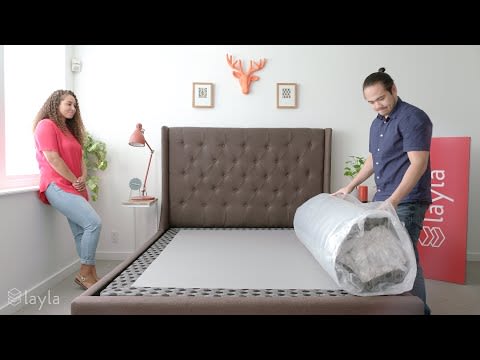 Testimonials
"I am a side sleeper with RLS and generally move around a lot. Since Layla, I have had no shoulder blade pain or hip pain."—Christina H.
"We have this mattress in a guest room and have had 3 people that own Tempur-Pedic mattresses tell us this is better than their mattress."—Frederic C.
"I absolutely love my Layla mattress. No more waking up with back pain!"—Kira R.
Bottom Line
The Layla mattress is a great choice for sleepers who find traditional memory foam to be too warm or not supportive enough. Layla's copper-gel memory foam does a terrific job of dissipating heat while preventing you from sinking into the bed. On top of that, the Layla Hybrid Mattress is a good option for anyone who doesn't like the feel of all-foam beds. Heavyweight sleepers may want to look elsewhere, though, as the firm side of the Layla mattress can feel too soft for them.
Are you ready to improve your sleep? Order your new Layla mattress today!

Layla Visit Site
About Layla Sleep
Layla Sleep was founded in 2016 as an online-only mattress brand with a flippable bed that could suit just about any sleeper. The California-based company manufactures all of its beds in the US using eco-friendly materials that are low in volatile organic compounds. All Layla mattresses are CertiPur-US certified.