In a Nutshell
Airweave is known as the mattress preference of athletes and high-end hotels. It's the official supplier to the US Ski and Snowboard Team, supports The Royal Ballet School with portable Airweave mattresses, and is found in the top suites in hotels like Andaz 5th Avenue, the Ritz, and The Kitano Hotel. So, quality and comfort are synonymous with this brand name. Airweave mattresses are designed for support; they're eco-friendly and washable too.
pros
Scientifically-designed and engineered for support & comfort
Can improve back support and breathability
cons
Older model doesn't come in queen size
Can take up to 2 weeks to arrive

Airweave Visit Site
Free shipping to 48 continental US states
59.8" X 79.9" X 7.9", 71.5 lbs or
60" X 80" X 8.5", 69 lbs
What type of sleeper is Airweave best for?
Airweave has a proprietary design that is meant to improve sleeping in all positions. However, Airweave specifically recommends its mattresses for back and side sleepers, as these are the healthiest positions to sleep in.
Back sleepers
Side sleepers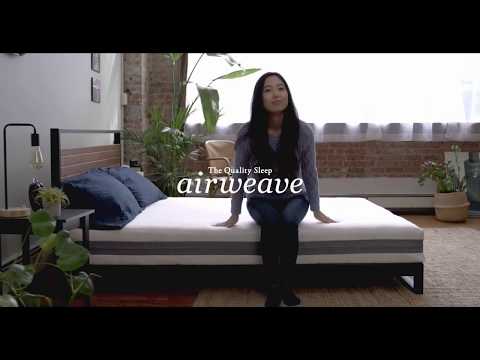 How it Works
You can place orders with Airweave directly on the website.
Choose the mattress model you want.
If you're not sure which model is right for you, Airweave has a useful FAQ section that explains the differences between each model clearly. Once you've decided on a model, click on the mattress link and add it to your cart. Include any accessories you're interested in and proceed to checkout.
Enter your email address, shipping information, confirm your address, and enter payment details to complete the transaction. You can also use Shop Pay or Google Pay for express checkout.
Alternatively, you can place orders over the phone with Airweave customer service. You'll receive an email with a confirmation and tracking number. Another great thing about Airweave is that shipping is totally free anywhere in the continental United States. Mattresses can take about 10-14 business days to arrive.
Airweave offers a 100-night free trial during which you can test out your mattress. If you're not happy with the way it feels, you can return the mattress for a full refund as long as you get in touch with them before the 100-day trial is up.
Airweave provides a 10-year limited warranty on all of its mattresses. This includes normal wear and tear, sagging, physical flaws, and manufacturing defects.
Mattress Makeup
Airweave mattresses are made using newer technology. Airfiber is the proprietary design from Airweave that is the heart of these mattresses. It's meant to allow sleepers to get better sleep thanks to a more even weight distribution, airflow, and more comfortable movement. All Airweave mattresses are made using this airfiber core that provides support from any angle you're sleeping in. This ease of movement is meant to help you exert less energy when sleeping, so you stay in a deeper, more regenerative sleep.
The interwoven fibers are designed for optimal airflow, allowing the body temperature to naturally regulate throughout the night. You can also get items like a top mattress or luxe top mattress for a softer sleeping experience.
Mattress Models
Airweave currently has 3 mattress models available: an older model, and 2 updated and more advanced versions. Here's a closer look at each one:
No queen size available, price ranges from $910-$1,352
Thickness: 2 layers of 3.9" airfiber® (7.8" total), with cover: 8.5"
Twin: 39.4" X 74.8" X 8.5", 54 lbs
Twin XL: 39.4"" X 80" X 8.5", 58 lbs
Full: 53.1" X 74.8" X 8.5", 73 lbs
Queen: 59.8" X 80" X 8.5", 88 lbs
King: 76" X 80" X 8.5", 111 lbs
CAL King: 71.7" X 84" X 8.5", 110 lbs
Cushion: Polyethylene 100%
Outer Cover: Polyester 100%
Inner Cover: Modacrylic 60%, Glass Fiber 40%
Queen: 59.8" X 79.9" X 7.9", 71.5 lbs
airfiber® core: Polyethylene 100%
Outer Cover: Polyester 100%
Lining: Modacrylic 60%, Glass Fiber 40%
Soft Layer: Polyester 100%
Airweave mattress advanced
Queen: 60" X 80" X 8.5", 69 lbs
Queen: 60" X 80" X 8.5", 69 lbs
airfiber® core: Polyethylene 100%
Outer Cover: Polyester 100%
Lining: Modacrylic 60%, Glass Fiber 40%
Soft Layer: Polyester 100%
Standard Airweave Mattress
Best for: Side & back sleepers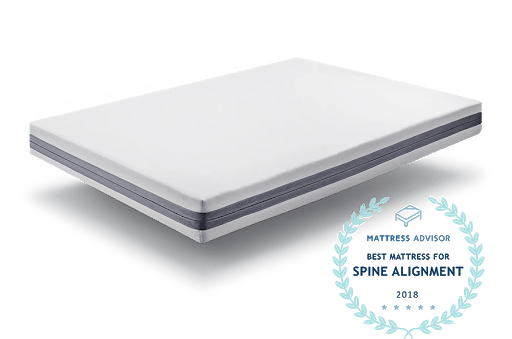 This original version of the Airweave mattress has firm and cooling elements that are ideal for spine realignment.
New Airweave Mattress
Best for: Side & back sleepers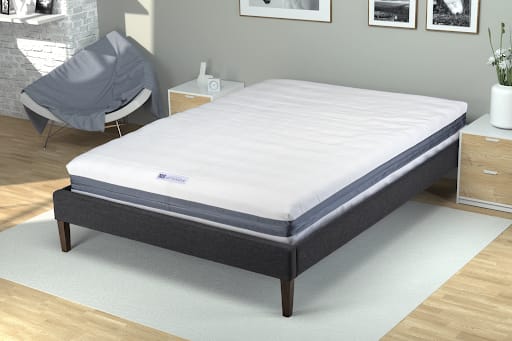 The new model of this mattress has the same cooling and firming effects as the original version. But the new Airweave has the addition of 3 airfiber pieces for added comfort and support.
New Airweave Advanced Mattress
Best for: Side & back sleepers
The advanced mattress from Airweave offers the most flexibility for sleepers with its dual-mode technology. This provides you with 2 firmness options that let you choose the level of firmness for your lower back for the best spin alignment. The advanced mattress includes 2 firmness airfiber pieces, 1 dual mode airfiber piece, 1 pillow top layer, and 2 covers.
Delivery
Mattresses take about 2 weeks to get to you, sometimes less if things run really smoothly. Other items like pillows and mattress toppers take anywhere from 1-7 business days for delivery. Saturday deliveries are possible (sometimes) for an extra fee from the freight dispatcher.
Your mattress will come in one or multiple boxes, depending on which model you purchase. Customers have the option to purchase white glove service for an additional $40. White glove service means that someone will come into your home and set up your mattress for you.
Bottom Line
Airweave mattresses are a good option for people with lower back pressure, aches, and pains. The airfiber material helps to regulate body temperature and minimize motion transfer, allowing you to sleep more deeply and lose less energy. We like that these mattresses are both eco-friendly and washable, making Airweave a user-friendly option. The 10-year warranty seals the deal.

Airweave Visit Site
About Airweave
Airweave was founded in Japan by a Stanford School of Engineering graduate. Through advanced research and analysis, Takaoka developed the patented airfiber material and technology that fuels every Airweave mattress. The unusual interwoven design helps sleepers move more easily, expend less energy, and sleep more restfully. The patented design can reduce pressure on your lower back and spine, and Airweave mattresses and portable mattresses are used by athletes and major hotels across the world. Airweave also makes mattress accessories like seat cushions, duvets, s-line pillows, and dog beds.