InboxAlly Visit Site
InboxAlly at a Glance
What is InboxAlly?
InboxAlly is a service designed to help businesses improve their email deliverability and open rates. It's perfect for mailing list owners, deliverability experts, agencies, and email service providers who are struggling to get their emails into their recipients' inboxes.
InboxAlly achieves this by interacting with your emails, which teaches inbox providers to prioritize your messages and keep them out of the spam folder. The service is easy to set up and provides real-time tracking of your email engagement progress.
InboxAlly features
Email deliverability
InboxAlly's key feature is that it increases the chances of your emails landing in your recipients' inboxes— and being opened.
It achieves this by engaging with your emails in real-time, tracking progress, and moving your messages out of the spam folder. Emails are opened from different machines with different IP addresses across multiple United States locations, and this teaches email service providers that your email belongs in the inbox.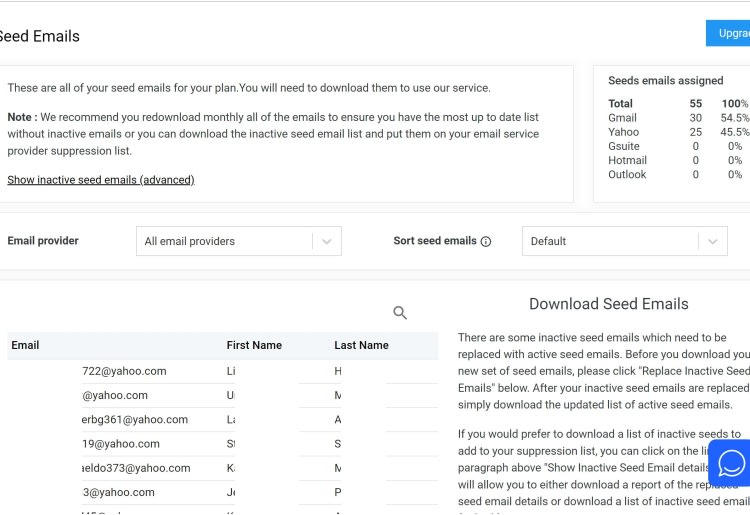 This feature works with any email-sending service and uses your own content in your emails. It doesn't require you to provide InboxAlly with access to your email accounts or sending software.
You can create multiple sender profiles to use the service with all your IPs and domains. So if you're finding that your emails from one account keep ending up in spam or promotion folders, InboxAlly can repair or increase deliverability from that email address.
The dashboard allows you to track progress and view reports on what kind of mailboxes your emails landed in. You can also use it to control the opening time window and to set your sending schedule and reporting timezone. The interface is user-friendly enough, but I found it fairly basic and dated.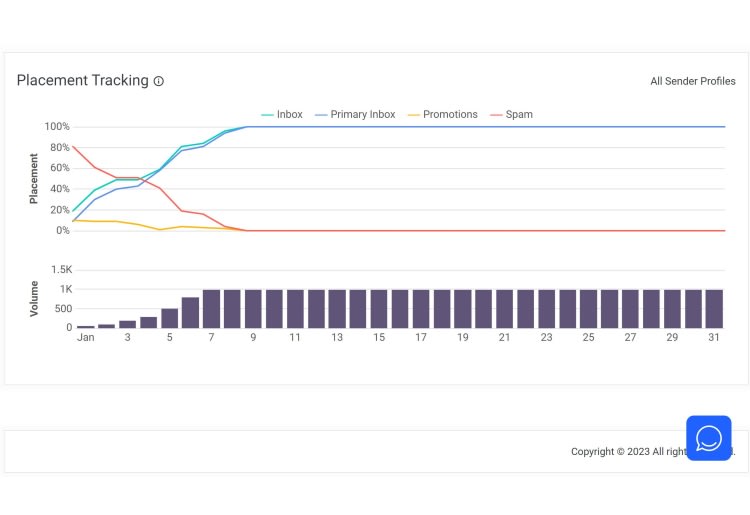 Live demo
InboxAlly provides a free consultation for interested users. This helps you to determine if the service is a good fit for your business and to better understand how the software can benefit your business and email marketing strategy.
Affiliate program for deliverability experts
InboxAlly is a specialist service, and the monthly cost can seem expensive for some businesses. However, the company does offer a generous affiliate program. If you refer a customer to InboxAlly, you'll receive a 20% commission on what they spend each month.
Is InboxAlly Safe and Reliable?
InboxAlly appears to take security and reliability seriously. Its privacy policy commits to maintaining your personal data's accuracy, confidentiality, and security. I've not experienced any reliability issues while using the platform, and the reviews that are available online from other users are very positive.
Additionally, InboxAlly's algorithms are continuously updated to stay ahead of inbox providers' ever-changing spam filters. This ensures that the service reliably works as intended.
How InboxAlly Works
InboxAlly uses its own purpose-built algorithms to engage with your emails, simulating genuine user interactions. This engagement teaches inbox providers that your emails are valuable and should be delivered to the inbox rather than the spam folder. As a result, your open rates and overall email campaign performance will improve dramatically.
How To Get Started With InboxAlly / How To Sign Up for InboxAlly
InboxAlly doesn't require you to enter many details to register—just your name, email address, an estimate of how many emails you send, and away you go. You don't need to enter any credit card details to get started.
InboxAlly then sends you a confirmation email to verify your account, and after that, you can log in to your free trial. There's a "Get Started" checklist to help you navigate the initial setup process.
Download a set of seed emails and import them into your mailing list.

Tell InboxAlly the email address your mailing list uses.

Create a separate sender profile for each email address you send from.

Configure engagement rules for how the InboxAlly email accounts will interact with each of these profiles. These include options such as how often your email is removed from spam folders or is marked as important, and how often seed email accounts follow links from your email.
By having multiple sender profiles, you can tailor different activities to different accounts or mailouts. This allows you to separately train inbox providers in how to treat your mailing list emails and customer support emails to ensure the most important ones always get through.
Finally, you just need to send out an email using your mailing list so that InboxAlly can start the reinforcement process to improve your reputation with inbox providers.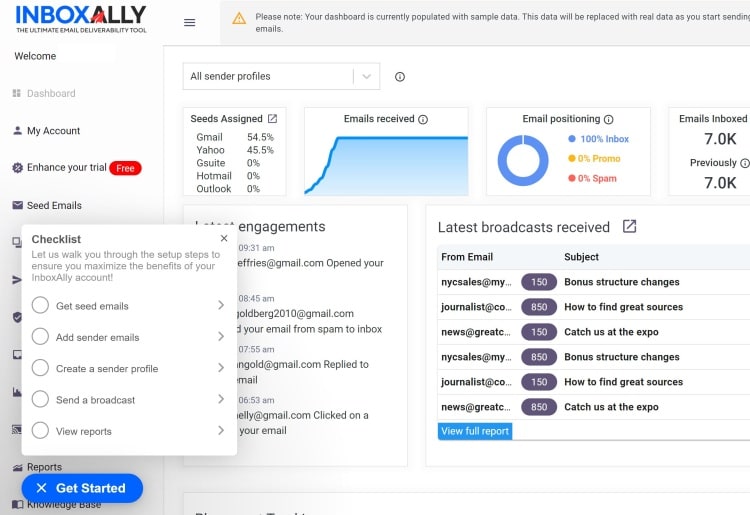 InboxAlly Customer Service
InboxAlly offers email support for all users, email and live chat for subscribers to the Plus plan, and email, live chat, and phone support for Premium users. The company doesn't list its support hours on its website, but in my experience, response time is quick. I received a live chat response from a real person while using the trial version of the software.
When I used the live chat on a Sunday afternoon, the chat box informed me nobody would respond until the following day. I kept testing the service and within a few minutes, a reply answering my questions arrived. So while InboxAlly may officially offer one level of support, in my experience it tries to surpass that.
InboxAlly also provides some supporting documentation in the form of a blog and a knowledge base on its website. The blog provides a wealth of knowledge on email deliverability, and the knowledge base is sufficient for understanding how InboxAlly works.
How To Cancel or Pause an InboxAlly Subscription
InboxAlly does not provide any details of how to cancel a subscription via its site. If you want to cancel or pause your InboxAlly subscription, you'll need to contact the customer support team through email or live chat.
Is There an InboxAlly App?
Currently, InboxAlly does not offer a dedicated mobile app. However, you can access its web-based platform via a browser on your mobile device.
InboxAlly Pricing
How Much Does InboxAlly Cost?
InboxAlly offers multiple pricing options based predominantly on how large your mailing list is. Essentially, you need enough of the InboxAlly seed emails operating to maintain a healthy ratio of seeds compared to your average daily volume. For example, if your mailing list has 500,000 recipients, the interactions from the 100 InboxAlly accounts would have little effect on email service providers. Instead, you would need a Premium or Enterprise solution.
Pricing begins at $149 per month, which makes it an expensive choice for smaller or low-volume mailing lists.
Email and live chat support
Email, live chat, and phone support
Email, live chat, and phone support
The plan you need will depend on how many emails you're sending. To understand which of the above tiers would be best for you, you can book a 30-minute onboarding call with InboxAlly via a Calendly link. The Premium plan includes a one-hour setup/strategy session and a half-hour weekly progress session.
InboxAlly is more expensive than most other services claiming to improve email deliverability. However, if you receive a 30%-50% increase in email open rates, as reported by some InboxAlly users, then the service may provide a high return on your investment.
What can you do with InboxAlly for free?
InboxAlly provides you with a 10-day free trial. This trial allows you to familiarize yourself with the product and test whether it meets your needs. The trial is slightly restricted, however, as you can only use one sender profile and are limited to 50 seed emails.
Optional add-ons
InboxAlly does not currently offer any optional add-ons or additional services.
InboxAlly Alternatives
How Does InboxAlly Compare to Other Marketing Tools?
Improving email deliverability
Freelance email marketing
Ecommerce email marketing
Improving email open rates
Email marketing and social media ad campaigns
Email and social media marketing
Transactional emails and SMS messaging
Free trial (or guarantee)
Limited free tier
(maximum 1,000 emails per month)
Limited free tier (maximum 300 emails per day)
InboxAlly vs. Mailchimp
Mailchimp is a well-known email marketing platform with a wide range of features, including email automation and analytics. While InboxAlly's scope is limited to improving deliverability, Mailchimp offers a more comprehensive solution for various email marketing needs.
InboxAlly vs. Constant Contact
Constant Contact is another popular email marketing platform, offering numerous features and templates for email campaigns. Where InboxAlly's main focus is on email deliverability, Constant Contact provides an all-in-one solution for businesses looking for more extensive email marketing capabilities.
InboxAlly vs. Brevo
Brevo is a powerful email marketing tool that offers automation, segmentation, and analytics features. It caters to businesses looking for a comprehensive email marketing solution instead of InboxAlly's specific focus on increasing email open rates.

InboxAlly Visit Site
Bottom Line
InboxAlly is a very specific tool solely designed to help improve email deliverability. This makes it an excellent choice for businesses that need to maximize the open rates of their emails. User reviews of the tool are very positive, with many confirming that InboxAlly has significantly reduced the number of their emails ending up in spam or promotional folders
If you're just starting to build an email list, then InboxAlly is unlikely to be for you. It's not a comprehensive email marketing suite and doesn't offer any additional features outside of improving email deliverability. However, that doesn't mean you won't want to use the platform in the future. It has made a difference in my email campaigns, which for some people will be enough to make it a great choice—despite the high cost.