In a Nutshell
ZarMoney Business Accounting Software is a fully cloud-based invoicing and accounting suite. The high level of customizability and competitive pricing makes it a great choice for entrepreneurs and small businesses. The interface is intuitive and easy to navigate. Creating, sending, and tracking invoices is straightforward, and integrates seamlessly with the rest of the suite.
pros
Cloud-based
Intuitive workflow
Helpful knowledge base
cons
No dedicated mobile app
Limited integrations and add-ons

ZarMoney Visit Site
ZarMoney at a Glance
Best for: Freelancers and small businesses
Price range: $5 - $12 per user per month
Apps: Web-app only
Features and Add-ons
ZarMoney includes the following features for invoicing:
Cloud-based access
ZarMoney is fully cloud-based, so data, invoices, and accounting modules can be accessed from anywhere. It's unfortunate there's no dedicated mobile apps, as some users may find working from a smartphone a bit cumbersome. On a tablet or computer, however, the experience is very enjoyable. User access can be restricted using permissions based on computer location, user role, and IP address.
Workflow
The dashboard can be customized and reorganized as needed, to better fit your workflow and your business. Custom fields enable you to define and organize your customers in a way that makes sense for your business, rather than having a one-size-fits-all approach that can be cumbersome. This is great for freelancers and small businesses whose products or services may be less conventional than large businesses and enterprises.
Weekly statements can be emailed or printed and sent to clients, with a list of open invoices, so you and your customers know exactly what's owed and when it's due. Quotes and estimates can be created using the same workflow as invoices and be converted to an invoice when you're ready to get paid, making it easier to keep track of multiple iterations and final invoicing.
You can create and share payment terms for each customer, and offer early payment discounts. The software can also automatically send notifications to customers, by text or by email, to let them know about changes to their order or invoice.
Finally, notes, comments, and even PDF files or images can be added to invoices and documents, and easily shared with colleagues and other departments. There's a built-in messaging system for collaborating and troubleshooting, with alerts and notifications to help stay on top of tasks and invoicing. Invoices, along with customer callbacks and other important tasks, can be scheduled in the built-in calendar, and synced with Google or iOS Calendar.
Invoice creation and payments
Invoices can be printed, emailed, or faxed, with your own logo, customized contract, and watermarks, while e-invoices have a convenient "Pay Now" feature which enables customers to pay online via credit card, resulting in faster payments.
Credit limits and holds can be added to customer accounts, and automatically released when a payment is made. In the event of an irregularity, invoices can be automatically blocked from processing.
You can buffer your cash flow and safeguard against poor customer credit with built-in prepayments, and attach and detach payments from invoices as needed. Prepayment parameters can be defined globally or at a customer-level, and deposits can be sent to separate accounts from payments, applied to invoices, or refunded as necessary.
define prepayment parameters globally or at customer-level, accept deposits into separate accounts from payments, and refund or apply prepayments to invoices with just a few clicks.
Reporting
ZarMoney comes with 40+ built-in reports, and more than a thousand customizable ones. Export invoices to create customizable reports for presentations and record keeping, and generate reports on unpaid invoices, incoming funds and deposits, outstanding credits, and more. Reporting is simple enough for entrepreneurs and robust enough for enterprises—a balance that's not always easy to get right.
Payment Options
ZarMoney shows great flexibility in regards to payments, as new payment methods can be created as needed. It also integrates with Shopify, Stripe, PayPal and Authorize.Net, although we'd love to see more integrations and add-ons in the future. Multiple payments can be applied to a single balance, or a single payment to multiple invoices.
Pricing/Costs & Fees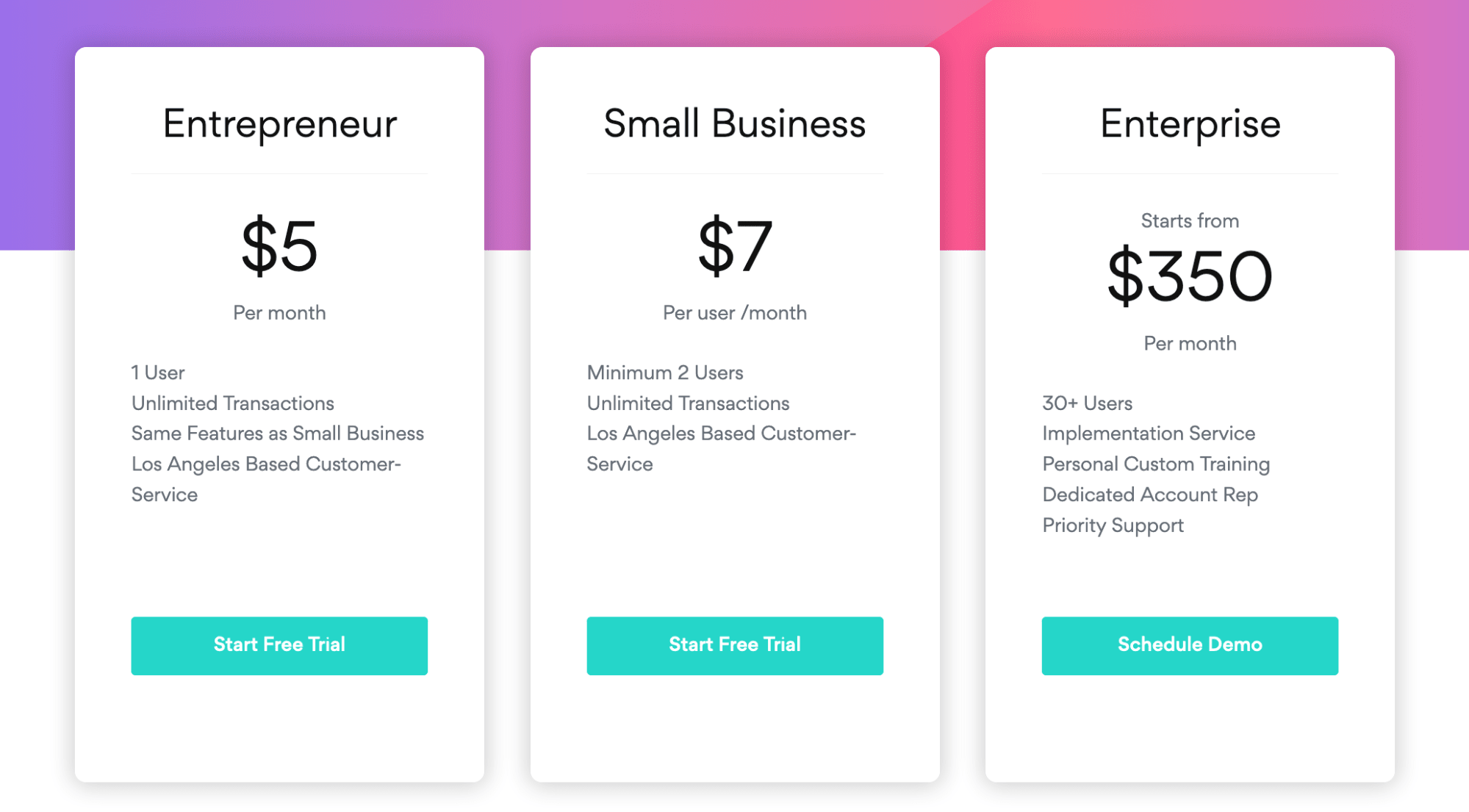 ZarMoney has very competitive rates, considering how feature-rich the accounting suite is. The Entrepreneur plan costs $5 per month ($60 per year), and includes one user and an unlimited number of transactions. The Small Business plan costs $7 per user per month, with a minimum of 2 users. Finally, the Enterprise plan starts from $350 for 30 users, and includes custom training, a dedicated account representative, and priority support.
Plan pricing is automatically updated depending on the number of users, so if you start as an Entrepreneur and then add a partner, there's no need to change your plan.
15-day free trials are available for the Entrepreneur and Small Business plans; and if you still need more time to decide afterwards, your accounts and data will stay saved for 60 days.

ZarMoney Visit Site
Usability
ZarMoney's user interface is intuitive and straight-forward. The design elements are well-thought out and clear—no squinting at your screen or hunting down obscure buttons. The dashboard is information-forward, giving you useful statistics like sales by city and by week, and profit/loss ratios.
The invoice creation process is equally straightforward, with an intelligent workflow that facilitates creating multiple new customers and multiple invoices. You can email invoices directly from the app, including BCCs, making it easy to keep different departments up to date.
Overall, ZarMoney has managed to pack a lot of information and usability into a simple interface that doesn't feel cluttered or confused.
Conclusion
It's easy to see why ZarMoney is such a popular invoicing and accounting suite. The dashboard, workflow, and overall design are well thought out and simple to navigate. While a few more integrations would be welcome, the principal payment platforms are all there. The customizability makes it great for entrepreneurs and small businesses, while the rich reporting will appeal to SMBs and enterprises alike. The pricing is competitive, and particularly well-suited to single users and small teams.