In a Nutshell
FreshBooks is a cloud-hosted accounting and invoicing tool geared toward solopreneurs and small businesses. Its features include built-in time tracking for easily generating invoices based upon an hourly fee structure.
pros
Built-in time tracker
Expense tracker
Integration with project management tools
cons
No free tier
Basic ticketing support; no live chat
FreshBooks at a Glance
Best for: Freelancers and small business owners
Price range: $15/month (Lite) to $55/month (Premium) when billed monthly. Annual billing costs $13.50/month (Lite) to $45/month (Premium)
Apps: Android and iOS
Features and Add-ons
FreshBooks comes with the following features
One Click Document Generation

FreshBooks is a multifaceted invoicing system for running a small business. Users are able to quickly generate a variety of commonly needed documents for both the quoting and billing processes including invoices, expense reports, estimates, and proposals.
Create Retainers
FreshBooks makes it easy to create retainers for the purpose of creating automatic billing plans. Invoices can be configured to automatically send on an invoice issuing date or to be saved in draft mode and manually sent to the client. Users can also configure the recurring billing period—so this is perfect for setting up limited time projects with clients. The retainer feature is greatly appreciated by clients—and conspicuously absent in many invoicing programs.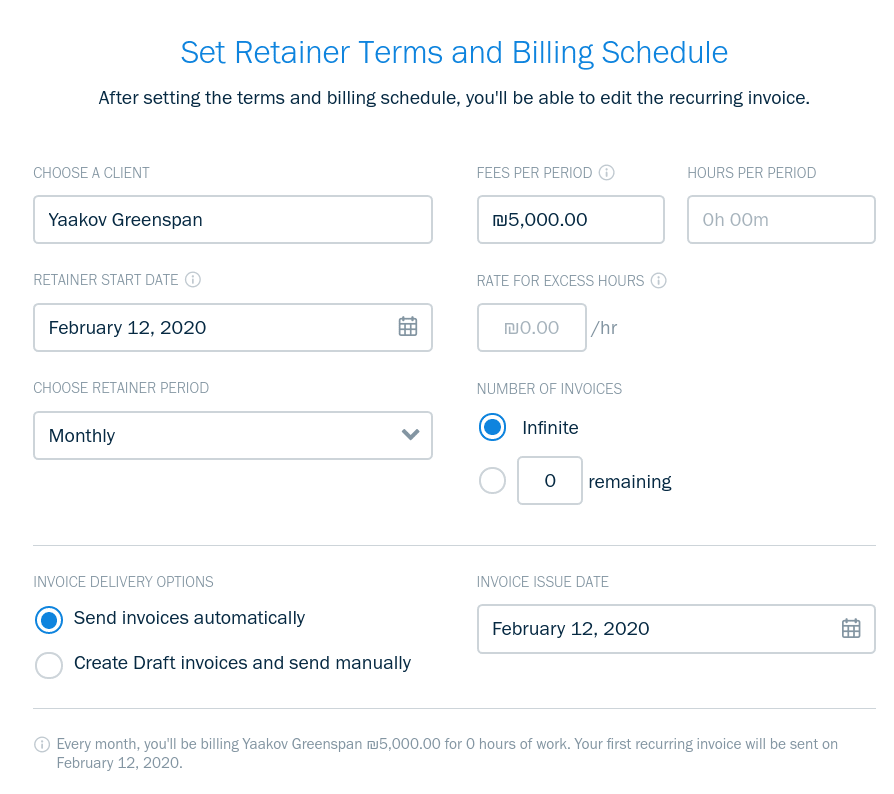 Time Tracking
For freelancers, consultants, and small business owners that bill their clients on an hourly basis, FreshBooks makes it as easy as possible to keep track of time. The built-in time tracking tool simply pops up from the bottom of the window within the FreshBooks interface. All users have to do is select the client with which they want to associate the billing record. Users can also add a narrative so that the client knows what the time track is in relation to. This will automatically be added to the client invoice.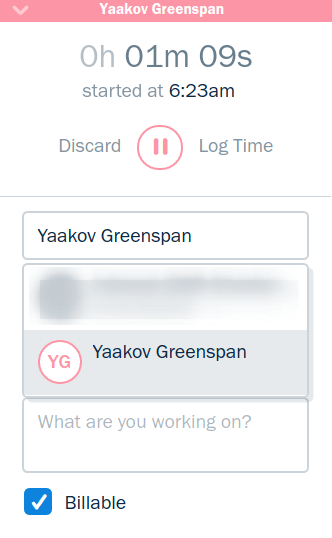 Additionally, users can manually enter entries to the time sheet. For users that want to capture time expenditure via paper based methods, this is a an important option:

Alternatively, users can choose to simply input time expenditure by day. For teams with multiple seats, there's also a review feature in which managers can see all recorded time logs by team members. For agency managers that need to maintain oversight over client billing, this is an important feature designed to ensure that clients are being billed appropriately.
Thanks to FreshBooks' built-in time trackers, users do not need to integrate or use third-party time tracking systems.
When it's time for users to create an invoice for that client, the cumulative tracked time will be automatically detected and suggested as a line item. Users can even choose which date range of tracked time they wish to add and choose in which format they wish to present it.

Online Payments
Getting paid online means getting paid faster. When generating invoices, FreshBooks gives users the options to enable the online payment option. If this is selected, a pay online button will be added to the invoice. Payments are processed using Stripe.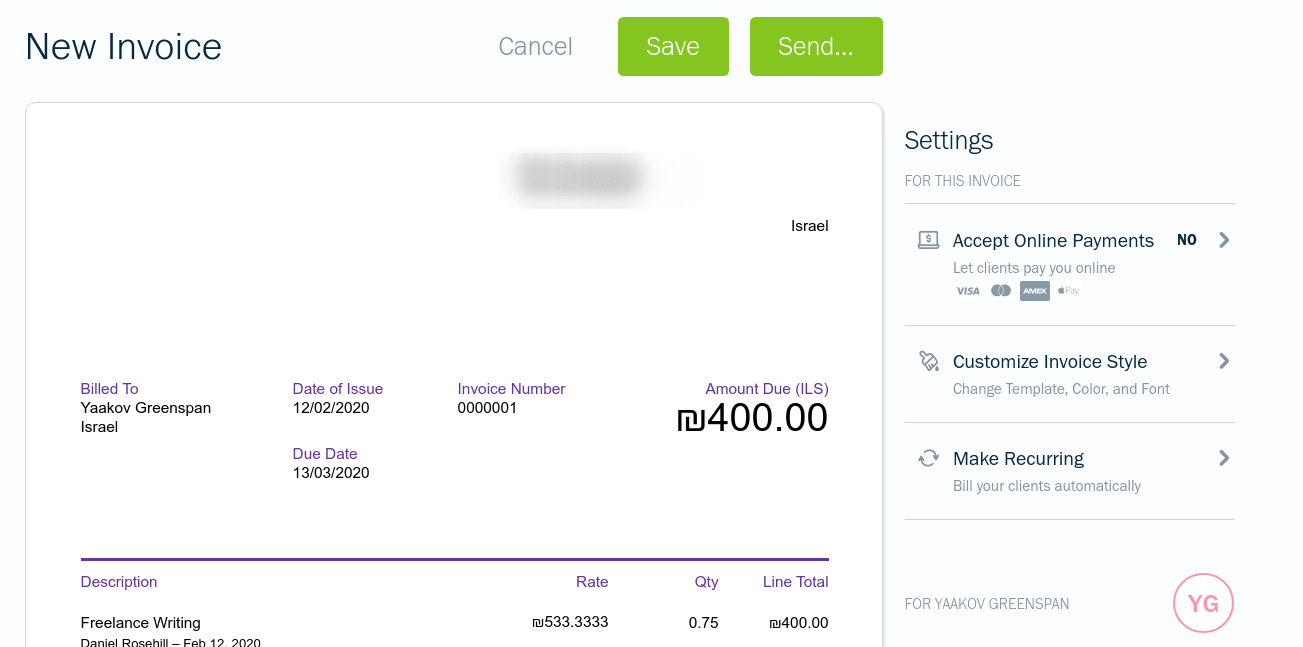 Late Fees
FreshBooks can also configure automatic late fees for clients that are behind on their invoices. This can be configured either as a percentage of the invoice total or as a flat fee. And users can select when the fee will kick in.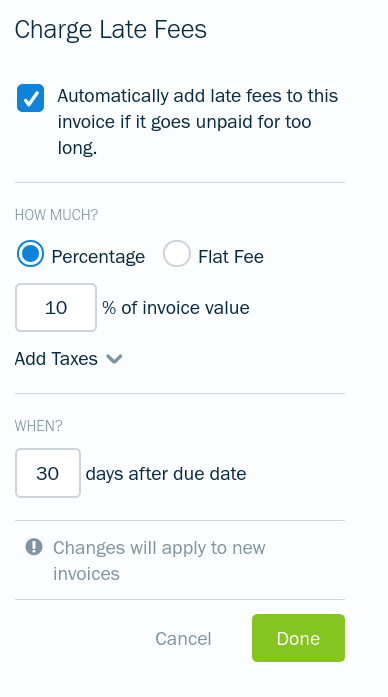 Configure Multiple Reminders
Setting reminders is another foolproof way for ensuring that clients don't overshoot their credit limits and turn into chronic late payers. With FreshBooks, users have the ability to configure an unlimited number of reminders per invoice. These can be set to send out at a certain number of days before and after the due date (where the due date has passed without payment being registered).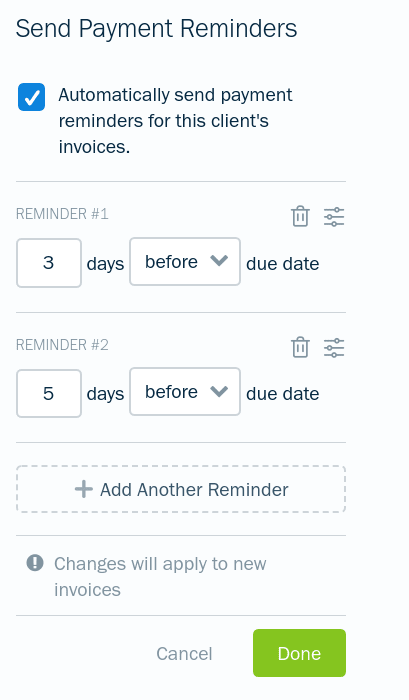 Customize Invoice Messages
When it comes time to send the invoice out to the client, users are able to either directly email the file from within the system or create a sharable link.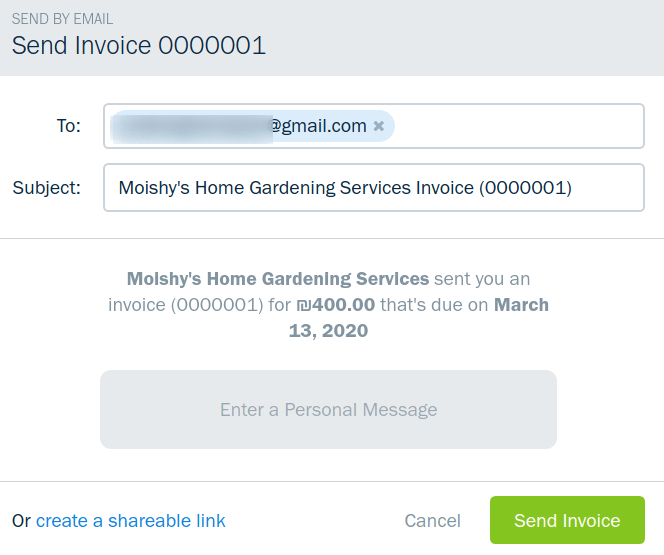 The shareable link is a great option for freelancers that need to send the invoice to multiple points of contact at a company—for instance to their point of contact and the accounting department. Using this option makes it as easy as possible for freelancers to stack the odds in their favor that they will get paid—on time, every time.
Clients will get a link accessible from any device or web browser with links to download and print: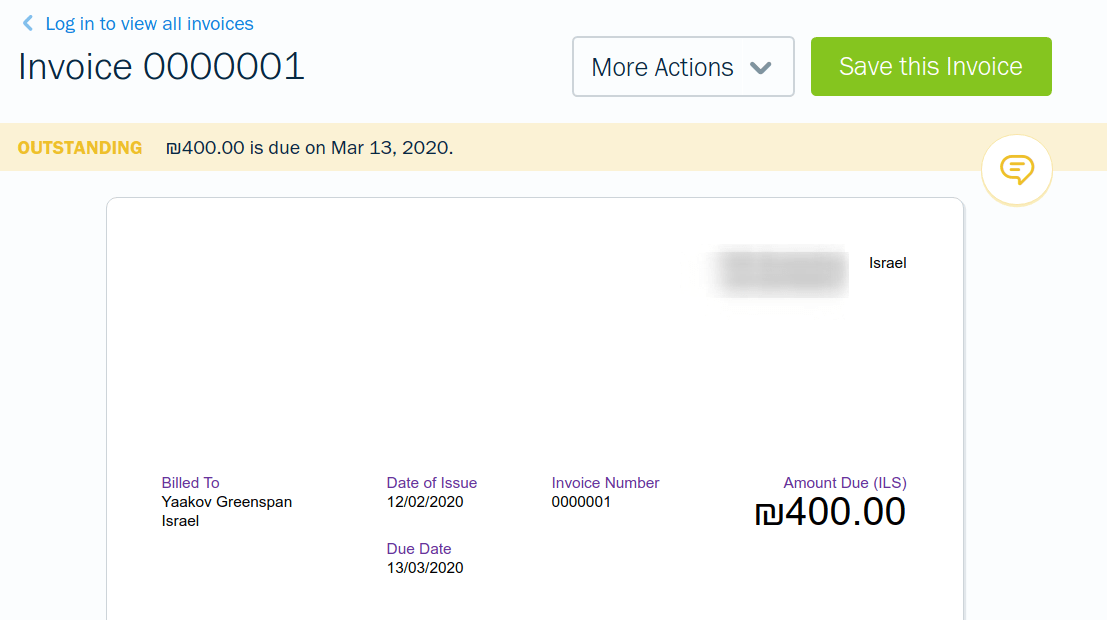 Payment Options
FreshBooks payment processor of choice is Stripe. Using Stripe, clients can pay their invoice only using any major credit card. Pricing is also straightforward: the company takes 2.9% of the sales price and a flat $0.30 fee. Once clients pay their invoice, the money will arrive into the user's bank account within 2 business days. Additionally, Stripe allows clients to pay in their local currency, thereby avoiding exchange fees with their bank. The company supports more than 135 world currencies.
Pricing/Costs & Fees
FreshBooks is available both month-to-month and on an annual subscription basis.
Monthly:
Yearly:
Lite offers:
Unlimited invoices with customization

Unlimited expense entries

The ability to accept ACH transfers online

Full access to FreshBooks' integration library

Billing for up to 5 clients.
Plus offers all Lite features plus:
Double entry accounting

Automated recurring invoices for retainers

Late fees

Unlimited proposals
Premium offers all Plus features plus:
Support for billing up to 500 clients

Advanced payments support

FreshBooks Visit Site
Usability
FreshBooks is an extremely easy platform to get around. The time tracker is built into the platform—so those tracking their hours have one less tool to use. The platform features an attractive UI with all key functionalities easily reachable from a sidebar menu on the left. New accounts automatically go through an on-screen onboarding process familiarizing them with new features.
Conclusion
FreshBooks is a great invoicing tool that is particularly well suited to entrepreneurs, freelancers, and consultants. Some great features for those users include the ability to automatically generate retainer invoices and to track time from directly within the app. For those that need it to scale, its team and enterprise pricing means that it has sticking power as organizations expand. Recommended.
Screenshots