In a Nutshell
Xero is a favorite among small business. And its invoicing tool is a well-designed and powerful tool that combines billing and accounting functionalities. Its upper tiers includes some advanced features, such as multicurrency billing support and account reconciliation. There's also a very stable integration with QuickBooks and an activity dashboard.
pros
Integrates with QuickBooks
Multicurrency billing support
Integrated accounting tools
cons
Expense categories don't match IRS definitions
No live chat
Xero at a Glance
Best for: Small to medium businesses
Price range: From $9/month (Early) to $60 (Established)
Apps: Android and iOS
Features and Add-ons
Contact Saving
Xero makes it possible to save complete records of your billing customers and suppliers.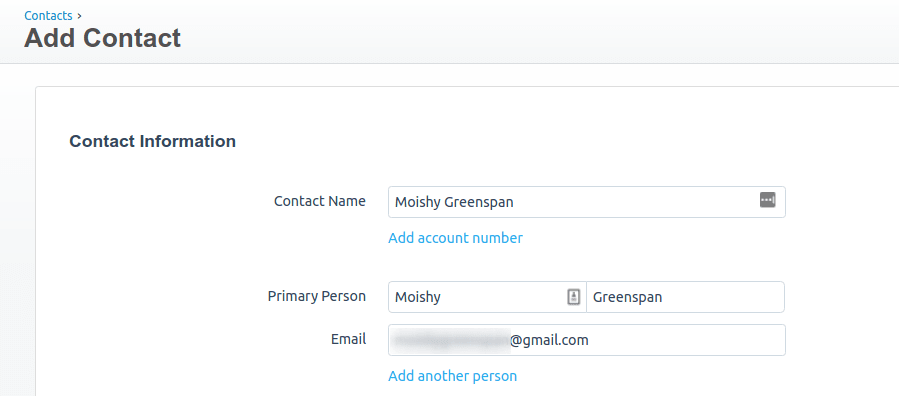 In addition to basic fields such as name and email address, Xero also lets users register customers' financial details, tax information, and billing terms.
Users can also configure default payment due dates for customers so that they do not have to populate that information on every invoice manually.

Xero also allows users to assign individual billing contacts into groups. This is useful where several invoices, assigned to different points of contact, might need to be sent into the same organization at once.
Automated Follow-Ups
Chasing down overdue invoices is a time-consuming chore for both small businesses and large accounts receivable departments. Xero allows users to configure a reminder cadence which will send a series of emails to customers at periodic intervals after their invoice has fallen overdue.
Integrated Inventory Tracking
Typically, invoicing systems either integrate with ERP tools used for stockeeping, or don't have a stock-keeping functionality at all. Xero opted instead for the middle ground, allowing users to choose to track specific items for inventory purposes. When users tick the "I track this item" box, a unit count will be deducted from the initial account and users will be prevented from adding the item to invoices if its quantity falls to zero.

Cloud-based Document Hosting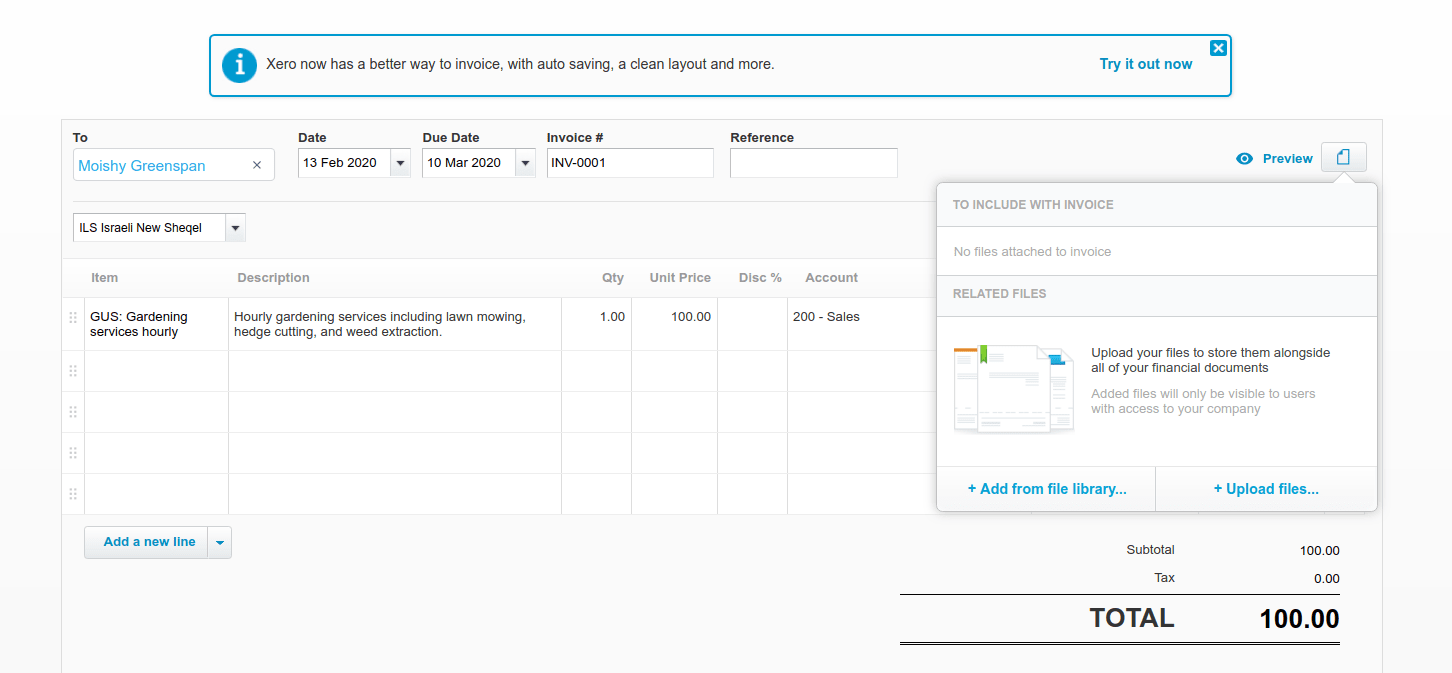 Using Xero, users are able to upload and store additional documents for attachment to invoices. These could be covering notes, timesheets to support the invoices, or RFQ documents. For teams involved in bidding on complex projects (Xero also supports creating estimates and sales quotes) this is an important addition.
Multiple Document Types
Xero allows users to create the full range of commonly required documents for billing and sales purposes. These include:
Sales invoices

Credit notes

Quotes

Bills

Repeating bills

Purchase orders
Xero also has the ability to create repeating sales invoices. For businesses that have ongoing retainer-based contracts with clients, this means that billing can be set up automatically. Users simply need to configure the contract initiation and end dates and select whether they want to have to manually approve the invoices before they send.
Expense Management
Xero also supports managing expenses. Users are able to both manage their own expenses or set up administrative permissions to approve or deny subordinates' or colleagues' expense requests. As part of this feature, Xero includes receipt analysis which uses Optical Character Recognition (OCR) and other technology to automatically parse submitted expenses and pull out details including supplier names and amounts.
App Integrations
Users that want to do more with Xero are able to integrate with any of the apps available through its App Marketplace.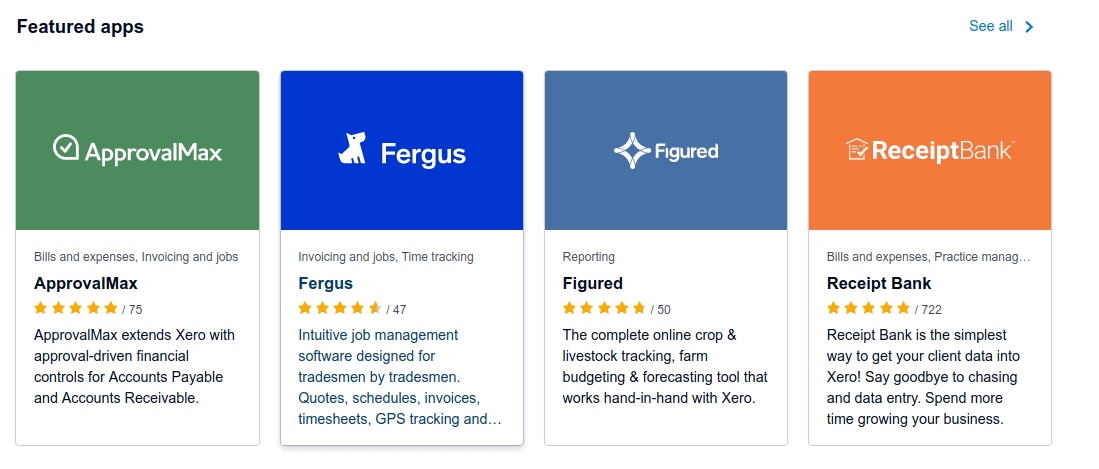 Some of the invoicing tools which can be connected to provide further functionality include:
simPRO for end-to-end business management

Service8 for field service visit coordination and billing

WorkflowMax for quotes, timesheets, and financial project management

PracticeIgnition for sending clients smart proposals that they can read, sign, and approve in one place
There are also integrations for project management tools, including Xero Projects, and Harvest, a popular time tracking and reporting app.
Accounting
In addition to handling invoices, users can also create accounting reports from within Xero.

The range of reports that can be produced includes:
Fixed asset reports

Aged payables reports

Supplier invoice reports
Users can also directly attach their accounts to the platform to receive account-based reporting and create a more complex Chart of Accounts for auditing and book-keeping purposes.
Payment Options
Xero supports online payments—so customers can choose to send a 'pay now online' option which each invoice. The range of options that Xero supports for this purpose includes:
Apple Pay

Credit Card

Debit Card
Users can also pay via transfer over the ACH system. These can be initiated online.
The company uses Stripe and GoCardless for online and ACH debit payments respectively. Although taking payments through these services entails losing a small amount of the invoice value due to commission, businesses often find that they can get paid quicker once they provide clients with an option to pay online.
Pricing/Costs & Fees
Xero is available at 3 tiers:
Early allows users to send 5 invoices and quotes per month, enter 5 bills, and reconcile 20 bank transactions.
Growing removes the limitation around the number of invoices and quotes that can be produced.
Established includes multi currency support and project and expenses tracking.
Additionally, all plans can be trialed without any user limitations for 30 days.

Xero Visit Site
Usability
In terms of usability, Xero ranks as a very easy invoicing tool to come to grips with. Its user interface is clean and easy to navigate around. Users have a notification display located at the top right corner of the screen. This presents notifications regarding any invoicing related activity such as newly received inbound files, expenses that need to be approved, and other such actions.

Those that need support can click on the help icon immediately to its right. Although we thought that Xero could have put a little more effort into its support resources, users can find plenty of information in Xero Central to help them make the most out of the platform.
Conclusion
Xero is a slick invoicing and accounting tool for small business. It has a very impressive integration library and some nice features including the ability to create recurring invoices and send invoices in batches, thereby saving time. This is definitely a tool that we can recommend.
Screenshots