HoneyBook Visit Site
HoneyBook at a Glance
What is HoneyBook?
HoneyBook is a feature-rich business and client management program that's backed by powerful billing and invoice management tools. It's suitable for everyone from freelancers to large businesses, and it's designed to help you streamline invoicing processes.
It does this by providing a user-friendly interface, a selection of templates, and an online payment portal that your customers can use to pay their bills. According to HoneyBook, this results in over 90% of invoices being paid by the due date.
You can also set up automations to streamline daily workflows. For example, you can create automatic payment reminders that are sent to clients when their invoices are due, saving you the time it would take to follow up manually.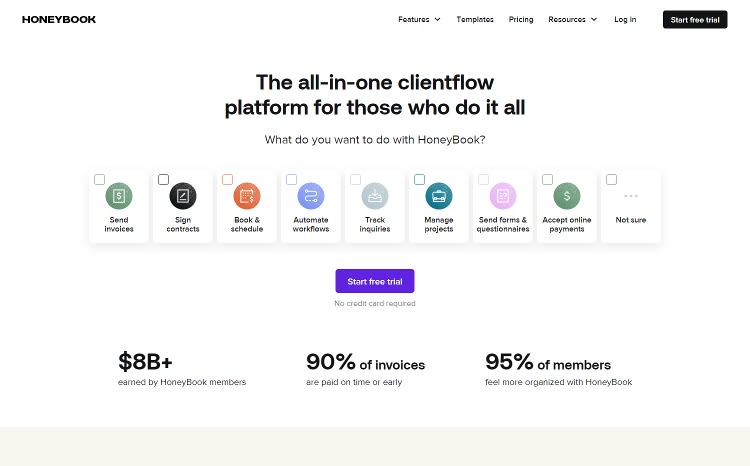 HoneyBook features
HoneyBook is more than just an invoicing program. It includes loads of attractive features to help you get the most out of your business.
A user-friendly interface
One of my favorite things about HoneyBook is how easy it is to use. The main dashboard is super intuitive, and it keeps things basic yet powerful. You can access the most important tools with a click of a button, and there are loads of built-in tips to help you get the most out of the platform.
Pre-built invoice templates
You will also have access to a selection of invoice templates that you can use to create your own invoices in seconds. Alternatively, you can create your own templates or start with a recently sent invoice.
Advanced invoice customization options
HoneyBook uses a powerful block-based invoice editor that enables you to create the exact invoices you require. You can add text, images, videos, and questions to your invoice to ensure your clients have the information they require.
It's even possible to attach a payment page to your invoices for streamlined payment, and HoneyBook can take care of any discount and tax calculations.
Built-in client payments
Another excellent tool is HoneyBook's built-in payments portal. This enables you to accept client payments via credit or debit card. You can set up recurring or scheduled payments, and add the option for clients to auto-pay.
A selection of third-party app integrations
With HoneyBook's cheapest Starter plan, you can connect your business email and calendar to your account. With the Essentials and Premium plans, you will have access to direct integrations with QuickBooks Online, Meta Ads, Zoom, and Calendly. You can also use Zapier to create custom integrations with thousands of other third-party apps.
Is HoneyBook Safe and Reliable?
HoneyBook is a dependable program backed by excellent security. For starters, you can use access codes to ensure only the relevant people have access to sensitive files like invoices and contracts. The company itself uses strong security procedures, including data encryption, to ensure sensitive information isn't leaked or stolen.
What's more, HoneyBook has an A+ rating on the Better Business Bureau (BBB) website. It also gets 3.8/5 stars on Trustpilot, which I was impressed with.
How HoneyBook Works
HoneyBook is a cloud-based program that's backed by a powerful mobile app. It's designed to help business owners invoice and accept payments fast and easily, and it's super easy to use and get started with.
How to Get Started With HoneyBook
To get started with HoneyBook, head to the company website and follow the prompts to start your seven-day free trial. You will need to add basic personal information, including your name, phone number, email address, and business name.
Once you've entered the required info and created an account, you'll be taken straight to your account dashboard. There are a few guided setup steps to work through to get yourself up and running. You can skip these, but I found them very useful, and they really helped me learn my way around the user interface.
From here, you can start using HoneyBook immediately. I found its tools to be very self-explanatory and easy to use, and you shouldn't have any issues here. Remember that you will have to upgrade to a premium plan if you wish to keep using it when your free trial runs out.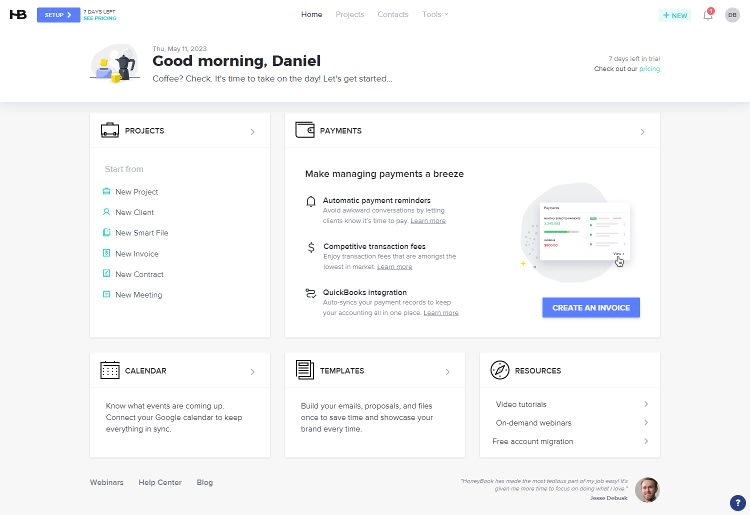 HoneyBook Customer Service
HoneyBook offers live chat support from 4am to 8pm Monday to Friday (PST) and from 8am to 5pm Saturday and Sunday (PST). During these hours, the team is responsive and usually replies to queries within minutes. If you need help outside of business hours, you can leave your question and someone will get back to you ASAP.
What's more, there's a comprehensive help center containing numerous articles, video tutorials, and step-by-step guides. These are cleverly categorized, and you can also use the built-in search box to find exactly what you're looking for.
You will also find a selection of free small business tools, including invoice templates, an online personality test, and contract templates. The blog contains a selection of informational and educational articles.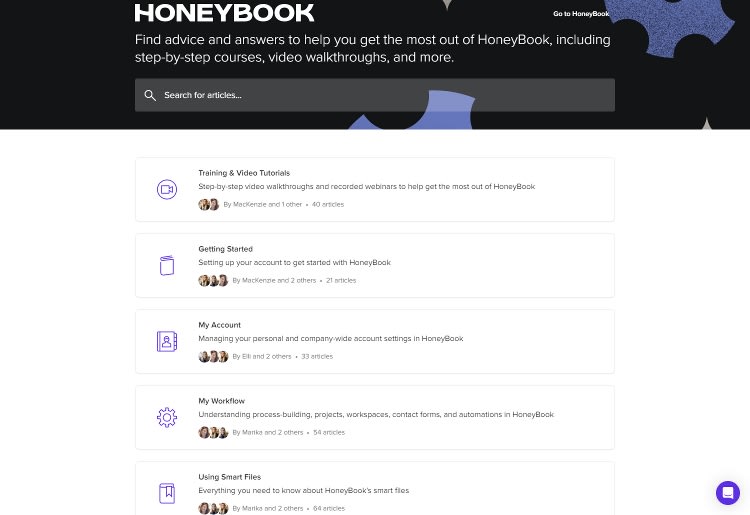 How to Cancel or Pause a HoneyBook Subscription
You can cancel your HoneyBook subscription at any time by clicking your profile picture and selecting the Company Settings menu. From here, head to the Membership tab, click the Cancel Plan button, and follow the prompts to confirm your cancellation.
One thing I like here is that you will still have access to your HoneyBook account after cancellation. You just won't be able to create new files or use most features.
Is There a HoneyBook App?
Yes, the HoneyBook app is available for free on the Apple App Store and the Google Play Store. It has a 4.7/5 star rating on both platforms, and it's super easy to download and use.
What's more, the mobile app provides full invoicing and client management functionality. The only features that are absent are the ability to edit or update the scheduler, update your company settings, issue refunds, or access some advanced tools like automations and bookkeeping.
Overall, I was thoroughly impressed with how good the app is.
HoneyBook Pricing
How Much Does HoneyBook Cost?
HoneyBook offers three subscription options ranging from $19 to $79 per month for a monthly subscription. Annual subscriptions are slightly cheaper, and you will pay $16 to $66 per month if you pay for 12 months upfront.
What's more, HoneyBook has a seven-day free trial that enables you to test the entire platform. I particularly like the fact that you can access the trial without entering credit card or other payment information. There's also a 60-day money-back guarantee that you can take advantage of if you're not satisfied with a subscription.
Pricing (monthly subscription)
Pricing (annual subscription)
Credit Cards, QuickBooks Online
Credit Cards, QuickBooks Online
HoneyBook's cheapest Starter plan supports invoicing and payments for unlimited clients and projects, but it's limited to a single user. Because of this, it's well-suited to freelancers and sole traders.
The Essentials plan adds support for up to two team members, along with scheduling tools, expense management, and third-party app integrations. These features make it better for slightly larger businesses.
Finally, the Premium package is designed for larger businesses with larger teams. It supports unlimited team members and includes advanced reporting, a dedicated account manager, and priority technical support.
When compared to other invoicing software, HoneyBook stands out as one of the most competitively priced options on the market.
What Can You Do With HoneyBook for Free?
HoneyBook has no free forever plan. Its seven-day free trial provides full access so you can test every aspect of the platform.
Optional Add-Ons
There are no optional add-ons
HoneyBook Alternatives
How Does HoneyBook Compare to Other Invoicing Services?
Credit Cards, QuickBooks Online
Free test mode feature before activation
HoneyBook vs Freshbooks
Both HoneyBook and Freshbooks offer a range of invoicing tools backed by various other business management features. Freshbooks is slightly cheaper and has a longer free trial, but I found HoneyBook much easier to use. Both are great options, but I'd recommend HoneyBook if you're looking for a powerful yet user-friendly option.
HoneyBook vs Jobber
Like HoneyBook, Jobber enables you to generate custom invoices and receive payments online. It boasts advanced invoice automations, including the ability to automatically generate invoices based on tracked call-out details and billable hours. However, it's much more expensive than HoneyBook, and I found HoneyBook much easier to use.
HoneyBook vs Stripe
Stripe uses a unique fee model which is great for small businesses without much cash flow. Instead of charging a monthly fee, it takes a percentage of each invoice that's paid through its system. However, this can get expensive quickly, and HoneyBook is a much more affordable option if you invoice more than a few thousand dollars per month.

HoneyBook Visit Site
Bottom Line (Is HoneyBook Worth It?)
HoneyBook is a powerful business management tool with excellent invoicing features. With it, you can create custom invoices using a selection of pre-designed templates. You can also accept online payments, use automations to streamline workflows, and take advantage of numerous other features.
What's more, I was particularly impressed by how easy HoneyBook was to use. The user interface is intuitive and self-explanatory, and the mobile apps are great. It's also a rather affordable option, and I'd recommend taking advantage of the seven-day free trial to give it a go!