In a Nutshell
Square is a Point of Sale (POS) hardware provider that also develops a Square App specifically for invoicing and has integrated this feature into the online dashboard.
pros
Send invoices online
Instant access to funds with the Square Card
Real time tracking
cons
Different fee structure than card payments
Some users have reported problems with notifications
Square at a Glance
Best for: Small business and customers that own Square hardware
Price range: 2.9% plus $0.30
Apps: iOS and Android
Features and Add-ons
Online Invoicing
Square's invoicing tool can be accessed from a web app or from its smartphone apps for Android and iOS. Users are able to itemize invoices with full billing details, including recipient name and email, line items, and payment terms.
Users are also able to select narratives which the recipient will be able to view upon receipt, configure when the invoice will send, and add a sending frequency. For businesses that want to configure recurring invoices, such as retainer contract payments, this is a nice feature.
Discount Capture
Square also allows users to manually enter discount amounts even when these were not preconfigured on the Square backend. These can be used for one-off goodwill gestures for clients and other uses.
Discount Capture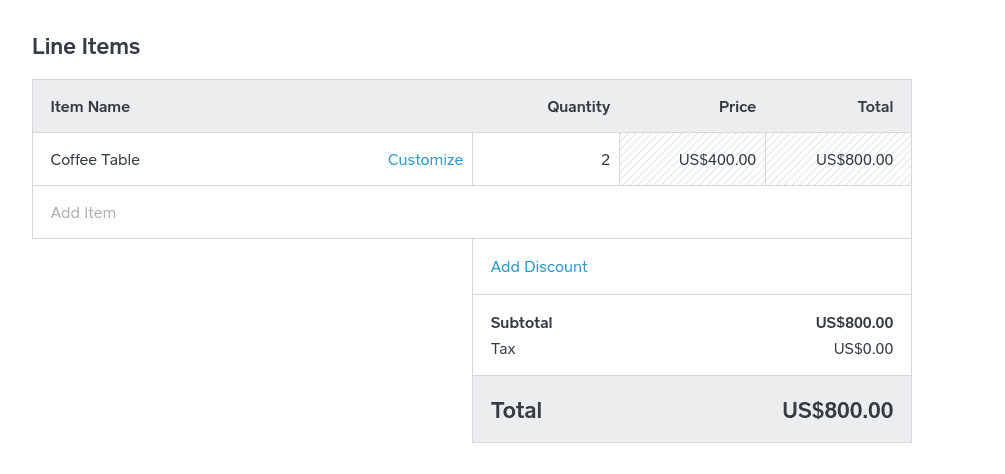 Discount Capture
Square also allows users to configure reminder messages for the invoice. These can be scheduled to send both before and after the invoice is due and the contents of the reminder message can be edited to accord with a company template. If users prefer to send reminders as a batch, they are able to do this via the dashboard screen. Bulk reminders can be sent to multiple customers or one customer can be reminded about several overdue invoices.
Tipping and Attachments
Users have the ability to allow their customers to add a tip for exceptional service. Attachments, such as PDF-based payment instructions, can also be added to all invoices generated through the system.

Pay Online
Users are also able to have customers pay their invoice online by simply clicking on a button from the email that they receive.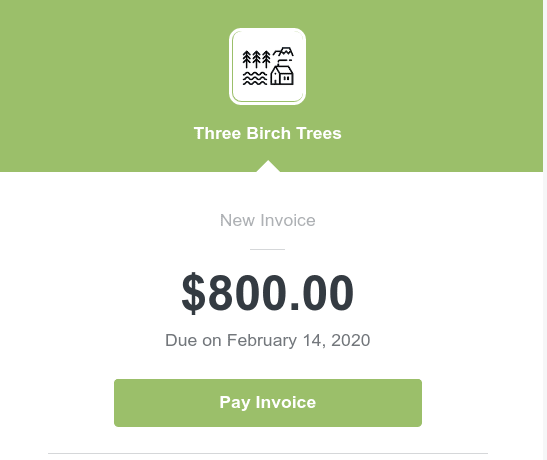 Clicking on the button will take the user to an online payments page with the amount pre-populated.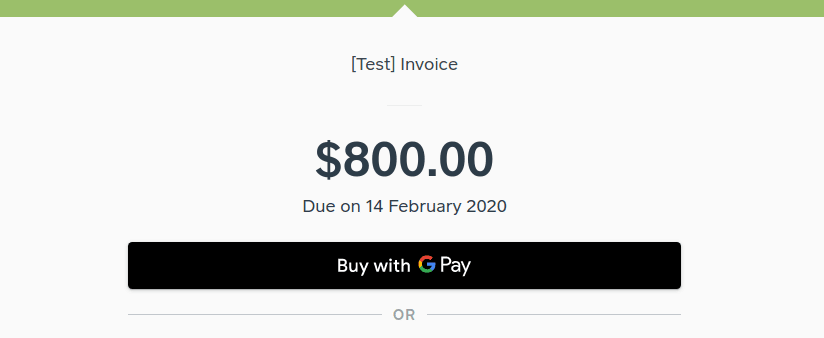 The system supports taking payment by Google Pay, Apple Pay, and major credit cards.
The billing system supports immediate payments and also integrates with Square Installments, which presents a number of financing solutions to customers. Users, however, receive the full amount up front from Square Capital. Businesses need to first pass an eligibility check in order to gain access to the program, however, which allows them to use the feature.
Fully Customizable Invoices
Users are able to add their logo and edit the color scheme in order to present the invoices to their customers in their official design scheme for a unified billing appearance.
Hardware Integration
Square is best known for its Point of Sale (POS) technology and its hardware devices. Invoice integrates with all other Square products. So users are able to pay an invoice in person using a credit card through Square hardware.
Recent Activity Notifications
Users are able to view all invoice-related notifications directly through the Square dashboard. This includes notifications when customers:
Pay invoices

View invoices

Are sent invoices
These notifications are available from the web UI and also from the smartphone apps.
Reports
For credit control and account departments that need to know the high level status of all billing activity, Square presents a dashboard which can be either viewed online or exported into spreadsheet format.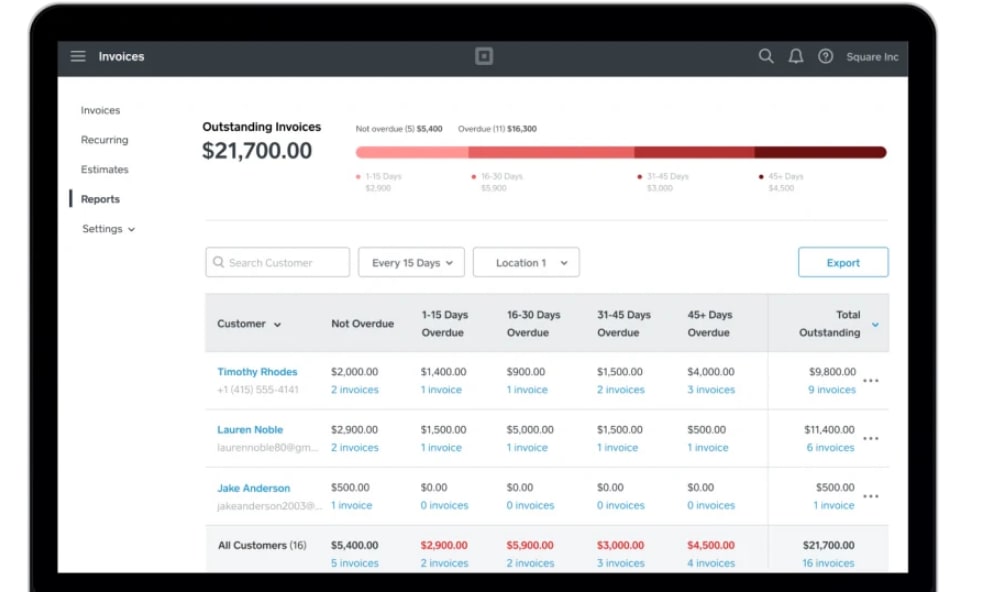 The dashboard screen gives a color-coded presentation of invoices according to how overdue they are as well as the total outstanding amount for invoices at all billing stages.
Integration with Square Analytics
The invoicing tool also integrates with Square Analytics which provides a business intelligence dashboard that gives an overview of billing activity across the organization. This provides real time data, customer insights, and reports which can be downloaded in CSV format.
Using Square Analytics, users can also call up useful reporting metrics to assess business performance. These include:
The percentage of new vs. returning customers.

Average customer transaction spend.

Average customer visits (for onsite payment processors).
Insights can also be sent to users' inboxes in the form of daily account activity summaries.
Tax Compliance
How does this service go about tax compliance? Tax filing? Automatic deductions?
Payment Options
Printing checks? Free direct deposit? Prepared carts?
Pricing/Costs & Fees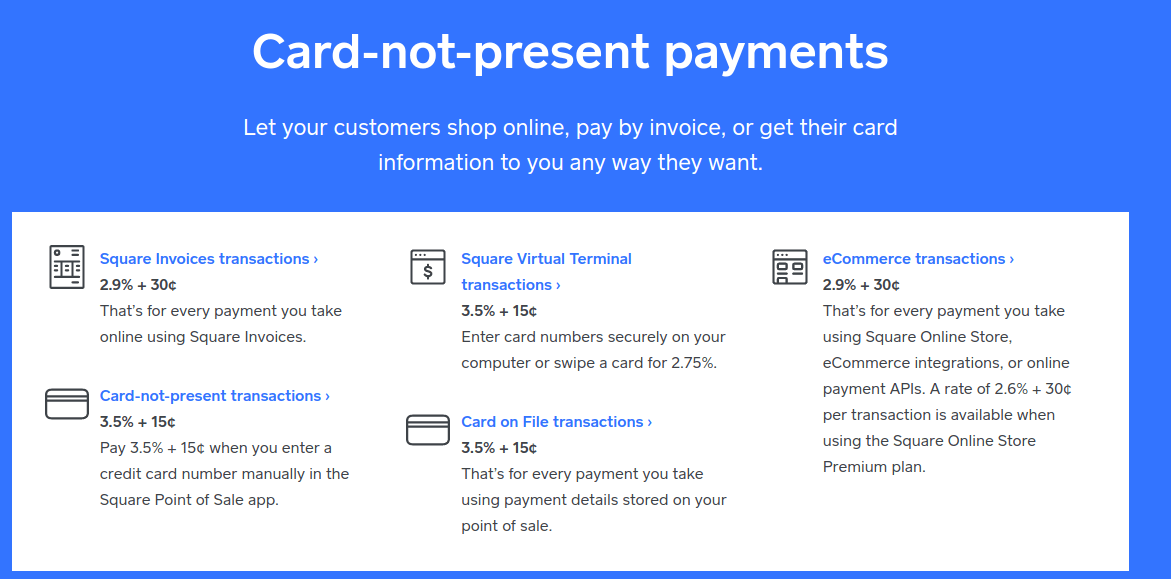 Square Invoice transactions are billed a flat fee of 2.9% plus $0.30 for every transaction processed via an invoice.
The fee is the same percentage as that which Square charges on Ecommerce transactions and slightly less than its payment structure for card-not-present transactions (in which users manually enter credit card information into the Point of Sale app), virtual terminal and card on file transactions, in which users bill a customer's credit card that is stored on file.

Square Visit Site
Usability
Square Invoices is an easy to use and attractively designed online invoicing environment. After customizing default templates with the company logo and branding, users simply complete the line items of their invoice and send it directly to the customer by email. All this can be achieved from the web or smartphone interfaces without having to manually download attachments or send messages.
Conclusion
Square is an effective and well designed invoice program that allows users to quickly create and send their clients invoices. It also works with 2 smartphone apps and its fee structure is transparent at 2.9% + $0.30 flat per transaction.
Screenshots