In a Nutshell
Jobber is a field service dispatch platform and invoicing tool that can be used by businesses running field service operations to bill their customers for support and maintenance services rendered. The tool can automatically generate invoices based on recorded field visits allowing remote support teams an easy way to never miss any billing hours and to cut down on manual data entry and back office work.
pros
Automatically generate invoices based on callouts
Assign tags to quickly navigate between bills
Includes credit card payments gateway
cons
No functionality to restore accidental deletions
Can only list one property owner per invoice
Jobber at a Glance
Best for: Businesses with field service teams
Price range: $19/month (Lite) to $349/month (Grow)
Apps: Android and iOS

Jobber Visit Site
Features and Add-ons
Automatic Invoice Creation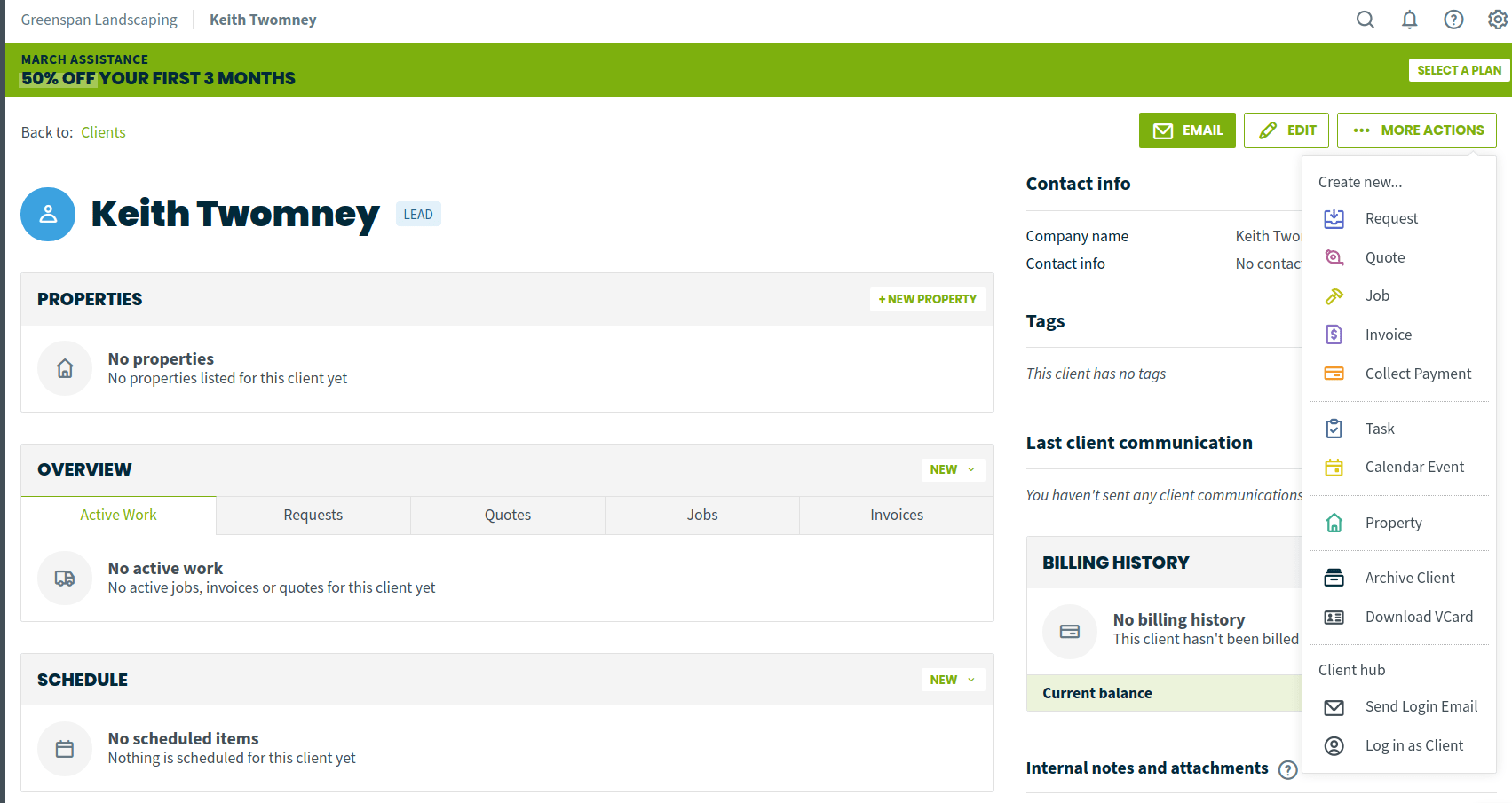 Jobber's core functionality is as a field service management tool for sending teams to customers' locations. The system is heavily optimized both for this purpose and for capturing site visits as hourly billable items.
Every time users log service hours for a customer property they will be logged at the billing rate specific to that customer. Users are able to both create invoices after each job or choose to aggregate the invoices into monthly or quarterly billing statements.
Custom Fields
Jobber allows users to create multiple custom fields and assign them for use within invoices. Custom fields can be any field type and can be transferable between modules on the system. Users are also able to assign a default value for the customer field which will be applied in the event that the user does not override it with an entry.
Discount and Tax
The Jobber invoice system also allows users to capture discounts, tax rates, and messages to the client. This is a useful feature for VAT-exempt traders who may not need to add a tax percentage for each line item entered.
Additionally, users can record deposits made by the client in order to reflect the correct amount owed on the invoice.
Client View
Users are also able to enter into a client view that simulates how the invoice will appear to clients. Users are also able to toggle the information that will appear to the client and edit printout details in the PDF configuration menu.

Invoice Signature Capture
Jobber is designed to be used by both office workers and those visiting the client in the field. For that reason, the tool builds in a number of features designed to speed up the paperwork process so that service teams can get invoices out to clients the moment a site visit has been concluded.
These features include:
Signature capture: The signature capture functionality allows field service teams to capture a legally binding electronic signature from the customer while on premises. The signature is stored as an image and transmitted automatically to the cloud so that office-based workers can further process the transaction.
GPS tracking: Those that have subscribed to Jobber's upper tiers are able to avail of user GPS tracking which can show the location of technicians in the field and detect when they have arrived and left customers' sites. This information can be used by other team members to determine when a job has concluded and can be itemized for billing and admin purposes.
Payment Options
Jobber supports payments made online, by bank transfer, and by any other digital or cash-based payment method—all can be captured in the payments field.
Jobber has a few new payment features:
Jobber Card Reader: You can get paid in person, on the spot (US only)
Tip collection feature: Customers tip an average of 15% on their invoice when paying online.
Automatic payments: Jobber automatically charges customer cards saved on file.
Instant payouts: You can get access to funds just seconds after payment is received - even on weekends and holidays.
In order to support online payments, the company works with a variety of credit card payment processors. Jobber then automatically deposits payments into users' bank accounts as soon as the money is received.
The pay online option for invoices works completely seamlessly via a one click process. Clients can simply click on the pay online button that appears at the bottom of their invoice, enter their credit card details, and make a payment. A receipt will be generated automatically.
Pricing/Costs & Fees
Jobber subscriptions can be purchased at 4 tiers: Lite, Core, Connect, and Grow. From the invoicing standpoint, all four subscription levels will give users access to a roughly comparable feature set. But because the invoicing component integrates with the other parts of the tool, users should subscribe to the highest tier that fits within their budget to maximize their invoicing experience.
The tiers and prices are:
The higher user tiers give customers access to more advanced features such as automated invoice follow-ups, automatic internal routing, client activity notifications (to track when clients open the invoice that was sent to them). Additionally, both Connect and Grow integrate with the popular QuickBooks accounting platform. Grow, the top tier, includes automatic follow-ups after quote generation.

Jobber Visit Site
Usability
Jobber is an eminently usable software. In order to generate invoices users are directed to create entities such as customers, job locations, and billing rates. When all these entities are in place, all users have to do is log hours in order to create the information that can be used to generate invoices.
Conclusion
Jobber is a comprehensive invoicing platform that is optimized for the needs of those running field based businesses. It integrates very well with this system allowing users to automatically generate and itemize invoices based on work assignments completed. Users are also able to receive payments online and the system is easy enough for even first-time cloud software users to get to grips with.