Avira Visit site
How Avira Works
The Avira password manager can be downloaded from the Avira website. This is an entirely web-based solution: so users don't even need to download a desktop software in order to get going. There are browser extensions for Chrome, Firefox, Edge, and Opera — so virtually every internet user irrespective of what operating system they use can get going with the platform.
After creating an account with Avira, users simply add the extension to their browser.

Once this process has been completed, users can begin adding login credentials to web services that they commonly access. Once they have saved their credentials in the system, users will receive a notification every time they access a website that is in their vault. Then, they can click on the field filling option in order to populate the login boxes with their saved credentials.

Additional Avira Features
Notes Manager
Avira's password manager doesn't just allow users to store login credentials. There is also a 'Notes' tab which is designed for users to securely save notes in the Avira vault. These notes are stored with encryption so that users can feel confident that they are being safeguarded from prying eyes.
Wallet
Avira also gives users the ability to store payment cards in the online vault. These can be used to pay for online goods and services by taking advantage of the autocomplete functionality. For people that shop a lot online and do not want to have to go through the tedious process of entering their card number, expiry date, and CVV every time, then this can be a time-saving functionality.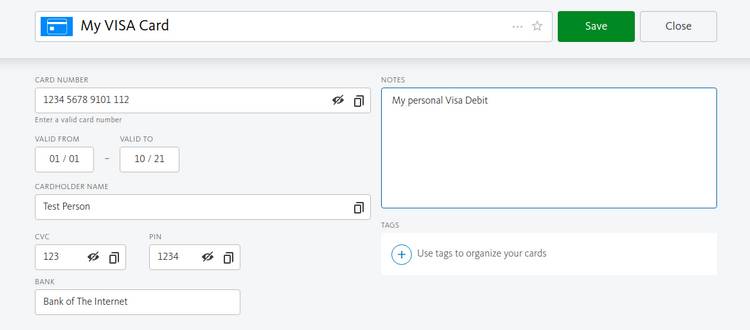 Password Strength Analyzer
Users can input passwords to the vault either by saving them through the browser extension or by inputting them directly on the backend. If they opt for the latter approach, then the system can automatically estimate the strength of the password they are using.
By clicking on the password generator icon, users can generate a more secure password. The system will also automatically estimate how long it would take to crack the password through a brute force exploit. Users can also choose to increase the length of the key in order to make it even harder to crack.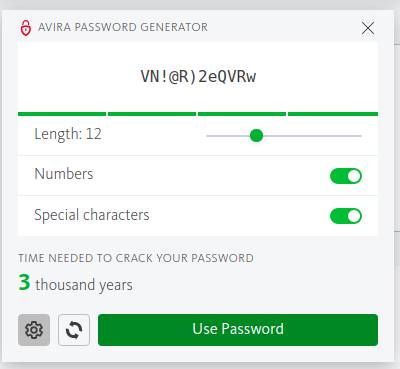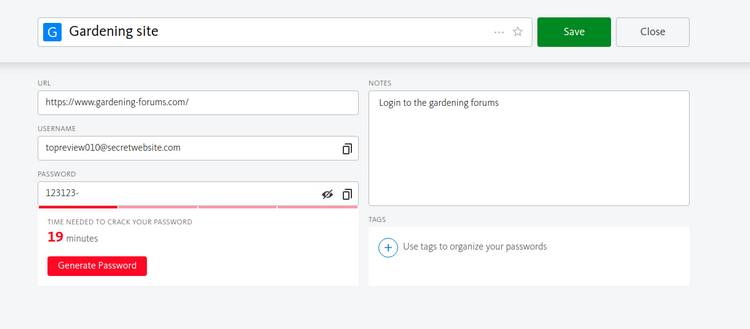 Password Strength Analyzer
If users want a broader assessment of the security of the login credentials they have saved through Avira then they can access the 'Security Status' dashboard. This provides them with an overview of the security of the credentials they have saved through the system.
After creating a weak credential that could be brute-forced in just 19 minutes by Avira's estimation I was presented with a critical-level alert informing me that I needed to urgently update it. If users have a variety of critical and non-urgent cybersecurity threats from their password vault then they will be color-coded. All passwords stored in the Avira password manager are protected by encryption.

Connected Device Sync
The main advantage of using a password manager is that users' passwords are instantaneously synchronized between all their devices. In order to monitor which devices have access to the password vault, users can pay careful attention to the 'Connected Devices' tab in the user interface. This will show where the passwords are being read from and what type of browser is connecting.
Avira Pro Features
Users that upgrade to the Pro tier can avail of the following features:
Account check: This checks whether a website that you maintain an account with has been hacked. If this is the case, then users will be alerted with a notification in the security dashboard. This gives users valuable forewarning that they may have been the victim of a data breach.

Password check: Using the same password across multiple accounts is strongly advised against. Avira Pro analyzes users' password vaults and lets them know if they are using the same credential in multiple locations.

Website check: Users may be inadvertently maintaining accounts on websites that are themselves unsafe and which are not properly protecting their details. This provides users with a valuable option to possibly shut down those accounts in order to protect their personal information—before it is too late.
What Does Avira Watch Out For?
Avira monitors:
Users' passwords to alert them if they are using duplicate credentials across multiple sites

The sites that users have credentials associated within in their password vaults. Avira will warn them if these sites are unsafe in which case their information may be vulnerable to hacking.

Password strength: Avira automatically analyzes the strength of users' saved credentials and estimates how long it would take a nefarious individual to brute force the login.
What Can Avira Do If My Identity Is Stolen?
Avira's password manager is just a service for storing credentials and syncing them between devices. It doesn't provide any recovery services and the Avira team will not be able to provide assistance to users in the event that their accounts get hacked.
How Easy Is It to Use?
Getting set up with Avira is quick and straightforward. Users firstly need to register with the website. After doing that they can install the browser extension. In Google Chrome, this is simply a case of clicking on the install icon and waiting for the extension to populate next to the omnibox. After that, users can begin saving credentials. These will be synced to any other device, like an Android smartphone, that has the app installed and to which the user has logged in.
Avira Customer Support
Avira maintains an online support center that users can access with any queries about using the service.
The Support Center has a dedicated Password Manager section which contains a number of guides and articles designed to help years make maximum use of the product. This includes a mixture of text and video content.
If users are on the Pro tier and paying Avira customers, then they can reach out to the team for support. The ticket-based support system allows users to track their issues through from first contact to resolution.
Pricing & Special Offers
The basic Avira password management is free for use. However, by signing up for the Pro tier, users can get forewarned if they are storing credentials on sites that are unsafe or which have been compromised.
$25.99 for a 1-year subscription
The annual plan comes with a 30-day money-back guarantee.

Avira Visit site
Bottom Line
Avira is a useful password management tool that is browser-centric and can therefore be used on a variety of operating systems assuming that the user is running a supported browser to which an extension can be installed. It doesn't wow in the features department however, it contains more than enough functionality to save users' credentials, sync them between devices, and autocomplete on stored credentials. Those that sign up for the paid plan are able to get forewarned about potential risks to their credentials.