AFC Home Club Visit Site
What's Unique About AFC Home Club?
When you take out a plan, you'll receive access to discounts and services from the following:
MoneyTips: free credit monitoring and identity protection alerts
Encompass: access to discounted rates on home maintenance parts
ADT: discounted rates on monitored home security
Emergency Alert Network: in the event of an emergency, you can receive vital medical information and alerts on those closest to you
Deal Cash: savings at participating restaurants and retailers nationwide
Once your repairs have been completed, AFC Home Club will guarantee the work for the lifetime of your plan, which it states is the longest guarantee in its industry
Is AFC Safe and Reliable?
AFC Home Club has a B accreditation with the Better Better Business Bureau and an average rating of 3.28 out of 5 based on customer reviews. The majority of favorable reviewers speak enthusiastically about the efficiency of its customer support, while some customers comment on unexpected exclusions on their policies. AFC Home Club is also a member of the National Home Service Contract Association.
How AFC Works
How to Get Started with AFC Home Club
If you'd like to take out a plan, the first step is to enter your address into AFC Home Club's online quote tool and then state whether you're a homeowner or in the process of buying or selling your home. This takes as little as 30 seconds, and you'll receive a selection of quotes for all 4 available plan types.
Overall, we found the process of obtaining a quote very straightforward, with easy-to-navigate forms and simple, jargon-free language.
AFC Home Club Plans and Coverage
You can choose between 4 plan types.
Best for essential systems
Best for full bells-and-whistles coverage
Air conditioning and cooler
Optional Add-Ons
Whichever plan you choose, you can add coverage for the following:
Sump pump
Hot water dispenser
Standalone freezer
Septic system
Central vac
Well pump
Tankless water heater
Spa and pool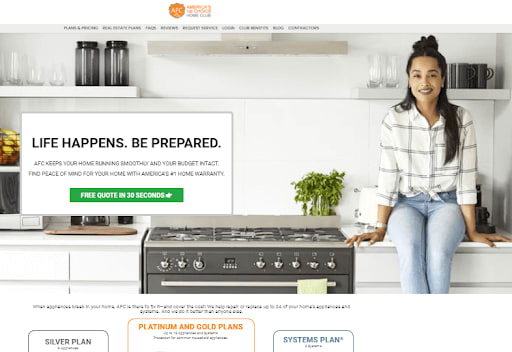 Plan Exclusions
You will not be covered against:
Pre-existing conditions

Malfunctions due to rust or corrosion

Collapsed ductwork

Secondary damage resulting from a part that is not covered

Cosmetic defects

Routine maintenance

Claims involving hazardous materials

Chemical or sedimentary build-up

failure to clean or maintain items

Missing parts

Structural changes

Fire

Freezing

Electrical failure

Water damage

"Acts of God" such as lightning, mud, earthquakes, storms

Pest damage

Construction or carpentry
How to file a claim with AFC Home Club
If you need to make a service request, you can do so 24/7 online or over the phone by providing the make, model, and the serial number of the defective item. You'll need to fill out a form for each appliance if your claim relates to several goods.
Unlike with some of AFC Home Club's competitors, you can select your own licensed tradesperson. If you don't wish to do so, the team will connect you with a qualified professional in your area, and you'll then receive an email containing his or her contact information.
With the latter option, AFC Home Club will contact a tradesperson on your behalf within 24 to 48 hours, although factors such as the technician's availability may affect the timing of the visit.
If the contractor is unable to repair any item covered by your plan, AFC Home Club will reimburse you for its fair market value.
You won't be able to file any claims within 30 days of purchasing your policy and, if a fault occurs within 31–60 days, you'll be subject to a $150 payout cap per item.
After this period, a $2,000 payout cap will apply to all items, with the following exceptions:
Icemakers: $200

Garbage disposal: $125

Garage door opener: $500

Built-in microwave: $1,000

Refrigerator: $25 per pound

Standard thermostat: $80

Ductwork: $250

Water heater: $1,000

Plumbing systems and stoppages: $500

Pool/spa equipment: $500 per year

Well pump: $500

Sump pump: $500

Central vacuum: $200

Standalone freezer: $500

Second refrigerator: $500

Septic system: $500

Hot water system: $200

Tankless water heater: $750
AFC Customer Support
If you need to make a claim or have questions about your plan, you can contact AFC Home Club over the phone, via an online portal, or by email. We contacted the company over email but did not receive a response after five days.
Although its in-house support line operates 24/7, the provider stresses that many of its technicians may not be available out of business hours.
AFC Home Club does offer a detailed selection of FAQs and a blog that provides information on topics relevant to homeowners and renters.
Is There an AFC App?
The provider doesn't currently have an app.
AFC Pricing
How Much Does AFC Cost?
As AFC doesn't offer a pricing breakdown online, we entered the information for a homeowner with a New York zip code and received the following quotes.
We then repeated the process for a zip code in Texas on a currently owned home of 2,000 square feet.
Overall, we found these quotes to be roughly in line with industry standards.
You'll also pay a service fee directly to the technician who visits your home. This fee will be $75, $100, or $125, presented when you take out your policy and dependent on the type of cover you choose.
AFC Alternatives
How Does AFC Home Club Compare to Other Home Warranties?
When we compared AFC Home Club against others in the market, we found the provider to be broadly in line with many of its competitors in terms of service fees and service request availability. However, its premium costs are at the lower end of the spectrum, and we were also pleased to see that the provider allows customers to select their own contractors.
First American Home Warranty
AFC Home Club vs. American Home Shield
When it comes to pricing, AFC Home Club has a clear advantage over its competitor. While American Home Shield could have costs as high as $700, the highest quote we obtained from AFC was well over $100 cheaper. In terms of service fees, we found nothing to set the two apart as they each quoted us identical amounts, while both companies also allow customers to make claims 24/7, either online or over the phone. One of the most attractive features we identified with American Home Shield is its refer-a-friend scheme, which rewards you with a $25 Amazon voucher if you refer a customer who goes on to purchase a policy.
AFC Home Club vs. First American Home Warranty
If premium costs are your top priority, these providers are an extremely close match, with just dollars setting them apart. In terms of service fees, AFC Home Club quoted us a range of $75-$125, while we were given $85 from First American Home Warranty. While AFC Home Club enables customers to choose which contractor visits their home, First American has its own fully vetted local network. Like many companies in the industry, both providers offer a 24/7 claims service both online and over the phone. If you're considering a plan from First American Home Warranty, you may be interested to learn the company offers new-for-old replacements on items beyond repair.
AFC Home Clubs vs. Liberty Home Guard
As one of the more affordable companies in the market, AFC Home Club beats Liberty Home Guard on premium costs, and the average premium quotes we obtained for AFC were typically over $100 lower than those of its rival. However, you should bear in mind that Liberty also offers two months' free coverage to customers who pay their bill annually. And although the service fees we obtained were broadly similar, Liberty Home Guard has the potential to be slightly higher ($75-$125 against $175-$150). While Liberty Home Guard has a medium-sized network of 10,000, AFC Home Club allows customers to select their own tradespeople.

AFC Home Club Visit Site
Bottom Line
If you're seeking coverage for your home's appliances and systems, AFC Home Club offers a number of features that set it apart from its competitors. In particular, we were impressed by the ability to choose your own contractor and the company's promise to guarantee all repairs for the term of your plan. Although there are payout caps, these are explained clearly in the sample contracts available on the company's website.