In a Nutshell
2-10 Home Buyers Warranty (2-10 HBW) has over 40 years of home warranty experience. The provider offers wear and tear coverage whether you are buying a new home, selling your property, or currently living in it. While 2-10 HBW charges a high premium and service fee, it offers a higher annual coverage limit than most warranties. Services are available in the 48 contiguous states, and the company provides 24/7 online and phone support.
pros
Available in 48 contiguous states
Purchase a plan anytime
$25,000 annual coverage limit
cons
High base service fee
Expensive annual premium

2-10 Home Buyers Warranty Visit Site
2-10 HBW Plans and Coverage
With 2-10 HBW, homeowners can choose from 3 different warranty plans. Simply Kitchen provides coverage specifically for your kitchen appliances. Pricing for this plan starts at $19.99 per month. Meanwhile, Complete Home covers most of your major appliances and systems for $51 per month. The third package, Pinnacle Home, covers all of the above and most other things you can think of for $60 per month.
Best for appliance coverage

Best for affordable home coverage

Best for homes with old appliances and structural problems

Interior gas supply lines
Water, drain, waste, vent pipes
Water heater supply lines
Primary, permanent groundwater sump pump
Refrigerant recovery and recharge
Showerheads, arms, and spouts
Burglar and fire alarm systems
Attic and bedroom exhaust fans
Concrete encased wiring and pipes
Non-essential appliance mechanisms
Optional Add-Ons
You can purchase additional coverage for optional features, including:
Appliances: extra refrigerator, free-standing freezer, washer and dryer, garage door opener, built-in wine cooler
Leaks: roof leaks, extended pipe leaks
Water: water softener, water pump, pool and spa equipment
System: plumbing, electrical, and HVAC pre-season service, septic systems
None of these features are covered under the three standard plans. These additional fees are outlined in your service agreement, so make sure to read through it carefully to see if there are any affordable options you can add to your plan.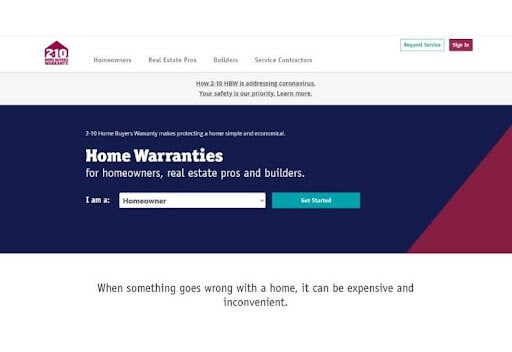 Plan Exclusions
A home warranty from 2-10 HBW only covers your home for repairs or replacement of appliances and systems that break down due to everyday wear and tear. This means certain damages won't be covered under your 2-10 HBW plan. Exclusions include storm damage, fire damage, pest damage, theft, vandalism, or damage to a system or appliance caused by neglect or improper use. Faulty design and installation or problems caused by modifications or alterations are also not covered under your warranty.
In addition, 2-10 HBW's coverage doesn't necessarily extend to all parts of an item. Your service agreement will set out which parts aren't covered under your policy's limits, so do be sure to have a thorough read-through before choosing a plan or submitting a claim. That said, homeowners will be pleased to know that unidentified pre-existing conditions are included in the warranty.
2-10 HBW Plan Pricing
2-10 HBW offers three service plans, and each option allows you to purchase additional covered features for a small fee. Simply Kitchen starts at $19.99 per month or $239.88 per year. For Complete Home, the cost is $51 per month or $612 per year. Pinnacle Home is the most comprehensive and expensive plan, costing $60 per month or $720 per year.

In addition to the yearly premium, you also pay an $85 service fee for each claim you submit for a repair. You can add the Service Buy Down Fee for an additional $6 per month or $72 per year, which lowers your service fee to $65. Alternatively, you could purchase the Service Fee Save Up, which saves you $3 per month or $36 per year in premiums while raising your service fee to $100.
$19.99/month or $239.88/year
$85 (as low as $65 or as much as $100)
How to file a claim with 2-10 HBW
To file a claim with 2-10 HBW, you can submit a request online or call customer service. Through the website Homeowner Portal, you can request, track, and review the status of your claim. If you prefer to contact customer service, representatives are available to take your call 24/7.
Once you submit a claim, 2-10 HBW will contact one of its independent service contractors to schedule a service call within 48 hours. If you require emergency support, 2-10 HBW guarantees a response within 24 hours, and you can expedite your request. However, out-of-hours assistance may cost you additional fees and overtime.
2-10 HBW's limit for annual aggregate coverage is $25,000, which is a lot higher than many other home warranty companies. However, each system and appliance covered under your plan includes set coverage limits. Usually, the limit for any one system or appliance is up to $5,000 per year, so make sure to check out your service agreement to see the limits for specific items.
Is 2-10 HBW Legit?
2-10 HBW has over 40 years of experience in the home warranty industry. According to its website, it pays out 97.5% of claims. It also has a B+ rating with the Better Business Bureau, and it's a member of the National Home Service Contract Association (NHSCA) and the National Association for Home Builders. However, 2-10 HBW received more than 1,240 complaints over the past three years, mostly related to service claims, which is a little worrying.
What's Unique About 2-10 HBW?
2-10 HBW offers both onboarding deals and referral awards. Currently, it's offering $60 off the yearly price of any of its three service plans, but there is no guarantee that this deal will last. If you refer a friend to 2-10 HBW, you may be eligible to receive a $50 gift card. However, these benefits vary by package and are subject to specific terms and conditions. To see available deals, you can get a quote from the company's website or contact the customer service team.
Under its "Even If" Service Fee Guarantee, if an item isn't eligible for coverage and a service contractor is dispatched, 2-10 HBW can offer you a full refund of the service fee. Also, if a serviced part fails again within the duration of the service agreement, you won't be charged an additional service fee. With its Appliance Color Match program, 2-10 HBW will attempt to match replacement parts to the appliance's color.
In addition, 2-10 HBW customers qualify for a discount of up to 65% off select GE and Whirlpool appliances.
Help and Support
Support is available over the phone from 8 am–5 pm MT, Monday–Friday, to help with purchase and renewal queries. And claim representatives can answer your call 24/7. At this time, 2-10 HBW doesn't offer a chat feature or mobile app. However, its service team is speedy in answering calls, and claims are processed within 24–48 hours.
2-10 HBW's website offers several features for new and existing customers. You can get a quote for a new home warranty and check out FAQs and blog posts that explain how warranties work and what 2-10 HBW's service limits are. Additionally, you can access its Homeowner Portal to submit, track, and review the status of your claim or renew your existing warranty.
What about the 2-10 HBW app?
2-10 HBW doesn't currently have a mobile app.
How to Get Started with 2-10 HBW
2-10 HBW offers a home warranty for those who are purchasing a house, are existing homeowners, or are selling their home. To get a quote, simply visit the website or call the company's customer service team. To receive an initial offer, you'll need to provide your name, address, email, and phone number. Once you choose a plan, 2-10 HBW requires a credit card number on file.
If you'd like to cancel your existing plan, you'll need to contact customer service over the phone. 2-10 HBW offers a full refund if you cancel your warranty within 30 days of closing the sale. After the initial 30-day period, you are eligible to receive a prorated reimbursement for any unused coverage.
How 2-10 HBW Compares to Other Home Warranty Services
2-10 HBW vs. American Home Shield
On average, 2-10 HBW charges lower premiums than American Home Shield. In addition, its $65-$100 service could save you money compared to American's $75-$125 fee. If you want to pay less in premiums and fees, then 2-10 HBW is the better choice. However, if you want access to a larger network of contractors, then American Home Shield is the better decision.
2-10 HBW vs. Select Home Warranty
Although 2-10 HBW is more affordable if you only want to cover your home's major appliances, Select Home Warranty tends to offer cheaper full-home coverage. In addition, its $60-$75 service fee may save you money compared to 2-10 HBW's $65-$100 fee. If you want affordable full-home coverage and lower service fees, Select Home Warranty may be the better option. On the other hand, if you only want coverage for your home's appliances, 2-10 HBW is the right company for you.
2-10 HBW vs. Choice Home Warranty
Compared to Choice Home Warranty, 2-10 HBW offers cheaper appliance coverage and higher limits. However, Choice Home Warranty features a larger network of contractors, and its service fees are lower on average. If you want to save money on your premium for full-home coverage, Choice Home Warranty is the better option. However, if you want affordable appliance coverage and higher limits, 2-10 HBW is the right choice.

2-10 Home Buyers Warranty Visit Site
The Bottom Line
A home warranty plan from 2-10 HBW is a good option if you want a warranty that provides a high annual coverage limit. It operates in the 48 contiguous states and has 24/7 online and phone support for claims. However, its annual premium and service fee are higher than some of its competitors. It also has fewer in-network contractors than similar companies, which may lead to delays in service.