What makes one home office better than another? There are several components that make a remote work environment productive, ranging from a quiet space to lots of light to personal photos. We've compiled the top 10 home office ideas that are designed to help you operate at your maximum capacity, but remember, you know better than anyone what will work for you.
Privacy
Outlets & Wire Management
A Comfortable Chair
The Right Hardware and software
High-Speed Internet
A Family That's Onboard
Natural Light
Plants
Cleanliness
A Personal Touch
In Detail: Top 10 hacks for creating the perfect home office space:
1. Privacy
Working at home can come with many distractions, especially if your kids are home due to school shutdowns. Setting up shop on your kitchen or dining room table will definitely not give you the quiet you need. While you may not have an extra room available in your house, you can choose a space that is private, not in the thick of things. This may mean turning your bedroom into a makeshift office or taking over part of the basement. If you plan on working from home long-term, it's worthwhile to find a room you can dedicate as a permanent work from home setup.
2. Outlets & Wire Management
When deciding where to place your at-home office, one key consideration should be access to outlets. You will need a laptop, computer, possibly printer and/or additional monitor, which means that easy access to outlets is a must. If your home office layout doesn't allow for close proximity to outlets and you need an extension cord, finding a way to manage your wires will make life easier and your space much more aesthetically pleasing.
3. A Comfortable Chair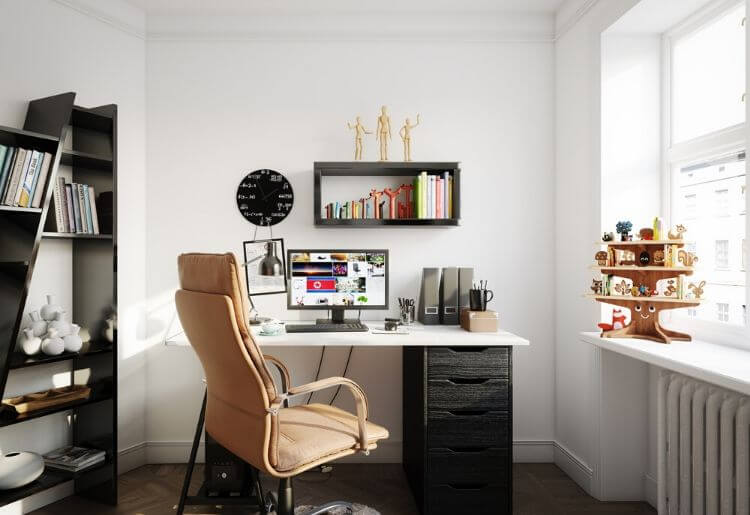 Sitting in a comfortable chair is one of those things that office workers take for granted, until you don't have that chair anymore. Employees who now find themselves working from home long-term may find that the chairs they have at home aren't as comfortable as the one they had at work. In this case, investing in a comfortable chair can make the difference between being able to focus on work and being uncomfortable the whole day.
4. The Right Hardware and Software
A laptop or computer is the basis of every home office, while additional hardware will depend on what you need. A phone, scanner, printer, mouse, keyboard, additional monitor, etc. are all fair game. To determine what you need to operate at maximum efficiency, check in with your HR or IT departments. Not only will they tell you what hardware you need, but they will help you install any necessary software that the company uses. Additionally — and this is a big one — they should tell you what antivirus or VPN service you should be using. A home office laptop or computer should not operate without an active antivirus program.
5. High-Speed Internet
All the hardware and software in the world is worthless if you don't have a secure high-speed internet connection. While some people have this regardless of whether they work at home, others rely on slower connections and some just use their phones as a mobile hotspot. If you're working at home, you can't rely on either of those. Secure, high-speed internet is the only way to go.
You may also like:
Best Logo Design Services of 2023
6. A Family That's Onboard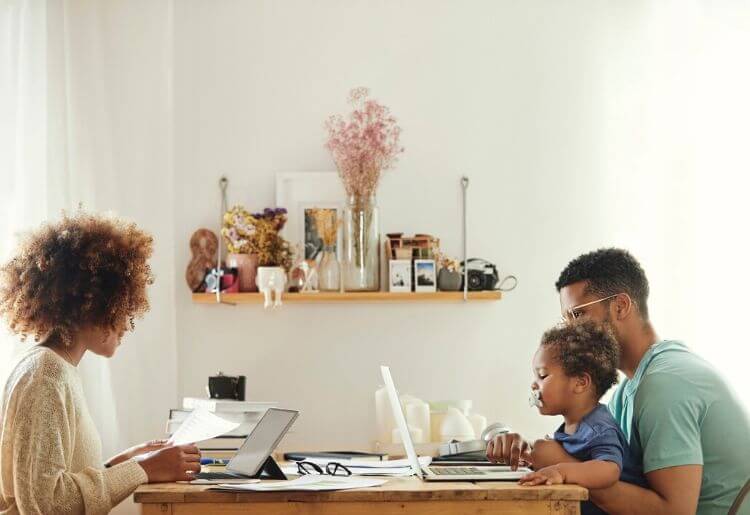 When you're working from home and other family members are around, it can be hard to achieve the privacy you crave, even if you are in a private space and have a sign on the door that says "Do not disturb." Therefore, having an open conversation with your family members about your work requirements can go a long way toward getting you the privacy you need. Designative specific "in-office" hours, during which family members can't come in, is a good way to set boundaries.
7. Natural Light
The best home office setup is in a private space that has lots of natural light and a good airflow. Unfortunately, not everyone is able to set up a home office in such a space, and if that is the case, making sure the lighting is adequate is essential. Proper lighting can increase productivity, boost morale, and ease the strain on your eyes. Since every person is different, choose the lighting strategy and the type of light bulbs that work best for you.
8. Plants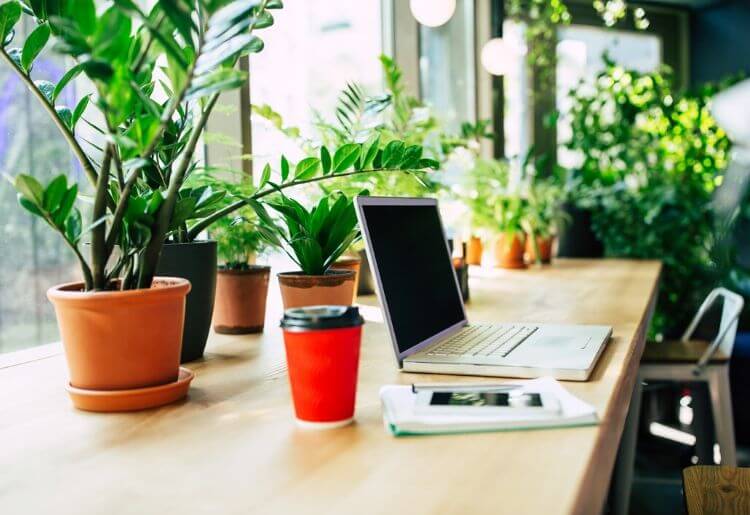 Scientific research has shown that keeping small plants in your workspace can alleviate stress, whether you work at home or in the office. At home, the need to alleviate stress might be greater than ever, so that's why it's important to fill your home workspace with a little greenery.
9. Cleanliness
It's easy to amass clutter, even over a short period of time. Decluttering your desk and workspace everyday or every other day is a good way to ensure it stays neat and clean. Whereas a messy workspace can hinder productivity, a tidy workspace can enhance it.
10. A Personal Touch
Just as you have photos or inspiring quotes at your work office, include them in your home office design as well. Personalizing your office workspace can increase productivity by up to 25%, so there's no reason not to do it. A photo of your loved ones can brighten up the small space of your home office better than any light, or it can give you an incentive to work or something to smile about when things get hectic. Inspiring quotes or calming art on the wall can have the same effects as well.
Setting Yourself Up For Success
Of the millions who were sent home to work at the onset of 2020's pandemic, 24% say that they would like to continue working from home even after the pandemic is over. Whether you're part of the 24% or whether you're itching to get back to the office, the advantages of setting up a proper home office for the time being are clear. The best home office setup will have all the necessary hardware and software, allow you to work uninterrupted, and increase productivity. Since it is unknown when the economy will fully open, setting up a proper home office space now is a good investment for the future.