Pricing
Both Zoosk and OKCupid charge subscription-based plans that get less expensive the longer you stay. Zoosk offers pricing plans for 6 months ($14.98 per month), 3 months ($19.95 per month), or 1 month ($29.95 per month). OKCupid offers something that's not so much on most dating sites; two plan options, a basic plan called the "A List Basic" plan, and a more hefty plan dubbed the "A List Premium" plan. Pricing for the basic plan is $4.95 per month for 6 months, $7.95 per month for 3 months, and $9.95 per month for 1 month. The plan, however, is just that: basic. Although these are really low prices, you don't get much for your money, and to really benefit from the site you would need to sign up for the A List Premium plan, which costs $19.90 per month for 6 months, $22.90 per month for 3 months, or $24.90 per month for 1 month.
A List Basic - $4.95/month
A List Premium - $19.90/month
A List Basic - $7.95/month
A List Premium - $22.90/month
A List Basic - $9.95/month
A List Premium - $24.90/month
*Updated: August 2017
Considering the two dating sites' pricing options, and the fact that in order to see any results after signing up, you will most likely have to be on the platform for at least a month, Zoosk seems to win the pricing comparison. OKCupid is cheaper for 1 month, which may draw users in, but if we're being realistic here, you're unlikely to find the love of your life in such a short amount of time.
Winner: Zoosk

Zoosk Sign Up
Sign Up
There are few differences between the signup process on Zoosk and OKCupid. We took at a look at the registration steps for each:
Zoosk allows registration using social profiles such as Facebook and Google+, or you can signup by entering some basic information and your email address. After this step, you're asked to enter your location, set your profile picture, and answer some simple "About You" questions such as "What's your highest level of education?" and "What's your ethnicity?". After this, you need to log into your email to verify your authenticity, and that's it. You're done! You can then browse members, send smiley faces and hearts and begin a conversation. It's that simple.
The registration process for OKCupid is also a quick one. As a first time login, you simply select answers for a "You are a" section, answering how you categorize yourself, and click continue. After that, you answer a few short question on what you're looking for, and you are then set your profile picture and write a small bio. You'll then fill out a more in-depth section answering 15 questions such as, "About how long do you want your next relationship to last?" or selecting answers such as "carefree" and "intense" to answer questions like "Which word describes you better?" The process is really simply and within just a few minutes, you're able to browse the other members on the site. Unlike Zoosk, you're only able to sign in using your email address, rather than the option to sign in through social networks.
Because both site are extremely simple and require little time to get up and running, we put them on the same level in terms of their signup processes.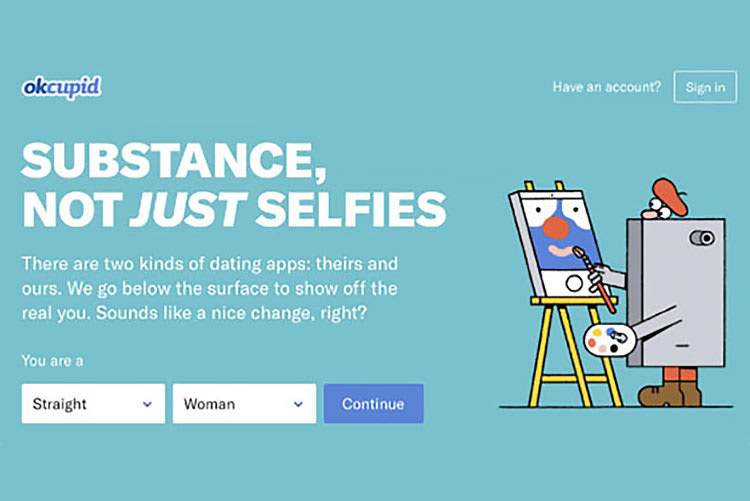 Winner: It's a tie
Layout & Ease of Use
Zoosk gives a feel of an up-to-date platform that is aesthetically pleasing, stylish, and interactive. It's not overwhelming, which is a big plus for a dating site. The sidebar contains an easy-to-use navigation menu directing users to a carousel view of matches, as well as a tab that you can click to view your read and unread messages. There's also an insights tab, connections, and more. This section is clean and simple. The insights tab for example—a feature that contains a lot of information in one place—is simple and straightforward. The platform displays information such as analytics on who likes you, who you like, and your dating style in an uncluttered way that requires almost no learning curve at all. There is not one section that is poorly done—the interface just works.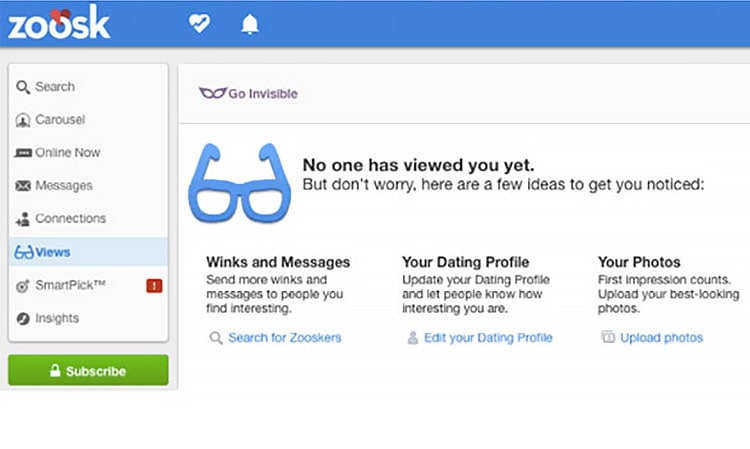 OKCupid on the other hand is slightly less pleasing as far as user interface and user experience is concerned. The first page you see when you sign in is an overwhelming view of profile pictures. Yes, the site is for dating and looking through members' profiles to find the perfect one, but as a first page, seeing a screen filled with pictures, names and ages is daunting. Other than that, there are slightly less features displayed on the main page, making us think they aren't even offered. You're able to see your likes, messages, and home tab where you can edit your profile, but not much else is on display. What is on display? A tab that says "Purchase A List", which seems a bit pushy and awkward.
Winner: Zoosk
Privacy & Security
Zoosk tracks your actions on the site, picks up your preferences and personal information, and then uses that data to help send you better, more relevant matches. It keeps and uses a lot of your data, but for good reason. Zoosk works with a 3rd party company that manages and analyzes the data, and is supposed to also prevent fraud. If you want to search for relevant matches but prefer to do it anonymously, Zoosk does offer that option, but it'll cost you 30 coins for 30 minutes.
OkCupid collects and stores much less data than Zoosk, as it doesn't have a detailed matching algorithm tracking your every move. As opposed to other sites, OKCupid only asks a few questions at signup. After signing up, it's highly recommended that you answer a lengthy list of compatibility questions, which range from "Crunchy or smooth peanut butter?" to "Do you keep in touch with your previous partners?" to "Would you have sex in a church?" The site stores these answers for other members to browse and see if they're interested. If you wish to search other members anonymously, you will have to upgrade your account to A List, which can be done relatively easily. In the Privacy tab in settings, you can also decide if you want your profile searchable by everyone or only other members; or, to block specific members, and see more privacy options.
Winner: OKCupid
Matching
Both Zoosk and OKCupid ensure top match-making results.
Zoosk has a behavioral matchmaking algorithm that learns your preferences by analyzing who you show interest in. So say you show a lot of interest in tall girls and less interest in shorter ones, the site will show you more profiles belonging to taller girls. Essentially, the algorithm uses your actions to tailor recommendations according to your preferences, ensuring a higher chance you will be interested in the suggested match. This matchmaking algorithm makes the whole process much less daunting, as your dating pool is automatically decreased as your preferences are learned. If you prefer to search for something more specific, you can do that too by setting your desired criteria such as hobbies, traits, education, religion and more, and Zoosk will offer a list of desirable candidates. The site's SmartPick feature is a nice benefit that picks a scientifically chosen match for you every 24 hours—so who knows, you may open your computer to your soulmate one day.
OKCupid's matchmaking is more labor intensive on the user's part. Unlike Zoosk, whose algorithm does a lot of the matchmaking for you, OKCupid requires a more hands-on approach. The matchmaking process begins when new users are onboarded and asked simple questions. Not only are users asked to answer the question with a yes or no, but there is often a followup that pushes them to get specific. After the initial signup, there is the option to answer compatibility questions that show up on your profile ⸺ there are hundreds of them and people usually fill them out sporadically. Based on your answers, it will show you a percentage of how similar you and your potential other are. The site will recommend matches for you but they are less detailed than Zoosk's. If you are ok with this hands-on approach, you may enjoy the Search page, where you have the ability to see who's currently online. You can interact with them by liking their page or sending them a messages, but if you want to get more detailed searches, such as by attractiveness, body type, or personality, you'll need to pay extra.
Winner: Zoosk

Zoosk Sign Up
Overall Winner
Overall, the two leading dating sites were neck-and-neck over most of the categories. However, based on a combination of all the criteria, Zoosk emerges as our winner in the head-to-head battle to be the top online dating site.
Disclaimer: We work hard to offer you valuable and reliable information about all of the products and services we review. In order to provide you with this free service, we use links on our site that provide us with commissions for referring you to the seller's site. We guarantee that this does not influence the material we present, but may influence the positioning on our site, and only supports our efforts to offer you the best and most relevant information possible.