LoveAgain Visit Site
Overview
Best for: Men and women seeking friendship and love
User base: Men and women of all orientations and ethnicities, mainly in your home country
Number of members: Thousands
Recommended age: 35-70 (but anyone 18+ can join)
Favorite features:
Flirtcasts
SMS chat package
Search filters (for paying customers)
Video Chat: Yes
How LoveAgain Works
LoveAgain works in a similar fashion to many other dating sites. After you sign up for an account, you can fill out a profile and send a handful of messages to get an idea of how the site works. If you decide that LoveAgain is for you, you'll need to sign up for a Premium account, at which point you'll begin paying to use the site.
Signing up for a Premium account will give you access to all of the site's features and allow you to browse profiles and send messages at your leisure.
How to Sign Up for LoveAgain
Signing up to Love Again is quick and easy. You'll start by sharing just your age, gender, romantic interests, and postcode so that Love Again can send you matches in your area. Just hop over to your email account to find the confirmation code, enter it into the box on the next page, and you're ready to go.
If you wish, you can also sign up for LoveAgain through Facebook. To do this, simply click on the Facebook icon button at the top of the registration field. Once you complete the basic setup, you can move on to creating your profile.
Setting Up Your Profile on LoveAgain
You can get started on Love Again straight away without completing a profile, but you'll get far better matches if you do! You can share information about your ethnicity, body type, and hair color just to get started. Then add more details about piercings, tattoos, income, education, height, weight, and drinking and smoking habits.
You should also upload a photo or two to show prospective matches what you look like. Just remember that your profile will be available to other paying members, so avoid putting things on it that you don't want to share.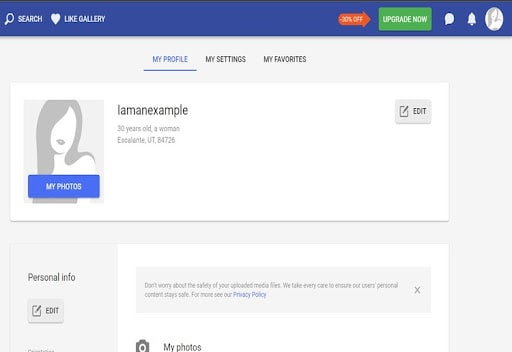 How to Find Matches on LoveAgain
Love Again creates match suggestions automatically based on your profile information, so the more you share, the more accurate your matches will be. The search tools are very user friendly. You can search just for men or women nearby or filter by hair color, eye color, body type, or ethnicity.
Safety & Security
When it comes to safe dating, Love Again ticks all the boxes. You can verify your account by calling a toll-free number or responding to a confirmation text. You can also choose from three levels of safety when browsing for matches. In the Basic Mode, anyone marked as "suspicious" is blocked, but you can view and contact everybody else. When Safe Mode is off, everyone can see your profile. Finally, Full Safe mode means that only verified members can contact you.
Love Again also vets every account, so you don't need to worry about fake profiles.
Love Again is careful about keeping all user information confidential and anonymous, and it's transparent about how it uses your data, making it clear when it shares information with third parties. The site is secure, and the payment process is reliable and trustworthy.
Features & Communication Tools
Love Again has all the features you'd expect from a premium dating site. You can send winks if you want to reach out or private chat messages to start a conversation. Premium members can send photos and even videos in private chat.
Flirtcasts are a way of connecting with more matches. It's a preset template message that you can send to as many people as you'd like. You can also write your own custom message to get a conversation going.
If you want to receive more matches, Love Again invites you to promote your account. Your 140-character status message can function as a promotional message on your profile page, and Love Again will send initial messages for you. It also sends winks to potential matches on your behalf and adds them to your friends list automatically.
You can also use Love Again in conjunction with Facebook, but you might connect with people you already know.
LoveAgain App
At this time, LoveAgain does not offer an app.
LoveAgain Customer Support
Love Again has good reviews for customer support. As soon as you sign up, you'll find a little chat window where you can talk to the site admin, who is available to answer questions and provide advice.
You can ask for help through the online web form, read through the FAQ page, and send feedback all through the website. Paid members receive premium support, which means they'll be first in line when it comes to addressing concerns.
LoveAgain also offers a blog filled with dating and relationship tips.
How to Cancel or Pause a LoveAgain Subscription
You can cancel your LoveAgain account either by sending an email or contacting a customer support agent. To delete your account via email, you need to do the following.
Open the email account registered with the site
Enter the email address "support@loveagain.com"
Compose an email stating that you'd like to delete your account with the subject line "Request to delete my account"
To cancel your account via customer support, follow these steps.
Contact support at 1-800-948-4215
Tell the representative that you wish to cancel your account
Ask for an email confirmation to verify the account has been canceled
LoveAgain Pricing
Pricing & Special Offers
Like some other top dating sites, Love Again has different membership packages. If you sign up for a trial account for $1.29/day, you can set up a complete account and send a couple of messages without having to upgrade your account. However, the trial period only lasts one day. Once you surpass the time limit, you'll need to upgrade to a premium subscription to get access to all of the features on the site.
One month: $47.99/month
Three Months: $29.99/month
Six Months: $22.99/ month
LoveAgain offers mid-range prices compared to other similar dating sites. For example, SilverSingles costs $34.95/month for six months, and OurTime costs $17.96/month.
What Can You Do with LoveAgain for Free?
Without a paid subscription, you can use Love Again to browse profiles, build your favorites list, receive chat messages, and send winks. You'll also receive five free messages, but after that, you'll need to upgrade to the full paid membership to send messages and Flirtcasts. The trial period helps you familiarize yourself with the site, but you'll likely need to switch to a Premium membership to boost your chances of meeting someone.
Premium Features and Upgrades on LoveAgain
When you upgrade to a premium membership, you unlock all the features the site has to offer. You can send messages, search for other members, wink, and use filters when searching for matches. You'll be able to reply to all emails and send messages to other users.
Additionally, if you like someone who writes to you, you can immediately start a conversation with them through the chat feature. Various chat rooms are also available at the premium level for those who wish to communicate with more members.
You can also view full-sized images with the premium account, and you'll get priority when you send a message to customer support.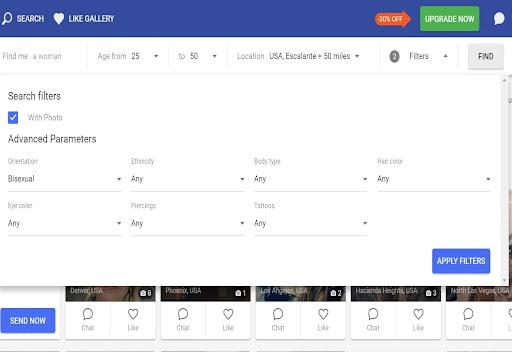 LoveAgain Alternatives
How LoveAgain Compares to Other Dating Apps
50+ people who are serious about dating
Those looking for like-minded singles in search of lasting love
Those looking for an easy entry into the dating scene
Single seniors looking for lust or love
$22.99/month for six months
$22.99/month for six months
$12.49/month for six months
$17.96/month for six months
LoveAgain vs. SilverSingles
Both LoveAgain and SilverSingles are geared toward people who are serious about dating. While LoveAgain offers slightly more competitive pricing, SilverSingles has more active users. However, SilverSingles is even more geared toward seniors than LoveAgain.
LoveAgain vs. Zoosk Seniors
Zoosk Seniors has millions of users, competitive pricing, and a mobile app. However, those just entering the dating scene may find all the features and users overwhelming when compared to LoveAgain. Both apps cater to those looking for long-term relationships.
LoveAgain vs. OurTime
While OurTime certainly beats out LoveAgain in terms of pricing and member accounts, like Zoosk Seniors, those new to the dating scene may find all the profiles and features to be overwhelming. Both dating apps have easy-to-use websites and are geared toward the 50+ crowd.

LoveAgain Visit Site
Bottom Line
LoveAgain is a great app for those looking to re-enter the dating pool after a hiatus or for those new to the online dating scene. The website is easy and straightforward to use. While the app may not have as many features as some of its competitors, many users appreciate the simplicity of the app.
LoveAgain offers similar pricing to its competitors, and if you're unsatisfied with the app, you can cancel at any time. While the dating pool is a bit more limited on LoveAgain, the site is still growing. Plus, not having to browse through millions of profiles can make it easier for you to find your match.