AdultFriendFinder Visit Site
Overview
Best For: Hookups
Number of Members: 3,500,000+
Favorite Features: Chatrooms, points system, blog posts
Video Chat: No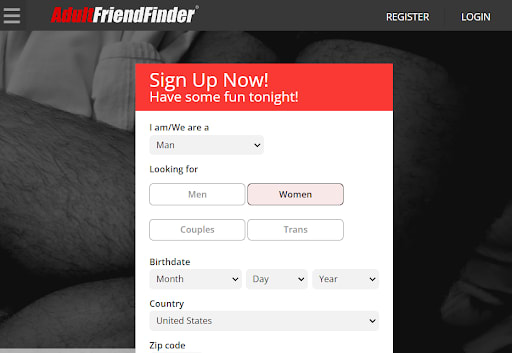 How AdultFriendFinder Works
AdultFriendFinder is best for individuals and couples who are interested in hookups and casual partners. The platform has lots of features to help you find someone online, including chatrooms and instant messaging.
The social community on AdultFriendFinder is also ideal for making friends, as you can take part in forum chats and read blog posts uploaded by members.
How to Sign Up for AdultFriendFinder
To begin your AdultFriendFinder journey, head to the website to sign up in just five minutes.
On the registration page, you'll provide some personal details, including your gender, whether you're an individual or couple, what you're looking for, your birthdate, country and zip code. You'll then create a username and password and write a short introduction.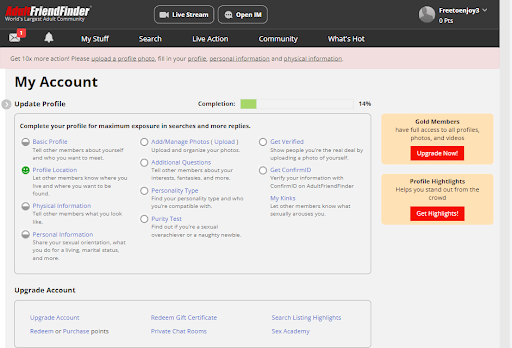 Setting Up Your Profile on AdultFriendFinder
With your account created, you can now set up your profile. From the homepage, click Edit Profile to get started. Here you'll see lots of different sections that you can choose to fill in, but nothing's mandatory.
You can describe the physical characteristics you prefer, summarize your ideal partner and share personal information including your sexual orientation, religion, and occupation. You also have the option to share your preferences around smoking, drinking, and children.
There are also two different quizzes you can complete. One is a personality test that assigns you one of 16 different personality types according to your answers, which you can choose to share on your profile.
The other quiz is a purity test which determines how sexual you are. For this, you'll go through 100 statements and tick which are true for you. Your overall score will be shown on your profile but specific answers will remain hidden.
If you want to find members who are interested in the same kinks as you, there is a My Kinks section on your account page. Here, you'll see a list of different kinks with the option to indicate whether you enjoy or feel curious about them.
To upload photos, look for the Upload Photos button on your account page. You can upload a maximum of 5,000 images via webcam or from your device, not through social media.
With your profile now set up, it's time to find a match.
How to Find Matches on AdultFriendFinder
Based on the answers you gave to register your AdultFriendFinder account, you're automatically shown profiles who are most similar to your preferences. If you'd like to be recommended new matches, you can adjust your search filters under the search tab.
You can find exactly the members you're looking for by filtering who you want to find (man, woman, group, etc.,), their age, and location. In addition, you can opt to only view members who are verified, VIP, close by, premium, currently online, and have photos and videos on their profiles.
With advanced search, you can add even more filters, including members' race, sexual orientation, body type and physical appearance, marital status, religion, education, astrological sign, and lifestyle choices.
The platform has lots of public communication features such as blog posts and forum discussions which you might want to participate in. However, the best way to find someone to meet is privately, through instant and email messaging.
Yet another way to find members is through the Kink Search option, where you can run through a list of different kinks and see who else enjoys them.
Safety & Security
At the bottom of the website, you'll find a button to report any member who has violated AdultFriendFinder's rules. This includes being abusive, posting fake or inappropriate images, and sending threatening messages.
To safeguard your account, you can set up security questions as part of your log-in process. You can add these questions in the account management section of your profile.
AdultFriendFinder doesn't verify photos but you can choose to verify your own by uploading an image of yourself showing your username. You can also confirm your ID through your account page. During registration you must upload a government-issued identification, such as your passport or driving license, which the team will approve.
When you sign up to AdultFriendFinder, the platform collects your personal information such as your name and email, plus any content you submit to the site including blog posts, emails, and instant messages. The company uses this information to improve its content and services, and customize ads.
AdultFriendFinder App
AdultFriendFinder does not currently have an app. However, the site has a mobile version which is fully optimized for mobile devices.
AdultFriendFinder Customer Support
To contact customer service, head to the Help section in your settings where you'll find several options.
For immediate support, you can call AdultFriendFinder's support line 24/7 on (669) 208-0362. On desktop, live chat is also available 24/7 with a real person. Alternatively, you can fill in their contact form.
From our experience, it takes around five minutes on live chat to get through to a customer service member and approximately 10 minutes via the contact form.
The platform also has a detailed FAQ section which answers common queries and an AdultFriendFinder magazine which offers lots of tips for meeting people through the site.
AdultFriendFinder does not provide refunds if you choose to cancel your subscription.
How to Cancel or Pause a AdultFriendFinder Subscription
On AdultFriendFinder, you can pause or close your account by clicking on Manage Account under Edit Profile. You'll see the option to either Hide my Profile or Close Account. Head to Billing History & Credit Card Info and turn off automatic renewals to avoid being charged.
AdultFriendFinder Pricing
Pricing & Special Offers
AdultFriendFinder's premium Gold membership has three lengths. If you commit to a whole year, membership starts from $14.95/month. You can also opt for three months at $19.95/month or choose one month for $27.95.
While upgrading your account will give you access to all features, you'll need to pay extra if you'd like non-paying members to be able to view your profile and message you. To enhance your membership, one month costs $24.95, three months costs $35.85 and 12 months costs $107.40. This payment is added to the cost of your premium membership.
AdultFriendFinder has a points system where you can earn and buy points that can be redeemed into offers, such as free membership and money. For instance, you'll earn 20 points per photo and video you upload, and 4,400 points gets you one month of premium membership.
You can also buy points at the following rates:
$3 = 200 points
$6 = 500 points
$10 = 1,000 points
Another additional purchase option is to add a private chatroom to your profile. This is a live video streaming feature with instant message which you can invite certain members to. To set up your own private chatroom, you have the following options:
$9.95 for one month
$6.95/month for three months
$5.95/month for five months
$3.95/month for 12 months
All premium memberships are automatically renewed. You can switch off this feature by heading to your account page, clicking Edit Profile and then Billing History & Credit Card Info.
While prices on AdultFriendFinder are similar to Flirt and BeNaughty, the additional cost to allow non-paying members to view your profile and send you messages makes the platform expensive.
What Can You Do with AdultFriendFinder for Free?
AdultFriendFinder provides many free features for non-paying members. With a free account, you can access all the features on the Community page which includes blog posts, chatrooms, polls, contests, forum discussions, and erotic stories. You can also read AdultFriendFinder's online magazine which posts new sex and dating articles every month.
In addition, as a free member you can search filters to find members and complete your profile. This includes uploading up to 5,000 photos and completing the purity, kink, and personality tests.
Non-paying members are only able to use instant or email messaging with premium members who have paid to enhance their profile. Because of this feature, though, we'd say it seems highly likely you can get a date without paying.
Premium Features and Upgrades on AdultFriendFinder
The key selling point of Gold membership on AdultFriendFinder is being able to view full profiles and interact with members using unlimited instant and email messaging. You can also send photos and videos and a "flirt" to let someone know you find them attractive. Only premium members can upload unlimited videos to their profile.
If you'd like to boost your profile and have it seen by more people, you can become a VIP member. This is only available to premium members at an additional cost of $29.95/month. VIP membership is automatically renewed but you can turn off this feature in your account.
AdultFriendFinder Alternatives
How AdultFriendFinder Compares to Other Dating Apps
AdultFriendFinder vs Flirt
AdultFriendFinder and Flirt are both geared towards no-strings attached relationships as opposed to anything serious. AdultFriendFinder doesn't offer Flirt's video chat options. Flirt seems to target people wanting to connect with one individual, while AdultFriendFinder encourages lots of members to engage with each other.

AdultFriendFinder Visit Site
AdultFriendFinder vs BeNaughty
Both AdultFriendFinder and BeNaughty encourage casual dating. They also share similar features such as live chat rooms and the option to view more explicit images. BeNaughty has a one-week membership option and is free for women, whereas AdultFriendFinder members must pay for at least a one-month subscription to try out premium features.
AdultFriendFinder vs Grindr
Although AdultFriendFinder welcomes every sexual orientation, Grindr specifically targets the LGBTQ+ community, and has millions of users each day. Grindr is also more affordable and lets non-paying members view detailed profiles. We recommend AdultFriendFinder if you're more interested in connecting through forums and chat rooms.
Bottom Line
AdultFriendFinder defines itself as the "world's largest adult community" with over 3.5 million users worldwide. They also have a page on their site filled with member success stories.
AdultFriendFinder has almost every type of dating feature on the market, and its active community suggests it provides value and stands out among competitors. However, with numerous features, the site can be hard to navigate. The platform seems worth spending your money on if you're specifically seeking an instant hookup or a short-term fling.