In a Nutshell
Bumble is a great app if you're looking for more conscious online dating, especially since women have to make the first move. You need to either message or respond to matches within 24 hours, and communication options include chat, voice notes, and video calls. With in-depth profiles and the ability to see who's liked you, Bumble is designed to enable better matches and conversations than other apps, but this also bears a higher price tag.
pros
Women message first
See who's liked you
Video calls
cons
Must message within 24 hours
Relatively expensive
Bumble at a Glance
Best For
Women taking the lead
Number of Members
150 million
Favorite Features
Question Game

Profile prompts

Voice note chatting

SuperSwipes
Video Chat
Yes
How Much Does Bumble Cost?
While Bumble has a forever-free plan, you can also get Boost or Premium subscriptions.
Boost plans, which add SuperSwipes and Spotlights, are priced by the week, or in monthly increments. Premium, adding advanced filters and more on top of Boost features, follows the same pattern, though it also includes a lifetime option as a one-time purchase.
$229.99 (one-time payment)
Bumble is quite pricey, with the cost of its one-month $39.99 Premium plan buying you 2.5 months' worth of Tinder Gold. Some dating websites, though, are still higher-cost than Bumble, with eHarmony starting at $395.40 for six months.
What Can You Do with Bumble for Free?
With a free Bumble plan, you can set some search filters, such as age range and maximum distance, but advanced ones like family plans and religion are reserved for Premium. On your own profile, you can add up to six photos, a bio, and three short prompts that show off your personality.
Unlike some dating sites, you can match with members on the free plan, and, if you are a woman, start conversations. Dating for free on Bumble is fairly realistic, thanks to its unlimited messages and video calls. However, there's an undisclosed daily like limit.
Premium Features and Upgrades on Bumble
With a Boost plan, you get unlimited likes, as well as unlimited extends (which give the other person an extra 24 hours to message you), rematches (which allow you to rematch when conversations expire), and backtracks (where you can re-swipe if you're made a mistake).
In addition, five SuperSwipes a week get your profile seen instantly by the person you swiped, and one Spotlight a week shows you ahead of everyone else for 30 minutes.
A Premium plan gets you everything on Boost, as well as the ability to engage with those who've liked you and use advanced filters including height, exercise habits, and politics. You can also turn on travel mode to match with folks in other locations, and incognito mode, which shows you only to those you've liked.
Spotlights can also be bought separately, priced between $6.99 for one and $54.90 for 30. The same goes for SuperSwipes, which cost from $3.50 for two to $45.99 for 30.
How Bumble Works
Bumble makes it optional to add more than one photo, a bio, prompts, and interests to your profile. What isn't optional, though, is that the first message between two matches must come from a woman, unless the match is between two men or non-binary people, and matches expire if that first message isn't sent within 24 hours. You can, however, extend one match per day if the other person hasn't contacted you.
This approach is designed to discourage spamming and encourage conversations between people who are actually interested in each other.
How to Sign Up for Bumble
Start by signing up with your Apple or Facebook profile or using just your phone number. You must verify your phone number via text message.
You then provide your name, date of birth, and gender. Bumble is way ahead of the pack on gender identity, with man, woman, and non-binary as the main gender choices, and optional descriptors including trans woman and genderfluid.
When the basics are added, you can start setting up your profile.
Setting Up Your Profile on Bumble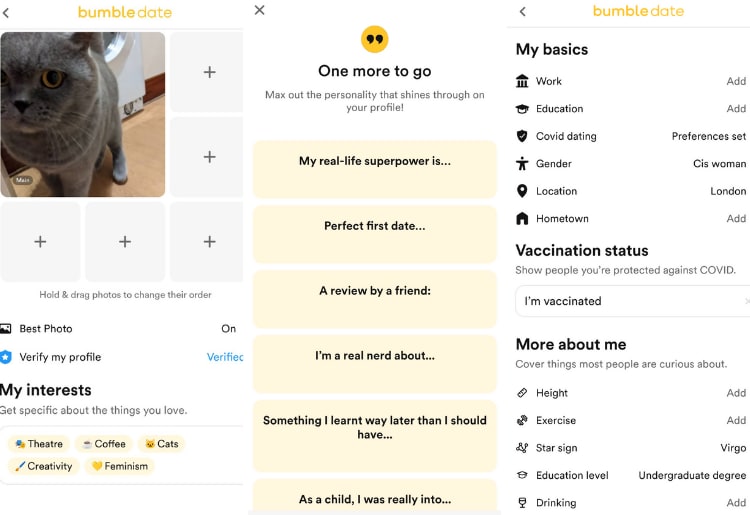 You need to add at least one photo to activate your profile, and can add up to six in total. If you switch on Best Photo, the algorithm has free rein over which photo appears as your main one.
Then, add up to five interests that express who you are, with options ranging from theater to bowling and environmentalism. On top of this, filling out basic info, including work, education, and height, helps Bumble find compatible profiles for you.
Add up to three short prompts to make your profile stand out by completing sentences such as "I'm a real nerd about…" and "We'll get on if…"
Preview your profile and get swiping.
How to Find Matches on Bumble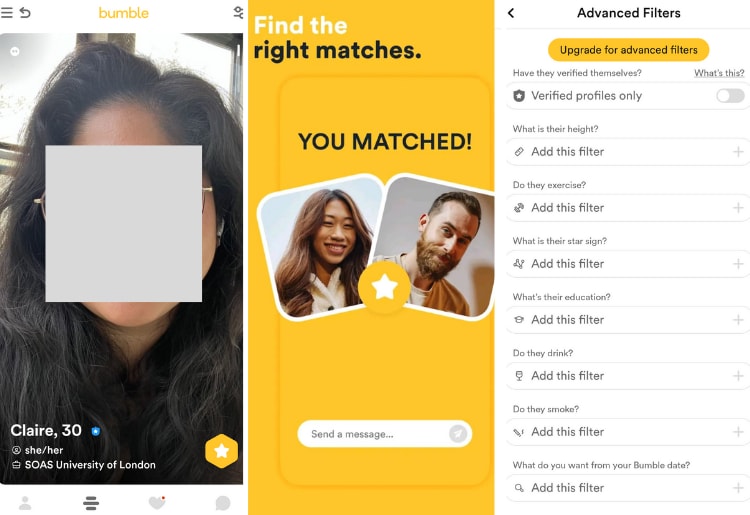 When you want to start looking for matches on Bumble, first, set the age range and maximum distance filters, available for free. If on Premium, you can further filter your matches by drinking and smoking habits, education level, type of relationship, and many more.
Many profiles are rich in information, including a bio, interests, photos, and short prompts, and you can swipe right to like and left to pass.
When someone's liked you and it's a match, their profile appears in your match queue. At this point, women have 24 hours to make the first move, unless the match is between men or non-binary people. The chat function lets you text, record voice notes, send GIFs, upload photos and videos, and make video calls.
For those lacking inspiration, Question Game asks your match a question you've already answered, such as "When are you at your most daring?" This feature is a great conversation starter if you're feeling nervous.
Safety & Security
On Bumble, You can verify your profile by taking a selfie, which is compared with your photos and appears on your profile.
You can always unmatch, block, and report people who aren't treating you respectfully. Plus, privacy and security support articles on Bumble's site span specialized topics including spotting and recovering from catfishing.
Bumble uses personal data, including your name and date of birth, as well as app usage data like login time and pages visited, to provide you with matchmaking services. Additionally, Bumble may use your gender and IP address to serve ads on third-party platforms.
Bumble App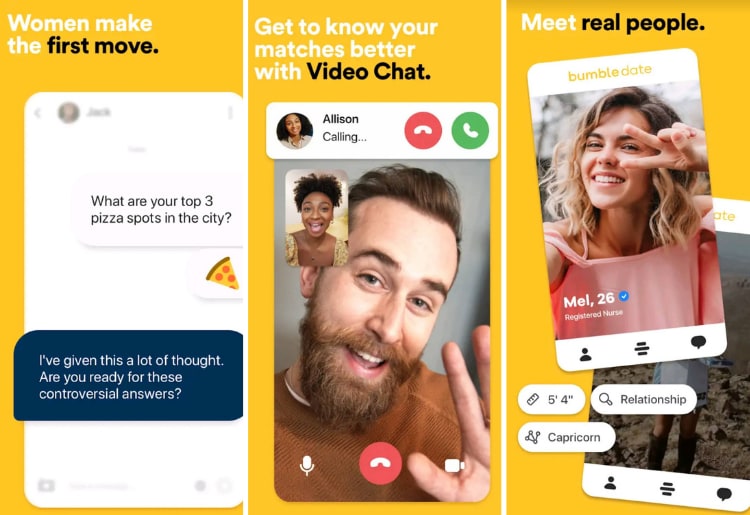 Though you can use most of the platform's features on Bumble Web, the mobile app is much more user-friendly. Your location must be switched on when using it, though, which isn't the case on some other dating apps.
After a straightforward login, you can easily navigate between the four features: profile settings, list of suggested matches, profiles of people who liked you, and messages and match queue. Tools like search filters and sorting conversations by distance make the app really easy to use.
You can get Bumble on Android and iOS.
Bumble Customer Service
To speak to the Bumble support team, you must fill in an online request form or tap the "Get help from Bumble" button in the app. The Help Center has a vast amount of support articles, ranging from app guidance to dating tips and staying safe.
If you want a refund, you're unlikely to get one from Bumble directly, but you can request it from the App Store if you're on iOS, or Google Play Store if you're on Android.
How to Cancel or Pause a Bumble Subscription
If you're paying for a Bumble subscription through Google Play Store or the App Store, then head to the Subscriptions section of either store, select Bumble, and click Cancel.
If you subscribed in any other way, then go to your profile settings in your Bumble account, click Manage your Premium, and select Unsubscribe.
To pause your account, hit Snooze in your Bumble settings, which hides your profile for either 24 hours, 72 hours, a week, or indefinitely. Snooze, however, won't stop any subscription payments.
How Bumble Compares to Other Dating Sites and Apps
Bumble vs Match
Match is designed as a dating catalog where you can browse and view profiles in your local area. It also has a matching algorithm that recommends daily Picks. While its pricing is similar to Bumble's, its free plan has limited messaging, and its mobile app is much less intuitive.
Bumble vs Tinder
Tinder is more hookup-oriented than Bumble, and anyone can message first, so women may get more unsavory messages. It does, however, have many common features, including swipes, SuperSwipes, and backtracks. Overall, Tinder is much more affordable and has fewer restrictions, but match quality may be lower.
Bumble vs Hinge
Hinge offers more value for money, since it's cheaper overall, and profile quality is much higher due to mandatory photos and prompts. Instead of swiping, you can like and comment on others' prompts and photos. Hinge also lets you use backtracks and see who liked you for free, but you may still choose Bumble if you like its female-centric approach.
Does Bumble Work?
Bumble has great features that empower women to date on their terms, including sending the first message. It's also got a wide variety of gender identity options, which can create a safer dating experience for LGBTQ+ users.
Some might be deterred by the 24-hour messaging window, but this feature can encourage people to take the plunge and have more high-quality conversations with their matches. With communication options including chat, voice notes, video calls, and playing the Question Game, you're all set to make connections and start dating on Bumble, even on a free plan.
Though it's more pricey than apps like Tinder or Hinge, Bumble could still be the choice for you if it makes you feel safer and gets you better matches.