What many don't realize before settling on a site, is that each one has a specific user demographic. Meaning, a site that's proven to be successful for your friend, or that originally paired your brother and sister-in-law who are happily married with two kids, may not be right for you, as each one caters to certain people and personalities.
Are you an introvert? Do you thrive in large social settings? We discuss 3 top dating sites—Zoosk, eharmony and Match— and see which one is best suited to which personality types.
For More Serious Daters
Though all dating sites have a common goal of wanting to help you find your soulmate, there are big differences between them all. Take eharmony for example, whose branding, messaging, and advertisements set it apart from pretty much every other site.
With 30+ million users, eharmony has earned itself a name in the industry. It's a popular site for older and/or more serious daters, as 30% of its user base is over 40. It also uses an algorithm, called the compatibility matching system, to make matches, relying on science rather than chance. Because many of its users are older, established adults, eharmony aims to make the process of finding love as simple as possible by doing a lot of the work for you. So if you have a busy schedule or have a family to care for and don't have time to be searching for compatible matches online, you don't have to worry about not finding love.
The kind of people on eharmony are usually established and well-organized. So if you're looking for a partner that likes late night parties or stumbling home at 3am, this is probably not the site for you. Personalities on eharmony will likely enjoy spending time strolling through the park or relaxing with a book or music. It's known to have a high percentage of members with strong political and religious beliefs, for example. It was also found when comparing a segment of the population that uses the site, perhaps unsurprisingly, that because of eharmony members' higher socioeconomic standards, they prefer higher-end deli's and eateries, and enjoy the finer things in life.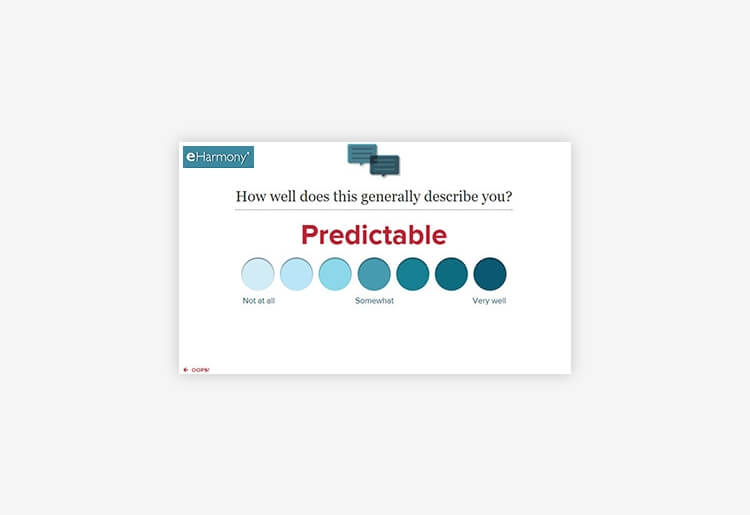 Because of eharmony's algorithm-backed matching system that's convenient for busy people and its branding that attracts a more serious clientele, it is a popular choice for those in search of real, meaningful relationships and for people who don't have time for games.

eharmony Visit eharmony
For the Flirtatious, 'Life's Too Short' Daters
If you're anything but an eharmony candidate, you're most likely a good fit for Zoosk. Zoosk boasts over 35 million members and offers a simple and easy-to-use site. It's a good place for those who want to truly find their other half, but also enjoy a little flirting here and there. When taking a poll of various matchmaking sites and seeing which ones attract and enable flirting, Zoosk was a top contender. Though it is natural and good when dating (and 11% of US adults do it), a quarter of Zoosk members admitted to flirtatious behavior, compared to 12% of those on eharmony.
Though it's known to be a site that offers fun and flirtation mingling, it also has strong privacy settings. If you're a paranoid person, and get worried about talking to random people, Zoosk is a great choice, as you can't view other members before logging in. Even more than this, Zoosk also asks you to fill out a profile so that it can find you matches, ensuring that members are serious about their quest. The site attracts a range of people, with the majority being in their 20's and 30's. Members that choose Zoosk are adventurous in the kitchen, enjoy dinner parties with friends, the occasional rock concert, and happy hours with co-workers.
The site has a good reputation with a fun and flirtatious, yet responsible, userbase who might like to go to Chuck E. Cheese one day, and Reb Lobster the next.

Zoosk Visit Zoosk
For the Timid Daters Who Know What They Want
Though eharmony and Zoosk seem to offer pretty much everything that's needed for the more serious daters, as well as the more outgoing ones, if it's still not exactly what you're looking for, don't be disheartened. There are hundreds of sites out there for this exact reason—finding the right site for your personality.
Lucky for you, there's the famous Match. If you have dated before and know what you want from experience; or have never dated anyone but feel you know what's best for you and your love life, it is your winner. As one of the best known sites and one that's been around the longest, Match pairs couples with its algorithm and features, that help the more shy daters break the ice. With its game feature, you're able to take the first step with your potential other half and invite them to play against you, making that initial first contact less awkward. So if you're the shy type, all you have to do is find someone you're interested in and invite them to compete against you—who knows, you just may wind up inviting your future husband or wife to a game!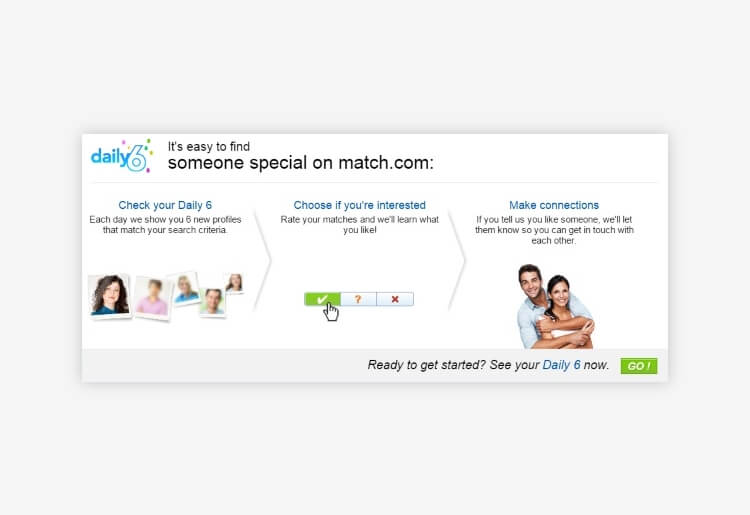 People who are likely to use the site are casual, usually come from an average socioeconomic background, have secure jobs and are the types to know and greet their neighbors in the mornings. They also enjoy sports games, quality family time, or just relaxing in front of the TV to their favorite new series. Sound like you? Due to its algorithm that matches couples based on similarities, Match claims to be responsible for making more matches than any other site.

Match Visit Match
One Thing is For Sure
Though eharmony, Zoosk and Match all vary in the features they offer users, as well as the users they attract and their reputations, they all have one huge thing in common—they want to help you find "the one."
So whether you're a more serious dater who doesn't have time to scroll through compatible singles all day long, a flirtatious dater who frequently uses the winking emoji in conversation, or a more timid dater who just needs a push to break the ice, the site to help you find your special someone exists. The question is, which one will you choose?