Salesforce Visit Site
Overview
Salesforce CRM at a Glance
Ideal For
Salesforce is ideal for larger or growing businesses, thanks to its long list of features and excellent scalability. It's particularly good for companies with atypical sales processes that can benefit from the software's strong customization options. It also works well for companies looking to automate many of their business processes.
Why Go With Salesforce
Salesforce is the most used CRM in the world

It offers a massive list of third-party integrations

You can use it to automate all your sales and support processes
Salesforce CRM Features
Business ecosystem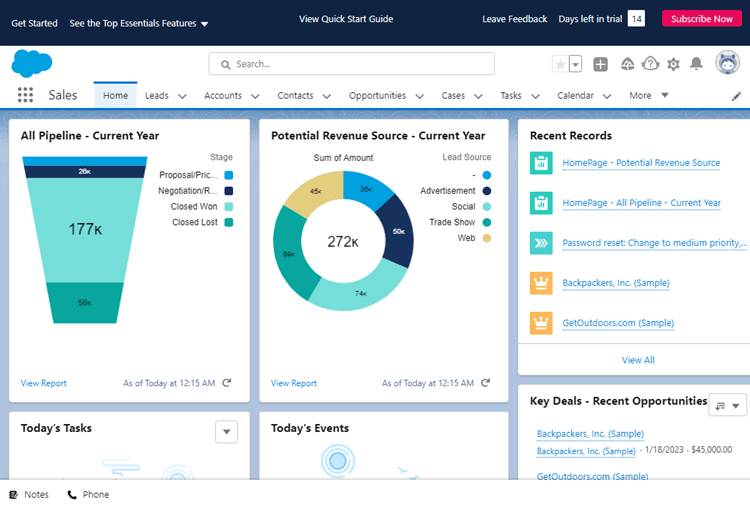 Managers coming to Salesforce from other CRMs should understand that it offers a comprehensive range of business products all under the same umbrella. These products focus on different aspects of business, but they all interact seamlessly with each other and can work with other cloud-based systems, too.
Salesforce products include Sales Cloud, Marketing Cloud, Service Cloud, Commerce Cloud, Tableau Analytics, and the Salesforce Platform itself. There's a strong focus on automation in Salesforce, and it can be used as the bridge between several systems.
More than any other existing CRM, Salesforce offers an ecosystem of businesses, consultants, and developers that build applications that work on top of the Salesforce platform. This makes Salesforce extremely versatile and helps it meet the needs of evolving companies.
Salesforce is stringent about security and data privacy, so any of these independent applications are audited and can be considered secure.
Analytics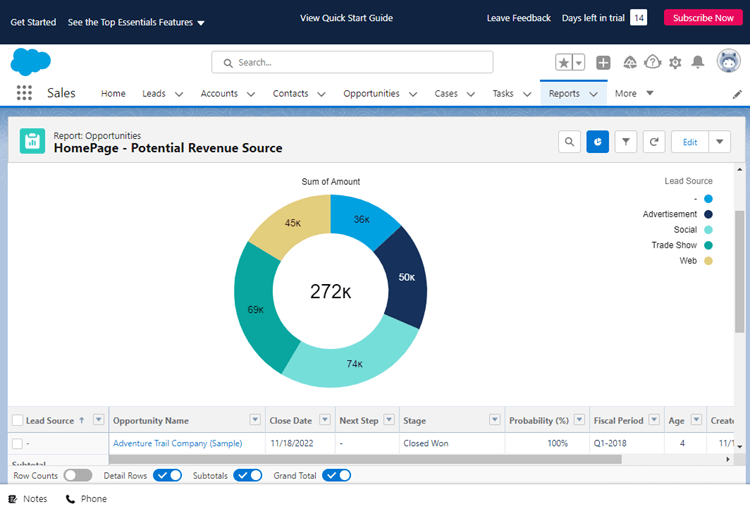 Salesforce is known for its excellent Tableau Analytics, a drag-and-drop data interface you can use to spot emerging patterns in your data. Tableau Analytics can be used by analysts, IT managers, sales teams, and marketing executives to get excellent data analysis and predictions.
Tableau Analytics uses artificial intelligence to give you predictions and recommendations. It can identify cross-selling and up-selling opportunities, uncover actionable insights, and generate useful key performance indicators (KPIs) for virtually any business.
The analytics in Salesforce can connect to external data to give you a holistic view of your customers. There are over 50 connectors for bringing your external data into Tableau Analytics, and they can all be used consecutively for impressively comprehensive reports on real-time and historical data.
Third-party app integration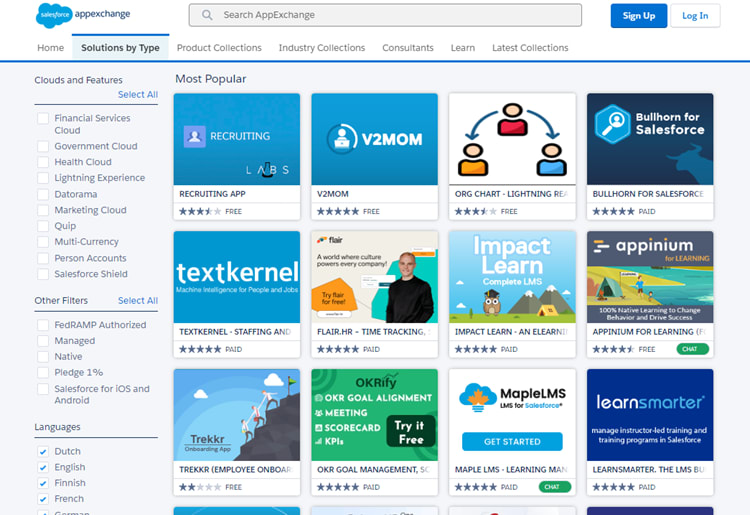 Salesforce offers a nearly endless capacity to connect with third-party apps. You can synchronize Salesforce data with all of today's leading document management software apps, enterprise resource planning (ERP) apps, personal planning apps, and more.
Salesforce Connect enables you to access and handle data stored on external sources from within the Salesforce native environment.
AppExchange, Salesforce's app market, offers over 3,600 third-party integration apps that can extend the functionality of Salesforce far beyond a mere CRM.
Automated workflows
You can use Salesforce's point-and-click interface to create automated workflows for your business. A simple example of this could be the generation of email alerts as new leads come in, while automatically assigning members of the team to manage the lead as it progresses.
The flexibility of this automated system means you can design complex workflows that always ensure the best customer experience while maximizing the potential for conversions.
Customization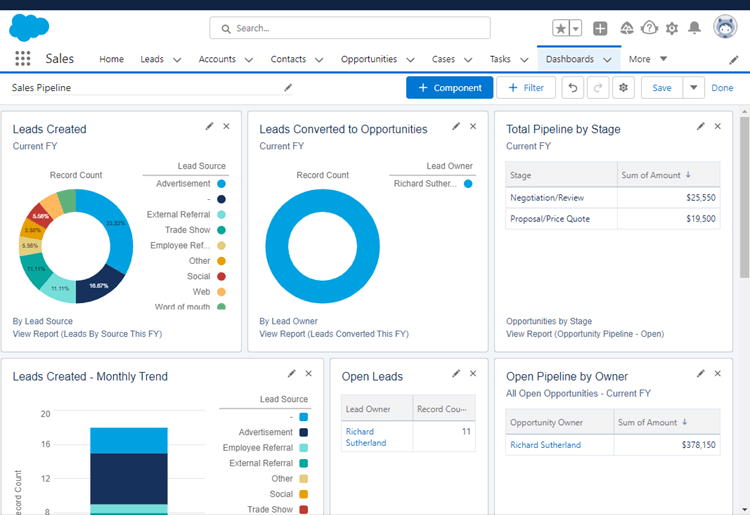 Salesforce has some of the best customization options out of the CRMs I've used. You can tailor Salesforce to your organization's needs with the creation of rules, objects, processes, and custom code.
Salesforce has been set up with versatility in mind, as no two businesses are alike. You can add custom fields to records, create email templates, design your own reports and dashboards, and automate the tasks you perform daily.
Salesforce has its own programming language, APEX, that's relatively easy to pick up for coders already familiar with the JavaScript programming language. This allows for almost infinite customization if you can't find an existing Salesforce solution already built for your needs.
Payment Processing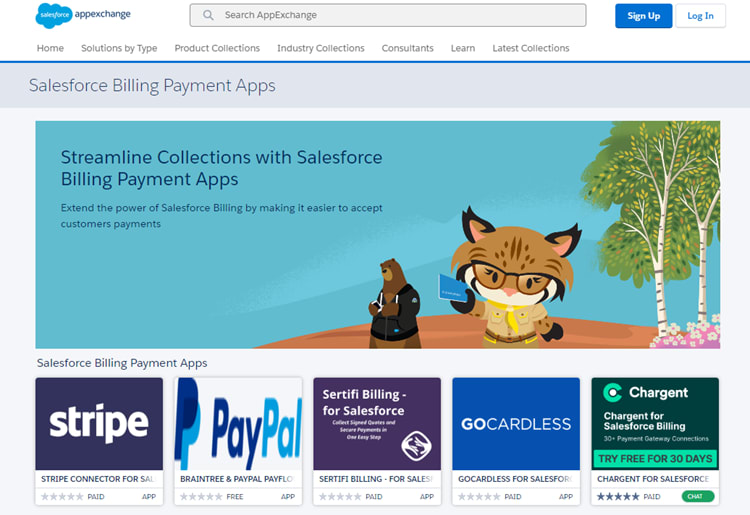 Salesforce supports payment processing through external service providers via a system called Salesforce Billing. Salesforce itself doesn't store details such as personal accounts or credit card numbers but instead uses an application programming interface (API) system to connect with these third-party payment processors.
The payment processors available through the Salesforce AppExchange are Sertifi, Braintree, PayPal, Chargent, FinDock, and Stripe. Salesforce also works with payment gateways CyberSource, Payeezy, and AuthorizeDotNet.
SEO Tools
Salesforce offers Commerce Cloud, which is essentially an Ecommerce platform for selling products and services, with Salesforce acting as the back end.
Commerce Cloud includes several features designed for search engine optimization (SEO) purposes. These can be used to propel your Ecommerce website higher up the search engine rankings, resulting in more traffic and, ultimately, more sales.
Some of these features include SEO-friendly URLs, canonical tagging, customizable URL mapping, and control over page metadata.
Secure Hosting
Salesforce is particularly diligent about security. It operates with a multi-layered security model, encryption on all data transfers, and enforces multi-factor authentication for all users. These features mean data stored in Salesforce is highly secure and it's very difficult for hackers to impersonate users of the system.
Beyond this, Salesforce offers an entire website detailing the best security practices to follow when using Salesforce and developing app integrations.
Mobile Apps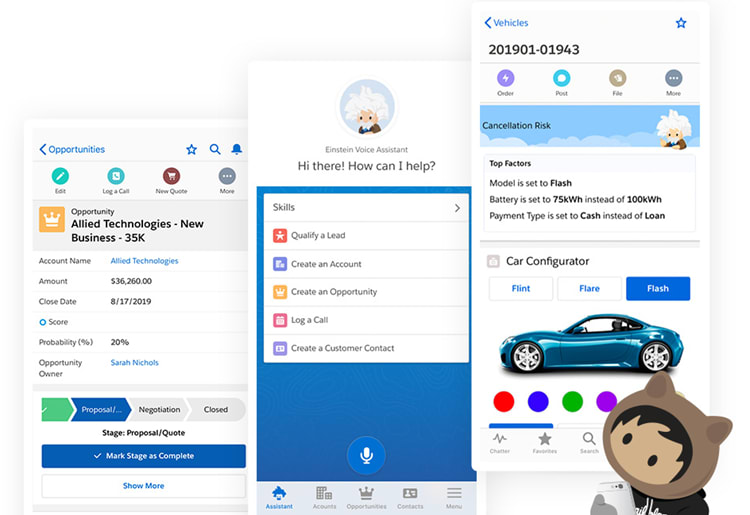 Salesforce enables you to log in from multiple devices at the same time. There are dedicated mobile apps for iPhone and Android. Sales representatives can use the Salesforce mobile apps to check opportunities, leads, accounts, and locations in the Salesforce database from wherever they are.
Salesforce has published several mobile apps for different purposes. Salesforce Activator can be used for multi-factor authentication, keeping access to your CRM secure.
Trailhead GO can be used to learn Salesforce skills on the go.
Salesforce Inbox brings email, calendar, and Salesforce data together into a single app.
Salesforce Customer Support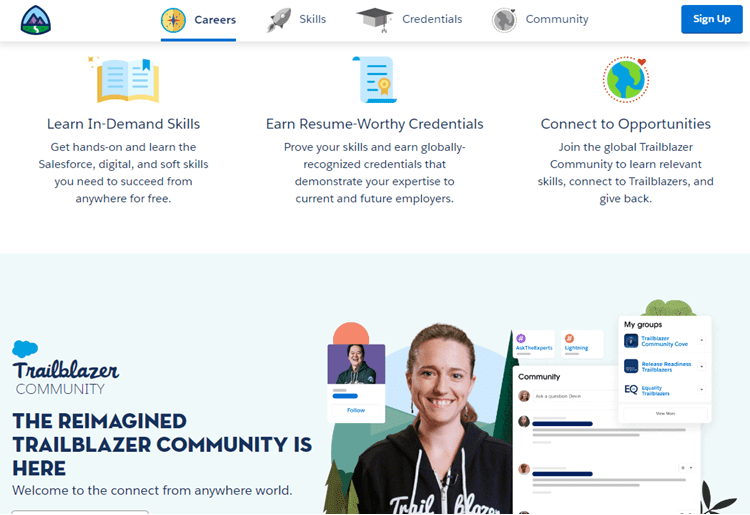 Salesforce offers several levels of customer support known as Success Plans. The Standard Success Plan is included in all licenses and includes access to the help portal, community site, and technical support via support ticket.
Salesforce offers excellent onboarding resources for new users on its Trailhead site, where you can learn about its features and even earn certificates such as Certified Salesforce Administrator and Certified Salesforce Marketer.
The Premier Success Plan costs 30% of net license fees and adds 24/7 phone and developer support. You get expert coaching with outcome-based sessions teaching you about specific ways to use the CRM.
The Signature Success Plan is a bespoke personalized support service with a dedicated account manager. Pricing for this tier is based on complexity and scale.
Salesforce CRM Pricing
Salesforce products are available for sale individually. The majority of these products are priced on a per-user basis. However, some products require a fixed monthly fee for access or are priced as a percentage of your overall monthly payment. Salesforce Sales Cloud is a great example of the typical pricing model users can expect from a Salesforce product.
Salesforce Sales Cloud Pricing
Sales Forecasting Analytics
*Prices are per user, per month.
Salesforce Visit Site
Bottom Line
Salesforce is a versatile business software solution that is ideal for large enterprises with complex software support needs. It provides a broad range of products covering numerous business needs, but its primary strength lies in its 3 CRM solutions for customer service, sales, and marketing. These features are backed up by robust, AI-driven analytics software. Salesforce is highly customizable at setup and can be further customized with over 3000 third-party applications. If you are prepared to pay a premium, Salesforce will be able to meet almost any business software need you have.