Copper Visit Site
CopperCRM at a Glance
Best for: Gsuite/Gmail users looking for a CRM that integrates perfectly with the tool
Key use: Relationship management and opportunity tracking
Price: $19/user/month (Basic) to $119/user/month (Business)
Free trial: 14 days
Overview
CopperCRM's claim to fame is its seamless integration with Gmail and Gsuite (which allows companies to access Google's cloud features using their own domain name). Its functionalities include automatically importing Gmail conversations and prompting users to follow up with clients. It also has a report-generation functionality
How Copper Works
Tools for Sales Teams
Copper includes the following functionalities for sales teams:
Lead Capture—With Social Integration
Copper makes it easy to quickly record leads in the CRM. It also includes entry fields for a number of social profiles, including LinkedIn, Facebook, and Twitter.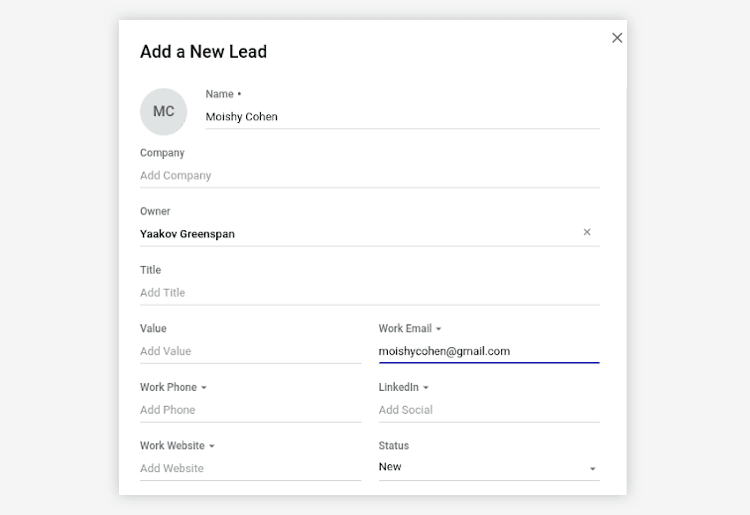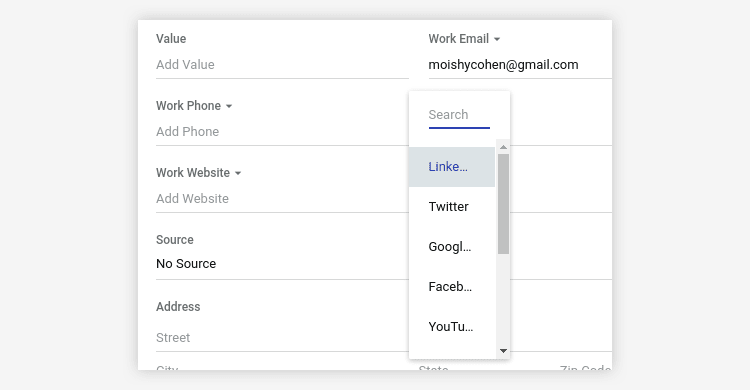 If the lead is detected to be a Gmail account, a button to Start a Hangout is automatically populated. This encourages sales team members to use informal ways to forge better relationships with their prospects.
Bulk Lead Importer
Sales teams that want to hit the ground running after installing Copper can use the lead import tool to automatically import large sets of data.
To make migrating from another platform as easy as possible, Copper supports the following formats:
Comma Separated Values (CSV)

Google Contacts

Google Sheets
Additionally, users can import their LinkedIn connections or those from a CRM. Supported CRMs for import purposes are:
Salesforce

Pipedrive

Base CRM

Insightly
The social integrations also work with existing leads. A "Suggested People" window prompts users to look up existing contacts on a social network when there is a match:

Tools for Customer Support Teams
Can it handle customer service complaints and reward programs like gift certificates, special deals, etc? Is there automation of these functions? You can include a bulleted list of relevant features.
Tools for Marketing Teams
Copper isn't really geared toward marketing. It doesn't have any traditional marketing functionalities like landing page creators or bulk email generators.
However, the company does describe many of its sales functionalities as "relationship marketing" tools. CopperCRM puts every possible customer touchpoint, including leads' social channels, front and center for sales teams. This encourages them to subtly market their services by building lasting relationships. Ultimately, this might have a higher return on investment compared to traditional approaches such as email blasts.
Customization and Integrations
CopperCRM has a growing integration library which allows the CRM to be connected with many of the most significant cloud service providers. These include:
Slack for instantaneous internal communication

Hubspot for syncing subscriber lists and campaigns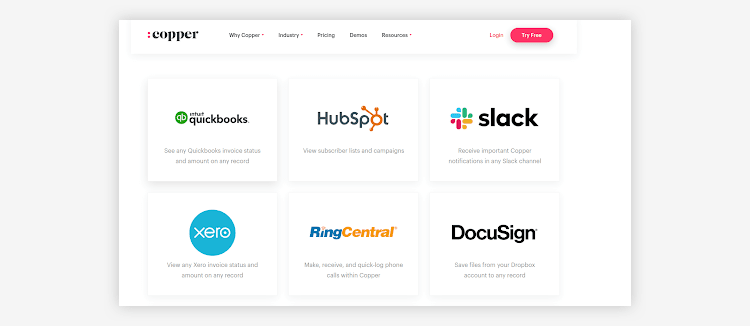 There is also:
The RingCentral VoIP tool—this allows users to place and receive calls directly from within the CRM

DocuSign

Mailchimp for email marketing
The CRM also has a set of customization options nested within the main settings page. This allows users to: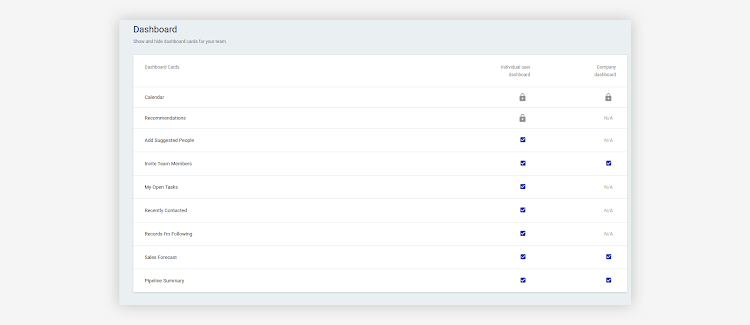 Customize the dashboard display

Create customized fields to display with records

Create and map relationships between different system modules

Rename default system modules such as 'Leads' and 'Persons'. If businesses have an internal taxonomy for differentiating between pipeline stages, then they can enforce it here.
Additionally, the company maintains an Open API—so third party (or private) developers are able to easily create new integrations with the tool.
Reporting and Dashboards
The dashboard is the first page that loads when users log in to Copper CRM and the core of the product. It automatically imports correspondence and contacts from Gmail and creates prompts for follow-ups based on the time elapsed since the last lead reply.
The most impressive feature about the dashboard, for Gsuite users, is the fact that it instantaneously pulls in data from all apps, including Calendar, as soon as it is available.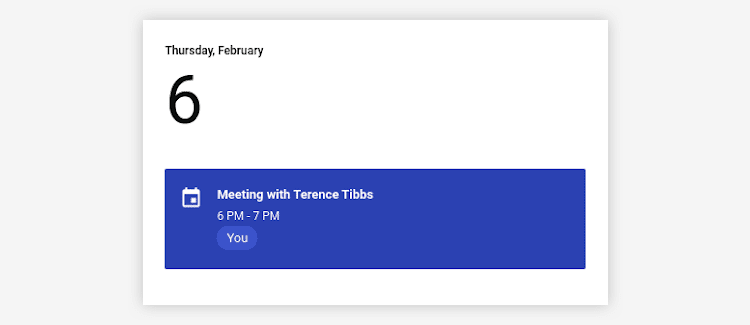 This allows users to save time that would have otherwise been spent manually checking their inbox and calendar for sales appointments.
On the reporting side, Copper also packs plenty of functionality. The dashboard is configured, by default, with several key sales forecasts including the overall sales forecast and a pipeline summary.


Within the CRM, these reports are split up into 2 modules:
The opportunities page provides a visual pipeline overview of current major leads by stage. These can be sorted by deal value, account owner, and days elapsed since last activity.

The Reports module provides a more comprehensive set of reporting functionalities than that which is available through the dashboard. In addition to the high level year-to-date revenue report, users can pull up a variety of pipeline reports, such as Pipeline by Owner Weighted and Pipeline by Source Weighted.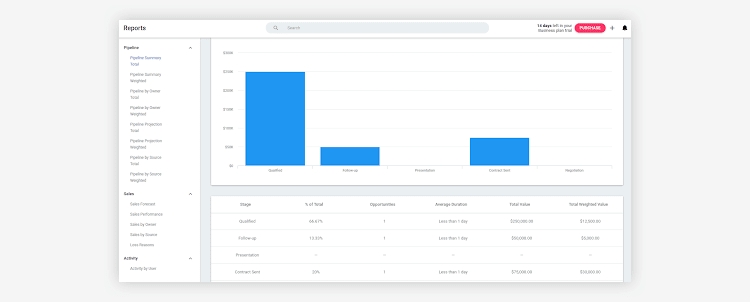 While there is a great library of pipeline reports at users' fingertips, we would like to have also seen a custom report creator built into the tool.
Mobile Options
Copper CRM has mobile apps for Android and iOS—these can be downloaded from the Google Play Store and the Apple Store respectively.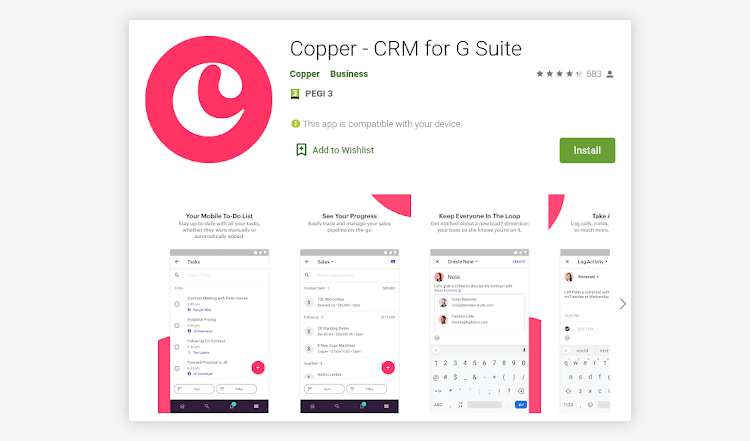 The apps enjoy impressive ratings and make it easy for users to keep in touch with colleagues, via the CRM, while on the road. To make that process easier, users can easily tag colleagues with @mentions and drag and drop opportunities around the pipeline visualization tool
Ease of Implementation and Use
Copper CRM is really easy to use. Its screens are nicely designed and quick and easy to navigate through.

Because Copper automatically scrapes and imports all data from Gsuite/Gmail, it also drastically cuts down on the amount of manual data entry which team members need to undertake. This, in turn, improves productivity and boosts morale.
Customer Service
Copper has some terrific options for customer service. Firstly, users are able to get access to a support center that covers a wide variety of topics, including how to apply customizations and help with setting up integrations.

Copper has also recorded several webinars and these short courses (mostly under an hour long) can be used as onboarding resources for administrators setting up on the tool.

If users do run into a spot of bother that these resources cannot resolve, then they can reach out to the support team via the ticket-based email system.

Copper Visit Site
Copper Pricing
Pricing & Special Offers
Copper CRM can be purchased at 3 subscription levels. These are:
No limit, but annual pricing only
All tiers include full G Suite integration—but only Business includes email open tracking. Basic users get 3 email templates; Professional users get 10; and Business users get access to unlimited templates.
A more significant limitation is bulk email sending: Basic users can only run a bulk send 3 times a day while Professional users can do so 10 times.
The Unlimited tier also opens up more detailed reporting options, including goal tracking and a team leaderboard.
Finally, the RingCentral integration is only available on the top tier—as well as multi-currency support.
Bottom Line
For Gmail and Gsuite users alike, Copper CRM is an amazing tool that offers out-of-the-box seamless integration. Calendar and contact synching is complemented by powerful functionalities, including pipeline visualization and reminder prompts. Even for users not in the Google ecosystem, there's a lot to love about the beautifully designed, low data entry CRM.