In a Nutshell
CentrixOne is a marketing- and sales-focused CRM with excellent email automation tools, lead and contact management solutions, and reporting. The program is easy to set up and use but lacks features for customer service teams and does not have a mobile app. It offers one-click integration with Quickbooks and Acomba, as well as limited Office365 and G-suite integration.
pros
Excellent marketing and email-automation tools
Easy to set up and intuitive to use
Built-in one-click Quickbooks and Acomba integrations
cons
No mobile app
Few features for customer service teams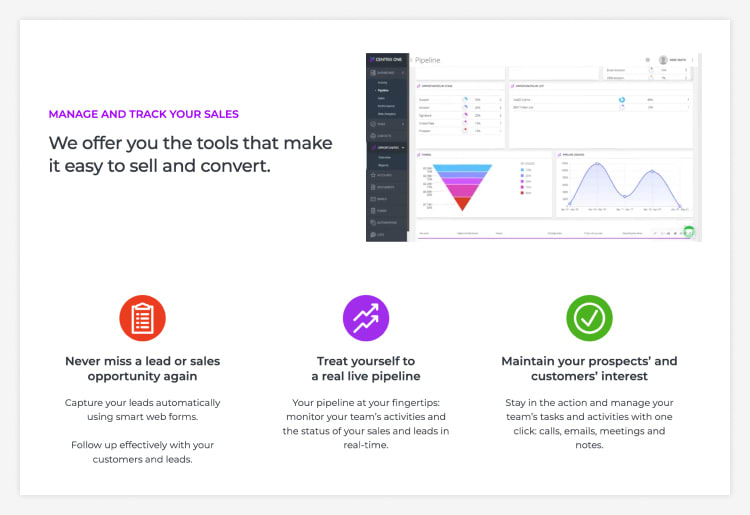 CentrixOne a Glance
Small to midsize businesses
Marketing automation, lead and contact management
$19.95-$99.95/user/month (CRM)
$0.00-$29.95/month (Email marketing only)
Overview
CentrixOne offers an excellent range of marketing and sales features, including email automation, lead and contact management, and sales and marketing reporting. However, it is somewhat lacking in dedicated features for customer service teams.
Tools for Sales Teams
CentrixOne is a full-featured sales CRM with lead and contact management tools and workflow automation. You can add, remove, or manage leads, contacts, and organizations straight from the CRM. You can also create and monitor tasks for your team members, which works well alongside sales reporting to track individual reps' progress towards their sales goals.
Tools for Customer Support Teams
CentrixOne does feature some automation and deal management, but it lacks VoIP and does not have a built-in ticketing system. Overall I found that CentrixOne is somewhat lacking in features for customer service teams.
You can use Centrix's sales tools as a stand-in for a dedicated customer service CRM by recording service interactions in the notes associated with clients. However, this solution may not be right for larger organizations with more data.
Tools for Marketing Teams
Automated email is one of Centrix's strong points, with mass emails, templates, and automated campaigns available. You can even buy Centrix's automated email tool as a standalone product if you just want to use this to augment your marketing capabilities.
Centrix's marketing automation tools give you a lot of flexibility. You can add automated emails based on certain conditions, such as follow-ups a certain number of days after contact or promotions when a new deal goes out. You can also automate handing off leads from marketing to sales. For example, once a customer has responded to a marketing email, you can instruct Centrix to automatically create a task for follow-up by a sales representative.
Customization and Integrations
CentrixOne has built-in integrations with Quickbooks and Acomba, so if your accounting team already uses either of these programs, you can connect them to Centrix with a single click. It also offers email integration with Microsoft Outlook and Gmail.
A beta version of Zapier integration is also available, though performance is not guaranteed. Zapier should enable you to connect CentrixOne with the hundreds of apps in the Zapier library, including commonly used business software like Office365, Jotform, and Calendly.
Reporting and Dashboards
Centrix has an impressive range of built-in reporting features available even from its first plan tier. These include sales pipelines subdivided by product, web analytics reports with data from Google analytics, and sales reports including sales by rep, sales by product, and revenue over time. These reports take the form of easy-to-read charts located on the Centrix dashboard.
Plans and Pricing
CentrixOne has two subscription options, one for its entire CRM product, including email marketing, and one for email marketing only. You can choose between monthly or annual payments, with a discount for some yearly plans. Here are the pricing options for the entire CRM suite.
User Hierarchy
&
API Access
*all prices are per user, per month.
**manual sends only, intermediate tier required to unlock email automation.
The Solo tier offers essential CRM functions and does not include email marketing. To unlock email marketing, purchase the Essential tier or above, while to unlock automated workflows, including automatic email, you must buy the Intermediate plan.
Professional tier users get access to the CentrixOne API, allowing for complete customization, and can limit other users' access levels to a need-to-know basis.
If you are only interested in the email marketing component of CentrixOne, you can purchase it separately as a standalone product. Pricing is as follows, billed monthly.
Ease of Implementation and Use
CentrixOne is intuitive to set up and use. I created an account in minutes with just my name, email, and phone number. Centrix started up with a series of handy tooltips explaining how to use the contact page.
One small criticism I have is that the tooltips linked to two help articles that were no longer there, instead leading to a French language error screen, even though my selected language was English.
What I did like about Centrix was the intuitive interface. A series of tabs on the left divide your database into contacts, opportunities (leads), and accounts (organizations). You can also view tasks, emails, forms, and documents from the same menu or check reports on the dashboard.
Despite the minor issue of broken links, Centrix's intuitive interface and excellent tooltips made it easy to get started. Plus, Centrix offers live chat support from within the app if you do require assistance.
Customer Service
I loved how cleanly Centrix integrates customer support into its app. The live chat icon in the bottom-right of your app opens a miniature version of the support site, automatically showing you helpful self-service articles. If the support site is insufficient, you can start a conversation with a live representative anytime. The rep's name and current average response time are always displayed in the chat window.
You can also use the web contact form on Centrix's website to make customer service inquiries or request a personalized training session from Centrix. (See the available professional training options on Centrix's website.) Pricing for training is available on request.
What Users Say About CentrixOne
"Because emails are tracked, I know if my clients have read them and if they visited our website. I can concentrate my time on potential customers with the most interest, which saves me a lot of time and increases my conversion rates and closing sales."
Telcodium, Gaétan Campeau, President
"We saw very early that CentrixOne is a solution designed by and for a sales team. CentrixOne allows you to become self-sufficient quickly. In less than a month, we were able to send a personalized email to our customers and generate sales."
Pal+, Danielle Godin, Sales Director
"Unlike traditional CRM tools, which require full planning and specialist support, we like that CentrixOne is a ready-to-use solution that delivers value quickly and lets you add functionality according to your needs. CentrixOne enables us to efficiently execute advanced marketing processes."
Bottom Line
CentrixOne is easy to use, with a clean and intuitive interface. Its diverse range of sales and marketing features and its flexible pricing make it suitable for small to midsize businesses. Solo users and SMBs can take advantage of affordable lower plan tiers with large caps on contacts and monthly email sends. Its lack of ticket management and other customer service features might make it less attractive for large enterprise users with significant customer service departments.
My biggest issue with Centrix is the lack of a mobile app. Since CentrixOne is primarily dedicated to sales and marketing, not having an app is particularly unfortunate, as salespeople and marketing reps are frequently on the go. However, if you are in the market for a simple, intuitive, and powerful desktop-only sales and marketing CRM, CentrixOne is an excellent option.