Axonaut Visit Site
Overview
Axonaut CRM is a CRM company that is designed to meet the needs and workflow requirements of small companies. Axonaut comes with advanced quote and invoicing functionalities, as well as CRM and account reconciliation tools. It is an incredibly versatile tool with features to support both sales and accounting activities.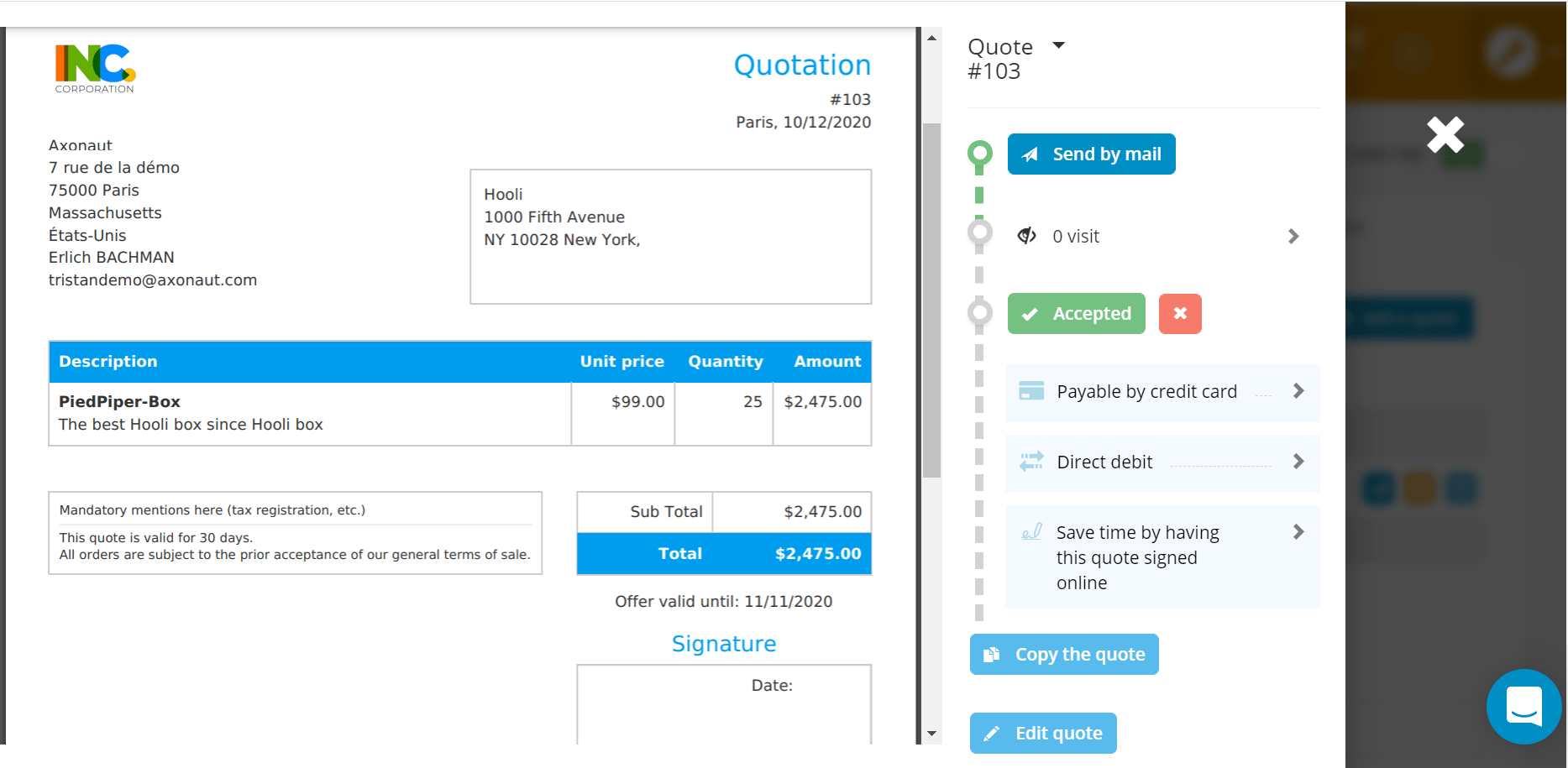 Axonaut CRM at a Glance
Best for: Small businesses that need a basic CRM solution
Key use: Opportunity tracking and deal management
Price:$90/month for the first user + $10/month for additional users
Free trial: 15-day free trial
How Axonaut Works
Quotes and Invoices
Using Axonaut, users can create quotes for clients based upon the projected cost of jobs undertaken. In order to use this functionality, clients navigate to the dedicated part of the user interface for quotes and purchase orders (POs).
Clients are able to:
Duplicate quotes
Mark the quote as payable by credit card
Email the quote to a client
See how many times the quote link has been visited by clients
Clients are able to access the online signature of quotes created through the system. Given that users can also integrate Axonaut with payment gateways such as Stripe, they can also send out invoices that can be paid online. This increases the speed of payments processing. The electronic signature is sent to clients along with the quote.
Likewise, users can use Axonaut to both create one-off invoices and to create recurring invoices. The latter is useful for clients that are on retainer. To do this, users start with a quote and then convert it to an invoice. After configuring the billing frequency and start and end dates, the recurring invoice will be set up in the system.
Accounting Portal
Axonaut also comes complete with an Accountant's Portal. This is designed so that users can send access credentials to their accountant who can log in and see key details about the business's finances. To add an accountant to the system, users simply need to enter their email address and send an email invitation.
Features available from the Accountant's Portal include:
Current outstanding invoices
Expenses
Bank lines
Wages
All information can be easily downloaded from the system.
Tools for Sales Teams
Axonaut features a visual pipeline tracker which allows sales team members to track deals as they progress throughout the business's pipeline. Using a simple drag-and-drop interface, users can move deals as they progress from the targeted lead stage through to deal closure and handover to account management.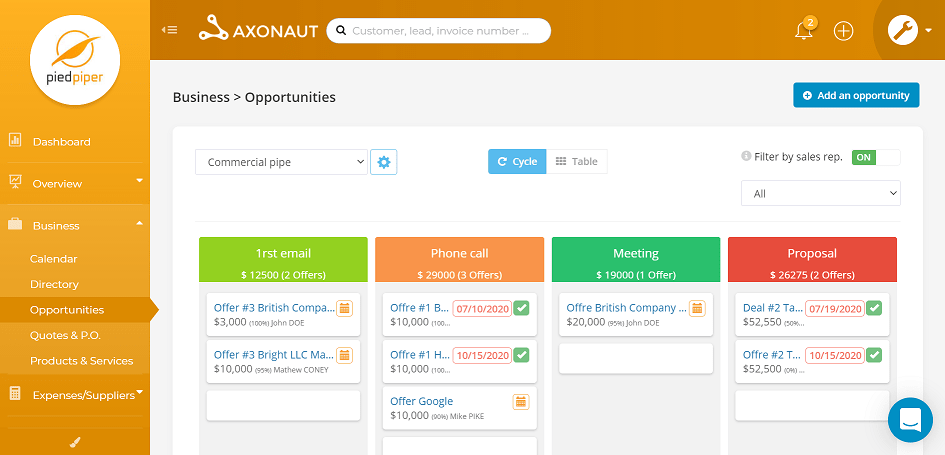 The sales/CRM module also features contact management. Here, users can enter full details about every lead that they wish to track through the CRM. They can also annotate the lead page with comments in order to keep other team members up to date with information about the account. Financial information such as the account's tax number and billing currency can also be entered on the account management screen.
Tools for Marketing Teams
Users are able to design marketing campaigns through the marketing campaign management component of the CRM. Users can create email, SMS, and direct mail campaigns. The CRM prompts users for GDPR compliance at every stage of the email marketing process including contact import.
Customization and Integrations
Axonaut is capable of integrating with the following projects:
G Suite
Office365
Mailchimp
Mailjet
Stripe
Gocardless
Zapier
API
Mailjet is an enterprise grade SMTP mail transfer agent and delivery service, giving Axonaut customers the option to scale up their email marketing efforts for large scale batch delivery. Axonaut offers 365 and G Suite integrations, making it interoperable with all major email marketing systems. Axonaut also includes plenty of useful automation tools such as Stripe, Gocardless, PrestaShop and WooCommerce. Last but not least, with the Axonaut/Zapier connection, you can connect with over 14,000 applications!
Reporting and Dashboards
Axonaut puts its dashboard front and center of its platform—literally! The dashboard is the first page that users access after logging into the tool. Here, users are presented with a KPI view listing all the key business metrics as computed in the system. The dashboard is 100% customizable and can show users the following:
Yearly turnover to date
Monthly turnover to date
Accounts receivable
Accounts payable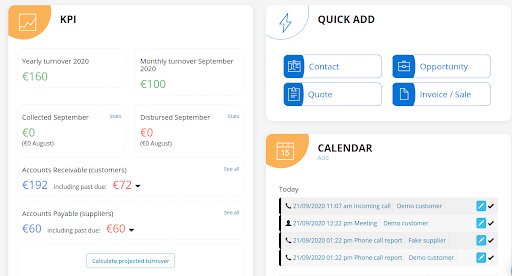 Ease of Implementation and Use
Axonaut ranks as a very easy CRM to use. The online interface is attractive and well designed. Users can customize key aspects of it such as their company logo. Administration work for system administrators is also relatively straightforward.
Axonaut App
Axonaut has released a fully functional version of its CRM for iOS and Android. At the time of writing, the app enjoys a 4.5 star average rating from 12 customer reviews so far.
The Android version mirrors the functionality of the online version as best as possible and includes functionalities for:
CRM and contact management
Account reconciliation and bookkeeping
Quoting and invoice management
Axonaut Customer Support
Need help using the CRM? Fortunately Axonaut has put together some very helpful online knowledge base documentation to help users to help themselves. If users need to receive personalized support, then they can click on the Intercom widget in the sidebar of the website. The team is very responsive to outreach over this medium.
How Much Does Axonaut Cost?
Axonaut costs the following for one user:

Axonaut Visit Site
Pricing isn't pro-rated on a per-user basis, however. For instance adding a second user only raises the monthly subscription cost to $100 per month. In light of the above, this product represents better value for money for teams rather than individual users. It is targeted specifically at the needs of small and growing businesses.
Bottom Line
For small businesses, this tool is a diverse platform that includes elements of CRM, inventory management, marketing software, and accounting platform. It integrates with both Mailchimp and Mailjet—which means that it can scale to help teams roll out large scale email marketing campaigns.