In a Nutshell
Jira is a name given to a number of products from Atlassian and includes Jira Service Management and Jira Work Management. Atlassian also provides other products, including its Confluence collaborating tool and Trello list-making. Although Atlassian does not produce an off-the-shelf CRM product, there are CRM features available in many of its existing products, which we look at here.
pros
Fully customizable
Branded portals enable customers to self-serve
Comprehensive suite of reports and metrics
cons
No off-the-shelf CRM solution
Can be expensive to purchase multiple products plus apps
Atlassian Jira Visit Site
Jira at a Glance
Best for: Existing Atlassian Jira users
Key use: Project management and IT service management
Price: From $0 to $2,000,000 per year, depending on product and number of users
Free trial: Free versions are always available for limited numbers of users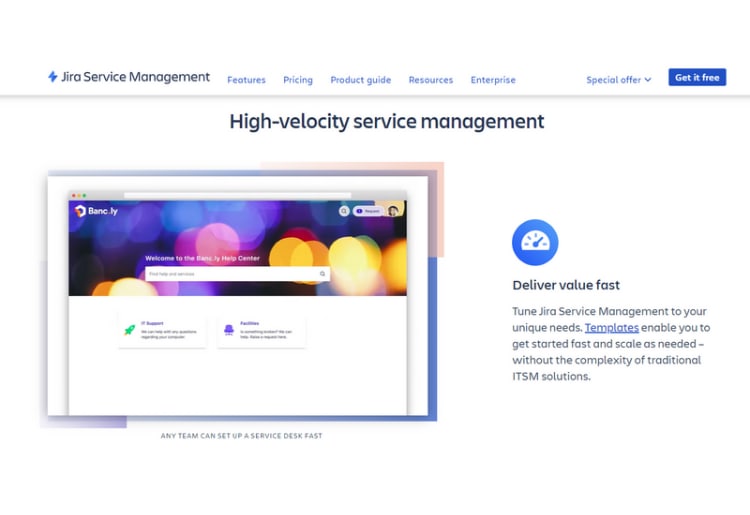 Overview
As no one Jira product performs all the functions of a CRM tool, this review will focus on the CRM features available in several Atlassian products. These are as follows:
● Jira Work Management: Project management tool
● Jira Service Management: IT service management tool
● Confluence: Collaboration tool
● Trello: List-making application
There are also third-party add-ons available from the Atlassian Marketplace, including several for customer relationship management.
By combining these products, you can accomplish most of the tasks you would expect to find in a CRM product. This includes customer records, portals, support desk, and sales and marketing tools.
Tools for Sales Teams
While Atlassian Jira isn't primarily designed for sales teams, there are ready-made templates available in Jira Work Management that make managing sales easier. These are as follows:
Lead tracking
This enables teams to track sales leads and includes centralized information, customized sales workflow, and progress tracking.
Sales pipeline
For tracking potential customers from new leads to closed deals with customized pipeline management.
Campaign management
To facilitate running a marketing campaign from idea to execution using customized workflow, collaborative tools, and deadline tracking.
Confluence also offers sales templates such as a sales portal and sales account planning. If you are using Trello as well, you will have access to an email drip campaign template.
If you purchase third-party add-ons like Atlas CRM or CRM for Jira, this will increase the number of sales tools available to you.
Tools for Customer Support Teams
Jira Service Management
Jira Service Management is designed for issue tracking and has many valuable tools for customer support teams. This includes self-service branded portals which customers can use to raise and contact support. Other features include the following:
● Machine learning: Jira Service Management's customer portals use machine learning to ensure that it is quicker for customers to find the options they are likely to use.
● In-context support: A widget can be embedded in any web page or in your product and enables customers to raise support requests.
● Multiple language options: Jira Service Management has eight supported languages to facilitate customer support with international customers.
Confluence
Confluence is designed to manage knowledge bases both for internal and external use. You can create a customer-focused Knowledge Base in Confluence and then link it to your Jira Service Management interface so that clients can access it directly from their Client Portal. This could save the customer service team time as customers can resolve issues themselves.
Third-party apps
To create a database of customer details, you will need to install one of the third-party add-ons available on Atlassian Marketplace, such as Atlas CRM or CRM for Jira.
Tools for Marketing Teams
Jira simplifies the marketing journey and enables you to launch campaigns, write new copy, and improve performance with customizable workflows.
Confluence can be used for persona mapping to define and share your target audience's demographics. You can also use it to determine the goals and strategies of your marketing campaigns and create a marketing plan.
You can use Trello for brainstorming and to map an editorial calendar so that all campaigns are detailed. The collaborative nature of Trello means that all team members will be on the same page.
Jira Work Management's marketing templates mean you can track marketing tasks from idea to execution, create assets, and manage email campaigns.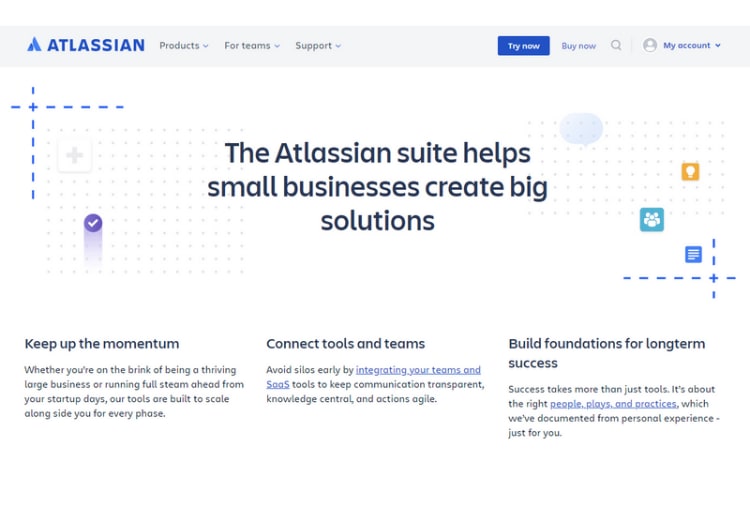 Customization and Integrations
Atlassian software is able to be fully integrated and customized. As well as the various Atlassian products integrating seamlessly with one another, they can also be integrated with third-party software such as GitHub, Power BI, Slack, and Salesforce. However, you will need to purchase third-party apps from Atlassian Marketplace.
Following the acquisition of companies like Trello, the catalog of Atlassian products is now comprehensive, and you may find all your business software needs available there.
The look and feel of Jira Work Management and Jira Service Management can be fully customized. There is a low-code feature, meaning branding and form-creation, previously done by a developer, can now be undertaken by any team member.
Products can be further customized by purchasing add-ons from Atlassian Marketplace. There are two main CRM add-ons—Atlas CRM and CRM for Jira. Other add-ons include translation functionality, timesheets, and extra security features.
Reporting and Dashboards
There are multiple reporting and dashboard tools across many Atlassian products, with many more options available in Atlassian Marketplace. Dashboards are customizable, and reports can be tailored to fit your needs.
Jira Service Management, for example, provides comprehensive reporting and dashboard tools to help teams visualize their customer relationships. These include tools for creating customized reports on customer data, such as segmenting customers by demographics, interests, or usage history, and tools for generating graphical representations of customer data.
The dashboard is designed to give teams a clear overview of their customer relationships and helps them identify opportunities for improvement.
Mobile Options
The Jira app is available on Android and iOS and can be used by users of Jira Service Management and Jira Work Management. The app does not provide all functions, but it does provide many useful features, such as:
● Viewing notifications
● Managing boards and backlogs
● Creating and editing issues
Plans and Pricing
Not all of the products mentioned in this review will be necessary for your CRM requirements, and costs will soon mount up if you purchase multiple products. Consider which ones best match your needs before making any decisions. Prices vary depending on the product, number of users, and selected tier.
Jira Service Management
There are four price tiers: Free, Standard, Premium, and Enterprise.
The Free plan is available for up to three users. It is a basic version of the software with limited storage capacity and no customer support. However, as a free service, it is excellent and enables you to test-drive the system while giving you the option of upgrading later.
All the other price tiers allow up to 5,000 users. You can get 12 months free of Standard coverage for up to 10 users. After the end of the year, you will be charged at the normal rate. The Standard plan costs between $5.63 and $21 per user per month, depending on the number of users.
Similarly, the Premium plan costs between $11.90 and $47 per user per month. There are further deductions available if you pay annually instead of monthly.
Enterprise is only available as an annual payment, and there must be at least 201 users. The total yearly cost ranges from $134,500 to $894,000, depending on the number of users.
Jira Work Management
There are two pricing tiers for Jira Work Management—Free and Standard. The system is free for up to 10 users permanently. If you have more than 10 users and opt for the Standard plan, the cost will be between $3.04 and $5 per user per month, depending on the number of users.
Confluence
As with Jira Service Management, Confluence has four tiers: Free, Standard, Premium, and Enterprise. The Free plan is available for up to 10 users. The Standard and Premium plans are based on the number of users. The Standard plan costs between $2.15 and $5.75 per user per month, and the Premium plan costs between $3.90 and $11 per user per month.
Other Atlassian Products and Add-ons
You must factor in additional costs if you want to include other products or add-ons.
Ease of Implementation and Use
The ease of setup varies between different Atlassian products and systems but is usually straightforward. For example, installing Jira Service Management on Windows takes about 10 minutes. You'll need some training to use the products to their best advantage, and Atlassian provides free and paid training online at its university.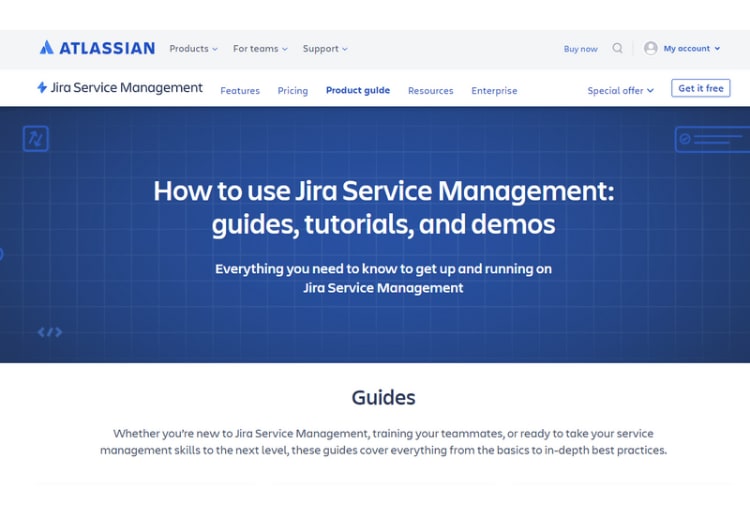 Atlassian Jira Visit Site
Customer Service
Customer service varies depending on the product and the price tier. Free versions do not include customer support, but you can access help online as well as from the Atlassian community forums. Standard price tiers come with support during business hours, and Premium and Enterprise tiers provide 24/7 support.
Bottom Line
While Atlassian may not provide an off-the-peg CRM product just yet, many powerful and time-saving CRM solutions are available in its existing products. With mobile app options, collaboration options, customer portals, ease of implementation and use, and excellent customer service support for the higher-tier packages, Atlassian products provide many of the features you'd expect to find in a CRM package.
However, the users who would most benefit from the CRM features are those who are already using Jira Service Management and Jira Work Management for ITSM and project planning. With a few adjustments, you can include CRM tools in your existing package.