In a Nutshell
SnapCorrect is an online orthodontic service that sells clear braces that can be used to align your teeth, closing gaps or reducing crowding for a perfect smile. As you'll find out during this SnapCorrect review, this company attracts attention for its incredibly transparent clear aligners which, it claims, are the most invisible on the market.
pros
Aligners are almost invisible, even close-up
No need to visit a dentist's office
More affordable than other clear brace services
cons
Lacks professional treatment oversight
Some users report customer service let-downs

SnapCorrect Visit Site
SnapCorrect at a Glance
Only for the cost of impression kit
Best For
Like other clear brace companies, SnapCorrect's clear braces can be used to treat almost any kind of tooth alignment issues that are mild or medium in severity. Essentially, SnapCorrect can be used to straighten teeth or reduce gaps and crowding but isn't suitable for patients with major structural issues or some dental diseases. However, SnapCorrect is a great option to address all the following issues:
Overcrowding

Tooth gaps

Overbite

Crooked teeth

Underbite

Crossbite

Upper or lower teeth alignment issues only
How Does it Work?
Like competitor online clear brace providers, such as Invisalign and Smile Direct Club, SnapCorrect treatments can be carried out entirely from the comfort of your home. It's pleasingly simple to order a set of clear braces thanks to SnapCorrect's clear and informative instructions.
To get started with your SnapCorrect treatment, the first thing you have to do is to answer a quick assessment regarding your current dental history and the position of your teeth. Remember, certain dental diseases will disqualify you from clear brace treatment, so make sure you are detailed when describing your dental history.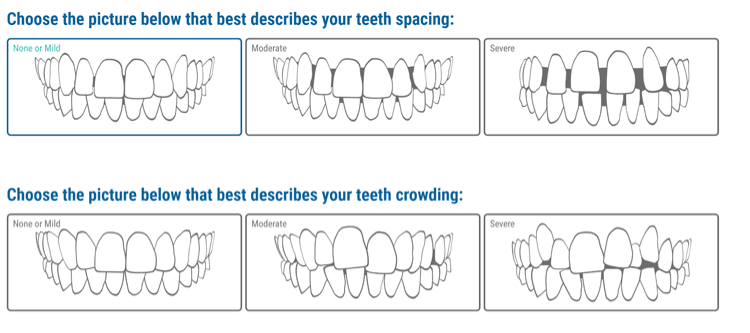 After that, you'll be able to order your at-home impression kit. This is basically just a mold that you bite into to leave a 3D imprint of your current teeth positions. Everything you need to do that is included in the impression kit box, along with a helpful Impression Guide. You'll also need to snap a couple of pictures of your pre-treatment teeth at this stage and upload them to the SnapCorrect website.
Once you've returned your impression kit using the included prepaid shipping label, it'll take 2 to 3 weeks for SnapCorrect's team of orthodontists to design a treatment plan for you. Depending on the severity of your alignment issues, the plan could vary in length from 3 to 18 months, and you'll receive 3D models of your teeth before and after treatment to show you what improvements to expect.
The actual treatment process is broken into consecutive steps, each one with a matching aligner to ensure your teeth positions keep progressing. The number of steps varies from patient to patient according to treatment plan length, but all customers will need to wear their clear braces for 20 to 22 hours a day, only taking them out to eat or brush teeth.
After the treatment plan is over, you'll be left with a fantastic new smile. To maintain it, you'll need to wear a retainer overnight that will anchor your teeth in place and stop them from returning to their pre-treatment positions.
Pricing
$1,749 plus $99 impression kit
Smile Now, Pay Later payment plan
$80.84 per month for 24 months
The cheapest way to pay for a SnapCorrect clear brace treatment package is to make a single $1,749 payment. This includes the cost of your retainer and a free whitening kit. However, if you prefer, you can pay in monthly installments through a payment system managed by Affirm. In total, you'll pay around $191 extra if you do go down this route.
Before starting treatment, you'll also need to purchase SnapCorrect's separate impressions kit for $95, although this is regularly discounted to $49.
What You Get
In your SnapCorrect treatment package, you'll find a clear brace for each step of your treatment package. There are 2 major differences between SnapCorrect's aligners and those of other clear brace companies. The first is that SnapCorrect aligners are significantly more transparent, meaning that even people right next to you will struggle to see them.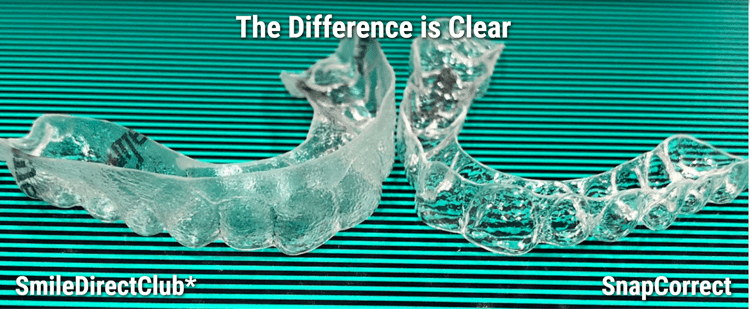 Secondly, SnapCorrect braces aren't manufactured using a 3D printer. This has allowed the company to contour them so that your gums aren't covered up while you're wearing them, reducing irritation significantly.
Also in the box, you'll find a free tooth whitening pen along with a bottle of Daily White Fusion whitening foam, and a SnapWhite whitening kit. It's actually recommended that you finish SnapCorrect's alignment treatment before whitening as this will allow you to mold your whitening trays to your new smile instead of your pre-treatment teeth position.
SnapCorrect has a team of qualified orthodontists and dentists on staff but interaction with them is essentially limited to pre-treatment approval. Unfortunately, SnapCorrect doesn't offer remote treatment monitoring or work with affiliated clinics to provide in-person checkups. Instead, it's recommended that you discuss your alignment plans with your dentist and get all necessary dental work completed prior to your taking your impressions and starting treatment.
Guarantee
Some clear aligner services offer comprehensive treatment guarantees such as free lifetime treatment if your teeth ever return to their original positions. Sadly, SnapCorrect does not although it does have a no-risk impression kit guarantee. Essentially, if SnapCorrect's team of dental specialists don't think you are a good candidate for treatment after evaluating your impressions, you'll get your $95 fee back.
Insurance
You can't pay for SnapCorrect treatment directly through your insurance company but if you have dental health insurance, there's a good chance you'll be reimbursed for a significant portion of your treatment cost. Obviously, it's a good idea to check your level of coverage with your dental insurance provider before purchasing a treatment package.
Customer Service
If you have any questions about the SnapCorrect treatment system, there's a good chance they will be answered by its comprehensive support hub. Here, you'll find dozens of articles and forum threads answering common clear aligner queries. If you can't see what you're looking for in one of these pages, you can open a support ticket or get in touch with SnapCorrect over the phone during standard Pacific Time working hours.
Testimonials
"I didn't realize how little I used to smile until a co-worker noticed and pointed out that I seemed much happier lately."
"I am so surprised by the results I got from these aligners. I thought I'd just have to deal with a bad smile my whole life because paying for braces is out of the question. So glad I found SnapCorrect."
"Finally not embarrassed to have my picture taken! Now I get compliments all the time on my beautiful smile."

Bottom Line
If you're interested in tooth alignment treatment but don't want to put up with ugly braces or aligner systems for months on end, SnapCorrect is definitely worth considering. This service offers some of the most transparent, comfortable, and cheapest clear aligners on the market.

SnapCorrect Visit Site