In a Nutshell
2Usmiles offers some of the most affordable prices in the at-home aligner industry—without compromising quality. Its clear aligners are made from specially engineered plastic that— according to 2Usmiles—provides a smoother, more transparent surface and ultimately a more comfortable clear aligner experience. Treatment is planned by an orthodontic specialist and monitored remotely for convenience and peace of mind.
pros
Lifetime warranty with free aligners if teeth move post-treatment
Free teeth whitening kit in aligner bundle
Generous discounts often featured on their website
cons
As a new brand, 2Usmiles has not had much time to prove itself
Limited customer reviews to gauge true customer experience

2Usmiles Visit Site
2Usmiles at a Glance
$1495 All Day Quick Effective
Best For
2Usmiles clear aligners are made from BPA-free plastic and thin latex. They are intended for adults wishing to correct minor to moderate dental issues including
Crowded teeth
Gapped teeth
Openbites
Crossbites
Overbites
Underbites
General crookedness
How Does it Work?
2Usmiles provides at-home aligners, which are delivered directly to its customers' doors. Unlike brands such as Invisalign, which involve numerous dental visits during treatment, everything is carried out remotely—including ordering an impression kit, purchasing aligners, and monitoring your treatment. Here's a breakdown of how the process works.
Order an impression kit
The process starts with ordering an impression kit from the 2Usmiles website to create dental molds that replicate the size, shape, and positioning of your teeth. The kit contains easy-to-follow instructions as well as 4 sets of putty—2 for each jaw—in case you mess up the first impressions. There's also a video on the website showing how to take your impressions.
Using the enclosed prepaid label, the dental molds are sent back to 2Usmiles for review. An orthodontist carefully assesses your case to determine if you're a suitable candidate for the invisible aligner treatment.
According to the website, evaluation takes no longer than five days. If the orthodontics team decides that 2Usmiles is not a good fit for you, the cost of the kit—$9.95—will be refunded in full.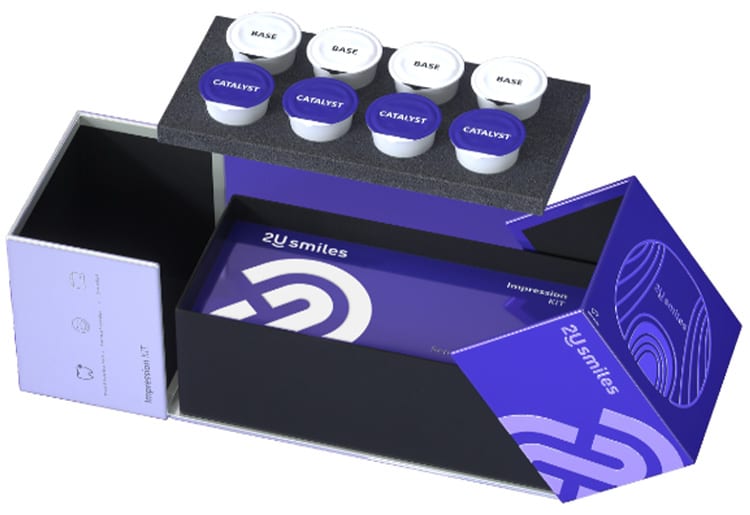 Preview your new smile
Assuming you're approved for treatment, 2Usmiles will send a 3D digital preview of how your smile will look post-treatment, together with a customized treatment plan. You will also be able to preview every step of the treatment plan and how long each step should take.
There is no obligation to take things any further, but if you like what you see you can approve the plan and 2Usmiles will manufacture your aligners. Following the approval of a treatment plan, 2Usmiles creates a virtual model that captures the exact form and shape of the teeth, which assists with the design of your custom aligners.
Choose your package
Patients can choose from 2 aligner packages. All Day Quick Effective requires aligners to be worn for at least 22 hours a day with results taking between 4-8 months. Alternatively, Night Comfort allows patients to straighten their teeth overnight. The aligners must be worn for 10 hours a day—ideally when you're sleeping—with results taking 10-14 months. Determine the package for you, order online, and pay in full or monthly installments.
Receive your aligners
The aligners are delivered straight to your door with full instructions on how to wear them so you can commence treatment. The aligners apply pressure to the teeth, gradually moving them to their projected position.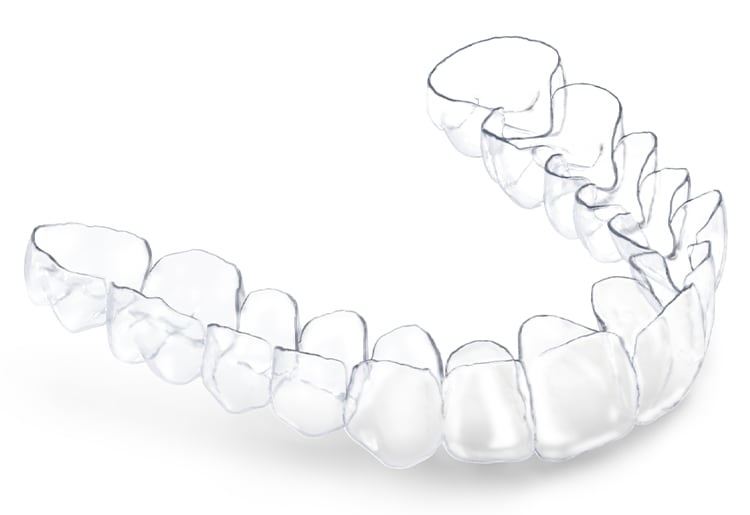 Remote monitoring
Every four weeks, you will be required to upload photo scans of your teeth to the online portal, using your phone. Doing so enables the orthodontist to monitor progress and ensure everything is on track.
Pricing
$1295* All Day Quick Effective (summer sale price)

$1445* Night Comfort (summer sale price)

$399 down $104/mo for 11 months

$399 down $118/mo for 11 months
The cheapest way to get U2smiles treatment is to pay for it upfront with one single payment. Having said that, a 2Usmiles payment plan is also available with no credit checks necessary and no forms to fill out. The latter is a good option if you don't have the funds to pay in full upfront. However, the overall cost of treatment will be around $250 more.
When you purchase an aligner package, you'll also get 3 free whitening pens thrown in, which you can use with your aligners—instructions are provided. You also get a complimentary retainer once you've completed your treatment.
What You Get
According to 2Usmile's website, its patented material is said to produce clearer aligners and a smoother finish to ensure a more comfortable and hygienic customer experience. The company says it has adopted new technology, giving its clear aligners excellent stress retention and more resistance to cracks. Extra tension provides faster results which— according to 2Usmiles—enables it to shorten patient treatment time by 20%-30%.
Throughout treatment, your designated orthodontist will track and monitor progress remotely and answer any questions or concerns you have. If you need modifications during your treatment, consult with your dentist, and 2Usmiles will provide additional aligners free of charge if they consider them necessary.
If you're not satisfied with the results—provided you have followed your treatment plan and wear guidelines—2Usmiles will supply additional aligners to put the finishing touch to your smile at no extra cost, but you must claim within 30 days of treatment completion.
Guarantee
2Usmiles assures customers will receive the results they want by providing guarantees at every stage of the treatment. Your smile is also guaranteed with a lifetime warranty, potentially saving you thousands of dollars. If your teeth start to move back in months or years post-treatment, 2Usmiles will send you new aligners—provided you have purchased new retainers at six monthly intervals and worn them according to instructions.
Insurance
2Usmiles clear aligners may be covered by your insurance provider. To learn if that is the case, send 2Usmiles a photo or scan of the front and back of your insurance card together with the policyholder's name and date of birth, and they'll figure out if you are covered for treatment and how much coverage you're likely to receive.
In addition, HSA/FSA can cover the cost of the impression kit, clear aligner treatment, and retainers.
Customer Service
Customers can contact 2Usmiles at 714.760.4227 between the hours of 9am and 5pm, Monday to Friday, or via email at support@2usmiles.com.

2Usmiles Visit Site
Testimonials
2Usmiles is fairly new to the market, and consequently, customer feedback is limited. However, here are three customer reviews taken directly from their website.
"I was nervous about the quality of the product since I never tried to order a braces online. Decide to give it a try, and it woks pretty well, saves my money and time."
"Just took it for my kid on Christmas, pricing were $200 off, way cheaper than braces, hopefully can fix the gap."
"My friend recommended this place to me and I'm glad she did. The process was smooth and easy. The aligners are very nice quality and comfortable. The people I spoke with were friendly and informative. Will continue to use their products in the future."
Bottom Line
When considering invisible braces, 2Usmiles provides an affordable option. The company delivers an impression kit to your home to evaluate the current position of your teeth and from this, they will create a proposed treatment plan.
Customers are under no obligation to take matters any further if they are approved for treatment. Moreover, the cost of the kit will be refunded if they are not approved.
There is also a choice of aligner packages, depending on your budget and how long you want to wear your aligners daily.
Potential customers should bear in mind that 2Usmiles is relatively new to the at-home aligners market and has had little time to prove itself. Furthermore, there are very few customer reviews on their website at present. However, they provide numerous guarantees and a lifetime warranty, so that may give you the added peace of mind needed.