In a Nutshell
Aligner32's clear aligners provide an affordable, effective, and convenient way to straighten teeth at home without the need to visit a dentist. Customers are provided with aligners delivered directly to their door and a treatment plan reviewed and approved by an orthodontist. Not only are aligners more comfortable and discreet than traditional metal braces, but treatment is completed within 4-8 months depending upon the choice of package.
pros
Orthodontist-managed treatment
Free whitening gel included for a brighter smile
Online chat for immediate answers to queries
cons
Will need to purchase new retainers every six months
Not suitable for severe orthodontic issues
Aligner32 does not accept insurance

Aligner32 Visit Site
Aligner32 at a Glance
All-Day Plan $1299 or $65/month
Night Wear Plan $1399 or $70/month
4-6 months All-Day Plan
6-8 months Night Wear Plan
Only covers initial $69.99 impression kit
Best For
Aligner32's clear aligners provide an effective alternative to traditional metal braces. Its affordable and convenient service is ideal for anyone wishing to straighten their teeth without the hassle of frequent orthodontic appointments and dental visits.
Like most other aligners on the market, Aligner32's braces are made from clear, soft BPA-free plastic which is comfortable to wear and virtually invisible. You can choose to wear aligners all day or opt for nighttime aligners that straighten teeth while you sleep. The nighttime option is perfect for those who don't have the time to pop aligners in and out of their mouth during the day.
Although not suitable for complex cases, Aligner32 treatment can correct a range of dental problems.
Diastema: A noticeable gap between two teeth or uneven spacing between other teeth.

Crowding: Where there is insufficient space for the teeth to come through properly aligned.

Underbite: When the lower teeth extend outward farther than the upper teeth

Crossbite: Where the upper teeth fit inside the lower teeth

Overbite: When top front teeth extend below the bottom front teeth
How Does it Work?
Aligner32 enables you to straighten your teeth at home and provides remote monitoring from a licensed dentist. 24/7 customer support is available should you run into any problems.
Ordering
The first step of the process is to learn if you're a suitable candidate. Simply navigate to the Smile Assessment tab in the website's top menu, state your age, and answer a few simple questions. The information you'll have to provide includes whether you have any crowns, implants, or a dental bridge. You'll also be asked about the current condition of your teeth and oral health. Once you're finished, Aligner32 will contact you by email or phone to let you know if you're eligible for treatment.
Impression kit
Assuming you're eligible, the next step is ordering an impression kit. This costs $69.99 and is delivered straight to your door. The impression kit contains materials and instructions enabling you to create your own dental impressions. These are then sent back to the company for free using the pre-paid postage label.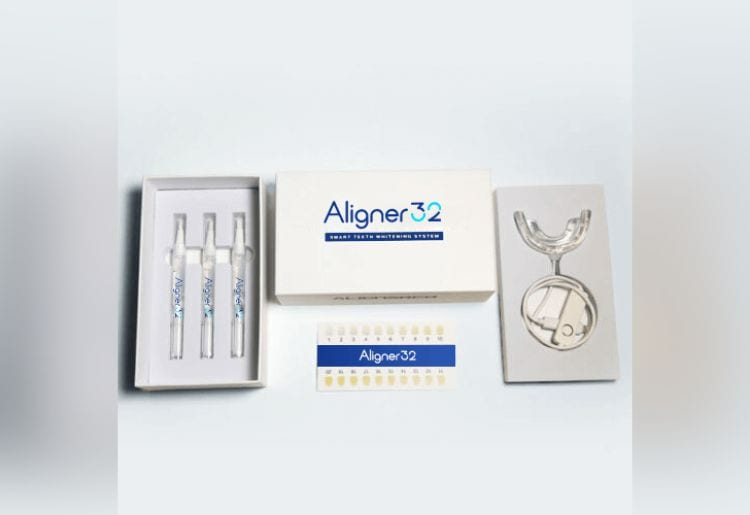 Customized treatment plan
Based on your dental impressions, a customized 3D treatment plan is then designed and approved by a licensed dentist/orthodontist. When you're happy with the projected smile results, you'll need to approve the treatment plan. Once this is done, you're ready to choose your preferred package—either the All-Day or Night Wear kits.
Wearing
After payment is made, the aligners are sent to your home address, enabling you to start straightening your teeth right away. All-Day aligners must be worn for a minimum of 22 hours a day. The only time you should remove them is to eat, drink anything that isn't water, and clean your teeth. Conversely, Night Wear aligners are worn for 8-10 hours while you sleep. The aligners must be changed every 10 days for the next in the series, or as instructed in your treatment plan.
Additional accessories
You can purchase additional items to assist your treatment—such as Chewies and a Pull Tool.
Chewies help with the seating of clear aligners and are easy to clean and convenient to store. Pull tools make simple work of removing clear aligners and are small enough to carry around with you.
Treatment duration
Treatment typically lasts 4-6 months for All-Day aligners and 6-8 months for Night Wear aligners—although individual results may vary. Throughout the treatment, you'll be requested to upload photos of your teeth with and without the aligners, enabling Aligner 32's doctors to track progress.
Teeth whitening
When treatment is complete, you can brighten your newly straightened teeth with the included whitening kit. The kit contains 3 syringes of whitening gel, a 6-bulb LED light, a thermoform mouth tray, and a user manual.
Post-treatment wear
Once your teeth have reached their desired position, you'll need to wear a clear retainer for 20-22 hours a day for the following six months. This is to prevent teeth from shifting back to their original position. Thereafter, the retainer can be worn solely through the night. The first retainer is included in the treatment package and consecutive retainers can be purchased through the Aligner32 website. It's recommended to swap to a new retainer every six months.
Pricing
All-Day Plan Single payment
$1299 + $69.99 impression kit fee
Night Wear Plan Single Payment
$1399 + $69.99 impression kit fee
You can pay for Aligner32 in one simple payment or choose to spread the cost with monthly installments. Alternatively, you can use any debit card linked to your HSA/FSA account. You're able to pay off an installment plan early, even if you've opted for monthly payments.
Aligner32 also offers a $50 discount on top of its affordable aligners for anyone serving in the military. Should you choose to start straightening your teeth right away, the company is currently offering a $50 New Year discount on both aligner packages.
What You Get
Each Aligner32 package includes a 3D Smile Preview, all Invisible aligners—top and bottom, a free teeth-whitening kit, free shipping within the USA, a set of post-treatment retainers, and free refinement if eligible.
All clear aligners are customized to fit your teeth according to the impressions you sent to Aligner32 before commencing treatment. The company says that it uses the latest thin, BPA-free plastic for extra comfort.
Clear Aligner technology works by applying gentle pressure on the teeth and gradually moving them into the correct dental alignment. That pressure is transferred through the roots to the jaws, moving the sockets and helping the teeth shift to their correct positions. All this is achieved without the use of unsightly brackets or wires. Each aligner is worn for 10 days and swapped out for the next in the series. By the time the last aligner has been worn and discarded, your teeth should be perfectly aligned.
Your entire treatment is managed by a licensed dentist/orthodontist. Your progress is tracked through careful examination of the regularly uploaded photos of your teeth—with and without the aligners.
Guarantee
Aligner32 offers two guarantees for its invisible aligners service. The first applies to the impression kit. It guarantees that if Aligner32's doctor determines you are not a good candidate for treatment, you will be refunded in full.
The second guarantee is that if you aren't happy with the results once your treatment has ended—and on the proviso that you have followed all the stipulated guidelines—Aligner32 will re-evaluate your results. If approved, you will be offered a free refinement, which includes new impressions, a new smile projection preview, new aligners, and new retainers.
Insurance
Unfortunately, Aligner32 does not accept insurance or healthcare credit. This is because, according to an agent on their chat line, the company offers the most affordable pricing—60% lower than their competitors—with top-notch-quality aligners. It was stated, however, that they can provide an itemized receipt which may help you in reimbursement—depending on your insurance provider.
Customer Service
Reaching out to Aligner32 couldn't be easier. The company offers four ways for customers to contact it. We tried the live-chat line to ask about insurance coverage and were impressed with the immediate response and helpful advice. Customers can also speak to an agent via a toll-free phone call, Facebook messenger, or email. Customer support is provided 24/7 for any queries or concerns.
Testimonials
Because Aligner32 has only recently been formed, there aren't any customer testimonials available.

Aligner32 Visit Site
Bottom Line
At the time of writing, Aligner32 is a relatively new company that has tapped into the hugely popular direct-to-consumer clear braces sector. Like many of its competitors, Aligner32 provides dentist/orthodontist-led treatment for mild to moderate cases, without the need for regular check-up visits.
In addition to offering affordable and flexible payment plans, Aligner32 also provides a whitening kit and your first set of retainers for free. This makes for an attractive proposition. Customers can also choose from All-Day or Night Wear Only packages so treatment doesn't have to impinge on lifestyle.