In a Nutshell
SmileDirectClub is probably the most well-known at home clear aligner service out there. With coverage available in Europe, the UK, the US, Canada, Australia, New Zealand, Singapore and Hong Kong, SmileDirectClub has made a name for itself as a great braces alternative. Compared to other options, SmileDirectClub stands out because you work with an actual orthodontist and it offers a nighttime-only aligner option.
pros
Very affordable
Lifetime Smile Guarantee™
International coverage
cons
Slow customer service response
Treatment might not be as perfect as with standard braces

SmileDirectClub Visit Site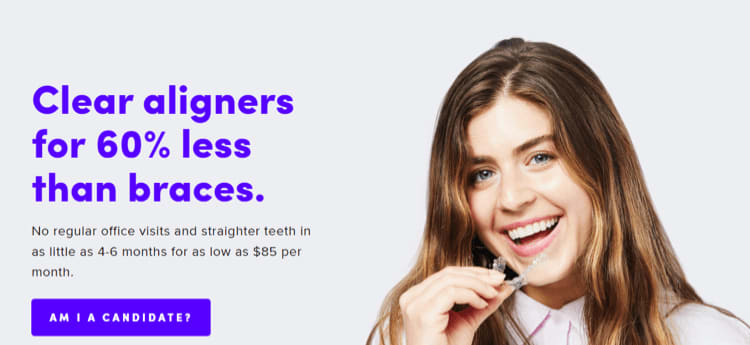 SmileDirectClub at a Glance
Starting price: $2050
Treatment duration: Average of 6 months
At-home fitting: Yes
Accepts insurance: Yes, and offers reimbursement forms
Money back guarantee: Yes
Best For
Like other clear aligner services, SmileDirectClub is best for individuals who want whiter teeth and to correct mild to moderate overlaps, crowding, or bite problems. If you have any serious dental issues, make sure you get these dealt with before beginning a SmileDirectClub treatment plan or visit a dentist to find out whether orthodontic work is a safe option for you. It's also recommended that you don't have any cavities or significant tooth decay getting started. SmileDirectClub accepts clients with:
Crowded teeth
Gapped teeth
Protruding teeth
Most overbites
Most underbites
Discolored teeth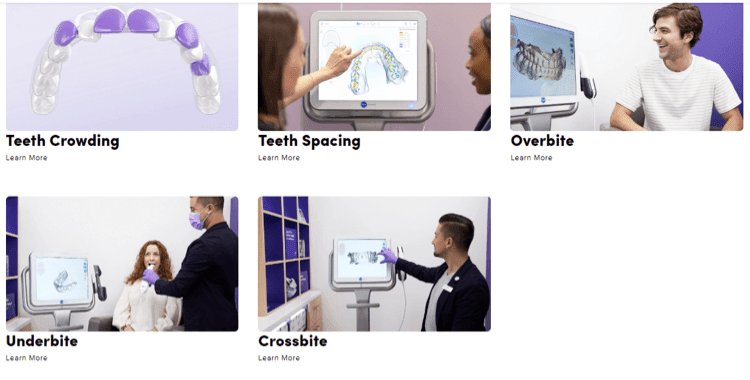 How Does it Work?
SmileDirectClub is one of the largest clear brace providers on the market today, and is available in various countries in Europe, the US, Australia and Asia. It managed to grow to that size thanks to an easy-to-follow brace treatment system. There's no required doctor's office visit at any point in the SmileDirectClub treatment plan, so you can easily arrange treatment even if you have a busy schedule to work around.
To get started on the SmileDirectClub treatment plan, simply go to the SmileDirectClub site and hit the "Am I a Candidate?" link. During the quick assessment quiz that follows, you'll be asked about the current status of your teeth, why you are looking for treatment, and your dental history. You will also need to put in your email and zip code to get your results and make sure you're in a place SmileDirectClub has coverage.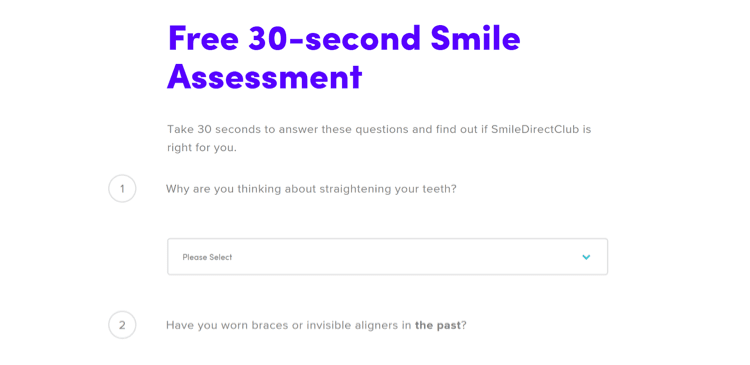 After the initial screening stage, SmileDirectClub offers you 1 of 2 options. You can either go into a SmileShop to get 3D scans of your teeth or order an at-home kit to take impressions yourself. The SmileDirectHome at-home kit is normally priced at $59.
After SmileDirectClub receives your scans or impressions, a dentist will make sure the treatment is a good fit for you and you will receive a digital rendering of your future smile. Then, you'll be shipped your aligners.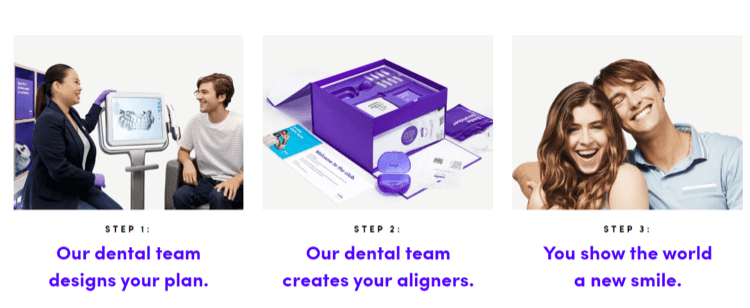 Once you get your first set of aligners you can start wearing them immediately. Like braces, they will be a bit uncomfortable at first. This is totally normal, and the discomfort will vanish within a couple of days. SmileDirectClub treatment plans are designed according to your unique needs and consequently change in length depending on the severity of your teeth alignment issues, though most take around 4-6 months to complete. You may start to see results in as little as 60 days.
During treatment, if you find your aligners aren't fitting tight enough, use one of the chewies that SmileDirectClub includes in the treatment package. These are like chewable pieces of gum that better anchor your aligners to your teeth.
Every couple of weeks, you'll need to swap out your aligners for new ones according to the instructions included in your initial package. For most patients, SmileDirectClub aligners will need to be worn around the clock, only being taken to eat and brush your teeth. However, you can also opt for a unique nighttime only treatment approach. If you opt for this, you'll require a longer overall treatment window but will only need to wear aligners for 10 consecutive hours per day.
Pricing
$250 down, $89/mo. for 26 months
The cheapest way to get treatment from SmileDirectClub is to pay $1,950 upfront, but a monthly SmilePay payment plan is also available. This is arranged through an external financer and doesn't require any credit checks. That means it can be a good option if you don't have the money to complete the treatment upfront. However, you will end up paying around $400 more overall for treatment.
What You Get
If you order the SmileDirectClub at-home kit, you'll get a set of gloves, a smile stretcher, impression trays, a set of putty to do the impressions with, and instructions. Once you get your treatment plan, you'll be sent two sets of aligners for the first 2 weeks of each month and one for the last half of each month you will be doing the treatment.

Along with those all-important aligners, you'll also get a carrying case, whitener, some files to file off any rough edges, and chapstick. If you are interested, you can also order special toothbrushes and aligner cleaning supplies on the SmileDirectClub website.
On top of the physical products, a dentist or orthodontist will check in with you every 90 days to make sure everything is going smoothly. This is a major differentiator for SmileDirectClub as lots of alternative clear aligner provider treatments without professional supervision.
Guarantee
With SmileDirectClub, no strings are attached to your initial appointment or starter kit, so it's easy to opt-out of your treatment at any time prior to receiving your first set of aligners. But even better, if you are dissatisfied with your service within the first 30 days of your treatment, you can return your aligners for a refund. This is not standard in the world of clear aligners and should certainly put you at ease with your purchase.
Insurance
Most clear aligner services don't work directly with insurance companies, but SmileDirectClub has partnerships with many networks such as UnitedHealthCare, Aetna, and Cigna. This service will also send you the forms you need to be reimbursed by your insurance. Before beginning a treatment plan, be sure to check that your insurance covers remote orthodontic care like that offered by SmileDirectClub.
Customer Service
SmileDirectClub is a huge company and, as such, its customer service team receives a lot of great reviews and a few not-so-great ones with the most common complaint being slow email response time. The team promises a 24 business hour response, which could mean waiting four days for a reply depending on when you email. However, SmileDirectClub's Tennessee-based phone line is open 24 hours a day with real people ready to answer your queries.
Testimonials
"SmileDirectClub has their Nighttime Clear Aligners so I never have to worry about straightening my teeth during a press event or show, I get to do it while I sleep!"
"My teeth are freaking straight. Both top and bottom. And whiter! Felt effortless to wear the aligners."
"So far it's all been so good and so easy! I feel like it's been going so fast, I'm already halfway done and so excited to see how my teeth are shifting."
Bottom Line
SmileDirectClub lives up to its big name. If you're looking into Invisalign or braces, you should definitely consider this at-home clear aligner option. Out of all the companies out there, SmileDirectClub sets itself apart with affordable prices and by offering nighttime aligners along with a host of other products. Overall, SmileDirectClub strikes a good balance between quality, safety, and cost.

SmileDirectClub Visit Site