In a Nutshell
Invisalign was a pioneer in the clear braces space and it remains one of the most widely used invisible braces companies today. The company boasts a massive network of local orthodontists and works with the majority of dental insurance plans. Invisalign is also capable of treating a wider variety of alignment issues than many of its competitors because the braces trays allow for brackets and rods just like traditional braces.
pros
Large network of local orthodontist providers
Most insurance plans will cover Invisalign braces
Brackets and rods can help with serious alignment issues
cons
Expensive relative to other invisible braces options
Treatment frequently runs over initial estimated time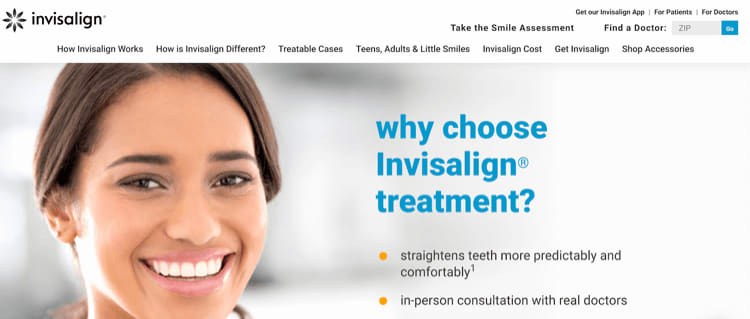 Invisalign at a Glance
Starting price: $3,000
Treatment duration: 9 months
At-home fitting: No
Accepts insurance: Yes
Money back guarantee: No
Best For
Invisalign clear braces are capable of treating the majority of common teeth alignment issues. That's because in contrast to other clear braces, you're not limited to the braces trays alone. Invisalign also supports brackets, which resemble traditional wire braces, and rods that allow your teeth to be moved further and with more precision.
Overbite
Underbite
Crossbite
Gap teeth
Open bite
Crowded teeth
Mix of baby and permanent teeth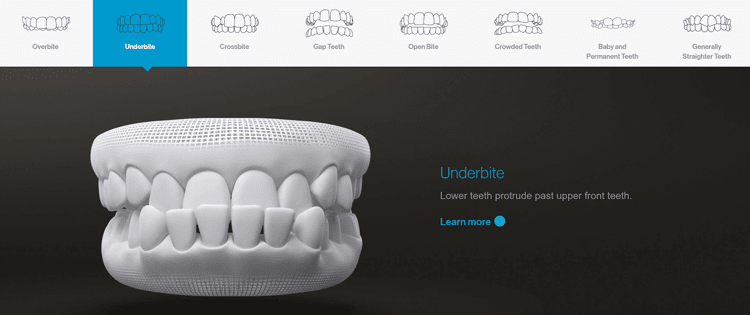 How Does it Work?
The Invisalign process is very similar to that for traditional braces. The entire process is overseen by an in-person orthodontist and you get support the entire way. In contrast to traditional braces, though, you have much more flexibility over caring for your mouth.
You can get started with Invisalign by contacting the company to request an appointment with a local orthodontist. Or, find an orthodontist on your own using the online provider map on the Invisalign website. Providers are ranked according to their experience with Invisalign treatments, so you can find an orthodontist that you trust to work on your teeth.

For your initial consultation, your orthodontist will examine your teeth to make sure you're a fit for Invisalign treatment. If you are, they will offer an initial estimate of the treatment length and cost, as well as take X-rays and impressions of your teeth.
Soon after, you can return to get your first braces tray and your orthodontist will share tips and tricks for getting it on and off. You're expected to wear your braces at least 22 hours a day, taking them off only to eat and drink.
You'll return to your orthodontist roughly once a month to check in and get your next braces tray. Critically, your orthodontist can make adjustments to your treatment plan based on the progress of your teeth.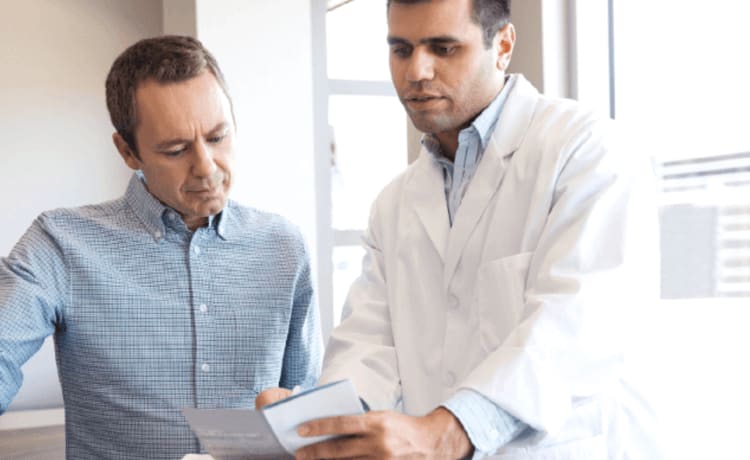 You may be asked to wear a tray with brackets, which resemble clear wire braces, or rods that allow you to attach rubber bands. These additional alignment tools can help your teeth move in ways that the braces tray alone wouldn't allow. However, they can also make it harder to take your tray in and out, as well as increase the visibility of the braces.
Pricing
$3,000 to $7,000 (price varies widely)
Unfortunately, figuring out how much Invisalign treatment will cost is hard to do without visiting an orthodontist first. Invisalign claims to be around the same price as traditional braces, with prices ranging from $3,000 to $7,000. This range reflects wide differences in provider costs and lengths of treatment for different alignment issues.

To make matters more complicated, your dental insurance may cover anything from 0% to 50% of the total cost of your Invisalign treatment. Some orthodontists may also provide flexible payment plans, although these vary depending on your provider.
One more thing to consider is that the estimate your orthodontist gives you isn't set in stone. Many Invisalign patients have found that initial plans for 6 to 9 months of treatment are severely underestimated. A significant number of alignment issues end up taking 18 to 24 months or longer to fully resolve, and this extended treatment can raise the overall price of your alignment.
What You Get
Invisalign prides itself on using cutting-edge technology to produce your clear braces. The company uses proprietary SmartTrack material for its trays, which it claims makes it easy to get the tray on and off. Perhaps more important for comfort, all trays are cut to match your gum line so you don't have to deal with bleeding gums at the start of treatment.

On top of that, you get direct support from your orthodontist throughout the entire alignment process. Your orthodontist can make changes to your treatment plan as you progress, which allows for seamless mid-course corrections or a refinement period after the first 6 months of wearing Invisalign braces.
Although cases vary from person to person, most people will need to wear a retainer nightly for several years to life after Invisalign treatment. Invisalign offers its own clear retainers that are fitted to your mouth by your orthodontist at the end of your alignment. Or, you can request a traditional wire retainer to save money.
Guarantee
Invisalign doesn't offer any guarantees about how your teeth alignment will turn out at the end of the process, in part because so much depends on your orthodontist. However, the company notes that it has had over 8 million patients, many of whom are satisfied with their smile after treatment.
Insurance
Since Invisalign is one of the biggest clear braces providers, it's covered by the vast majority of dental insurance plans that include orthodontic coverage. However, you'll need to see which insurance plans your orthodontist accepts and how much your insurance plan will cover to find out what Invisalign is likely to cost out of pocket. In most cases, you can also pay for Invisalign treatment using a health savings account or flexible spending account.
Customer Service
Invisalign offers limited customer service for patients, since your orthodontist should be your primary point of contact for questions about your treatment. Still, you can get in touch with the company via email at any time.
Helpfully, Invisalign's website does offer some useful resources. You'll find a list of suggested questions to ask your orthodontists, a search tool for finding a local provider, and information about how to care for your Invisalign braces.
Testimonials
"Choosing Invisalign treatment was the best decision I've ever made." — Kirstiana Rosas

"Fitting Invisalign into my life, which is busy, was very simple. When I found out that it was not only pretty cost-effective compared to regular braces, but also going to fit right into my day, it made it much easier to say yes...Invisalign treatment allowed the real me to shine." — Jenn Vonhagen
"My Invisalign treatment changed my life already, and I'm only halfway through. I'm excited to see where it goes from here...I finally feel like the best me." — Sarah Keartes
Bottom Line
Invisalign is one of the most popular invisible braces providers for a good reason. It's not the cheapest option for aligning your teeth, but most dental insurance plans will cover a significant portion of the cost. Plus, you can feel confident knowing that you have regular check-ins with a local orthodontist. The fact that Invisalign trays support brackets and rods is also important, since it allows your treatment to be fine-tuned to much the same extent as with traditional wire braces.