In a Nutshell
Easysmile makes the process of aligning your teeth and getting the perfect smile simple. Everything can be done at home and the company estimates a total treatment time of just 5 months for most people. After your treatment, Easysmile also offers retainers so that you can keep your teeth aligned for years to come. Treatment is fairly affordable, although the impression kit and retainers are priced higher than those of competitors.
pros
Treatment price is fixed even if you need further adjustments
Treatment is relatively fast at just 5 months
Excellent customer service team
cons
Impression kits and retainers are expensive
No insurance options available
No guarantees are offered about the results of your treatment

EasySmile Visit Site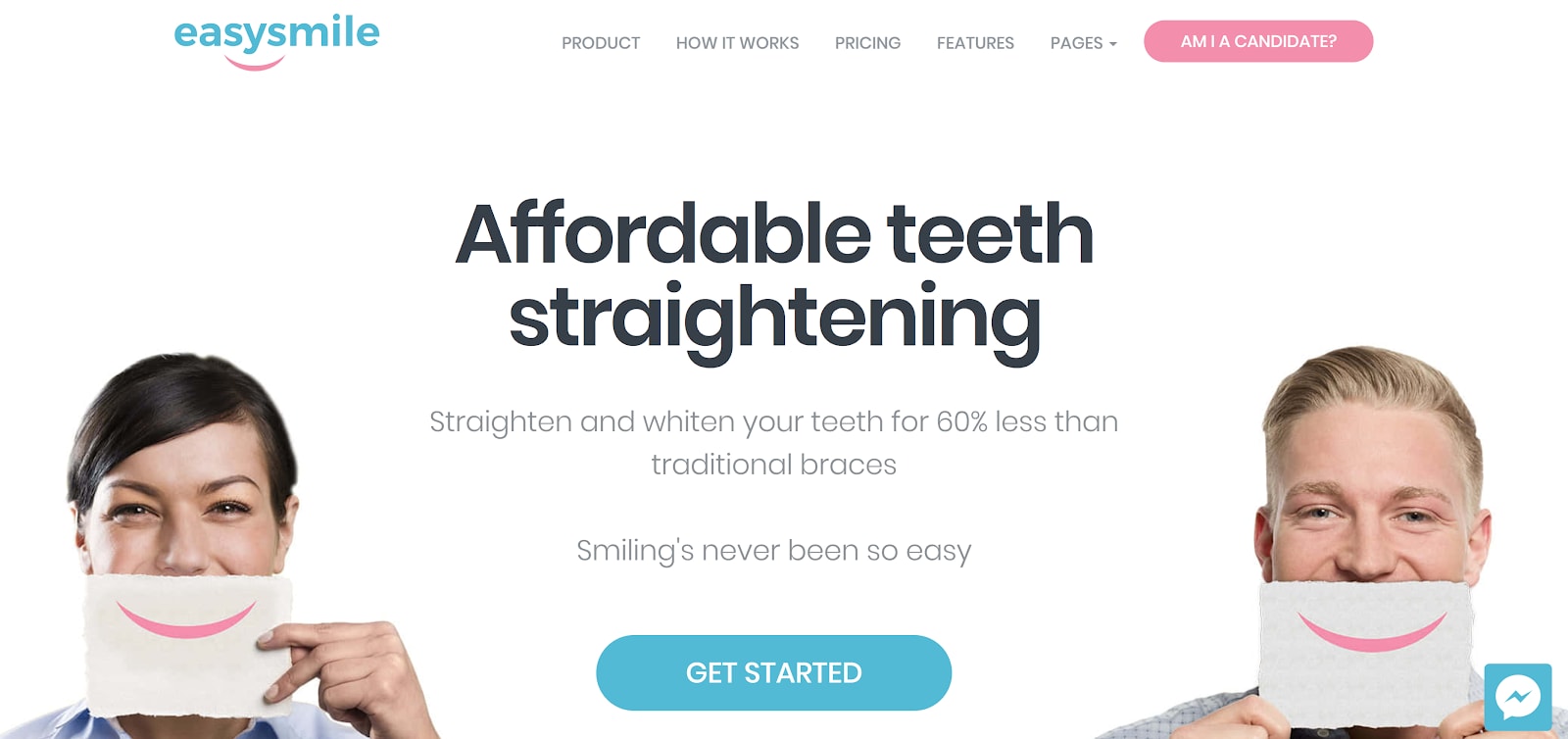 Easysmile at a Glance
Best For
Easysmile offers a simple, affordable way to correct the alignment of your teeth without going back and forth to the orthodontist's office. The entire process is managed remotely, with your teeth correction overseen by an on-staff orthodontist. Easysmile can't fix everything, but the company's alignment system fixes the majority of common teeth alignment issues. These include:
Overbites

Underbites

Cross bites

Mild to severe crowding

Mild to severe spacing

Crooked teeth

How Does it Work?
Easysmile breaks down the process of getting started with treatment into a few steps. Throughout the process, you have access to the company's customer support team to ask questions and make adjustments as needed.
To start, Easysmile has a short online questionnaire about the current alignment of your teeth. This is quick and easy to fill out, and at the end you'll know whether or not you're a candidate for using Easysmile's invisible braces.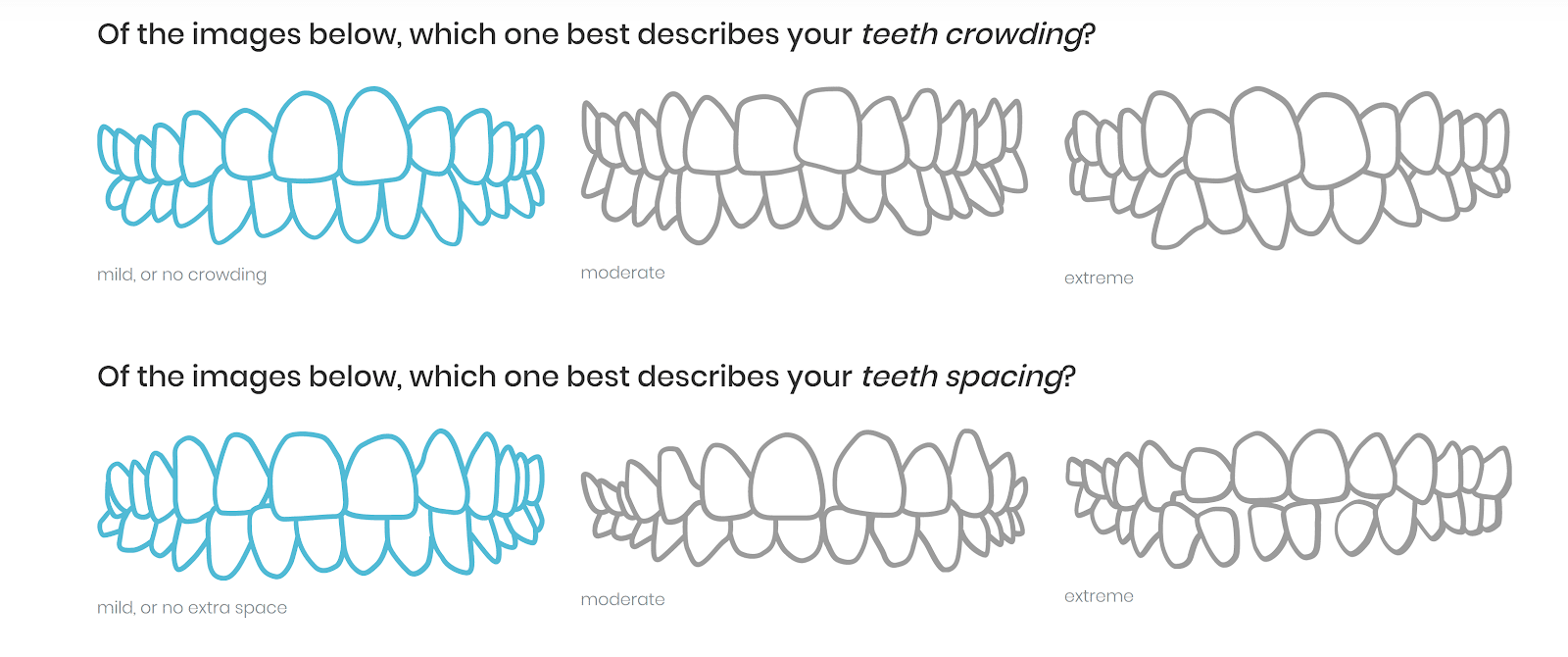 After that, you can order an impression kit to be delivered to your house. It usually arrives within a few days, and it takes about 30 minutes to create impressions of your teeth with the included supplies. Take your time when making impressions, as you'll have to order another kit if your impressions aren't of high enough quality to build your braces with. Easysmile isn't much help during this step, as the company doesn't have any videos or walkthroughs of the process.
Once your impressions are returned to Easysmile, a licensed orthodontist will create a customized treatment plan. This includes a 3-D rendering of what your smile will look like at the end of your alignment. If you like the way it looks, you can purchase a treatment and Easysmile will send you your first set of invisible braces.

From there, you need to wear your invisible braces at least 22 hours a day. You'll receive a new set of trays every month, and you'll have support from Easysmile throughout the process in case you fall behind on wearing your braces or need a mid-course correction.
Pricing
$180 per month for 12 months
Easysmile is fairly affordable, with treatment priced at just $1,880. This price doesn't change based on the complexity of your treatment, and you won't be charged more if you need a mid-course correction or if it takes longer than 5 months to get your teeth fully aligned.
If you prefer to pay in monthly installments rather than a lump sum, Easysmile also offers a 12-month payment plan. You'll pay $180 per month, for a total cost of $2,160.
However, that doesn't represent the full cost of the program. Easysmile charges $110 for its impression kit, which is required in order to develop your invisible braces. That's a bit higher than the $95 that competitors charge, although it's not much in the big scheme of things.
More important is the cost of retainers after your treatment is complete. You'll need to wear a retainer full-time for 2 weeks after your last braces tray, then nightly for the rest of your life in order to maintain the alignment of your teeth. Easysmile offers disposable plastic retainers that are designed to last 6 months and cost $100 per set. Alternatively, you can go to an in-person orthodontist to get a traditional wire retainer, which lasts for life, for about $400.
What You Get
All of Easysmile's invisible braces are produced using a combination of laser scanning, custom computer-aided design software, and 3-D printing technology. The braces are slightly more transparent than those offered by some competitors, which is a big advantage in a crowded field. On top of that, all of Easysmile's trays are made in the US, so you can feel confident that you're getting a quality, precision-cut product.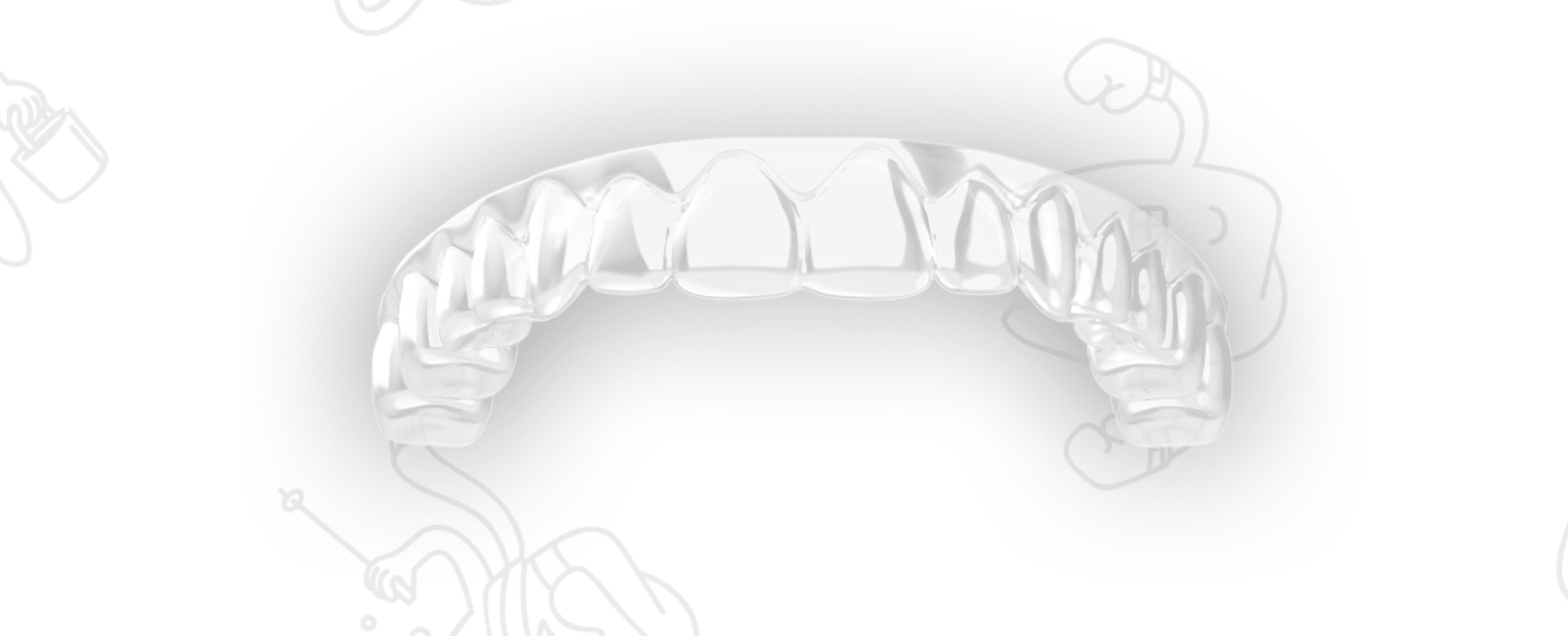 Importantly, all of Easysmile's treatment plans are developed by licensed orthodontists. If you're concerned that your treatment isn't working or you fall behind on wearing your braces, you can contact the company at any time. They'll request photos of your teeth, which will be reviewed by an orthodontist remotely to determine whether you need a mid-course correction or additional trays. These corrections are fully included in the cost of your treatment.
At the end of your treatment, you'll need to wear a retainer full time for at least two weeks and then nightly for life. Easysmile offers its own custom-made retainers, which are made from the same material as its braces. They're designed to be disposed of after 6 months, so the company sends them as a subscription service at $100 per pair. If you want to save money, Easysmile also allows customers to visit a local orthodontist to purchase a traditional wire retainer.
Guarantee
One major downside to Easysmile is that the company doesn't offer any assurances about how your treatment will turn out. The company won't charge you extra if you need additional trays or mid-course correction. But, if you're not happy with the end result of your Easysmile treatment, there's no way to get your money back.
Insurance
Another reason that Easysmile may not work for everyone is that the company doesn't work with any dental insurance providers at this time. That means you'll need to pay for the impression kit, treatment, and follow-up retainers entirely out of pocket.
Customer Service
It's easy to get in touch with Easysmile by email, Facebook messenger, or Whatsapp. The company is extremely responsive, especially if you're contacting them with problems midway through treatment. The support team is also quite helpful, as they'll point you in the right direction with YouTube videos or follow up with responses from in-house orthodontists for more complex questions.
That said, Easysmile's website is somewhat lacking. You won't find videos showing how to take your impressions, nor is there much explanation of what you can do to solve common problems with the fit and comfort of your braces.
Testimonials
"I like that Easysmile is a smaller company so the customer service is highly responsive. When I had questions at the beginning about invisalign vs braces, they were quick to respond and it was part of the reason why I decided to choose them."—Amelie
"So glad to have discovered Easysmile. I got my invisible braces in a short amount of time and started using them as instructed. I am so glad that I did because I can instantly see the difference. It even fixed issues that I never realized I had! My teeth look so much better now than they did prior to using Easysmile."—Lianaron
"In 5 months of treatment, I can see how my teeth alignment has changed significantly. Wish I would have started this treatment sooner!"—Rosie
Bottom Line
Easysmile makes the process of fixing your smile simple and affordable. The company stands behind your treatment with outstanding customer service and doesn't charge extra if you need mid-course corrections or additional braces trays. The biggest downside to Easysmile is that all the costs are out of pocket since the company doesn't currently work with insurance providers. But, there is a 12-month payment plan to help with the cost and you're not locked into buying a retainer subscription after your treatment.

EasySmile Visit Site