In a Nutshell
ClearCorrect gives you confidence in the alignment process by allowing you to see a licensed orthodontist. You start out with an X-ray scan of your teeth and get routine check-ins, so you don't have to worry about dealing with a complex home impression kit. Even better, most dental insurance plans will cover some of the cost of ClearCorrect braces. Unfortunately, ClearCorrect isn't all that transparent about its pricing or its provider network.
pros
You work with a local orthodontist throughout the process
Most insurance plans cover some or all of the cost
Two pricing options to choose from
cons
Very little transparency about pricing
Expensive without dental insurance
Must contact ClearCorrect to find a provider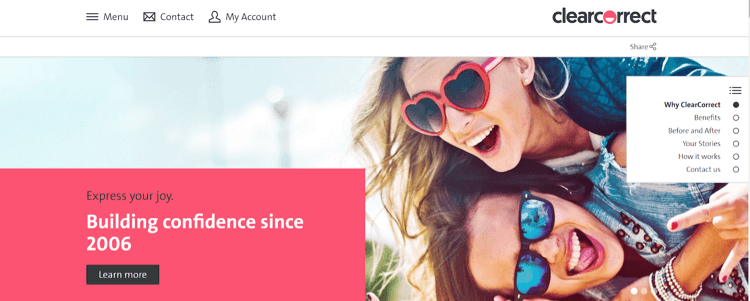 ClearCorrect at a Glance
Starting price: $2,000
Treatment duration: 12 months
At-home fitting: No
Accepts insurance: Yes
Money back guarantee: No
Best For
ClearCorrect braces can be used for a wide variety of teeth alignment issues. Since you have to visit an orthodontist to have your teeth scanned, it's easy to find out whether your teeth are candidates for this type of alignment. In general, ClearCorrect alignment works for:
Crossbite
Overbite
Crowding
Spacing
Edge-to-edge bite
Midline shift
Deep bite

How Does it Work?
ClearCorrect's process is similar to that of many other invisible braces providers. However, instead of doing the entire process remotely at home, you'll see a local orthodontist every time you move to a new braces tray. In that sense, the overall process is also similar to getting traditional wire braces.
To start out, you need to find an orthodontist in your area who works with ClearCorrect. For whatever reason, ClearCorrect doesn't simply provide a map or list of providers. Instead, you need to contact the company to find out if there's a participating orthodontist near you.

Once you go to the orthodontist, they'll go over pricing options for your braces and start out by taking X-rays and impressions of your teeth. These images of your teeth are sent off to ClearCorrect, which crafts your custom invisible braces and sends them back to your orthodontist. Your orthodontist can answer questions about how often you need to wear the braces and help adjust the new tray if needed.
In general, you'll change braces trays every 4 to 8 weeks with ClearCorrect. Each time, you need to visit your orthodontist to get a progress check and fit the new tray. That way, if there are any adjustments needed, your orthodontist can spot the problem before your treatment proceeds any further. ClearCorrect alignment lasts around one year for most patients, although it can vary widely based on how well your teeth respond to the braces.
Pricing
Varies widely; $2,000 to $8,000
ClearCorrect doesn't offer much information about its pricing beyond a general estimate that most treatments fall between $2,000 and $8,000. That's a huge range, although it's partially a reflection of the fact that providers can set their own prices to some extent. Treatment lengths can also vary widely depending on the initial position of your teeth.
In addition, ClearCorrect offers 2 distinct pricing options: Flex and Unlimited.
With a Flex plan, you pay for braces and treatment as you go. That means that you're charged individually for each braces tray you use as part of the alignment process, for each orthodontist visit, and for your retainer at the end of treatment.
The upside of this is that you're not paying for treatment you don't need. If you have a minor alignment issue and wear your braces as prescribed, you're likely to have a short treatment process with fewer costs. But, if you have a major alignment issue or need a mid-course correction, you'll end up paying for every additional braces tray and orthodontist visit that you need above the initial estimate.
With an Unlimited plan, you pay for full coverage for a period of 5 years. That includes all the course corrections, trays, and orthodontist visits you need, as well as a retainer at the end of the process.
You pay more upfront, but you're covered even if you stop wearing your braces midway through the treatment and need to start over. So, the Unlimited plan can be a good option if you have major teeth alignment issues or if you're not good about keeping your invisible braces on for at least 22 hours per day.
What You Get
With ClearCorrect, you have the full support of your orthodontist throughout the entire alignment process. You need to visit your orthodontist every month or 2 to get a new braces tray, so it's easy to ask questions in person or for your provider to recognize problems early on.

The professional X-ray imaging and impressions you get at the start of the process also make treatment go more smoothly. ClearCorrect uses those images to create a 3-D printed model of your teeth, then uses custom design software to create plastic braces that perfectly fit your mouth. If you need major adjustments midway through treatment, your orthodontist can send new images of your teeth to ClearCorrect to create entirely new braces trays for you.
That said, the pricing structure that ClearCorrect uses means that you pay for almost every part of your treatment, including orthodontist visits and mid-course corrections. If you choose the Flex payment plan, you'll pay for each braces tray individually. So, if you need more trays than anticipated at the start of the process, you'll end up paying more than your initial estimate.
Along the same lines, there aren't any freebies thrown in with ClearCorrect. You're responsible for the cost of imaging and making impressions, as well as for the cost of a retainer at the end of the alignment process. Insurance can help cover these expenses, but be sure to watch out for your maximum coverage limit.
Guarantee
ClearCorrect does not provide any guarantees about the results of your alignment. If you choose the Unlimited plan, however, you will be fully covered for all treatments for a period of 5 years. Individual orthodontists may also provide additional guarantees for your satisfaction.
Insurance
ClearCorrect braces are covered under the orthodontic care allowed by many dental insurance policies. However, insurance claims are made by individual providers, so which insurance policies are accepted can vary between orthodontists. In most cases, you can also pay for ClearCorrect using a health savings account.
Customer Service
ClearCorrect primarily leaves customer service up to individual providers. You can get in touch with the company via email, but most of the company's online resources are tailored for orthodontists rather than patients.
Testimonials
"My smile is exactly how I envisioned it and I could not be any more happier as well as grateful" — Xenia
"I've been on this journey for nine months and I am quite pleased with the progress made with my teeth. Change doesn't usually come immediately, it takes sometimes time and patience. I'm glad I didn't quit and just took it one day at a time. My teeth, smile, and confidence have changed for the better and this has been a worthwhile investment." — Stan

Bottom Line
ClearCorrect is a good choice for anyone who wants to go through the teeth alignment process under the direct supervision of a local orthodontist. These braces are somewhat expensive compared to other clear braces, but insurance and a choice of 2 payment plans can help bring down the final cost. On top of that, ClearCorrect can help align teeth for the vast majority of existing problems.