In a Nutshell
Candid & Co is a clear brace provider like Invisalign. It stands out because while having your teeth straightened with clear aligners, progress is monitored by orthodontists as Candid believes changing your teeth is a medical procedure and should thus be done only with proper supervision. Also, this service is cheaper than Invisalign or regular braces and can be used in the comfort of your own home.
pros
Remote monitoring by an actual orthodontist
Average 6-month treatment time
Extensive diagnostic process
cons
Slightly more expensive than some competitors
Only available in the US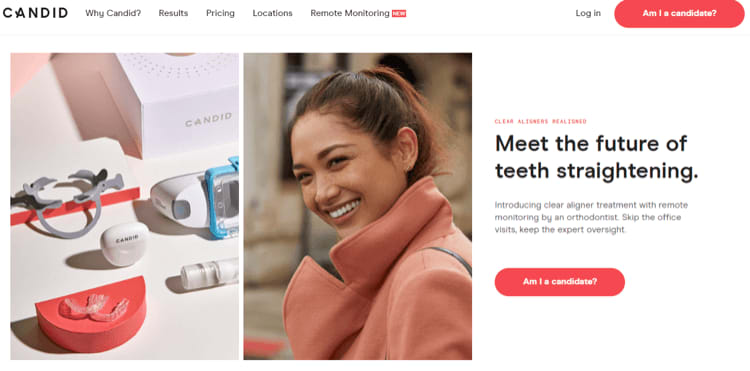 Candid & Co at a Glance
Starting price: $2,400
Treatment duration: 6-month average
At-home fitting: Yes
Accepts insurance: Yes
Money back guarantee: No
Best For
Feel like your teeth are too bunched up, spaced out, or that your top and bottom jaws don't fit nicely together when your mouth is closed? In any of those scenarios, you Candid & Co could be a great option for treatment. Like other clear aligner options, Candid & Co aligners are great for those with mild to moderate orthodontic needs and discoloration. These include:
Crowding
Spacing issues
Crossbite
Mild to moderate overbites
Mild to moderate underbites
Discoloration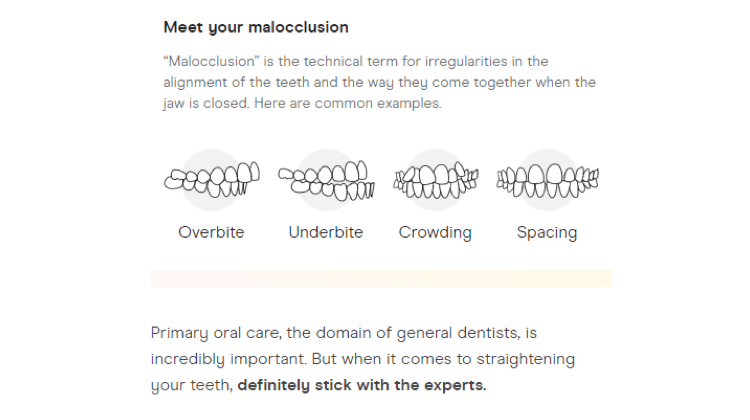 How Does it Work?
Getting started with Candid & Co is very simple and, depending on what you're looking for, there are 2 paths to follow: An at-home kit or the Candid studio option. The main difference between these 2 options is the amount of in-person orthodontic oversight you get during treatment. If you have any underlying dental conditions, the Candid Studio plan will be more suitable.
The first step to starting a Candid & Co treatment plan is to visit the site and click "Am I a Candidate" to see if Candid & Co aligners will work for you. Then you'll need to select which type of problem you have with your teeth: Crowded, discolored, spaced or protruding. You'll also be asked when you would like to get started, your age, and if you've ever worn braces. Finally, give Candid & Co your zip code to see what treatment options are available for your location. If you're a good fit for treatment, the site will tell you so without having to put in any personal details like your email address or phone number.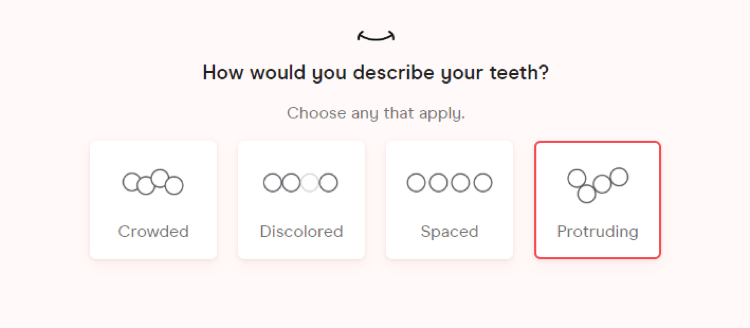 Next up, it's time to order your kit or book an appointment at a nearby Candid Studio. Candid Studios are located all around the US so you shouldn't have far to travel to visit one. A big bonus of visiting one is that the initial consultation is completely free. By contrast, Candid's at-home kits are $95 though they are frequently put on sale. This is great if you don't live near one of the Candid Studios.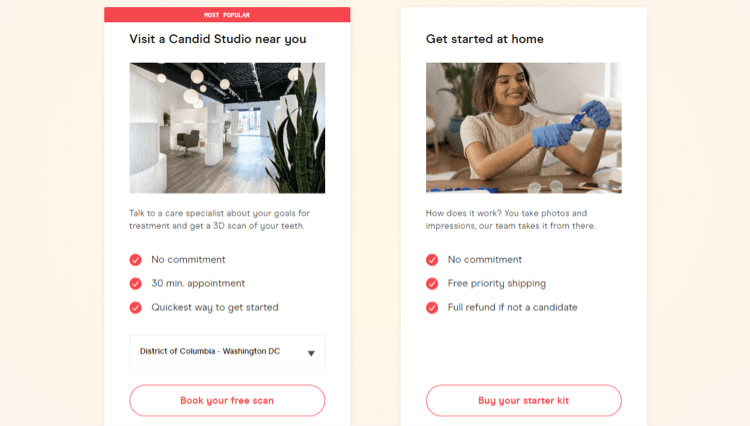 If you opted for the at-home option, your kit should be coming in the mail shortly. In the package, you'll find a bunch of trays to take impressions of your teeth, jars of material which will become the putty to take the impressions, a bite guide, cheek stretcher, and a prepaid shipping box. Follow the instructions and send back your impressions.
Within two weeks from when Candid & Co get your trays or you complete your scans, you'll receive a treatment plan which you will need to approve. After that, your aligners will be made and sent to you in about 3 weeks. Alternatively, If for some reason you are not a candidate, for instance, because of severe bite issues, Candid will offer you a full refund for the starter kit.
Treatment lengths with Candid & Co vary from patient to patient, but on average take 6 months to finish. During that time, you'll need to change aligners as your teeth move once every 2 weeks. Candid & Co will send you an automated email to remind you to do this, or you can use the Dental Monitoring app on your phone which will alert you with a notification when its time to swap over to a new set.
Pricing
Lowest Payment plan Available
While Candid & Co costs $,2400 upfront, you can also apply for a payment plan. Based on your circumstances you could be offered a $399 down, $99/month plan. Also, as an orthodontic service, Candid & Co may be included by your insurance if your plan covers orthodontics.
What You Get
Candid & Co aligners are manufactured using advanced 3D-printing technology to ensure they perfectly match your tooth structure. They are designed to be completely clear, and most people will have no idea that you're wearing them at all.
In addition to the basics, you'll receive carrying cases to put the aligners in while you eat and sensitive-teeth friendly whitener to use in the trays. Not only that, but you'll also get a scanning tool to keep your orthodontist aware of what is going on in your mouth to make sure nothing goes awry.
Candid & Co is special in that it offers remote monitoring by an actual orthodontist. When your treatment plan is approved, you'll receive a number of aligners and instructions on what to do. You can also opt into an instructional Skype call to help you get started. Finally, at the end of your treatment, you'll get a pair of retainers to keep your lovely new smile in place.
Guarantee
Unfortunately, Candid & Co doesn't offer a killer no-risk money-back guarantee. However, if you decide this service isn't for you, you can get a refund for your starter kit and there's no obligation to subscribe after you have your appointment.
Insurance
Candid & Co accepts payment by FSA debit cards and if you have a Health Savings account, you can pay by other means and will receive a receipt in order to obtain a refund. If your health insurance covers remote orthodontic treatment, Candid & Co treatment is billed as a D8040 and should be covered.
Customer Service
Compared to similar providers, Candid & Co has one of the best, if not the very best, customer service reputation. Its response times are quick and Candid & Co staff are known for their "the customer is always right" approach. Service reps are available every day of the week by phone or through live chat.
Testimonials
"My experience was excellent. Customer service is great. The process was painless and fast!"
"I came across this company and I have been wanting to straighten my teeth my whole life, 7 months later and I have the courage to smile!!! Thank you!"
"Braces have always been so out of reach financially and every consultation resulted in super invasive procedures. I just assumed I would not be able to straighten my teeth. Thank you, Candid for providing an accessible option. My journey has been so easy from day one and your customer support is top-notch. I am coming up on the end of my refinements and am so happy."
Bottom Line
Candid & Co is a quick and affordable way to straighten and whiten your teeth at home. The major benefit of its service is that you work with an actual orthodontist and have your progress continuously tracked. That way, you can be sure your teeth look great and your oral health is also being looked after by a professional.