In a Nutshell
Life Storage is a nationwide storage company with a strong online presence. You can sign up for a storage space online, get an access code, and check into your space without having to go through a physical office. Life Storage has more than 850 storage facilities across 30 states and offers options like climate controlled units, drive-up units, and vehicle storage. Life Storage's prices are typically competitive with local markets.
pros
Storage facilities in 30 states
Sign up online with no office check-in
Competitive pricing
cons
Most storage facilities are near major cities
No full-service storage options

Life Storage​ Visit Site
Life Storage at a Glance
Main services covered: Self-storage, business storage, vehicle storage
Participating states: 30
24-hour security: No
Climate-controlled: Some locations
What Services Does Life Storage Cover
Life Storage covers most common storage needs, with a focus on self-storage. The company has built out an online system so that you can see all available units in your area and search by size, climate control, and other features. Once you sign up for a storage unit online, you're given an access code and you can check in anytime without having to stop at a physical office.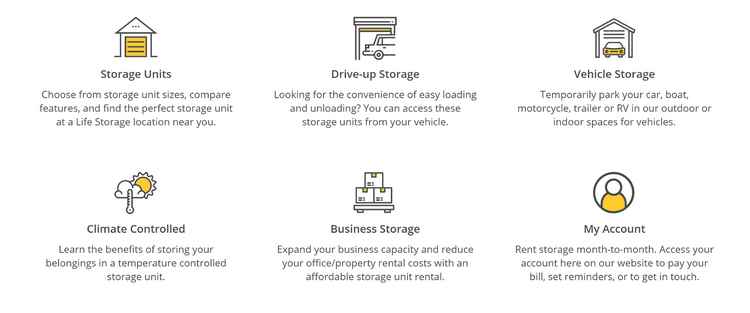 Life Storage doesn't offer any full-service storage options, although you can rent a truck at a discounted price when you sign up for a new storage unit. In addition, you can specifically search for drive-up units to make the moving process easier.
The company also offers vehicle storage for cars, RVs, and boats. Life Storage also caters to businesses with special pricing, package acceptance at the facility office, and multi-location storage deals.
Life Storage Facility Features
There are more than 850 Life Storage facilities spread across the country, and they vary somewhat from facility to facility. Some are fully contained indoor spaces that offer climate control, while others are more traditional indoor/outdoor buildings with garage-like storage units. Access hours also vary by facility, although many of Life Storage's buildings can facilitate 24/7 access.
If you're looking for a climate-controlled facility, it's noteworthy that Life Storage has several different types. You can opt for full climate control, air conditioning only, heating only, or humidity control.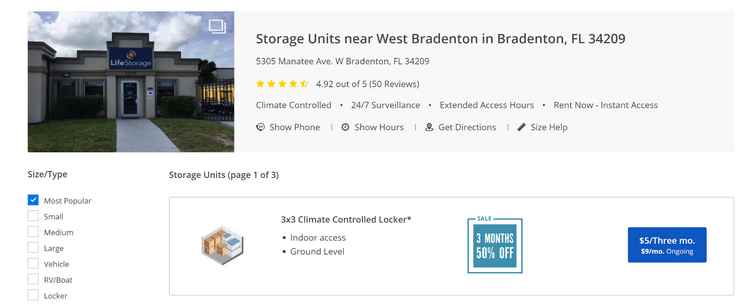 All of Life Storage's facilities share a few features in common:
Access code gate

24/7 video surveillance

Shared carts

Always-on exterior lights

Motion-activated interior lights
Life Storage Security
Life Storage takes security seriously. All of the company's facilities have electronic gates that are opened with a personalized access code. There isn't security on site at most facilities, but there are surveillance cameras stationed at every entrance. The lock you use on your storage unit is given to you to keep, and Life Storage doesn't keep spare keys without authorization.
Life Storage Storage Unit Details
Life Storage has a variety of different unit sizes. Most facilities have some or all of the different available sizes, and you can search the company's website if you have a specific size in mind.
5' x 5'—boxes, chairs, dresser

5' x 10'—medium-sized furniture, bicycles, motorcycle

5' x 15'—one-bedroom apartment

10' x 10'—one-bedroom apartment plus large appliances

10' x 15'—two-bedroom apartment with appliances

10' x 20'—three-bedroom home or small car

10' x 30'—large home, vehicle, or small boat
For vehicle storage, many Life Storage facilities also have outdoor parking areas.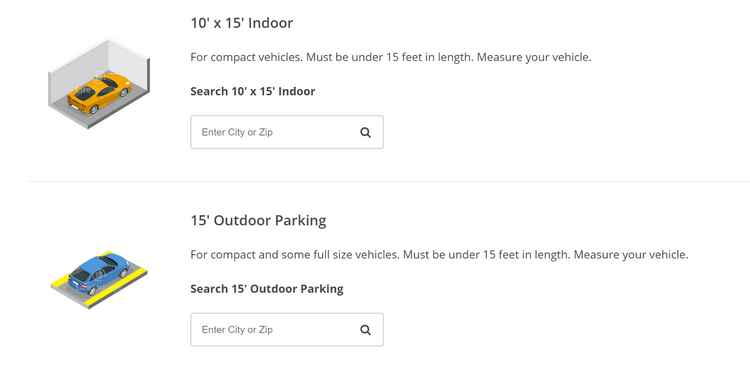 Most Life Storage facilities are quite clean, as the company employs janitorial staff to sweep the units several times a week. Some buildings are newer than others, and some outdoor facilities have covered areas for moving into drive-up units.
How Much Does Life Storage Cost?
Life Storage prices vary widely based on location, facility, and unit size. To give an example of pricing, let's look at units at a climate-controlled facility in Denver:
The first month is free at most Life Storage locations and doesn't require a contract. So, it can be a very inexpensive option for medium-term storage.
Life Storage also lists starting prices for a number of cities across the US: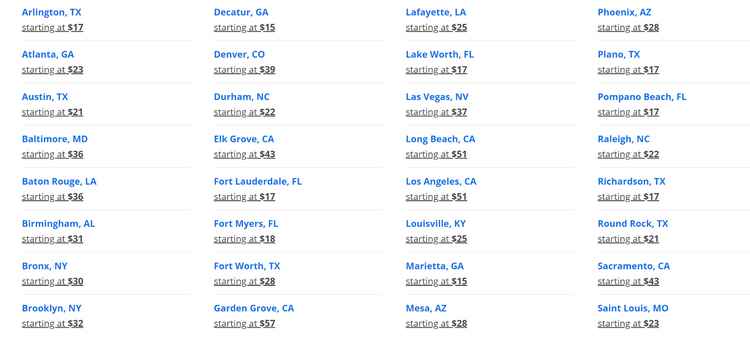 Life Storage Rental and Leasing Options
All Life Storage rental leases are month-to-month. You can easily set up automatically billing on your debit or credit card. Just give 30 days' notice before moving out to end your lease.
Life Storage Customer Service
Life Storage offers 24/7 support by phone. Many of the facilities only have part-time staff, so you can always contact the company's central support line if you have an issue. All lease and billing settings can be managed through your online account.
Like many storage companies, Life Storage doesn't provide any guarantees or insurance for your belongings. There are very few complaints about issues at Life Storage facilities, but it's important to know that the company is not liable if anything happens to your stored items.

Life Storage​ Visit Site
What Are People Saying About Life Storage
"Jamie, the customer service rep, was fabulous. She was very friendly, informative and knowledgeable. I felt at ease as she explained the process to me. I was particularly satisfied when both Wanda and Jamie allowed my POD to be delivered a few days before my kids were able to empty it into the facility storage. Life Storage was very accommodating to my needs."—Linda, Jacksonville, FL
"Life Storage is absolutely the best storage facility I have ever stored my belongings in. They have the most courteous and professional staff I've ever seen as well. They have always gone out of their way to accommodate my needs and they truly care about their customers."—Anonymous, Atlanta, GA
Bottom Line
Life Storage is a reliable and affordable storage facility with excellent reviews and high standards. The company operates more than 850 storage facilities across 30 states, most of them near major cities. Life Storage has a large number of climate controlled units as well as plenty of different sizes available to cater to different needs.
All Life Storage leases are month-to-month, and many facilities offer the first month for free. The company has a 24/7 support hotline and surveillance cameras at every facility for storage. Overall, there's a lot to like about Life Storage if you're looking for a simple, trustworthy self-storage solution.